The week before Halloween is the perfect time to trick or treat yourself to a fabulous new piece of themed jewellery. From literal figurines of beloved Halloween characters to abstract pieces using darker-coloured gems, there is a myriad of pieces, styles and designs to tempt you. Let's take a closer look at these pieces and the designers creating them.
Pumpkins, Skulls and Black Cat Jewels
When you think of Halloween, you instantly think of fancy dress costumes. From pumpkins to scary witches, what child hasn't plotted and planned their Halloween costume? Designers are able to bring this nostalgic air of dress up to their Halloween-inspired high jewellery pieces. Chopard's pumpkin ring, which opens up to reveal a glass slipper, is inspired by the fantastical princess story of Cinderella. Lydia Courteille's Dia de Los Muertos-inspired earrings and ring include the stereotypical skull figure with a high jewellery twist, playing with enamel and precious gemstones to bring them to life. Finally, we can't continue without mentioning a black cat! The most iconic one is, of course, the Wladimir cat ring by Boucheron paved with black diamonds. Wladimir was Frederic Boucheron's cat that lived in the boutique and was later immortalised in jewellery form.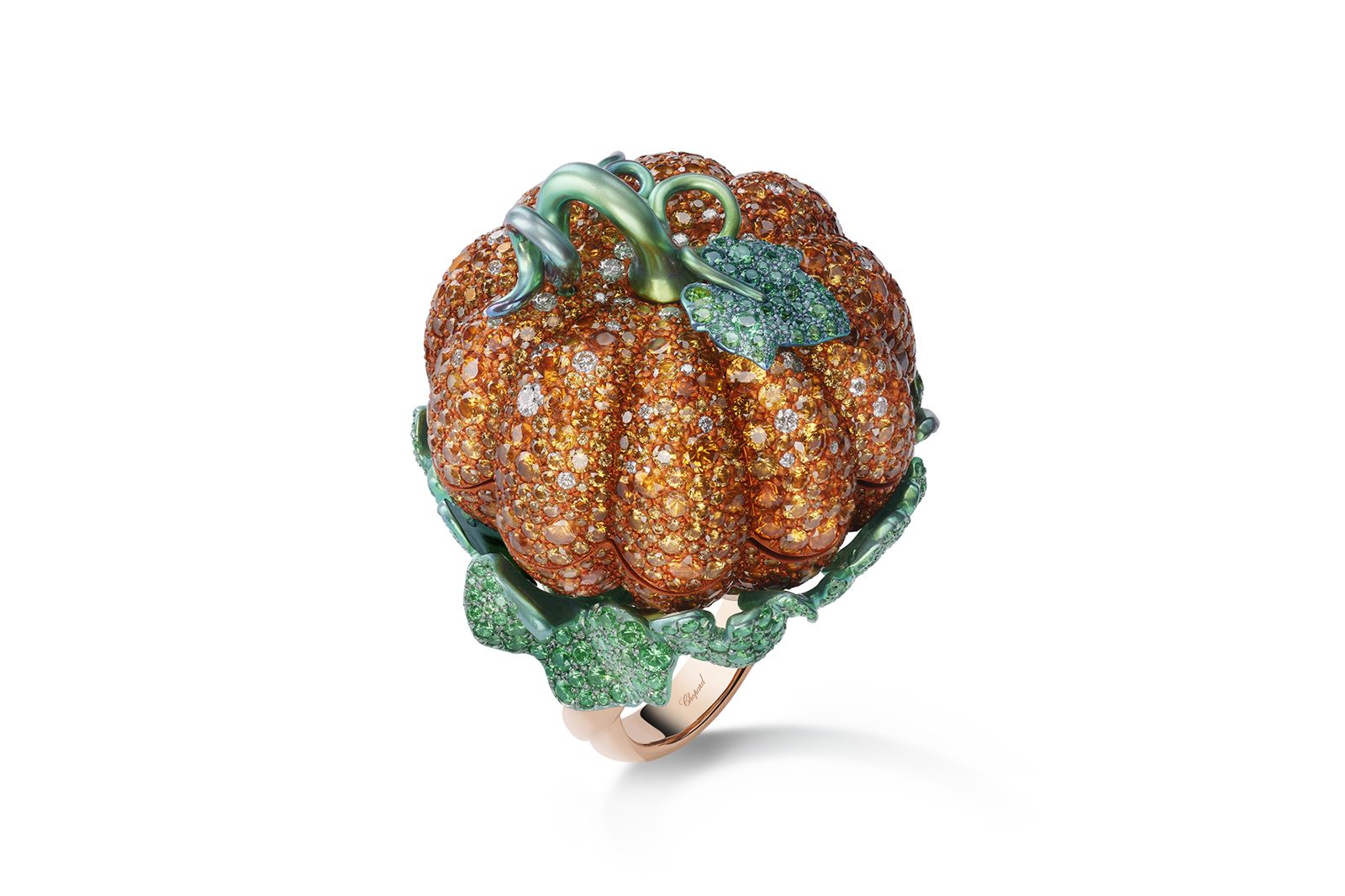 Haunting Gemstones
Next, we have pieces with a less literal design approach. Rather than recreating famous figures, they use texture, gems and various other materials to create an edge and air of. Anita Ko's rhodium-plated safety pin earrings set with black diamonds bring a punk rock 'n' roll edge to any wardrobe. Tasaki's Danger collection is full of pearls set with golden spikes, creating the illusion of sharp teeth chomping on these soft aquatic gemstones. Talking about biting jewellery, let's move our attention to the Capture Me collection by Akillis, which consists of sharply angled bracelets, rings and pendants. Finally, Karma El Khalil's Unicorn ring is mounted with a large piece of rutilated quartz which is filled with mysterious and intriguing black inclusions.
Trick-or-Treat Inspired Designs
Our final Halloween jewellery trend is quite unique. It looks beyond the spookiness and fear associated with this holiday and instead celebrates the young, fun and sometimes silly spirit that comes out in all of us on October 31st. Louis Vuitton's pink enamel and gemstone frog pendant is a nostalgic reminder of the sweet frog that, once kissed, becomes Prince Charming. Lily Gabriella's hot pink swirl earrings can only be described as the dream piece of candy one hopes to collect after trick or treating. On a more humorous note, Marie Lichtenberg's intricate hand-carved gold and sapphire locket ring contains a silly NSFW surprise. Maybe keep this piece firmly closed until you're in the ideal company!
Happy Halloween to all. Whether you celebrate this Celtic pagan holiday or not, I think we can all agree that it's the perfect opportunity for some light-hearted jewellery perusing.