First, I must mention the turquoise. In the 'Radiant' chapter of the new TASAKI Atelier Radiant Sky collection, there is a necklace, single earring and ring that pop with perfect cabochons of sky-blue turquoise. These gems were found within the TASAKI collection by creative director Prabal Gurung, who opted to build around them for this season's Atelier collection.
He says: "Colour is always a celebration of life. It's a big part of what I do, even in fashion, and how I live and what I wear. Colour brings joy, and this brings hope and optimism, which we need now more than ever. When I joined Tasaki, one of my goals was to respect the heritage of pearls but also look into the archives. There, I found lots of colours from the past that I wanted to bring back."
The Radiant jewels combine turquoise with grey and pale blue tinged Akoya and South Sea pearls, diamonds, aquamarines, blue zircons and Paraiba tourmalines. These tonal shades of blue are said to evoke the appearance of changing clouds as they meander across the sky. The brand explains: "The shimmering sunlight piercing between the clouds is channelled through the use of diamonds, blue zircon, and aquamarine. TASAKI's passion for craftsmanship and creativity is embodied through differing shades of blue and the soft curves and lustre of pearls, appearing like clouds that float in the sky."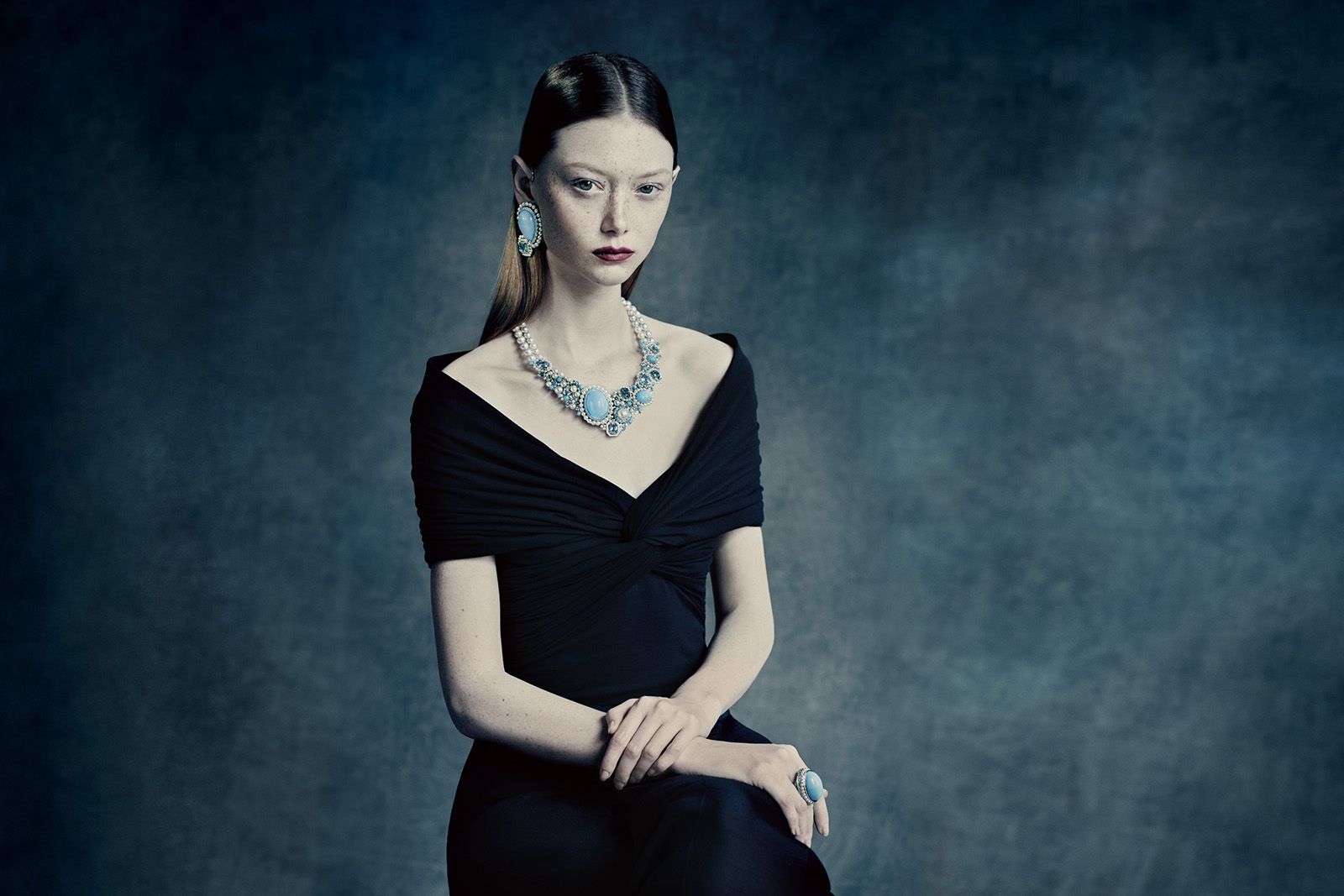 Across the Radiant Sky collection, there's an intentional lack of symmetry. Even the largest turquoise in the Radiant necklace is placed just off-centre as if to trick the eye for a quick moment in time. Gurung explains: "Life is not perfect; the designs I create are a metaphor for how life is, it's always going in a different direction and there are surprises!" As a result of this asymmetry, Gurung believes that his jewels become conversation-starters and help to express the personality of the wearer.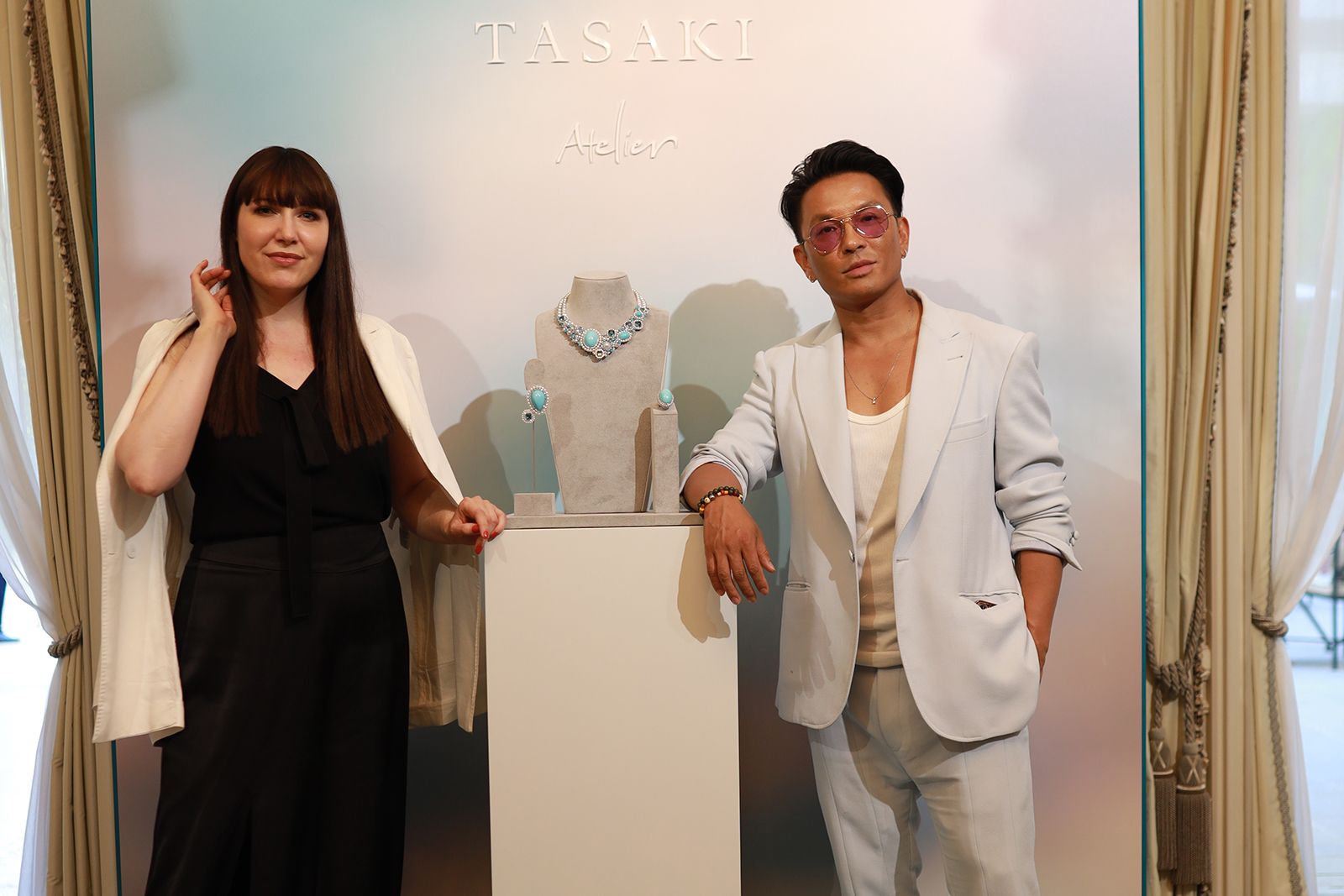 Fortunately, this attitude is shared by TASAKI's CEO, Tajima San, who I was also able to speak to at Paris Couture Week in July 2022. He told me: "It is a pity for pearls only to be used for formal occasions. It could be a piece of jewellery to wear daily to mix and match with ready-to-wear. My wish is that pearls are the last touch to finish your outfit and, for that, pearls should be something different."
Within the Radiant Sky collection, the most "different" offering is no doubt the Ore chapter, which stars a necklace and a pair of asymmetric earrings. The former is set with twisting lines of colourless diamonds, Akoya and South Sea pearls, descending asymmetrically into a vibrant mix of gems including fire opal, tanzanite, tourmaline, sphene, pink tourmaline, Paraiba tourmaline, sapphires, demantoid garnets, spessartite garnets and yellow diamonds. Conceptually, it is focused on using the full rainbow breadth of earthly minerals combined with pearls "arranged rhythmically, allowing them to be worn for any occasion," according to Tasaki.
The asymmetric earrings, which are designed specifically for either the right or the left ear, are more like ear climbers with Akoya pearls, South Sea pearls, diamonds, fire opal, sphene, Paraiba tourmaline, yellow sapphires, and demantoid garnet on one, and Akoya pearls, diamonds, tanzanites, pink tourmalines, sapphires, Paraiba tourmaline and demantoid garnets on the other. Also within the Ore collection are a selection of fun solo earrings that climb up the ear using Akoya pearls combined with vibrant gemstone solitaires, like tanzanite, chalcedony, pink tourmaline, peridot, morganite, aquamarine and yellow beryl.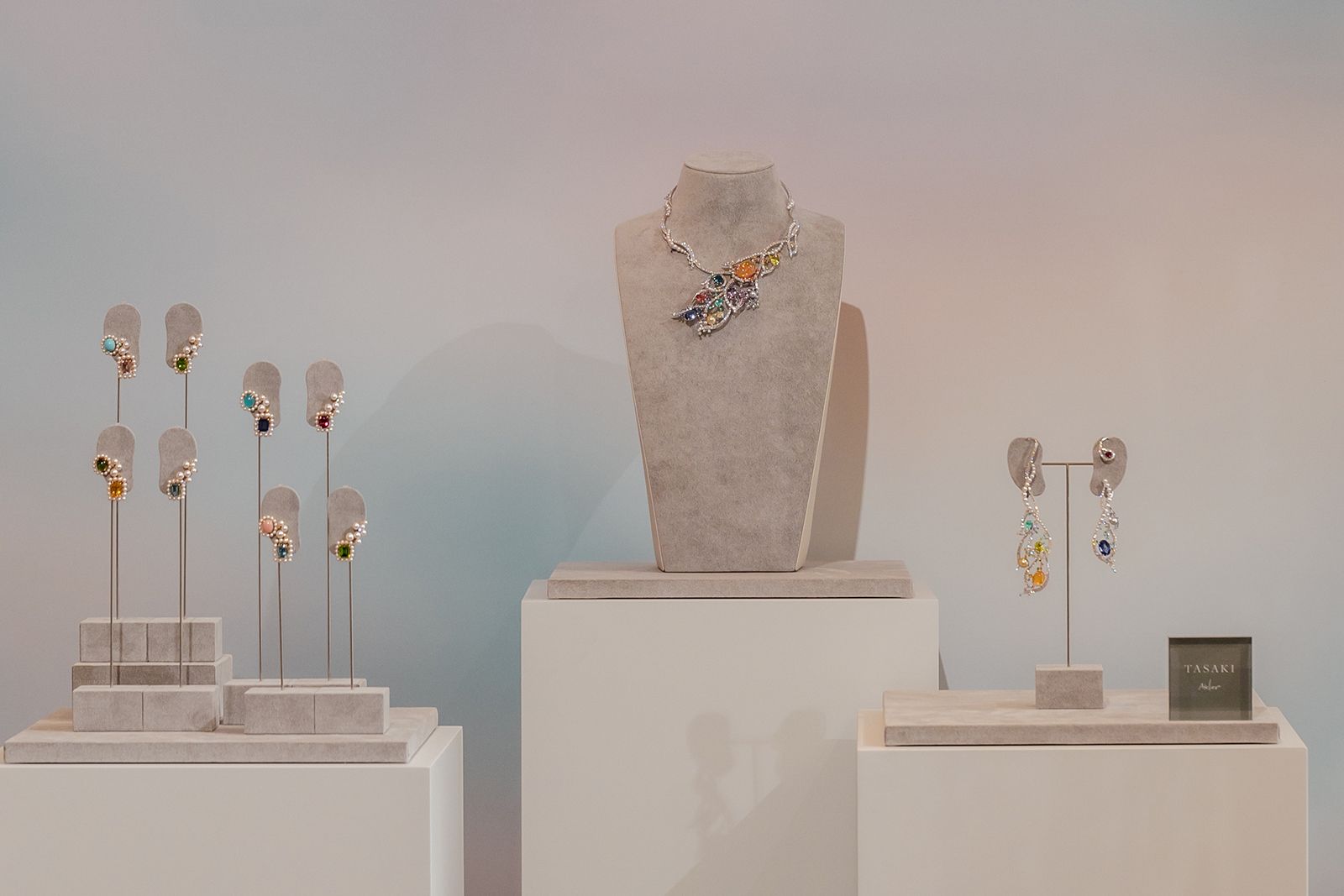 Next, there's the Waterfall chapter of the TASAKI Atelier Radiant Sky collection. It's a slightly more pared-down aesthetic at first glance, although don't let that lull you into a false sense of security! The spray of water at the base of a waterfall is depicted through three-dimensional curves of Akoya pearls and bezel-set marquise and round brilliant-cut diamonds in a necklace and a pair of earrings, accented with overlapping shapes of SAKURA gold and white gold.
And for pieces that can be worn daily, there's the Linkage chapter that's inspired by the baskets that pearl oysters are placed in at TASAKI's farms. This is brought to life through reimagined diamond-set chain links with Akoya pearls and statement gems, including a purple sapphire in the Linkage necklace. Elsewhere, there are five Linkage rings, each one set with an Akoya pearl opposite a coloured gemstone – pink sapphire, aquamarine, tanzanite, pink tourmaline, and a bi-colour tourmaline – and finished with diamonds.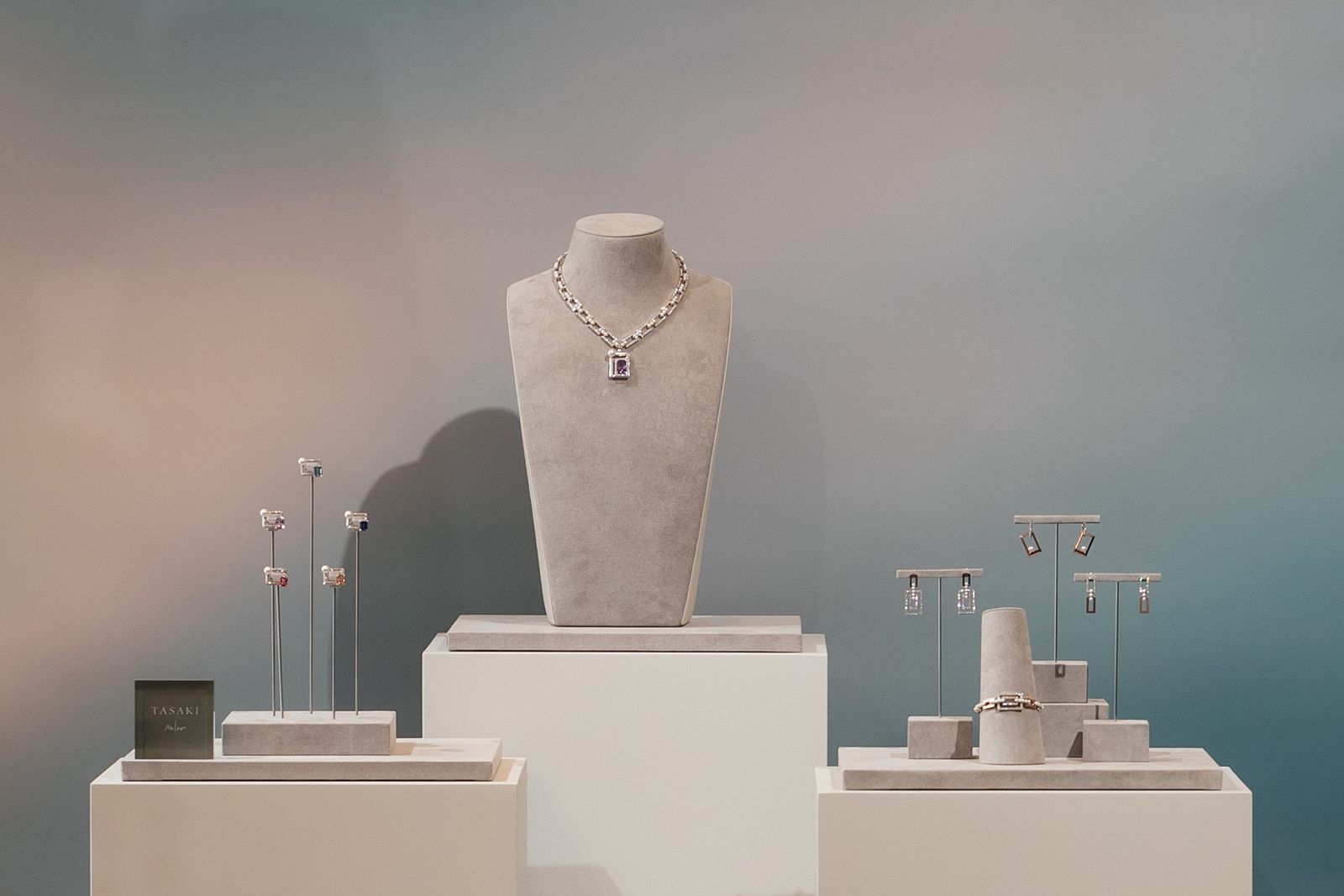 Finally, I must also briefly mention the new Tasaki Danger line of ready-to-wear jewellery and its High Jewellery additions to this collection, which are described as "romantic with an edge". The main collection contains long and slimline pearl necklaces juxtaposed with gold thorns, while the high jewellery offering includes a four-strand pearl choker, bracelet, earrings and a ring. If you are looking for rock 'n' roll pearls, this Tasaki collection is a great place to start.
We hear a lot about reinventing and reimaging pearls but following through and creating a genuinely interesting collection is easier said than done. Thanks to the design creativity of Prabal Gurung, Atelier Tasaki has created a four-part collection that transports pearls away from the safety net of the past and into a statement-inducing future. It's an exciting time for passionate pearl lovers, whether they are die-hard collectors or new high jewellery experimentalists.