After a bit of investigative work, we have discovered some independent high jewellery designers with a background in haute couture fashion. Unaware of all rules and restrictions associated with classical fine jewellery design, their fashion-trained creative minds have birthed some exceptionally inventive pieces that make even seasoned jewellery commentators stand up and take notice. Let's celebrate these individuals!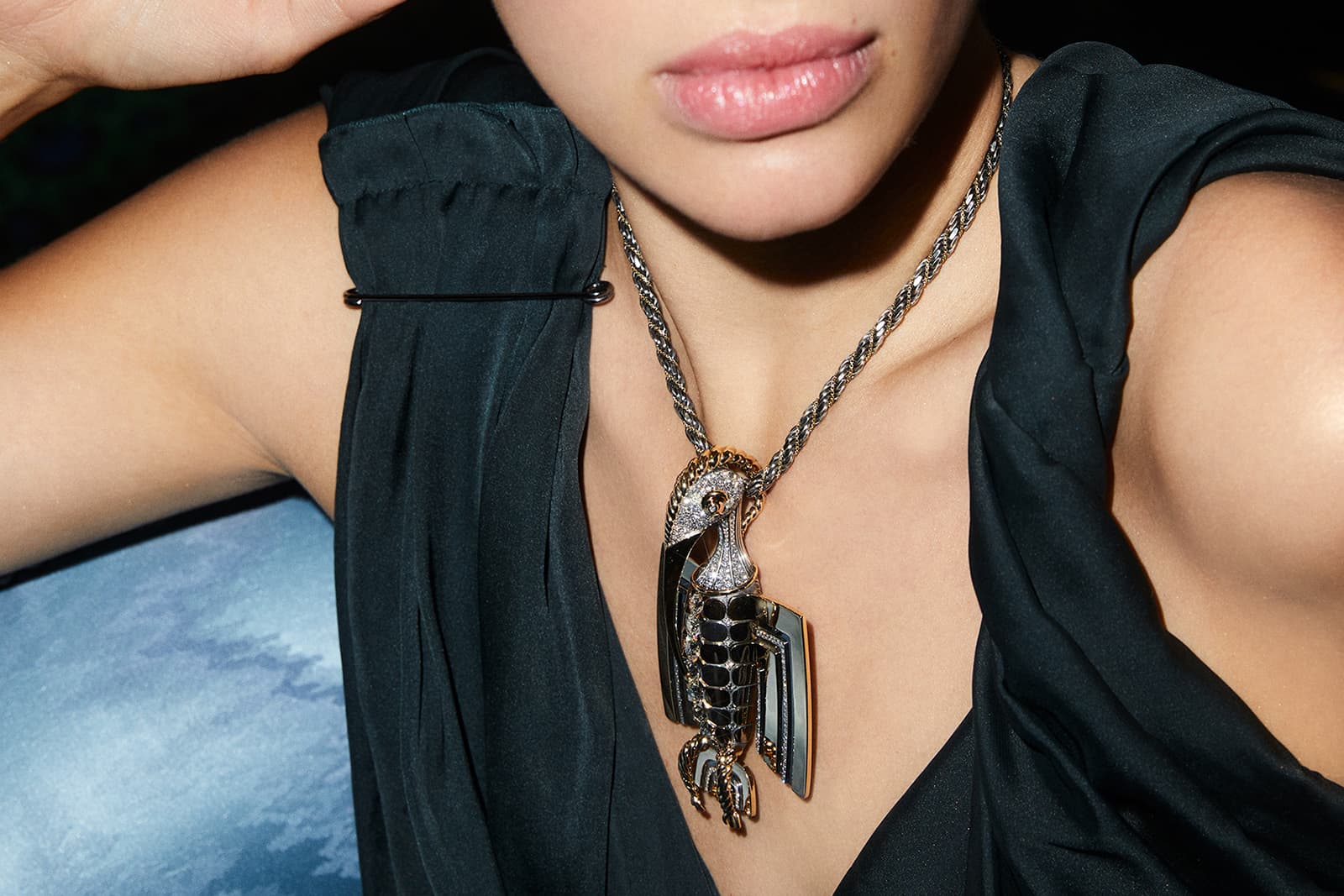 Elie Top of Elie Top Jewellery
Typically photographed in a sharply tailored suit, Elie Top is a quintessential French gentleman with jewellery tastes that are big, bold and infused with storytelling. "My first job was a general assistant at Saint Laurent," he explains. "I had no interest in jewellery back then. I had the luxury of assisting him during the fitting sessions, sketching designs to his instruction". Enter the larger-than-life Loulou la Falaise, the accessories and jewellery designer known for her aristocratic sense of style. She entered Top's life and opened his eyes to the world of jewellery design: "I started to design bejewelled belts, buckles and fabrics for Saint Laurent, Loulou gave me my obsession with big and bold pieces of jewellery". From there, at the tender age of 21, young Elie Top caught the eye of the iconic Israeli fashion designer Albert Albaz, who saw raw talent in him: "Albert took me with him to Lanvin when he left Saint Laurent, I was part of his furniture. At Lanvin he asked me to work on accessories, which developed into jewellery". After 15 years working in costume jewellery, it was time for a change and Top set out to create his own fine jewellery brand. He says: "I have no high jewellery training. I have a costume fashion jewellery training, so I approach the product in a completely different way, which makes me design differently".
Marie Cabirou of Marie Mas Jewellery
Designer Marie Caribou was still at university when she first entered the world of Dior. Arriving as an intern during the final months of her master's degree, she worked her way up to an assistant level position and then became a designer for the brand, contributing to the jewellery collections launched between January 2013 and September 2015. She explains: "I was working in the costume jewellery department. I worked on all the jewellery for ready-to-wear and couture shows and for commercial collections as well". Caribou had always wanted to create her own jewellery brand, and after three years working in-house for the fashion giant, she decided to strike out on her own. "I felt that it was the right moment for me. You will always have things to learn, so you just have to jump at some point and try". The designer launched her jewellery brand, Marie Mas, in 2015. How does her fashion past inspire her? "I think my past in fashion gave me a less classic way of creating fine jewellery because in fashion there are no weight or carat considerations, the design comes first, and that's still very important to me".
Shaun Leane of the House of Shaun Leane
You've all seen that single talon-shaped earring dangling from the earlobes of celebrities the world over. Shaun Leane's edgy and avant-garde aesthetic combined with diamond and precious stone pavé detailing is a look that is quite recognisable today. Shaun Leane started his eponymous label in 1997 with the desire to fuse the traditional goldsmithing skills he had learnt in the previous 10 years with the energy and aesthetic of modern jewellery. However, before he created his brand, Shaun famously worked with the late Alexander McQueen. He says: "Lee was a great influence and still is today because when I design and create, I always think of where he would have taken it to". The pair met when Leane was still a student and they worked collaboratively on the designer's runway accessory pieces: "Back in the 90s, Lee had given me a platform where there were no boundaries, where I could experiment and explore, and push my design and craft skill to the ultimate. He taught me to be fearless, push boundaries and that nothing is impossible. The works I created for McQueen on the runway portrayed a new woman, a new energy in jewellery which reflected the persona and confidence of an individual. I wanted to translate that same design and energy into pieces that were more accessible to be worn away from the runway".
Tatiana Verstraeten of Tatiana Verstraeten Jewellery
This young and talented designer is a go-to for Hollywood superstars. Her designs have graced the necklines, ears and hands of leading ladies such as Cate Blanchett, Laura Dern, Emma Watson and Emilia Clarke, to name a few. Having launched her brand in January 2019, she is currently one of the youngest resident jewellers on Paris' infamous Place Vendôme, home to the high jewellery workshops of the world's most prominent brands. Handpicked by the late Karl Lagerfeld himself, Tatiana started her design career at Chanel, assisting him with the sketching and creation of his runway jewellery pieces. It was under Lagerfeld's watchful eye that Verstraeten, over three years, created more than 20 collections, more than eight a year! Verstraeten took the lessons she learned from her mentor and poured them into her brand. Her fringe earrings, her most recognisable creation, are inspired by the delicate embroidery work that she discovered at Les Ateliers Lesage while working at Chanel. She says: "I like when people say my jewels are very 'couture' because indeed I don't try to make beautiful objects but to make objects that make women beautiful: just like a couture dress, my jewels come to life when they are worn."
Wilfredo Rosado of W.Rosado Jewellery
"I regard my time with Mr Armani as something of a fashion finishing school," says jewellery designer Wilfredo Rosado. Officially launching his fine jewellery brand in 2011, Rosado is no stranger to working with fashion icons. Starting his career as fashion director for Andy Warhol's celebrated Interview magazine, he was handpicked by Armani himself to join his design team in Milan, Italy. "Armani is where I honed my skills as a designer. I learned to look at trends less literally and view them as more of a movement or feeling". However, his passion for jewellery developed during his time in-house at Versace in New York, where he was introduced to the world of fine jewellery for the first time: "Fashion was always my first love but a Whitney Museum x Versace project, for which I consulted, was what whetted my appetite for fine jewellery." It was during this project that Rosado realised his next career ambition was to develop his own jewellery brand. "The worlds of fashion and fine jewellery are not so far apart. I don't think there will ever be a time when high fashion doesn't inform my design process. It is so ingrained in me that it has become second nature," he says.
The five designers above are perfect examples of what can be achieved when haute couture and haute joaillerie combine in one creative mind. Their collections demonstrate outside-the-box thinking and prove once again that the more diverse your life experiences, the more interesting you can be as an artisan.