Composed of nine brightly coloured fine jewellery pieces, Aisha Baker's latest collection is an ode to the innocence of childhood. Her creations speak to the Peter Pan in all of us and those halcyon days of youth. Each of the pieces is designed to evoke a specific memory that many of us can relate to. Let's take a closer look…
Designed to inspire happiness within the wearer as well as the admirer, each piece is complex in design, yet effortlessly joyful and colourful. First and foremost are the rings. The spherical Bubblegum cocktail ring contains all the sweetness, colour and pop we associated with its namesake. This piece is covered in an array of colourful gemstones such as amethysts, aquamarines, emeralds and sapphires and in case that isn't sweet enough, lucky charm enamel figures, each in white gold, have also been incorporated. From hot pink enamel flowers to neon yellow stars this ring bursts with happiness.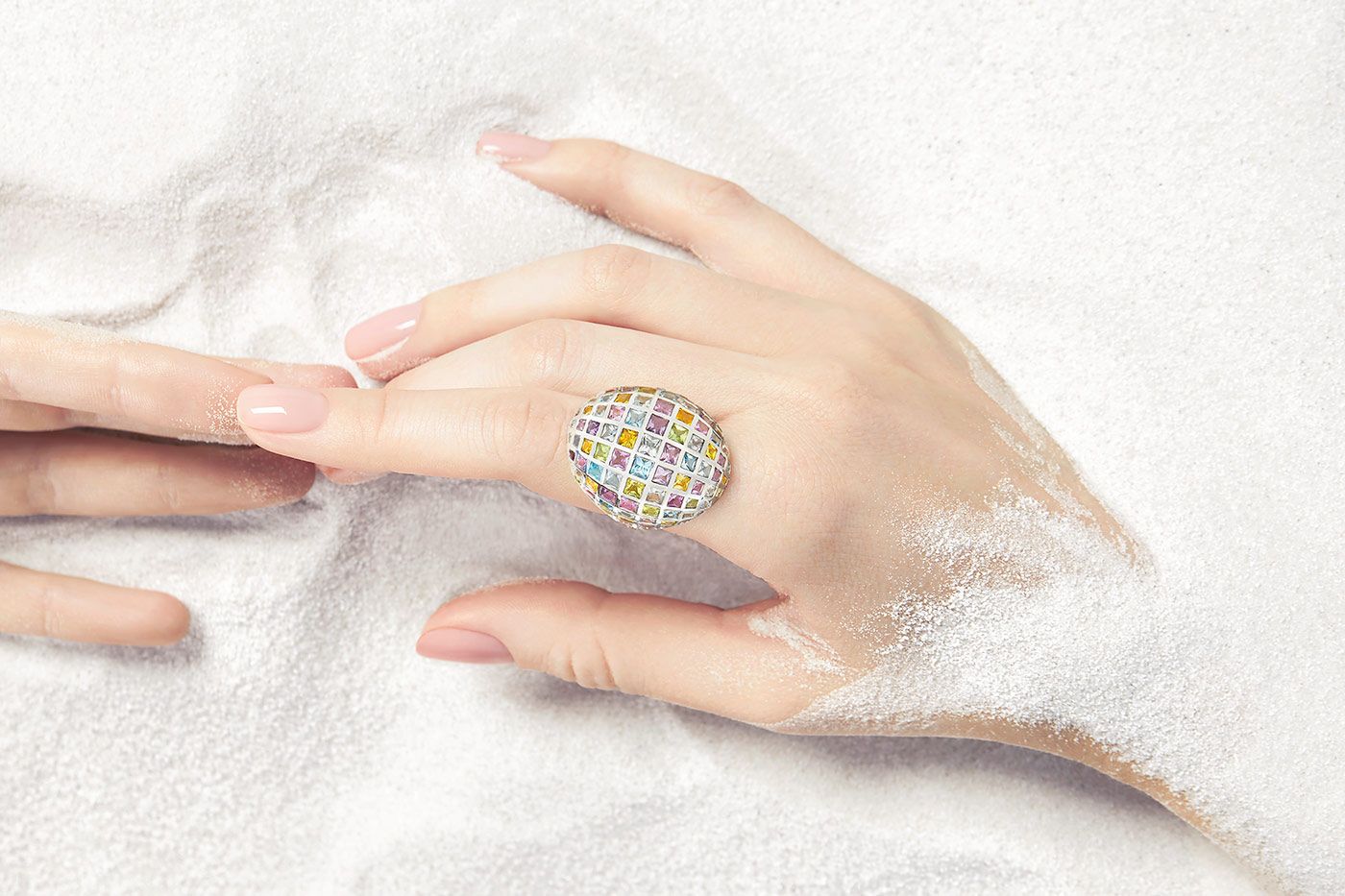 On a more romantic note, the First Love ring was created to honour a nostalgic memory. It mimics the shape of the candy heart sweets kids would gift each other on valentine's day and is crafted with a selection of hand-cut coloured gemstones to create a mosaic of pastel hues housed in a geometric cage of silvery-white metal. The Lip Gloss ring has a similar aesthetic, this time with princess-cut pastel-hued gemstones in a domed cocktail ring design that looks like an Easter egg perched on the finger!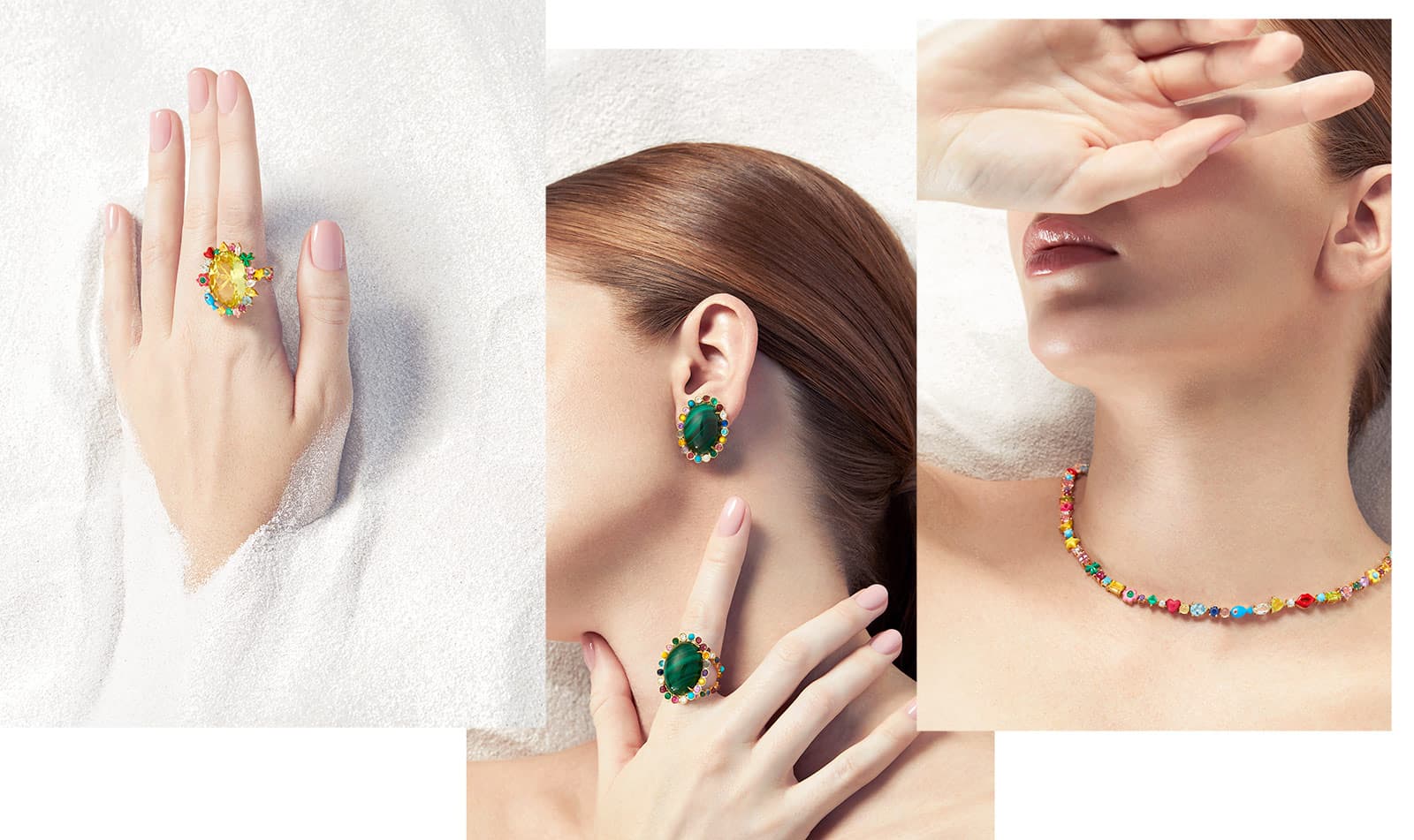 The yellow quartz Oopsy Daisy ring design is a visual representation of the frenetic energy of a child on a mad sugar rush brought to life with enamelled flowers, fish and hearts and interjected with candy-coloured gemstones. Elsewhere, the Music Box and Sweet Dreams rings reminisce on the lullabies and stories our mothers and fathers would treat us to at bedtime and the sweet dreams we had of adventures and running freely through pleasant and ever-changing scenes. The former is set with a cabochon malachite surrounded by bezel-set coloured gemstones and is partnered with a matching pair of earrings. The latter studs a voluminous domed malachite with precious charms that look like doodles drawn atop a green surface.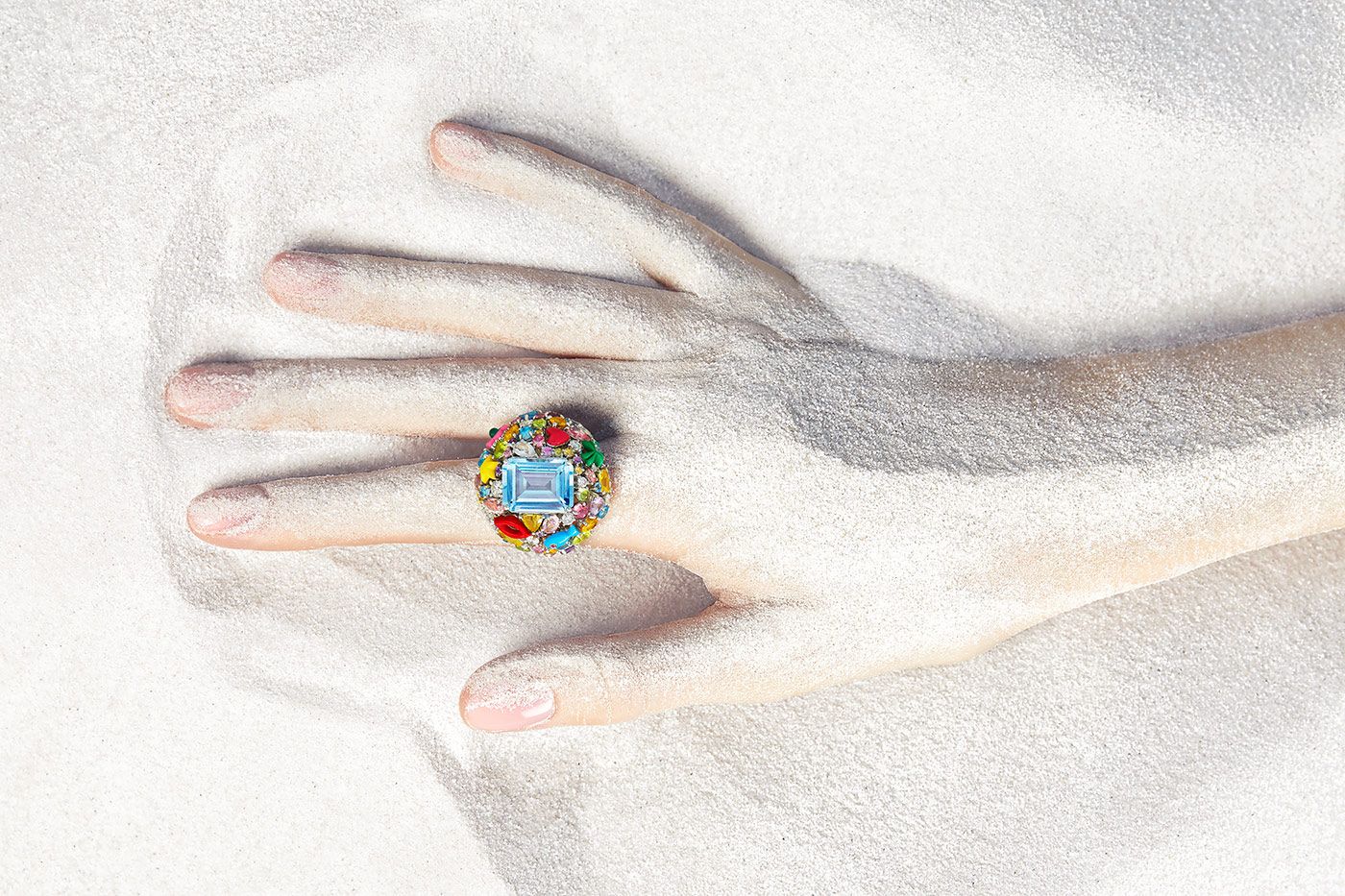 And for one final sweet note, the Sugar Crush bracelet and necklace are a fine jeweller's take on the classic candy necklace, one you would buy at the sweet shop after school or on special occasions. Much like the Bubblegum ring, they too feature a series of lucky charms. The eye is there to watch over the child, to keep them safe and out of harm's way, the four-leaf clover is to bring luck and opportunity, and the flowers, stars and fish are there to grant happiness, success and longevity.
Whether it's a single ring or an entire stack, wearing a piece from the Aisha Baker Forever Young collection is guaranteed to make you and everyone who sees you smile. Full of different colours and shapes, it will awaken the child in you and transport you back to those lovely carefree days.