"I want my pieces to inspire happiness in people," says Ghada el Sokkari Sultan, the Egyptian founder and designer behind Rock by GS. Her Dubai-based brand was established in 2019 and has built a following of customers who love her modern jewels, vintage touches and focus on colourful personality… think padlocks, hearts, safety pins, waveforms, lips and smiley faces given a fine jewellery makeover. She adds: "Don't waste jewellery on special occasions! Wake up and wear whatever you want. I want my pieces to be worn from morning to night."
This is one of the most important driving forces behind Rock by GS – the belief that jewellery isn't for one specific moment, but for all moments. Listening to Ghada tell a story about wearing a diamond necklace to the beach was all I needed to know she's my kind of jewellery designer! Just like her clients, she's "courageous" in the choices she makes, the colours she combines and the materials she uses. "Jewellery tells you everything about the style of a woman," she adds. "What you wear and how you wear it says a lot about a person's personality. That's why the pop of colour is important and what makes the pieces edgy, distinctive and attractive."
Often starting with vintage and antique pieces as sources of inspiration, Rock by GS takes us on a journey from Art Deco in the 1930s to Pop Art of the 1950s and 1960s. What unifies the brand's collections is the use of bright enamel paired with splashes of colourless diamonds, which are used in modest sizes. After all, Rock by GS doesn't prescribe to the idea that a piece of fine jewellery must contain a statement gemstone or sizeable diamond solitaire. "A nice stone is not the definition of stylish jewellery," Ghada says, although that certainly doesn't stop her from using high quality diamonds in her designs - E, F, G colours only even for the diamond pavé.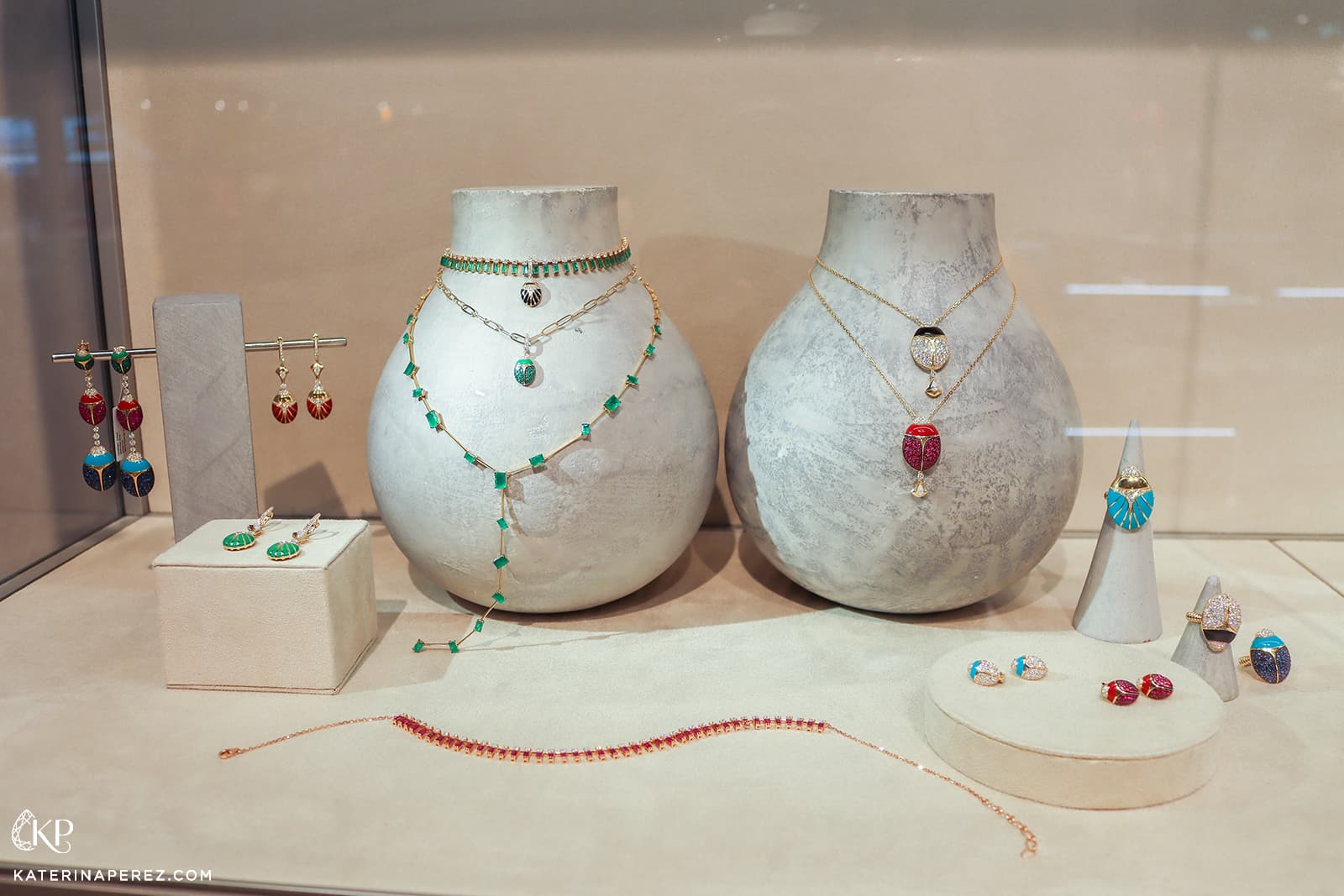 At first, she says, the naysayers questioned why a customer with the funds to buy fine jewellery would choose such colourful and comical designs. Fortunately, Ghada has been able to prove them all wrong on social media, online and via various pop-ups, which she's achieved all on her own despite the pandemic in recent years. Her first collection – The Art Deco – is directly inspired by this iconic design movement with earrings, rings, chokers and bangles with chevrons of precious metal, dusted with diamonds and adorned with squares of malachite, coloured enamel and, in some cases, precious gems like emeralds. To please herself and her personal style, Ghada began designing eye shapes – a popular motif across one of her strongest markets, Egypt, as well as the UAE and the Middle East. Soon, the idea came to give them a pop art twist. She says: "One night, I decided to take my eyes and make them bigger, huge, and colourful. I called them, The Crazy Eyes, and I think that was my turning point."
Next, she decided to channel this aesthetic into collections that reflect her native Egypt, resulting in The Lotus and The Scarab collections. "The lotus blooms out of mud – something very ugly – and what emerges is something beautiful. The Lotus gives you inspiration and feelings of hope and success," she says. Although she initially received some not so encouraging feedback about moving forward with an Egyptian-themed collection (which some described as being for 'tourists only'), Ghada was encouraged to continue thanks to a chance encounter with Karl Lagerfeld's final collection for Chanel, which was Egyptian themed. "I thought that's the sign, that's my go-ahead!" she explains. The Scarab collection is more recent and reflects the popularity of the scarab motif in many civilizations and mythologies across the world. In fact, it is a sign of luck, which makes the Rocks by GS charms, earrings, pendants and rings like miniature talismans in all shades of the rainbow.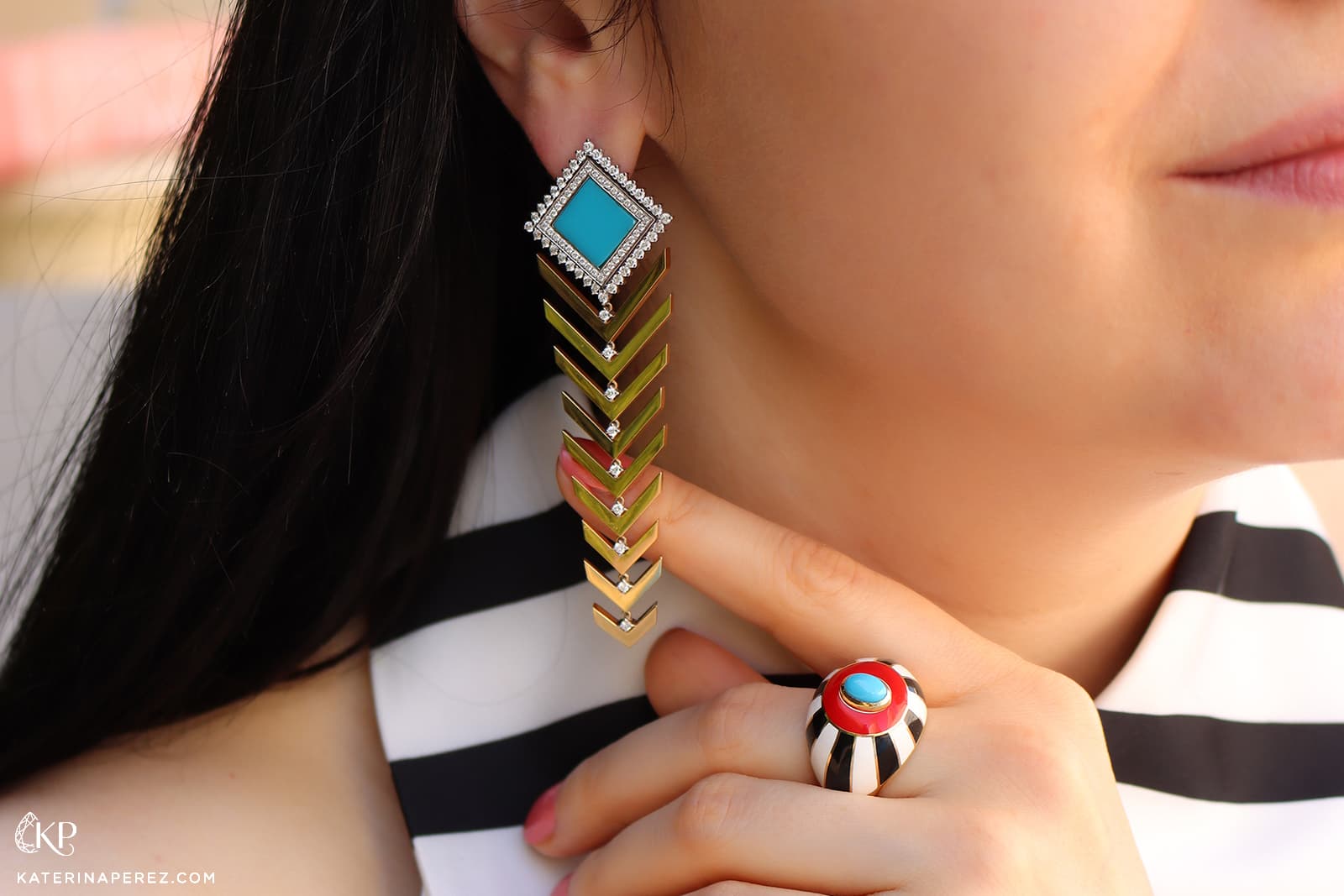 Further Rock by GS collections include The Clip Ons – a series of around 80 clip-on charms for chunky chain necklaces that range from enamel eyes and hearts to diamond pavé pieces, letters and padlocks – and The Constellation, The Waves and The Wonder Hearts with concentric layers of primary and pastel-hued enamel.
"I have been told by a lot of nice people 'you have made all the rest of the jewellery boring,'" Ghada says. "That's my inspiration. It is so important that you are not trying to make jewellery to please somebody… you have to make it because it's you."
I really admire the attitude that Ghada brings to the world of fine jewellery. By fusing diamonds and precious metals with colourful enamel, hard stone inlay, bold shapes and cartoonish designs she has created her own niche that lit up THAT Concept Store in Dubai and is soon to add a splash of brightness to the rest of the world. I look forward to watching this brand flourish as we all seek to find moments of optimism and joy in the months to come.