The unconventional union of expressive Italian mastery and traditional Japanese craftsmanship has formed the basis of a new collection by Pomellato, which takes what might once have been considered a 'substandard' material – broken shards of semi-precious gemstones – and recycles them into a beautiful and poetic line of luxury jewels.
The Japanese art of kintsugi or kintsukuro — "kin", meaning gold, and "tsugi" meaning to heal — originally consisted of the restoration of ceramic products using varnish obtained from the sap of a lacquer tree called the urushi, before being mixed with gold, silver or platinum powder. The philosophy of the craft, whose earliest examples date to the 15th century, argues for the inalienability of breakages and cracks from the history of the object, such that they should not be forgotten or hidden.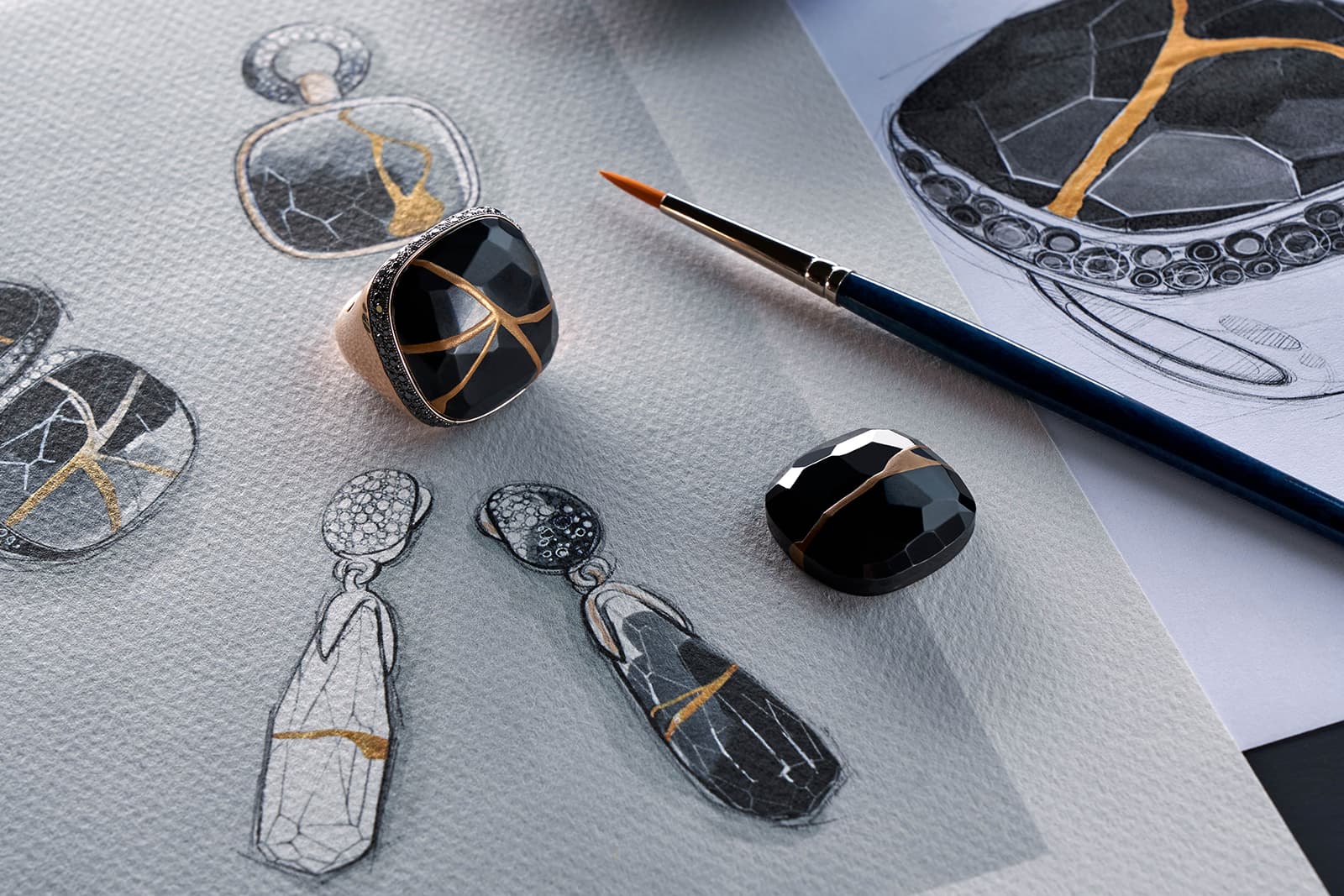 Jewellery brand Pomellato has drawn inspiration from this Japanese idea and has attempted to embody it in its latest capsule collection of the same name: Pomellato Kintsugi. The damaged jet and kogolong (also known as cacholong or cocholong) specimens – more commonly simply discarded – have been used to devise a new method of gem-making in this intricate interpretation of the ancient Japanese art. Striving to find sustainable solutions and an innovative approach to luxury, Pomellato is recycling materials to reinstate their relevance and give them a place in history, so to speak.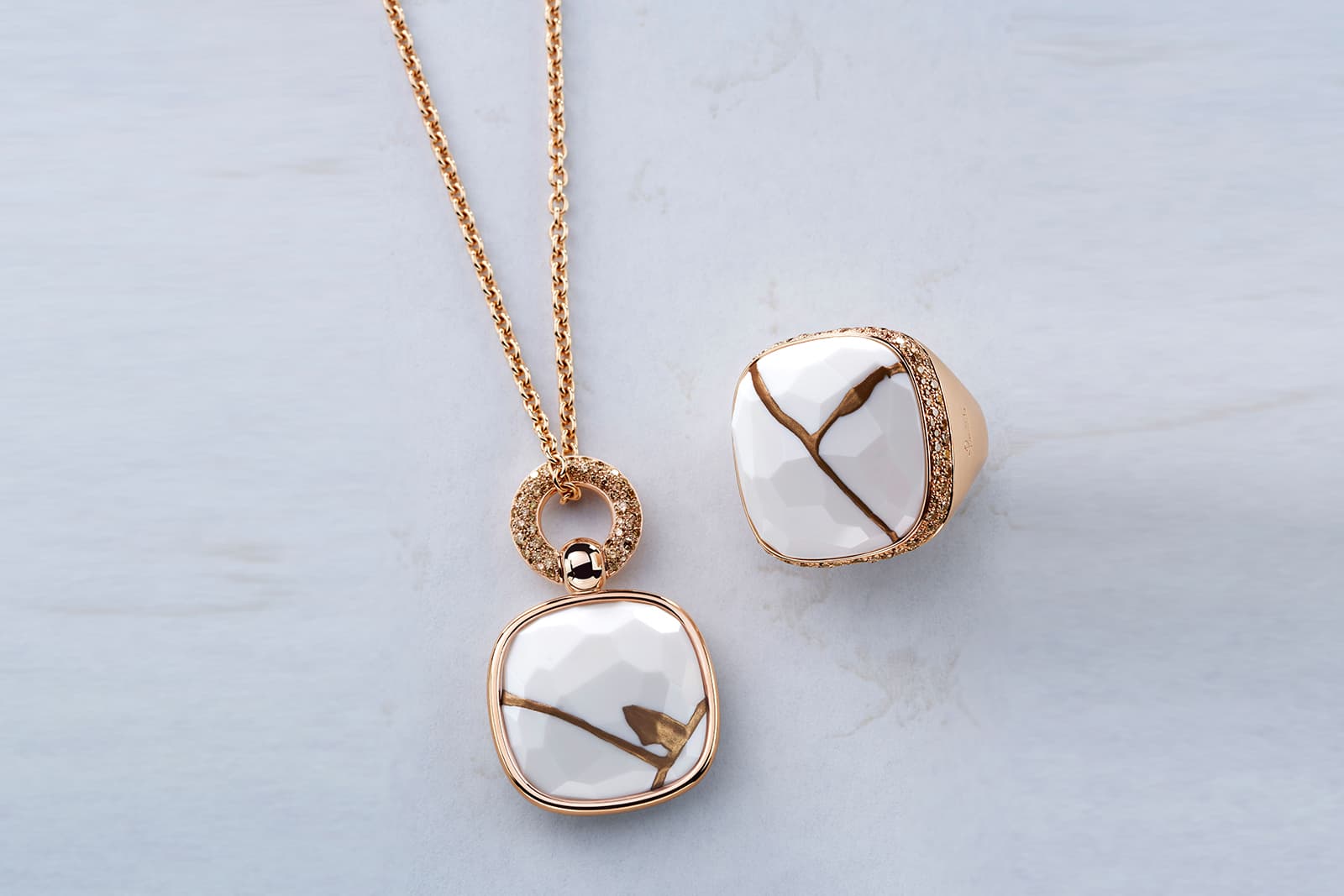 To implement this bold project, a kintsugi artist from Tokyo was invited to cooperate, who, with both passion and trepidation, managed to bring new life and value to the broken stones. These newly repaired jet and kogolong gems were then passed to the experienced hands of the masters of Casa Pomellato in Milan, who transformed the "reconstituted" stones into minimalistic rings, earrings and pendants — all with a stunning Japanese twist.
Pomellato's creative director Vincenzo Castaldo kindly shared the story of the birth of this unconventional idea: "I travelled to Japan in 2019 and while I was in Tokyo, I sought to deepen my knowledge of the art of kintsugi and immediately felt an affinity with the spirit of this ancient craft. I was drawn to the elegance of Japanese thinking and the idea of something broken becoming more precious through this ritual of repairing. The idea of celebrating your scars as a sign of strength through healing is a very contemporary philosophy. On top of this, repurposing rather than discarding is so relevant to our own lives and our commitment to sustainability. I was inspired to find a way to bring kintsugi to Pomellato and, although Milan and Tokyo may be many miles apart, we share a poetic and uncommon vision of beauty over an artificially perfect ideal, with both embracing diversity and imperfection in a similar manner. We are very respectful of the centuries-old wisdom of the craft, and the aim is not to create perfection but rather an individual and spontaneous result. Each jewel is truly one of a kind, and this to me is the real essence of precious jewellery."
Let me remind you that this is not Pomellato's first social initiative of note. With a focus on sustainability, the Italian brand takes a conscientious approach to jewellery design. Pomellato has increased purchases of Fairmined gold, is investing in tracking coloured stones and diamonds, and is exploring new, more ecological processing solutions. Meanwhile, Pomellato collaborates with the Milanese school of goldsmiths to ensure the sustained existence of fine Italian craftsmanship. Through initiatives and advocacy, Pomellato continues to emphasize the importance of caring for the Earth, women's education and career advancement, and a global well-being that fosters a healthier work-life balance.