It's not just jewellery lovers who are fascinated with engagement rings. Whenever news breaks of a public figure's engagement, images of their new left-hand accessory are splashed across Instagram, writers pen op-eds about what the ring says about their future happiness, and celebrity magazines make comparisons to others in the echelons of stardom.
This is never truer than when royalty is involved, especially the frenzy that surrounds the British monarchy. When Prince Charles proposed to Lady Diana Spencer in February 1981, there were two significant (and rebellious) characteristics of her engagement ring. Firstly, Princess Diana had chosen her 18-carat oval-shaped blue sapphire and diamond halo ring herself and, secondly, it wasn't 'custom-made' but was 'off the rack' from Garrard. In 2010, the same ring made headlines again when Prince William presented his mother's ring to Catherine Middleton upon their engagement. With its provenance and prestige, should this ring ever come up for auction, one might feasibly declare it "priceless".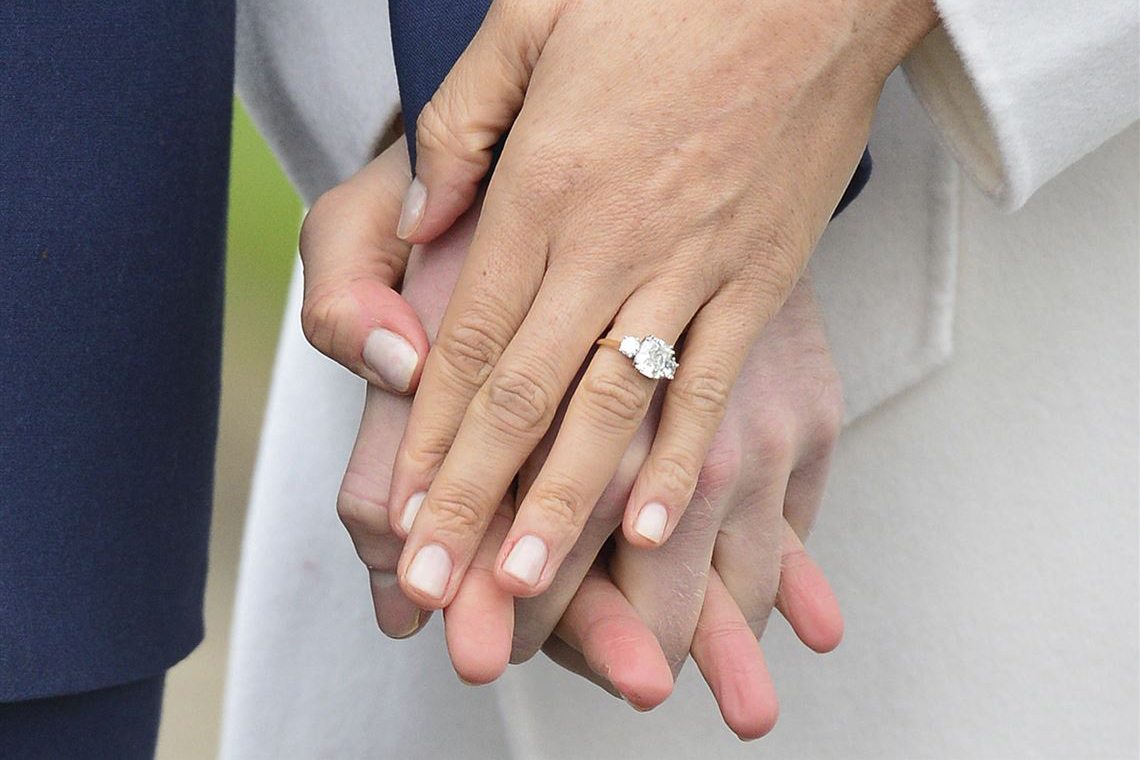 Staying on the subject of royalty, one of the most talked about rings of the decade is that of Meghan Markle, the Duchess of Sussex. Her now husband, Prince Harry, proposed in May 2018 with a graduating trilogy ring, having reportedly sourced the central diamond himself and using two stones from his late mother's personal collection. As might be expected from the couple, who are no strangers to forging their own path in life, Meghan gave her engagement ring a makeover shortly after, replacing the yellow gold shank with a more feminine, slimmer and diamond-set alternative that better suits her personal style.
Unlike the more traditional codes of royal engagement rings, those in Hollywood take greater risks and pursue engagement rings with a difference. Both Ariana Grande and Emma Stone were presented with pearl and diamond rings, the former having an asymmetric appearance with a flawless oval-shaped diamond, set at an angle, and placed alongside a single white pearl. This trend for asymmetry has been bubbling for some time, with model Emily Ratajkowski showcasing her princess-cut and pear-shaped diamond duo in 2018. Perhaps this is the contemporary take on the traditional Moi et Toi style… the reincarnation of undoubtedly one of the most famous engagement rings of the past 100 years, Jackie Kennedy's Van Cleef & Arpels creation. This ring was given to Jackie by John F. Kennedy in 1953 and features a 2.84 carat emerald and a 2.88 carat diamond surrounded by two diamond garlands.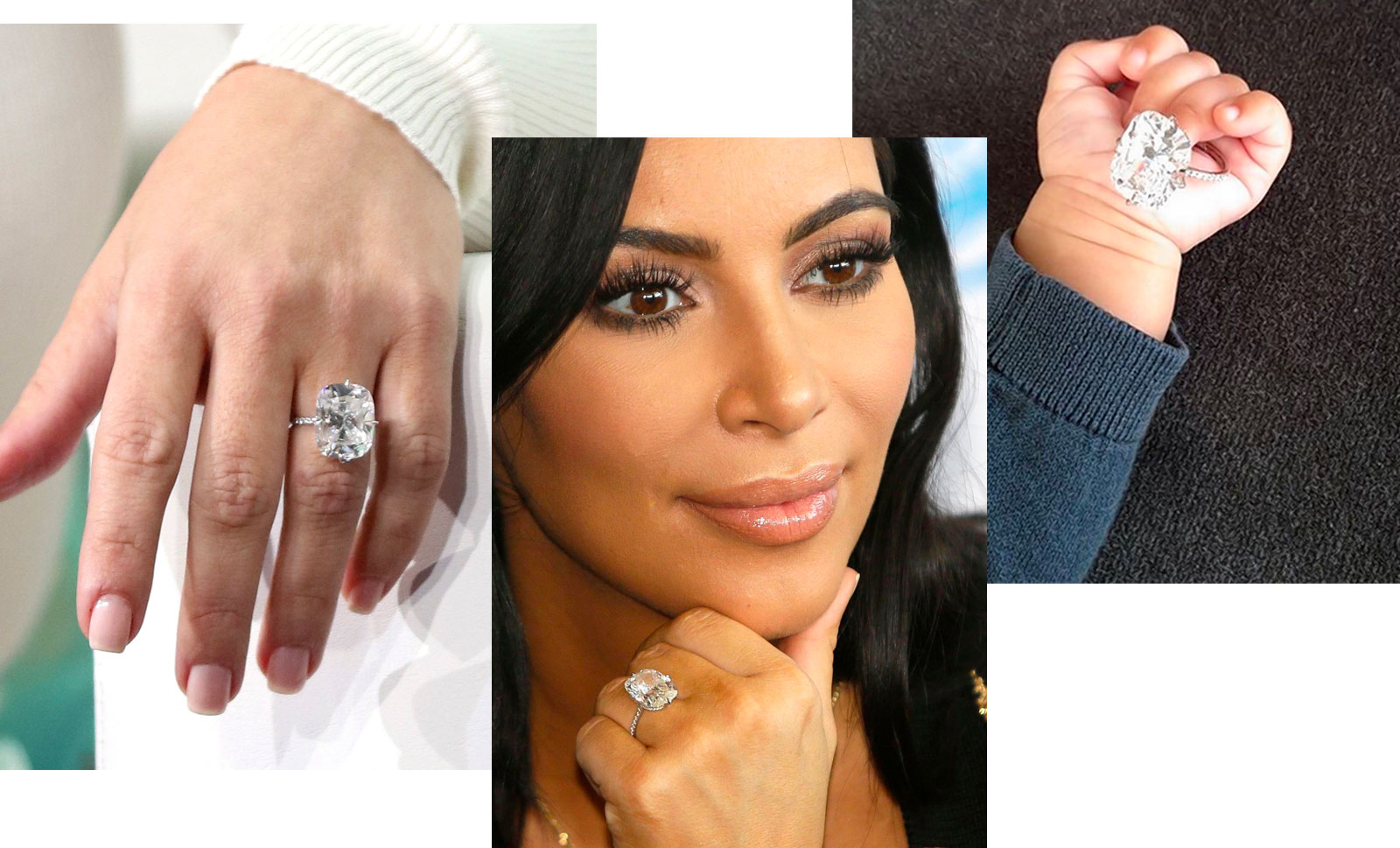 Some engagement rings are recognised simply for their extraordinary size. Kanye West proposed to Kim Kardashian in October 2013 with a 15-carat D-flawless cushion-cut diamond solitaire ring by Lorraine Schwartz, reported to cost around $2 million. Similarly, Jay Z proposed to the inimitable Beyoncé with an 18-carat emerald-cut diamond solitaire, complete with a pave diamond split shank, at an approximate cost of $5 million. More recently, Gwen Stefani was the source of envy with her trilogy engagement ring, presented to her by singer Blake Shelton, which has two trapezoid diamonds heralding a princess-cut diamond centre stone.
And while we are on the subject of huge diamonds, let's not forget the 29.40 carat emerald-cut diamond given to Elizabeth Taylor by her third (of seven) husband, Mike Todd. According to rumours, Elizabeth described the ring as her "ice skating ring". Similarly, ill-fated was the proposal made by Australian billionaire James Packer to Mariah Carey. He chose a 35-carat emerald-cut diamond, set in platinum, which was designed by Wilfredo Rosado at an estimated cost of $10 million. Sadly, the engagement only lasted nine months.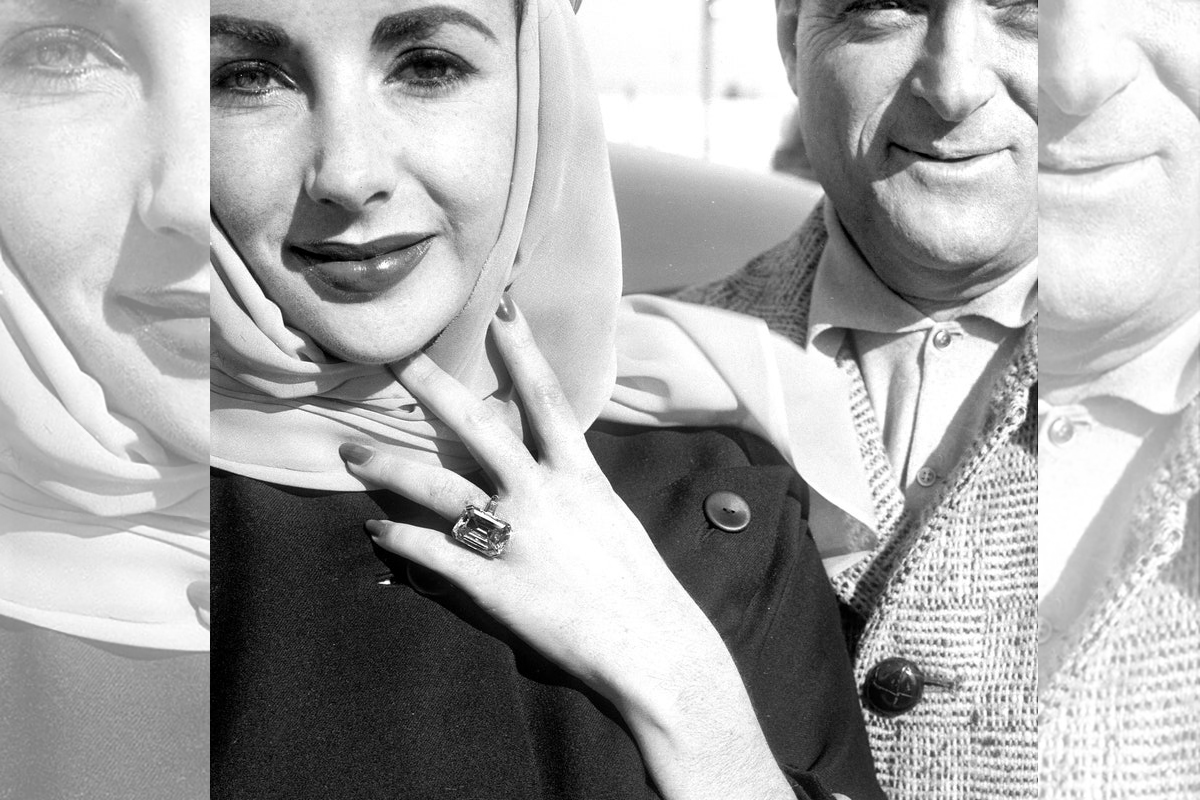 If you love emerald-cut diamonds, but your finger feels heavy at the mere thought of 35 carats, we present tennis star Maria Sharapova's sensational ring by British designer, Jessica McCormack. With a centre stone between five and seven carats, Maria's engagement ring perfectly highlights McCormack's signature bezel setting accompanied by a slimline yellow gold band. It's hardly surprising that celebrities opt for emerald-cut diamond engagement rings. After all, this particular step cut is a veritable magnifying class for inclusions and imperfections, meaning only the most flawless diamonds are given this mirror-finish makeover (especially at these significant sizes).
Every once in a while, though, there's a famous celebrity engagement ring that settles outside the norm. When Scarlett Johansson got engaged to Colin Jost in 2019, she was seen sporting a unique light-brown diamond (approximately 11 carats, according to some reports) with a modified pear-shape that appears to be floating on a curved black enamel band. This minimalist design is said to resemble the work of New York-based jeweller, Taffin, although the origin of her ring has never been confirmed.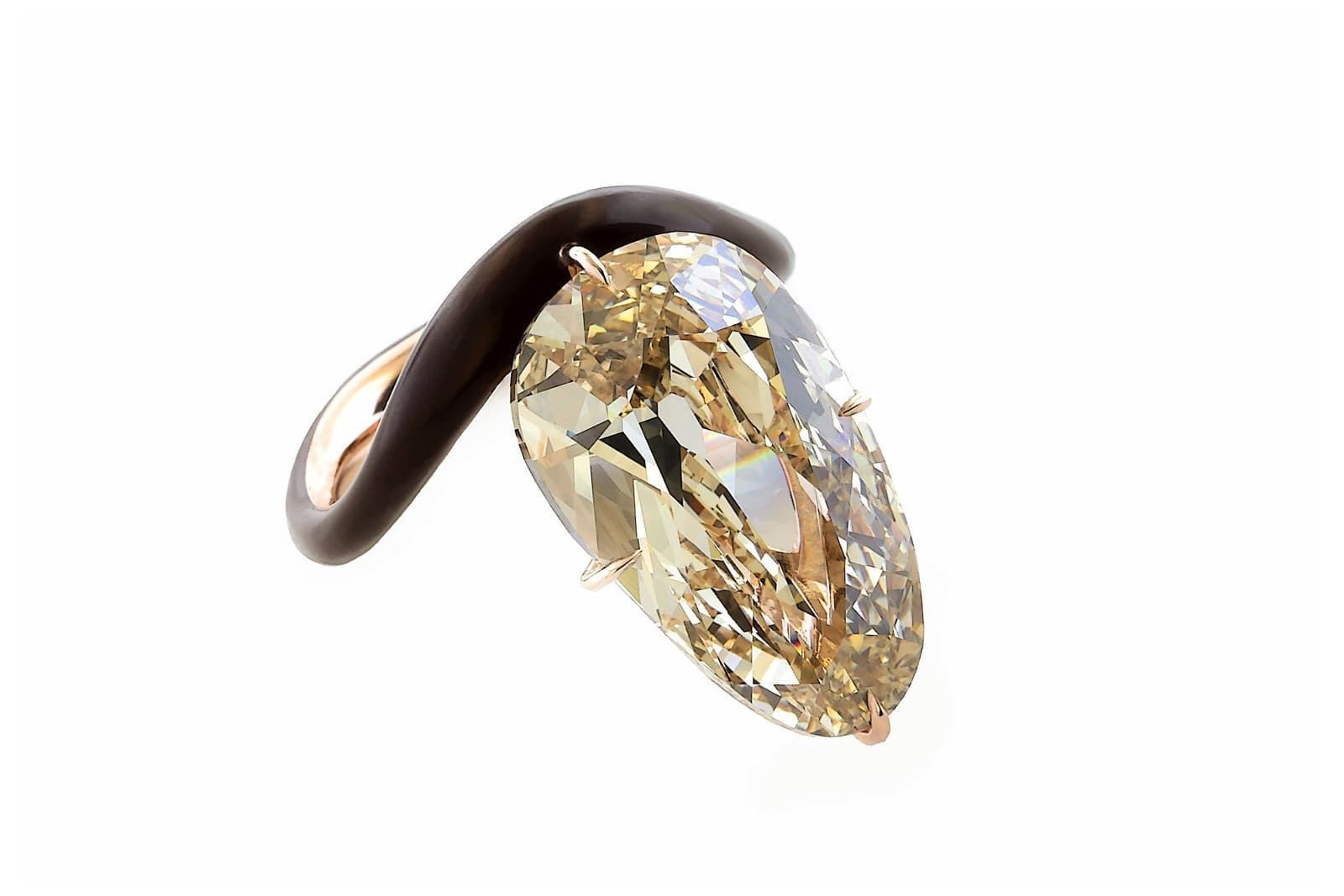 When love is in the air, celebrities have the means to declare their feelings with diamonds. There may be status in epically proportioned stones, but there's romance in the finer details and finding the balance between the two is what will keep Saint Valentine happy.