There is nothing quite like the feeling of dressing up for a party; slipping into an outfit that will instantly transform your look and your mood. Adding jewellery has a similarly transformative effect, but what about those rings you never take off – how to make those feel special? The answer… a ring jacket. Jackets are rings crafted to bring a blast of excess to more modest everyday designs, such as engagement rings. Some might be engineered to stack on top or beneath the main ring. Others are designed as a split ring with negative space in the middle so another ring can slot within them.
The latter is true of Robinson Pelham's Synchronicity collection, which launched in 2018 and is updated with new styles each year. It contains inner and outer jacket-style rings, sold separately, which can be worn individually for different looks or together for maximum impact. "We have customers who have started collecting them," says Robinson Pelham director Zoe Benyon, noting that buying two Synchronicity sets will give you a choice of eight looks by mixing and matching. "These rings offer the ultimate in versatility of mood, scale and jewellery multiplication."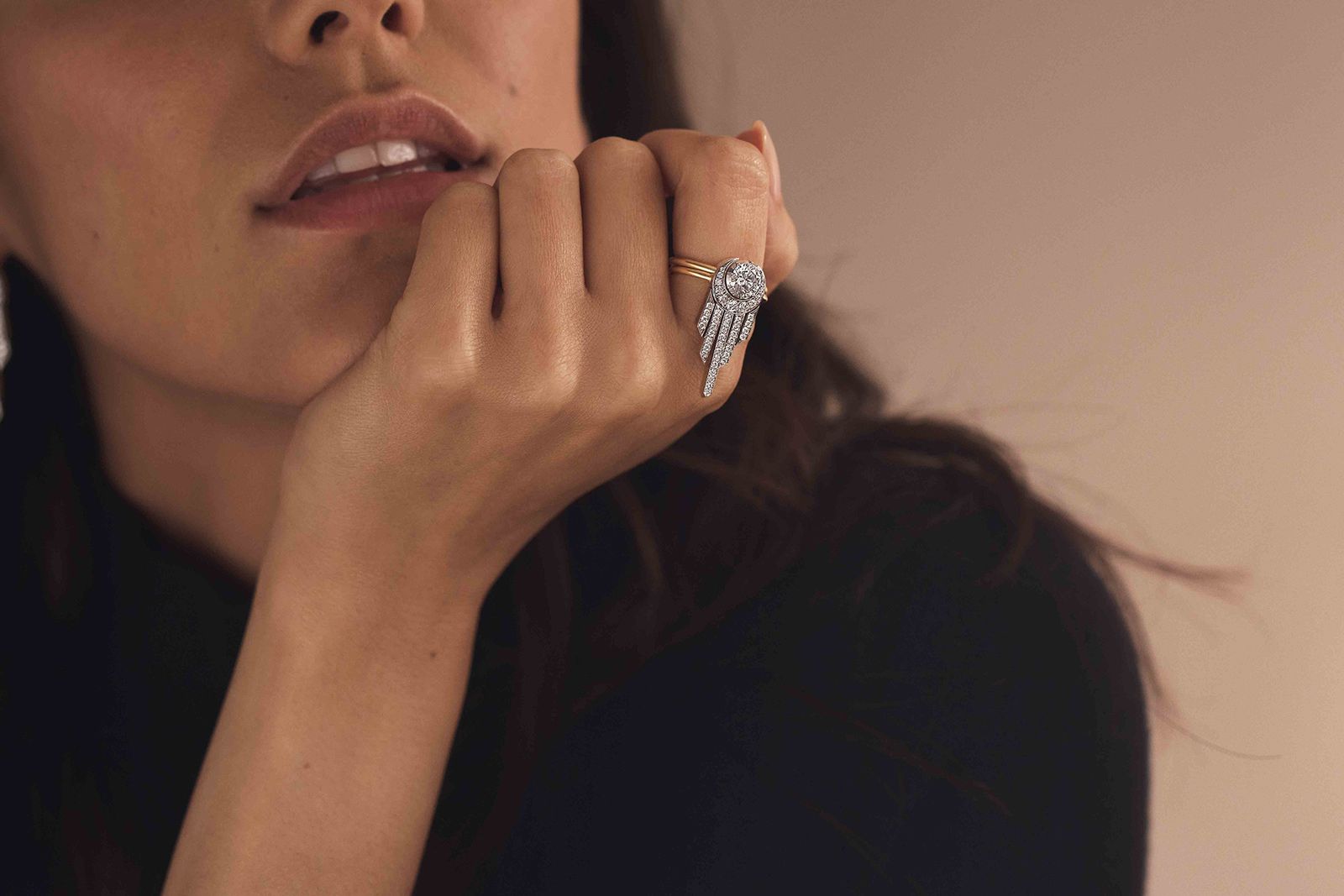 London jeweller Jessica McCormack offers both stacking and full jacket styles in her Party Jacket collection. Some are simple, such as the Daisy jacket, a circlet of 1.4 carats of diamonds in Georgian-style cut-down settings that transform a solitaire engagement ring into a flower. Others are wilder: the Diamond Fan Party Jacket, for example, which has 200 trapeze-cut diamonds weighing 9.75cts set into a circumference of fan folds. The jacket took 600 hours to craft and is hinged to allow it to snap closed around an engagement ring.
"There are so many reasons a client might want a Party Jacket, but really it always comes down to versatility, because it offers a different way to wear a ring, be that something pre-existing in your jewellery wardrobe or a ring you're purchasing alongside the Jacket," says McCormack. "You don't always find versatility in jewellery, and I love our Party Jackets for providing that."
While ring jackets are becoming more popular today, the designs have their roots in history, shares Josephine Odet, head of buying and client services at vintage and antique jewellery store Omnēque. "When I noticed the ring jackets coming back into contemporary ring design, I instantly thought of keeper rings," she says. Keeper rings – simple gold designs, sometimes decorated with enamel or small gems – emerged in the mid-18th century at the same time as solitaire diamond rings first became popular, she says and were worn either side to stop the more valuable solitaire slipping off. Keeper rings would later evolve into a single wedding band in the 19th century and were also a precursor to eternity bands.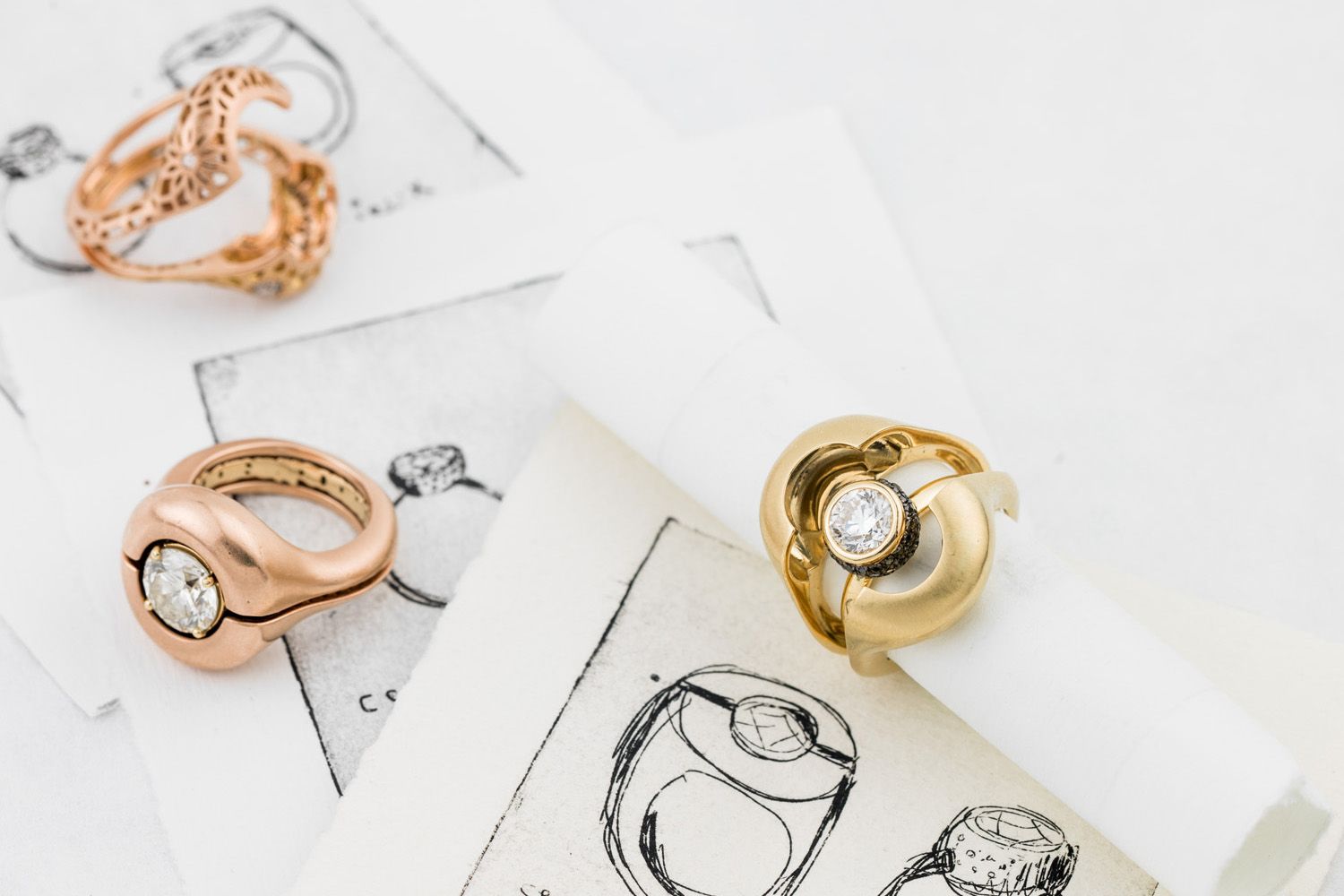 In the 1920s and 1930s, keeper rings made a comeback, but this time it was less about security and more about occasion dressing. "The more elaborate keeper rings of the 1920s, also known as guard rings or enhancers, are more alike style wise to the contemporary jackets, where the main engagement ring is removable from another custom fitted ring which enhances the main ring," says Odet, noting that finding good examples of such rings from this era is very rare.
When jewellery designer Alia Mouzannar first launched her Cache ring jackets in 2008, they were a novel design as not many jewellers were offering such styles at the time. Now, she says, the style has "become part of the jewellery tradition". Rather than adding more flair and glamour to an engagement ring, her vision for her Cache rings is that they should actually make valuable diamond rings more casual. Her jackets enclose the ring in bold curves of brushed gold or colourful enamel that allow the diamond of the original ring to peep out from the centre. Many of her clients collect multiple Cache rings to switch up their style from day to day without having to remove that heirloom ring.
"The idea was born when I received an impressive diamond ring from my mother-in-law that has been in the family for decades," recalls Mouzannar. "I wanted to [customise] this ring without destroying it, making it more personal, more wearable. I created the 'cache' ring, hiding the antique part and only showing the centre diamond. That's how I apply a modular take on traditional jewellery, a beautiful fusion between antique and contemporary jewellery."
Such is the popularity of the ring jacket that it is now being incorporated into bridal jewellery collections, not as an add-on for special occasions but instead of a more traditional wedding band. This is the case in British designer Andrew Geoghegan's new Asteria collection, which is inspired by the sun. The setting of the diamond or coloured gemstone solitaire of the engagement ring is embellished with a sunray pattern. This theme continues into the wedding band, which is actually a gold jacket that gives the impression of sunrays travelling along the finger. This is certainly a bold choice for a ring that will be worn every day, but Geoghegan says the Asteria jackets are comfortable enough to stand in for a wedding band. "The jacket is very flat to the finger," he explains. "The length of the rays on the ring are relatively long, so for shorter fingers, we have just created a more refined version." And should brides wish to dial up the drama for a special occasion, Geoghegan advises doubling up, wearing a jacket on either side of the ring for a bold look.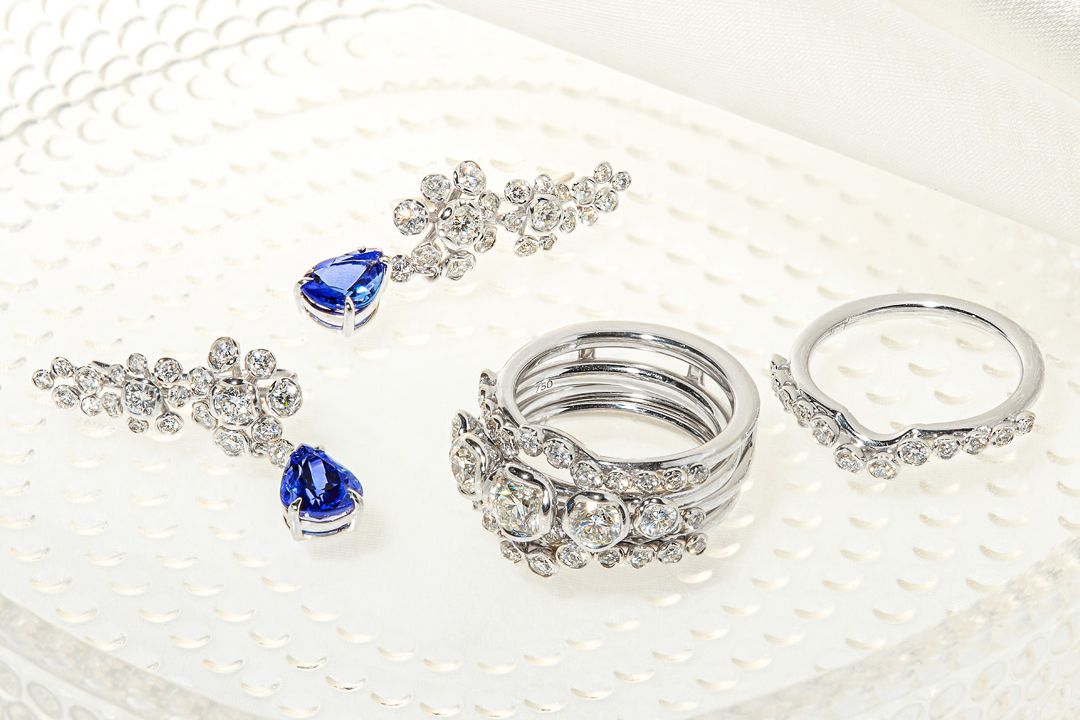 Annoushka Ducas has similarly been reimagining the matrimony rule book when it comes to what commitment rings should look like. "Unlike most designers, I didn't start with bridal," she points out. "It was only when I celebrated my 30th wedding anniversary in 2020 that I started thinking about how I might design my engagement ring differently were I to design it now." What she realised was that versatility would be key: "I knew I would want options to wear it in different ways, depending on my mood."
Rather than simply muse on the possibilities, Ducas made herself an upgrade by crafting a white gold ring jacket set with baguette-cut diamonds that she can now wear alongside her yellow gold and ruby engagement ring. This experiment led many of her friends to do the same, and bespoke commissions started to flow in. It has become so popular that her jewellery brand Annoushka will launch a dedicated service for embellishing engagement rings in September called Pimp My Ring.