Before we look at contemporary collections, I want to draw your attention to a fashion of the late 18th and early 19th century: wearing 'lover's eye' brooches or pendants that featured the painted eye of a loved one. As a rule, the eye was depicted in watercolour or gouache on either ivory or parchment, and then the result was occasionally included in a frame of gemstones. At this point in time, the depiction of the eye was as close as possible to the real thing. Today, jewellers more often than not come up with abstract images for the "mirror of the soul".
Large, expressive Egyptian-style eyes made of gold, diamonds, sapphires, amethyst, turquoise and other gems can be found in the Fascination collection of the French designer Sylvie Corbelin. Toronto jewellery designer Holy Dyment has come up with dozens of enamel rings and brooches with a wide open, narrowed and even seductively closed eye over the course of her eight-year career. Solange Azagury-Partridge - known for her bold designs and glints of humour - has even put make-up on her rings and pendants with eye shadow in enamel, either an emerald or ruby pavé.
The largest collection of eye jewellery was achieved by Lito in her Tu es partout ("You are everywhere") line, comprised of more than 80 pieces of jewellery. Blue, green, brown, purple and yellow eyes painted in enamel adorn pendants, rings, bracelets and earrings in different shades of gold with and without diamonds. The company's website says of the collection's primary symbol: "It is a surreal talisman with a different story for each and every one of us. A traditional symbol of protection, it is transformed into a constant reminder to keep your eyes open, to look, to observe, to create, to live and to find beauty everywhere".
Nigora Tabayer, who began her jewellery line in 2019, has chosen the eye as the central motif for her diamond and emerald collections. The designer explains this by saying that "when I was little, my mother always took care of me, my safety and health, as most mothers do. When I began to grow up and explore the world on my own, she gave me an accessory that had the image of an eye on it, symbolising protection. This tradition has been part of our family for many years and I want to observe it in my jewellery."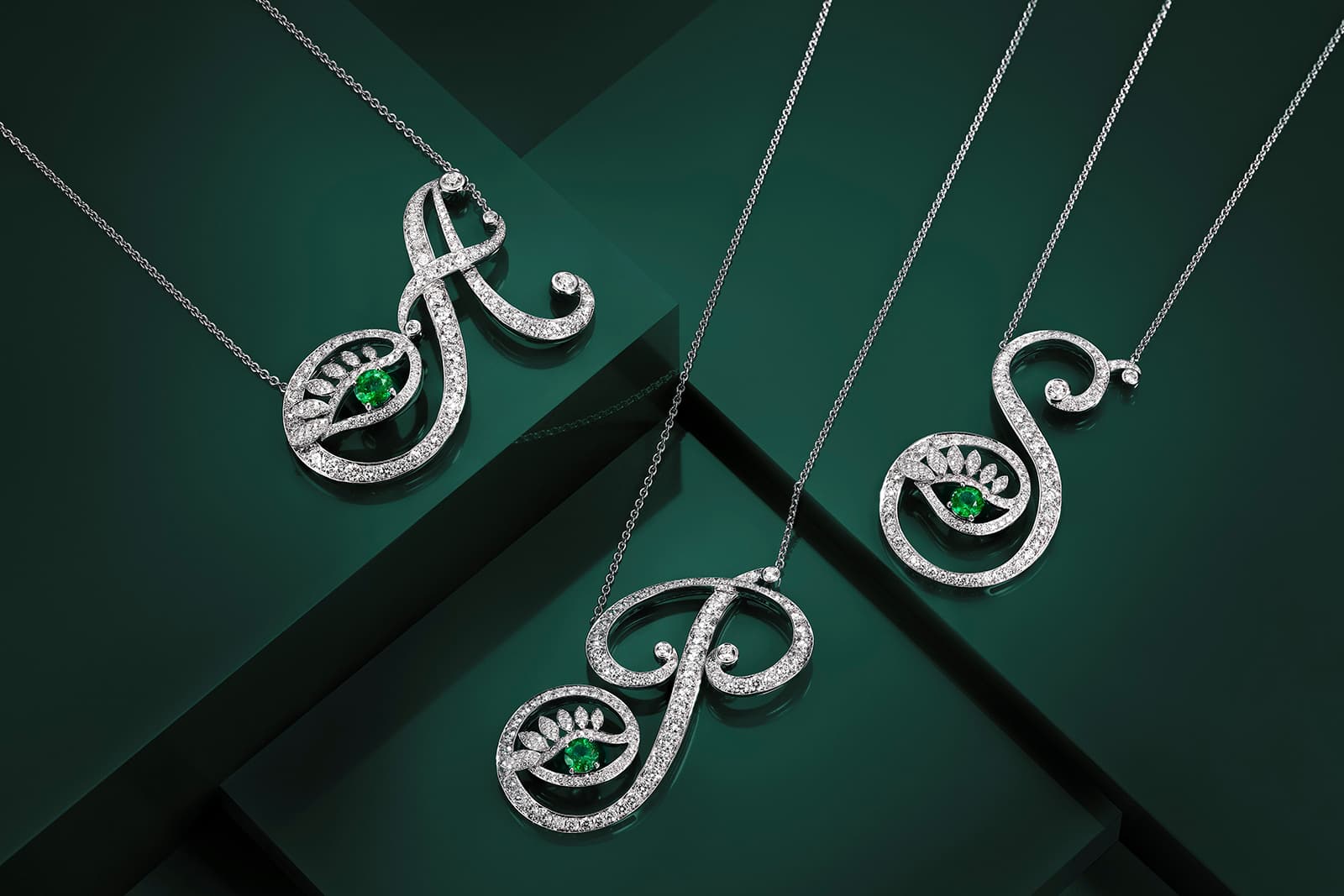 Continuing the theme of the eye as a protective talisman, let's look at the Evil Eye Fireworks collection by American jewellery designer Suzanne Kalan. The pupil is made of turquoise and the rest of the eye is made of Suzanne's favourite diamond baguettes. In early 2020, she released the latest Evil Eye Rainbow Fireworks in white, yellow and pink gold with emeralds, as well as pink and blue sapphires. "The collection is a harmonious blend of exquisite colourful gems and my love of the baguette cut diamond," the designer comments.
An original collection of gold jewellery with engraved retinas can be found at the Qatar brand WITR. Its founder, Reem al-Shamari, recently shared her thoughts with me during an interview about her unique idea: "eye prints are second to DNA, so every person is born with a magnificently unique eye print that is inimitable. By engraving these artistic, God-given features, we immortalise the soul on precious metals as jewellery to be worn, seen, kept and felt forever." To create each piece of jewellery, you must first take an individual picture of the eye, after which the WITR masters recreate it in gold and decorate the pupil with a precious stone.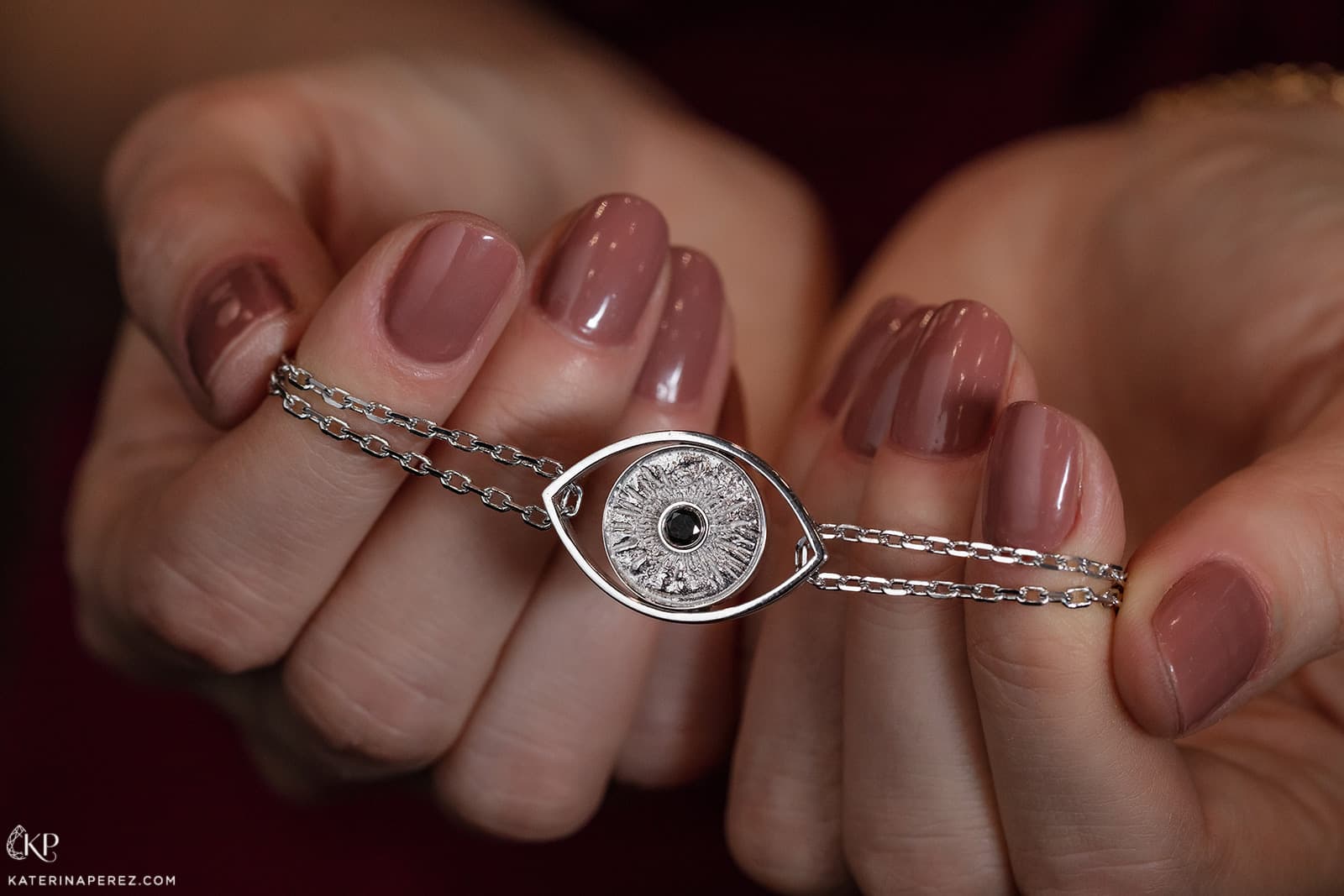 Temple St Clair, CADAR, Anthony Lent, Azza Fahmy, Aisha Baker, Never Not and Delfina Deletrez – these are just a handful of the other designers and jewellers who have explored the theme of the bejewelled eye to varying degrees.
My personal favourite of all time though is the Salvador Dalí brooch called The Eye of Time, which the famous artist originally invented for his wife Gala in 1949, and now one of the three copies is included in the permanent exhibition of the Fundació Gala-Salvador Dalí in Figueres, Spain.