Louis Vuitton Grace Necklace
Shining from the Louis Vuitton Spirit High Jewellery collection is the Grace necklace – a dynamic and three-dimensional diamond-set choker with a 65.26 carat oval-shaped tsavorite drop from East Africa. The piece is said to represent two phoenix wings unfolding around the neck in homage to the power of rebirth and renewal. Its shape resembles two 'Vs' – one made of custom-cut baguette diamonds and the other a twisted metal torque of round diamonds – all crafted in white gold.
David Morris Ribbon Necklace
The inky blue of a black opal was the creative starting point for the David Morris team when designing this Ribbon necklace from the Modern Classics High Jewellery collection. The pear-shaped centre stone hails from Australia and weighs 41 carats. It's accented with 35.35 carats of pear-shaped white diamonds, 13.53 carats of pink and blue spinels, 7.68 carats of garnets, pops of Paraiba tourmaline, and further Australian black opals of approximately 30 carats.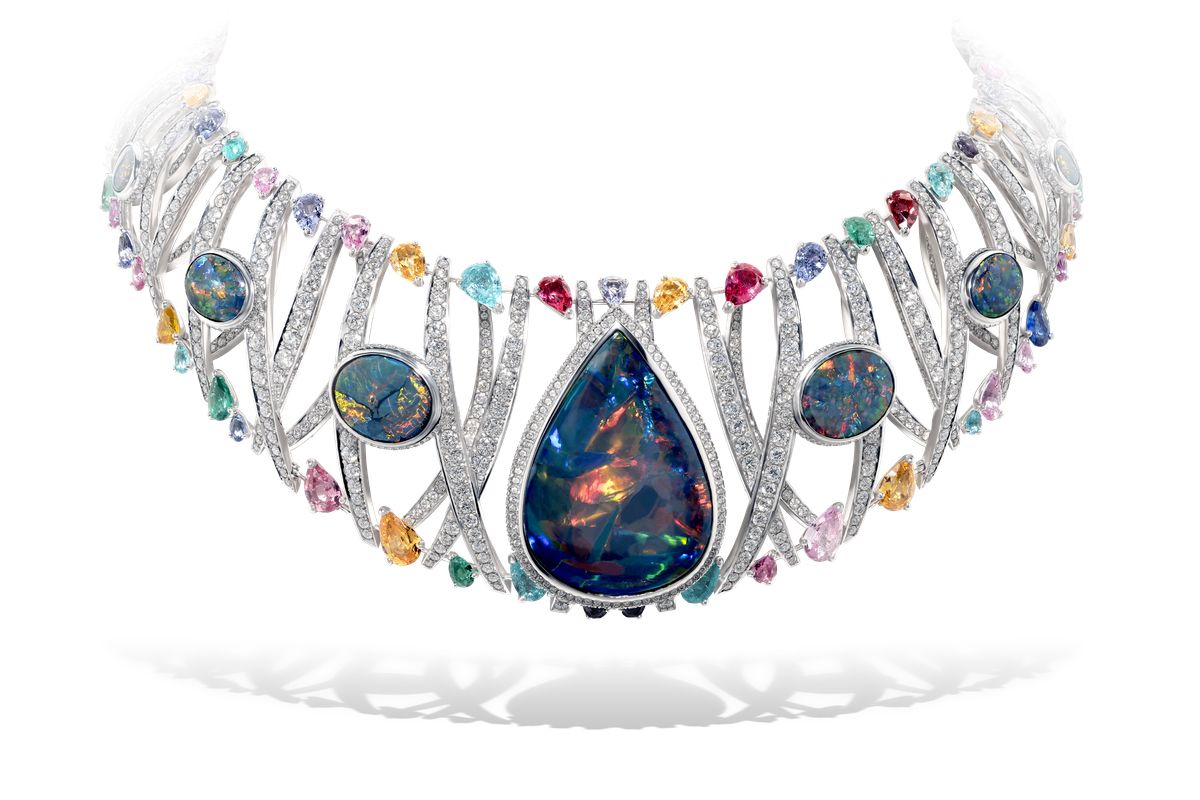 Gucci Hortus Deliciarum Necklace
In the third act of its Hortus Deliciarum High Jewellery collection, Gucci presented a statement necklace with a hexagon-shaped emerald of 172.41 carats. This crisp slice of beryl is held in place with enamelled fan-shaped 'claws' tipped with pear-shaped diamonds and suspended from a hexagon-shaped chain set with fancy-cut diamonds. On the neck of Hollywood superstar Jessica Chastain, this necklace is the epitome of red-carpet dressing… especially considering the contrast with her striking red hair.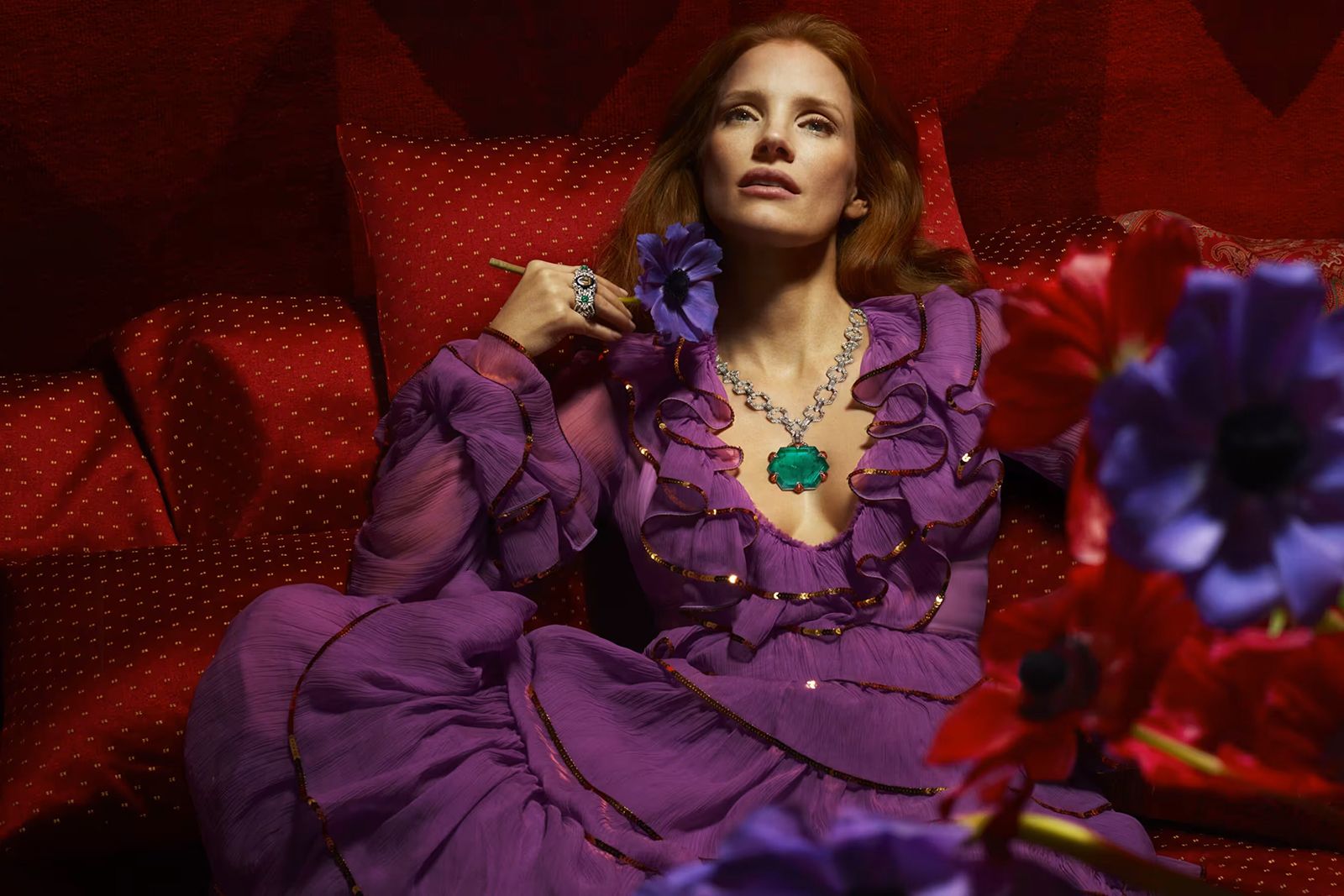 Tasaki Radiant Necklace
The new Tasaki Radiant Sky High Jewellery collection boasts this necklace that's set with Akoya pearls, South Sea pearls, aquamarine, blue zircon, Paraiba tourmaline and three flawless turquoise cabochons. When I spoke to the brand's creative director, Prabal Gurung, he explained that these gemstones were in the Tasaki archives, and he felt compelled to use them as the starting point for a fresh, asymmetric necklace. This is the vibrant result!
Mellerio Joaillier Pierreries Necklace
There's an antique quality to the new Pierreries
High Jewellery necklaces
by Mellerio. Among the rutilated quartz, citrines and amethysts is this sea-green prasiolite version with 22 gemstones weighing 220 carats. Each stone is interspersed with floral motifs and decorated with exaggerated millgrain detailing in 18k pink gold. The result is something whimsical but striking like it has returned on Alice's neck when she escapes Wonderland.
Pomellato Princess The Rapper Necklaces
Within the 2022 incarnation of the La Gioia di Pomellato High Jewellery collection there are two necklaces in the blue-green family: Princess The Rapper Acqua and Princess The Rapper Menta. The former boasts a 15.65 carat aquamarine, while the latter heralds a 17.9 carat Paraiba tourmaline in a fantastical shade of neon green. Each gemstone descends from diamond-set chain links that meet a rose gold oblong-shaped chain link necklace.
Tiffany & Co. Bird on a Rock Brooch
Tiffany & Co. has gone back to its roots for its latest Blue Book High Jewellery offering, which revisits the designs of one of its most famous artists, Jean Schlumberger. The Bird on a Rock brooch concept is not new. In fact, it was first introduced in the Tiffany & Co. by Jean Schlumberger collection in the 1960s. This new iteration is set with an exceptionally large emerald-cut aquamarine of more than 62 carats and adorned with a diamond-set bird with gold plumage.
Cindy Chao Morning Seine Bangle
First unveiled at Masterpiece London, I couldn't resist including this bangle from Cindy Chao's latest array of Black Label Masterpieces. The Morning Seine (Masterpiece VI) is set with a 50.53 carat sugarloaf-cut cornflower blue sapphire hailing from Sri Lanka. It's held in place with talon claws of polished yellow gold and tendrils of golden branches that wrap around the wrist, accented with oval-shaped diamonds, sunny yellow gems and sparks of vibrant pink.
High jewellery shouldn't just be about presenting large stones; it's aim should be to contain the bold characters of these gems in impressive overall designs. I am sure you will agree that these pieces from Paris Haute Couture Week 2022 are wonderful examples and make nature's spectrum of blue and green shades sing.