Each of the designs included in La Gioia has already stood the test of time: the first part of the collection is inspired by the Maison's very best archival pieces, reinterpreted and given a "second life"; the second offers a modern and extravagant take on Pomellato's iconic chains and sautoirs. In this unprecedented dialogue between past, present and future, the Italian brand is reimagining the conventions of high jewellery with a focus on bold, dramatic designs.
"I am so proud of La Gioia!" says Sabina Belli, CEO of Pomellato. "The idea to revive and incorporate iconic works from our past in La Gioia reflects Pomellato's values and commitment to sustainability. There is continuity in this collection and a desire to introduce sustainable practices to the world of luxury goods, something which also revitalises us as craftsmen and designers."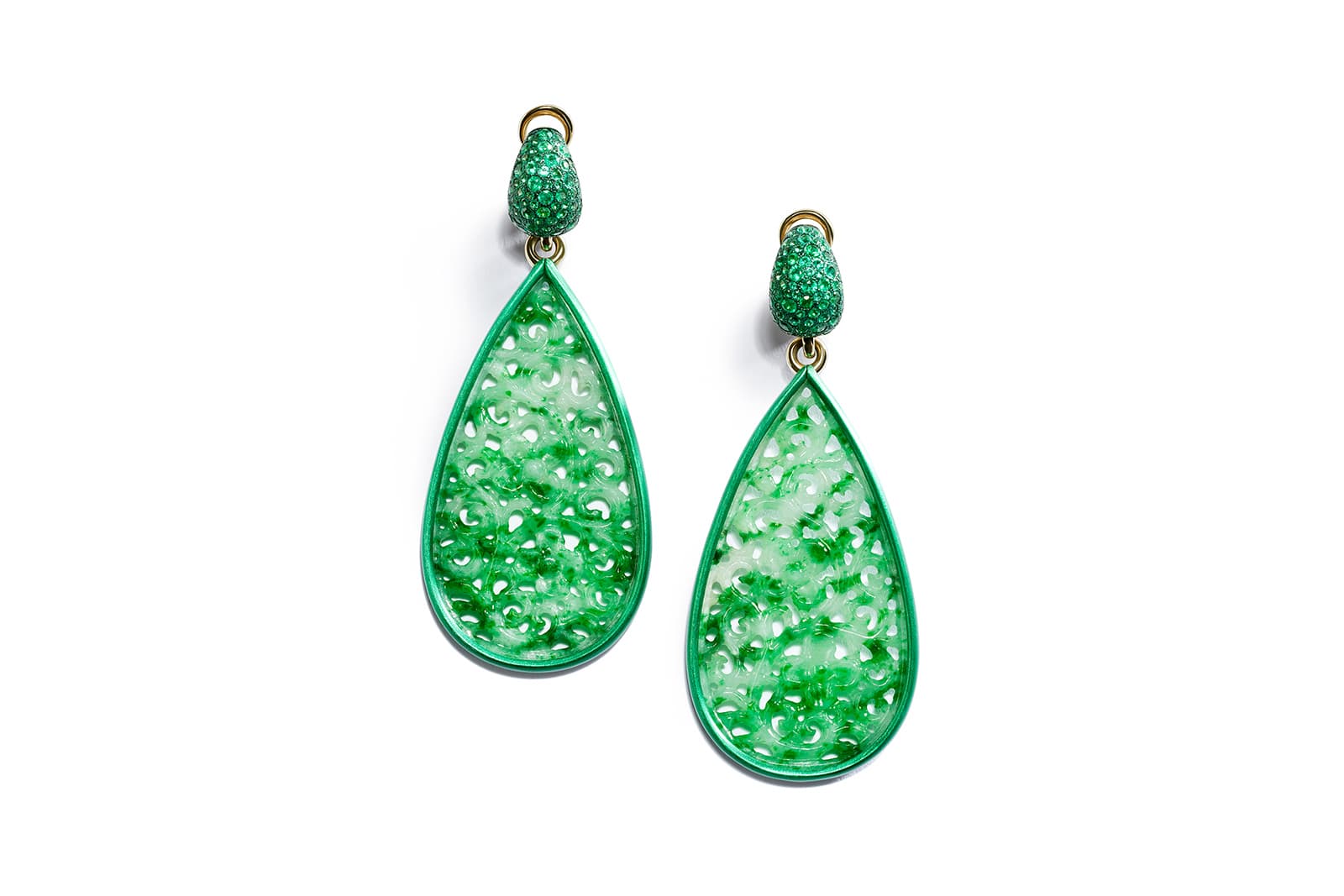 The most colourful evolution of a familiar design is the Gourmette Assoluta necklace, presented in last year's collection in three colour varieties. These are monochrome designs of colourless and cognac diamonds, as well as a colourful gradation of all the colours of the rainbow. New additions to the reincarnation of this necklace are five bright blue pear-shaped tanzanite cabochons weighing a total of 70 carats against a backdrop of cognac diamonds. Its evocation of a sun-drenched sky is obvious and inescapable!
For those clients of a bolder, more provocative temperament, Pomellato has redeveloped this design to create new daring variations that include impressive central stones: a spectacular red 76.66 carat rubellite, a mouth-watering 58.5 carat raspberry tourmaline and an impressive 48 carat tanzanite. One of these necklaces, the Rubellite Princess Chain Necklace, has already sparkled on the red carpet at Cannes. It was worn by Emma Thynn, the Marchioness of Bath, along with a red dress designed by Celia Kritharioti to the première of the film Aline, The Voice of Love.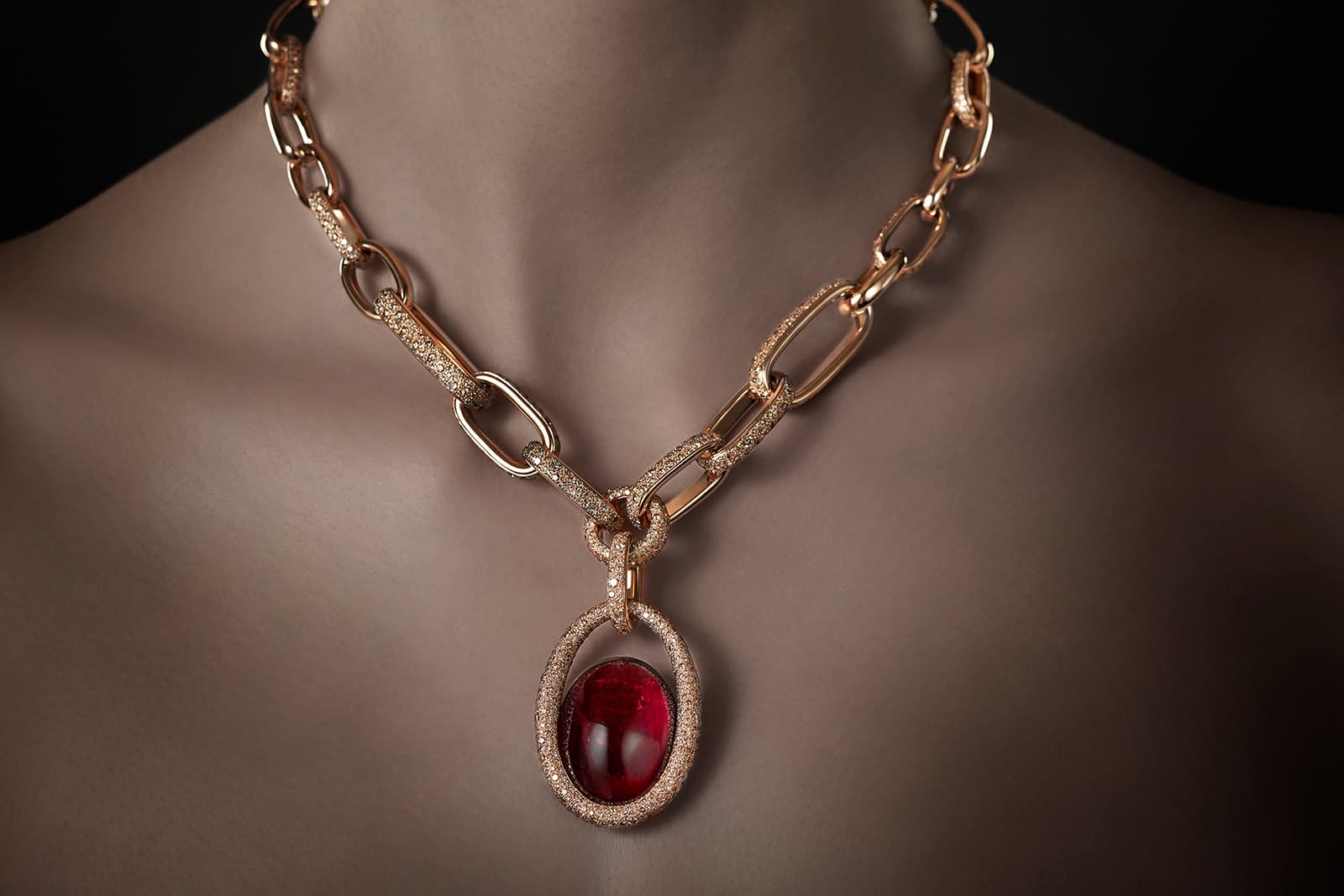 Also included in La Gioia's arsenal of chain-inspired earrings, bracelets and rings is now a one-of-a-kind brooch. Its three-dimensional links made of openwork gold, pavé diamonds and onyx were used to adorn another piece of jewellery that was never sold. Many brands do, from time to time, repurpose unclaimed jewellery, giving it a second chance to find an owner. Usually this remains a big secret from both the buyer and the general public, but Pomellato has chosen not to hide this fact. On the contrary, it is emphasised, demonstrating the company's ethical stance on sustainability.
"Traveling and exploring different cultures has always been the primary source of inspiration for our jewellery," states Vincenzo Castaldo, Creative Director of the brand. "At this unusual time for La Gioia, I made an introspective journey into the history and soul of Pomellato. It was a very personal journey into the world of our past's treasures. This collection has been constructed in an exciting and spontaneous way. It was wonderful to find such a perfect interaction and natural harmony between the works of Pomellato's past and its present."
You will also notice a bold reincarnation of Pomellato's iconic Nudo and Nudo Plastron necklaces, as well as a new interpretation of oriental motifs: carved jade earrings and a rosary-like sautoir. Could any of these designs be accused of being archaic? Definitely not! They are defined by freshness, daring and sophistication, all embodied in the best traditions of high jewellery art.