The story of the well-respected family is being continued by the tenth generation of jewellers: Santi Choudhary and his son Krishna Choudhary. After taking up the baton passed to them by their predecessors, they are collecting rare jewels and precious antiques from the Mughal era, which are capable of speaking volumes about the country's history and jewellery art in India.
In the 18th century, members of the Choudhary family were financiers and bankers. From time to time, they accepted jewellery as a deposit and in this way gradually became involved in the jewellery business. "Choudhary is in fact not a last name, it is a title that translates as 'landlord'. It was given to our family who owned multiple villages. As time went by, they became the royal family jewellers and now we are lucky to have some of the pieces still in our possession," explains Krishna Choudhary.
When I visited the villa, it felt like I'd been transported a couple centuries into the past. I wanted to spend some time simply sitting and soaking in the tranquillity of the historic building. Mughal rulers and Indian deities stared down at me from the walls, painted in natural colours made from the powder of pulverised stones, whilst display cases glistened with jewels and precious objects. My daydreaming was interrupted by Krishna Choudhary as he opened the first box containing an antique Indian artwork. One of many, as it turned out.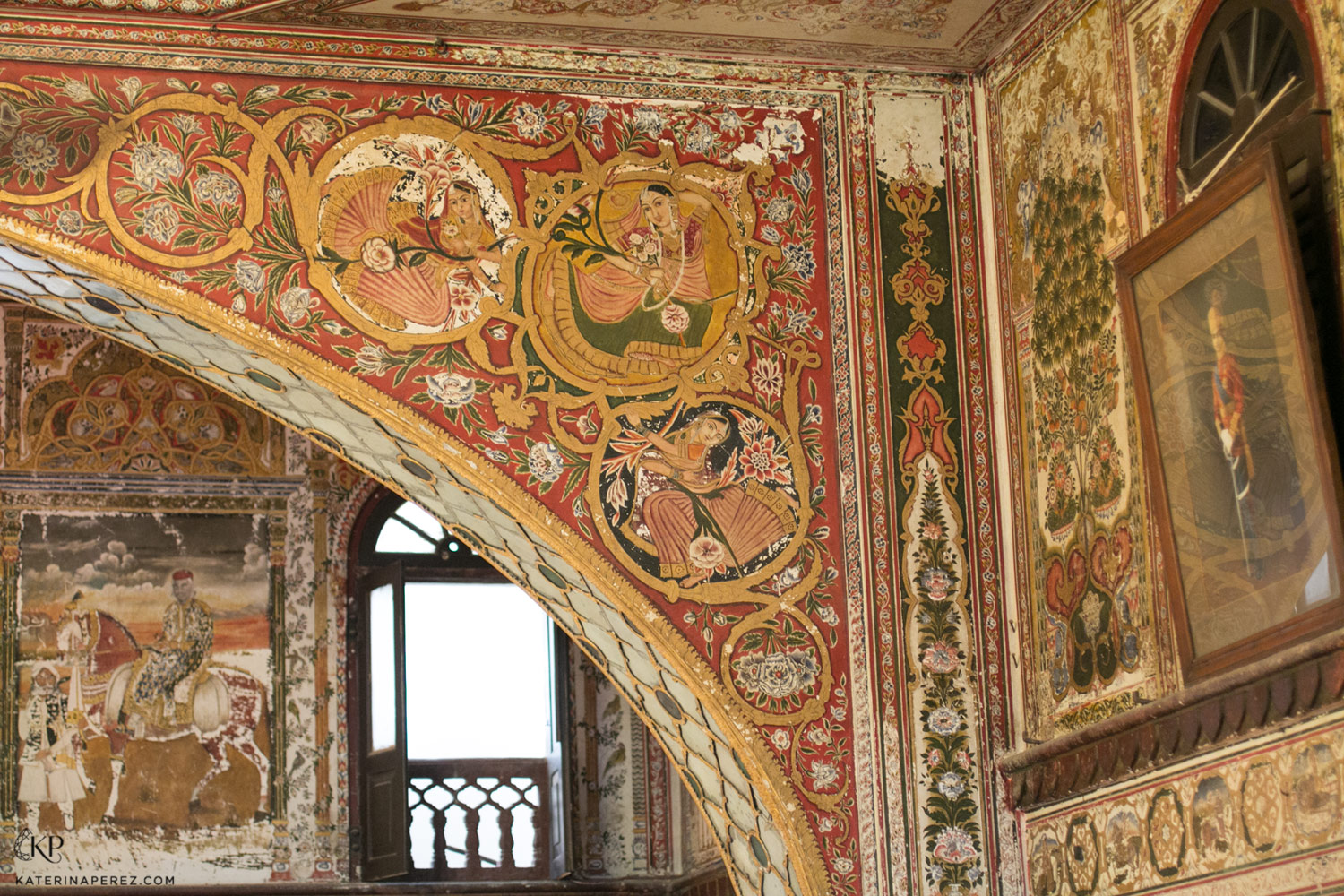 Not all the jewels from this extensive historical collection were made by the Choudhary family. Some of them were formerly owned by the royal families that sold off their assets during the fall of the Mughal empire. "Our oldest pieces date back to the 17th century. Amongst them are bracelets made for young brides or child princesses. Our aim is to have the finest collection and if we find something incredible, we strive to add it to our collection," says Krishna.
Krishna takes a gold harness made in the 18th century that the maharajas wore around their chest, thrown over their shoulder. Every element of its rectangular form is adorned with precious gemstones on one side and engraved enamel on the other which includes hunting scenes and images of wild animals. "The quality of the pieces crafted in the past surpasses modern creations. The reason behind it is that jewellers took much more time to make something beautiful; they were in fact constantly competing with themselves to do better every time. Craftsmen wanted the honour of being the master jeweller to the court so they put all their patience and passion into jewellery design as well as stone cutting. The pieces like the ones we have in our collection are not made any more because they are so labour-intensive," Krishna tells me as he shows me a decorative turban sarpesh with jewels and a delicate enamel depiction on the back. "White enamel was a vital material because it was the most difficult to engrave due to its incredibly high melting point in comparison to other colours."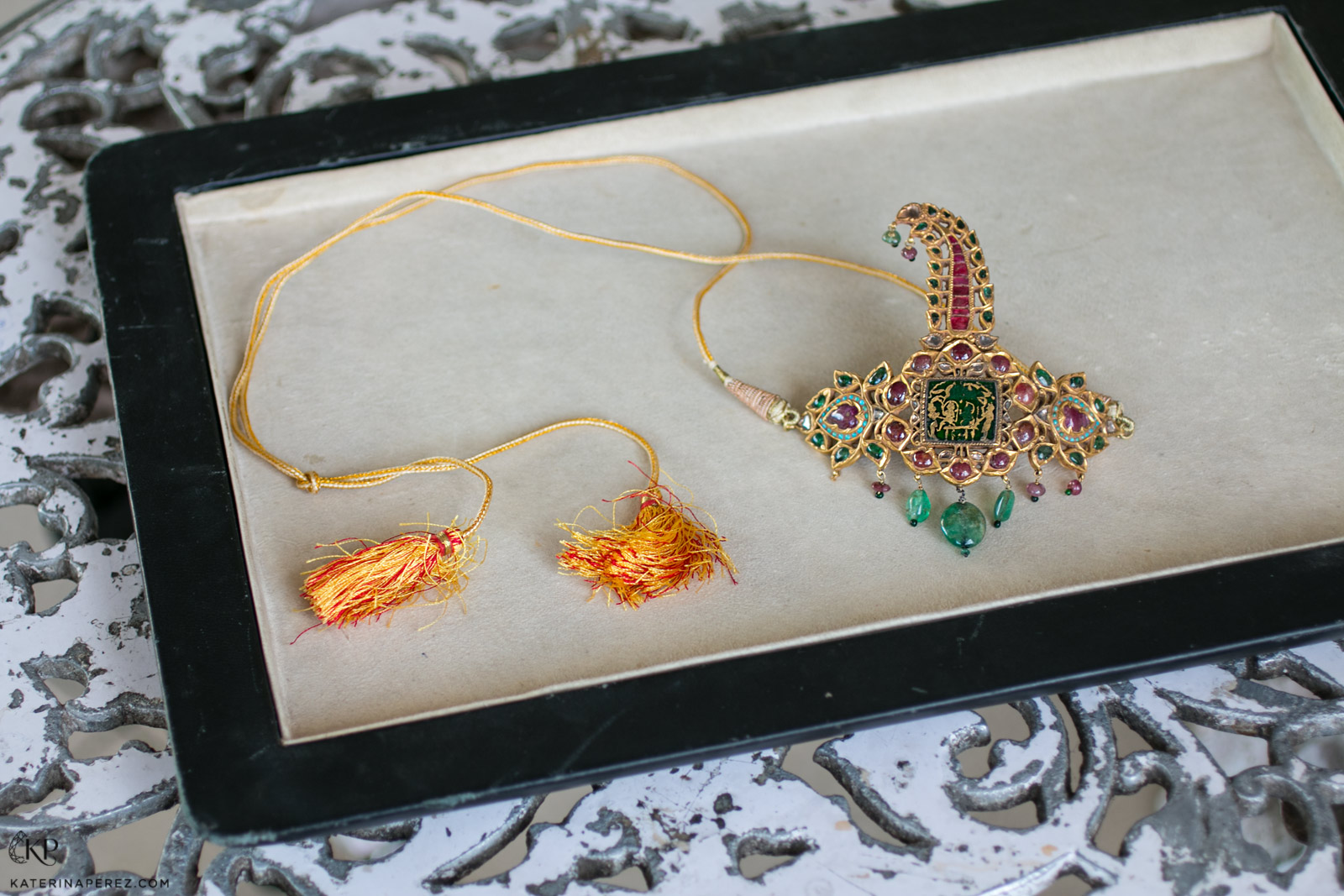 During the reign of the monarchs in the 17th-18th century, craftsmanship in India rose to unbelievable heights. As well as jewellery, rulers loved to surround themselves with precious objects, everything from caskets and chalices to gold thrones.
"Jewellery was necessary because there were so many people in the court and the way to distinguish the most important people in the room was by looking at how heavily bejewelled they were. For centuries, only the royal courts were allowed to wear gold; everyone else in the city would wear silver jewellery. Most pieces were made for men, however women in court were also dressed heavily in jewellery and rich textiles, to the point that they had to be carried around," says Krishna when describing the characteristics of people at that time.
At Royal Gems and Arts, I spent more or less four hours steadily acquainting myself with the idiosyncrasies of our predecessors' approach to jewellery. Krishna continued to show me piece after piece, and with the help if these treasures he revealed interesting facts about the past. "As you see, blue sapphire was never popular in India. The reason behind it is that this stone is believed to make you either a beggar or a king in a day if you touch it. Then tanzanite was discovered and it filled the gap that blue sapphire has left, making it really popular. Everything around is composed of red, blue and green colours, and it is powerful to have a blue toned gemstone suddenly available after it being avoided for so long."
In prehistoric times, gem cutters could only rely on their skills and knowledge to transform minerals into gems that could be used to make jewellery. Craftsmen knew the result they would achieve with one mineral or another. Nowadays, jewellers can predict what the final product will look like and use a range of clever techniques to realise even the most speculative designs. What's more, "stones mined 200 years ago were fully formed and 'well-cooked', so they had a deeper saturation. The ones which we find now are still forming, so their colour is not so vivid," Krishna explains. This is one of the reasons why he started to create modern jewellery with old stones that were mined 150 years ago.
Craftsmen from Milan and Paris have managed to make Krishna's ideas a reality. I hope that in the future, these incredible pieces will be on display in locations around the world, as well as their home in Jaipur.