January: Audemars Piguet 'Sapphire Oribe' high jewellery watch exhibited at SIHH

The year started with an incredible feat of jewellery engineering and craftsmanship at SIHH, where the 'Sapphire Oribe' watch from Audemars Piguet was first showcased to the public. This horological jewel was embellished with 3,240 blue sapphires totalling 23.03 carats, and 2,794 orange sapphires totalling 15.14 carat in snow-set basin shaped elements that are accented by 27.93 carats of diamonds - taking 1,050 hours to create. The watch was posted on instagram by many who attended SIHH, including British Vogue Jewellery and Watch Director Rachel Garrahan.
February: Tatiana Verstraeten fringe earrings
After making waves in late January at Paris Haute Couture Week, editors and influencers alike fell for the photogenic charms of Tatiana Verstraeten's celestial-inspired, shoulder-length fringe earrings. Having designed jewellery for Chanel since 2011 and deciding to launch her own brand in 2018, Tatiana then went on to be chosen by Vivienne Becker to participate in GemGeneve's 'Designer Vivarium' Geneva début. Vanity Fair Jewellery Editor and Telegraph Luxury jewellery expert Annabel Davidson was one of many who shared a snap of this dynamic design.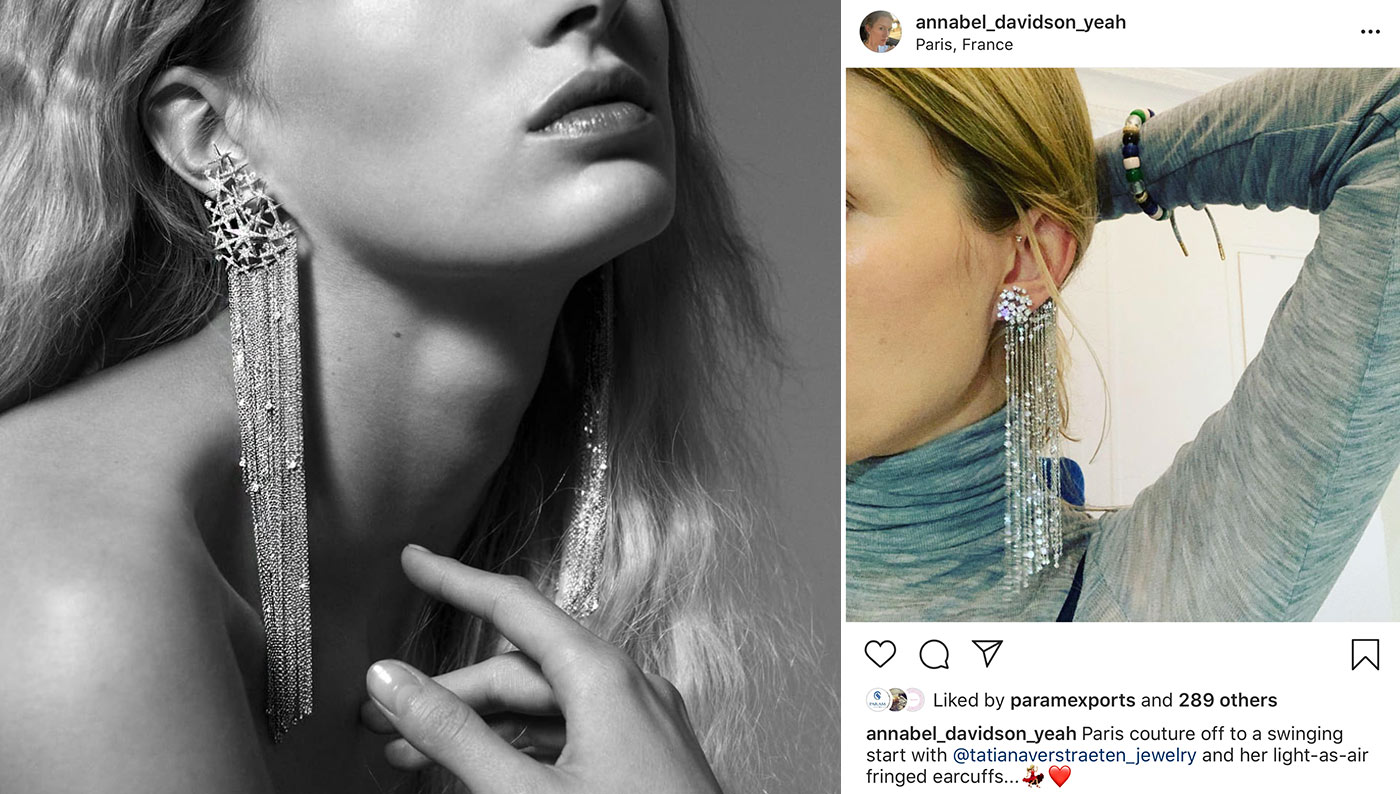 March: Nikos Koulis 'Feelings' collection
Several jewellery editors, journalists and aficionados were invited on a press trip to Greece to mark the release of the 'Feelings' collection, and from the amount of social media attention the pieces got - all invitees were enamoured. The combinations of juxtaposing aesthetic motifs and materials made it any jewellery connoisseur's dream: and necklaces, rings, earrings and bracelets were all posted to social media with a resounding seal of approval!
April: Joel Arthur Rosenthal elephant brooch
The news that broke the internet (for the jewellery world) in 2019 was the upcoming Christie's 'Mughal and Maharajahs' auction in June, featuring a selection of pieces from the Al Thani collection. One of the most unusual jewels up for sale was an extravagant elephant brooch by JAR, created in 2013. The craftsmanship of the piece was almost incomprehensible, with textured titanium emulating the elephant's skin, and decorated with diamonds, cacholong, feather and sapphires. This was another creation which was posted to social media by numerous jewellery lovers from all over the world.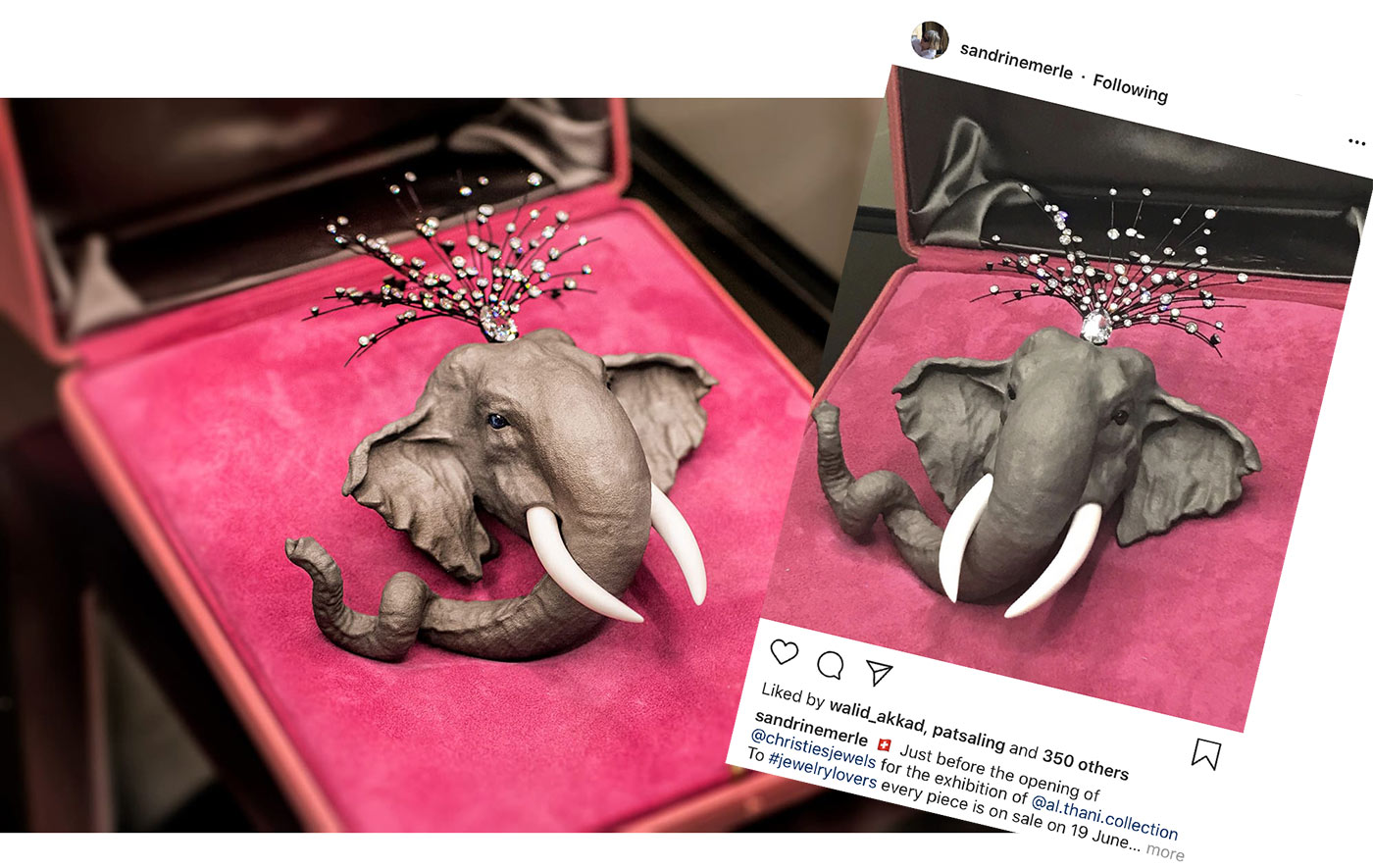 May: Ninotchka carved cobalt glass bangle
During May's GemGeneve, several new jewellery stars came into the spotlight after being introduced to the jewellery world through its Designers Vivarium, and one jewellery influencer who attended was Levi Higgs: "I find that whenever I post something that has an intensely original tie to its own creation story, then it will perform well. For the Russian duo of Ninotchka to use antique cobalt glass for this very unique cuff, it was an affirmation of their Russianness. The demantoid garnets around the edge were also a poignant connection to Russia."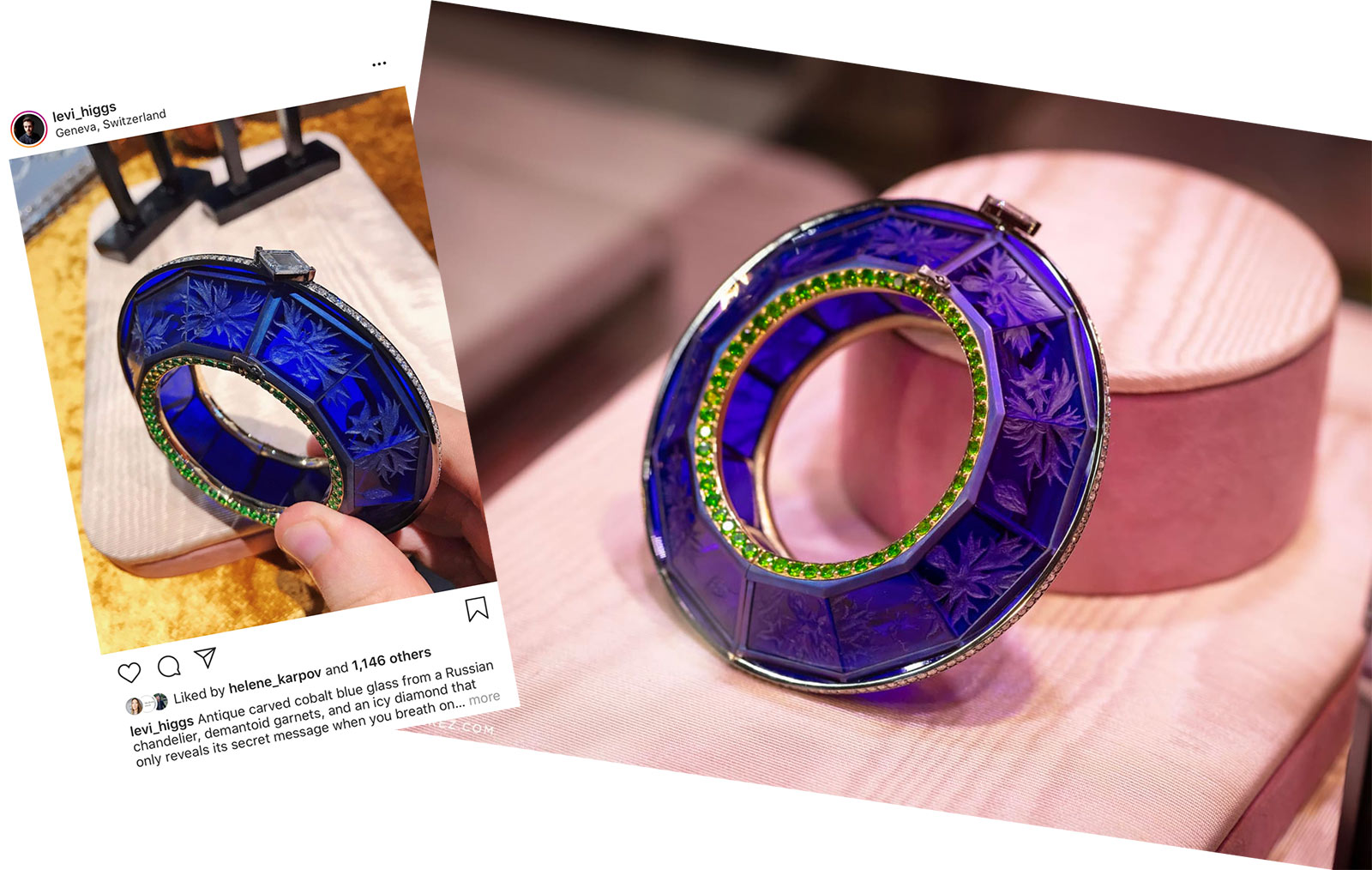 June: Fabio Salini earrings
Masterpiece London marks a special moment in the summer art fair calendar, and this was where the Italian jewellery artist Fabio Salini chose to unveil his latest creations, including a set of drop earrings with illusory charm. Posted by Sarah Royce-Greensill, Jewellery & Watches Editor at The Telegraph and Jessica Diamond, Watch & Jewellery Director at The Times, and Watch & Jewellery Editor-at-Large at Conde Nast Traveller - the earrings included neon-bright rubellite, rhodolite, kunzite, pink sapphires and diamonds in titanium and thin slices of highly polished white gold. The precious surface either reflected all other elements perfectly, or almost disappeared from view depending on the onlooker's perspective. This playful and skilful innovation made these earrings a hit on social media - having particular impact in videos.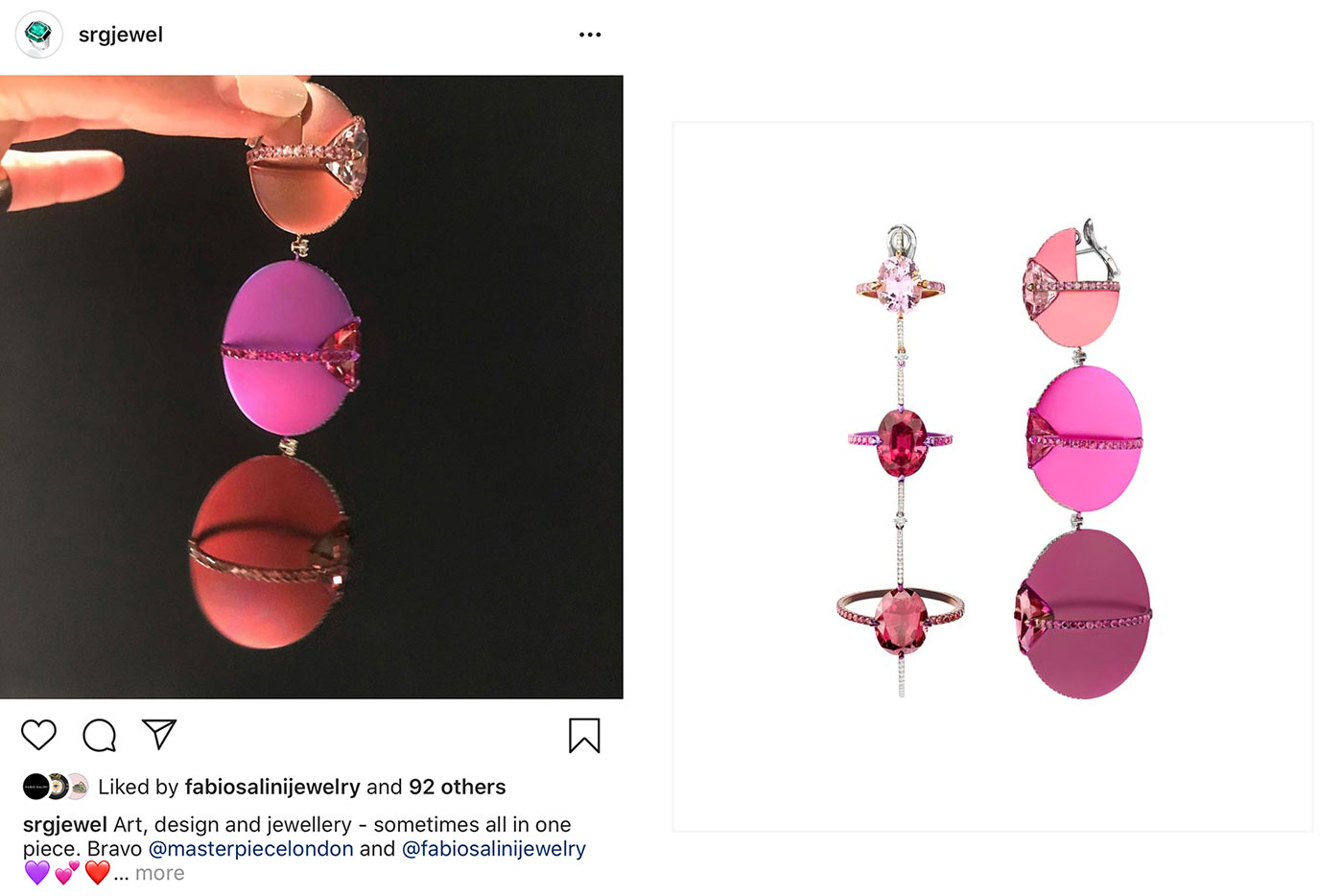 To properly tell the stories of these important jewels, we've split this article into two parts - so keep your eyes peeled for the rest of the most shared jewellery from 2019 in the next article!