In Lithuania, there is a place where, since the dawn of time, the country's best jewellers have made jewellery. It is here that Marina's creations are made. Her jewellers have preserved age-old production techniques and to this day they practice them, making pieces with their own hands from scratch. However, this doesn't mean that jewellers aren't using new ways of jewellery making. On the contrary, it is thanks to a union of the skills inherited from their ancestors combined with all the possibilities which modern techniques have to offer that the complex jewels designed by Liza Belotserkovskaya are so honed and delicate.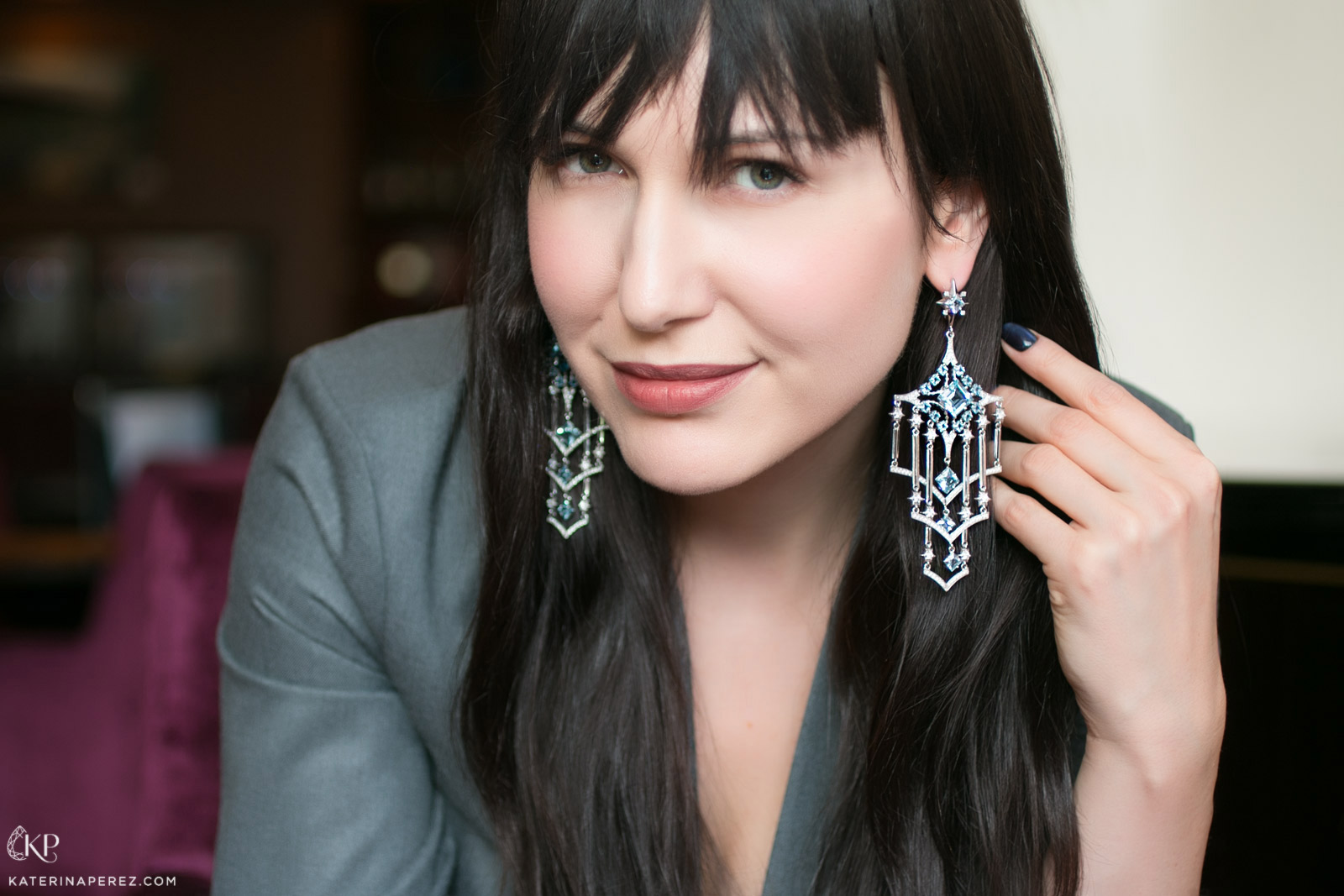 There is barely a single piece of jewellery that doesn't have a complex design, be it the use of delicate insets on dangling earrings from the Enchanted Forest collection, a significantly ample design, as in the case of the garnet Star ring, or the inclusion of multiple decorative elements all at once in a single piece, like the Arthurian chandelier earrings made with topaz and diamonds. Large precious stones play an important part in the design of Liza Belotserkovskaya earrings, rings and pendants, but they do not dominate. Indeed, emeralds, sapphires, aquamarines and many other stones are practically always presented in a sophisticated ensemble of diamond-covered blackened gold.
"The garnet is a gothic stone of medieval alchemy and we work with it very closely. I personally adore it. I think it's a magical stone with a lot of power. It is a perfect match for our designs," explains Marina.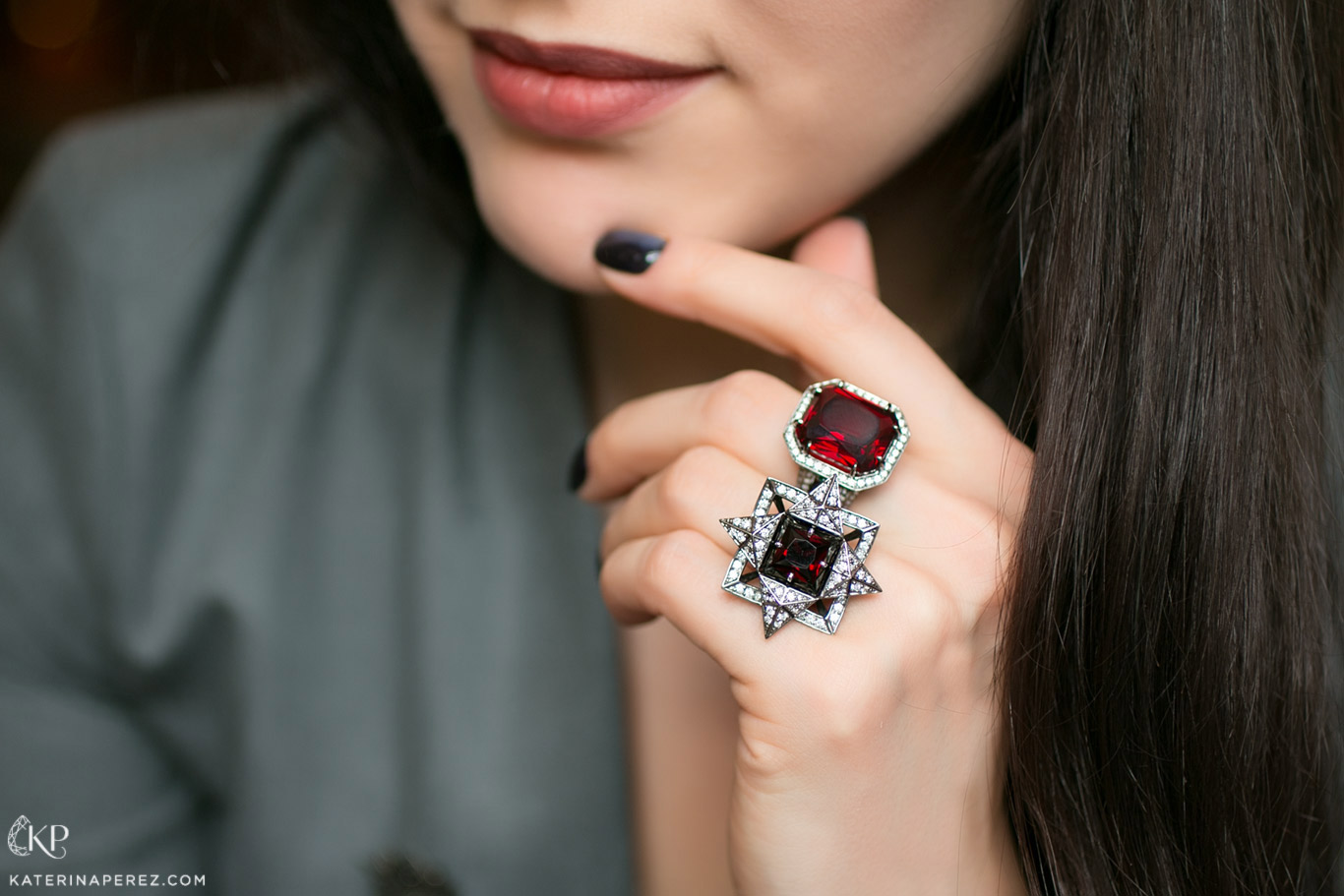 The brand's founder had never intended to make conventional jewellery and the development of concepts that were in some way original took much time. From 2009, Marina tried to structure her ideas, truly putting herself to the test by creating more than 1,000 sketches of different possible jewellery designs. "I produced absolutely nothing for three years, and for another five years or so no one knew who I was. I didn't have a name, no turnover to speak of. Imagine: I spent three years just drawing and coming up with a unique style – finding that was my main task. As a result, I've now got quite a few amazing sketches, but most of them are now irrelevant in terms of the brand's existing concept. There'll always remain on paper for that reason," says Marina.
Each new collection or "jewellery tome" is a tale written in precious metals and stones about the story of a Lady Knight and her happiness at coming face to face with her own dream: the Unicorn. For Marina, this mythical creature became the embodiment of universal goodness and perhaps for that reason the work of Liza Belotserkovskaya is so bewitching and fantastical, exuding charm with every design. The company's designers often return to previous collections and write a further chapter, making additions to collections such as The Armour of the Maid of Orleans, The Magical Forest, and The Whisper of the Stars with entirely new creations.
"I am personally fascinated by the world of Gothic, legends, myths and unicorns – that's how the idea for the logo came about for the Lady Knight and the Unicorn. Considering the fact that the brand was born as I became a mother of a wonderful girl with a beautiful name, my team suggested we name it in her honour and I agreed," Marina recalls.
Wearing the Gothic jewels with elaborate pieces designed by Liza Belotserkovskaya is not in the least bit difficult; indeed, they aren't just made for formal occasions. Comfortable and light, it's as if they have been created for experimenting with, whether you're wearing a simple t-shirt, a sweater, ripped jeans or a cocktail dress. The traditional Gothic style will never go out of fashion since the allure of something mystical is irresistible. "We put together our own jewellery library and each new collection is a new chronicle to be placed on the shelf. We are simply continuing the legend by expanding our own collections," describes Marina.
In 2017, Liza Belotserkovskaya was officially displayed at the Baselworld exhibition in Switzerland where it received rave reviews from the public whom it is practically impossible to impress.