The first thing to know about Ricardo Basta is that he comes from a long line of jewellers. Born and raised in Argentina, he later moved to Los Angeles, California, to work for his uncle who owned a jewellery manufacturing shop. "I began learning repairs, then progressed into helping create special orders," Ricardo explains of his "ground up" route into the world of jewellery. He continues: "It is training, practice and failing. You learn more from failing, really. When I began working on vintage styles of jewellery and how these pieces were created, I really began to understand. It humbled me to work on period pieces properly; I deconstructed my tools of today and went simpler to get the right results. This opened a whole new world of creativity in designing for me."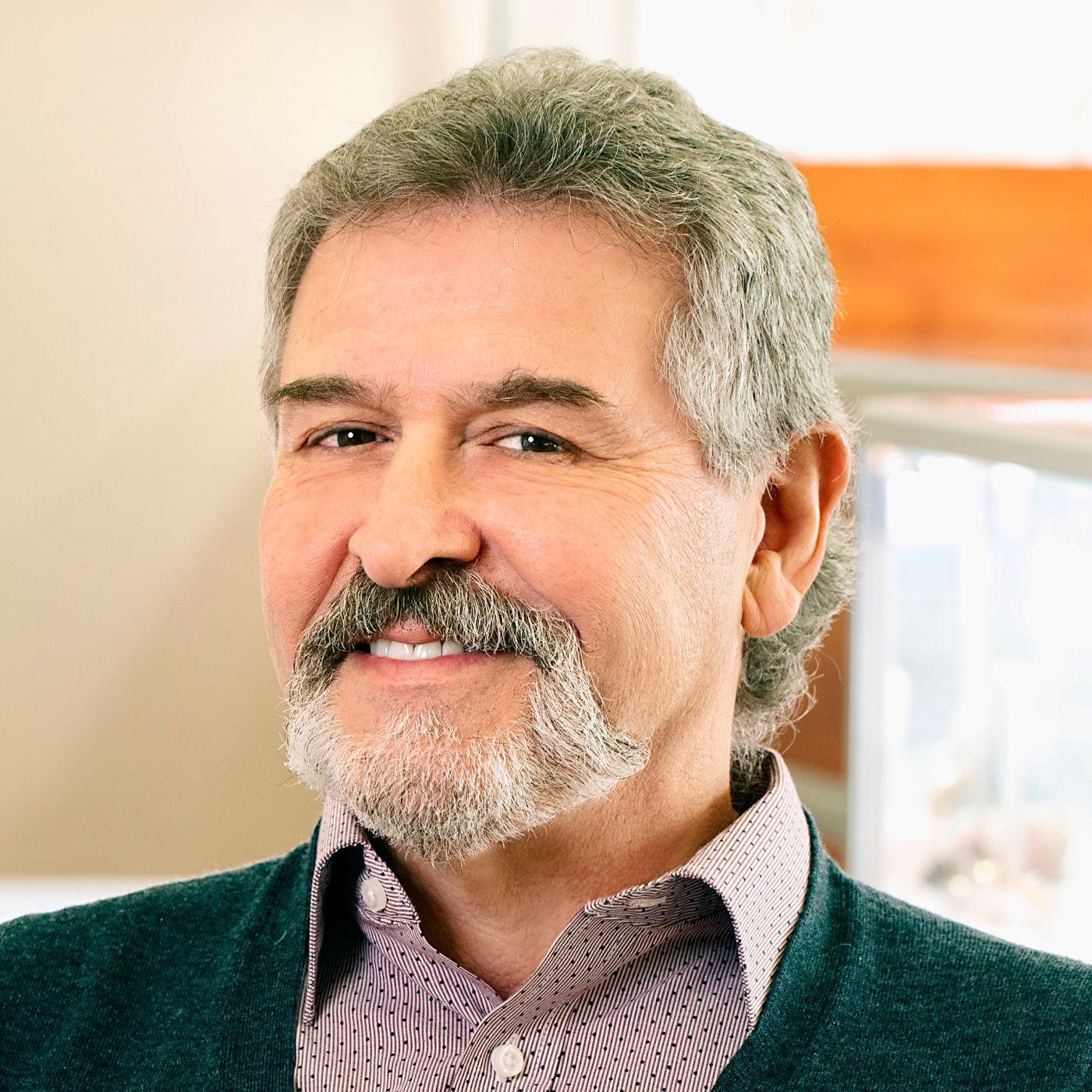 Having seen the colourful and creative possibilities of a career in jewellery, Ricardo dedicated himself to the art. Since then, he's earned more than 44 jewellery design awards for his pieces, which are fabricated at the bench using traditional techniques, like hand-carved waxes for casting, and modern methods like computer-aided design. Sometimes, after two or three years of meticulous work, a creation will emerge from the Ricardo Basta atelier that's completely unexpected. A good example is the Octopus ring that makes the eight-limbed mollusc look luxuriously high fashion! "This is a fun piece," Ricardo explains. "The octopus is the ring, and, with the clarity of the aquamarine, you can see the underside of the octopus' tentacles. This playful underwater 'scene' captures the octopus intertwined in kelp and coral. A clam bearing a pearl embedded within it, even a starfish, represents all the underwater treasures of the sea."
Another creation that Ricardo points out is his Phoenix Rising necklace, where the body of the mythical bird is composed of fire opals that graduate in colour, surrounded by spessartine garnets, Paraiba tourmalines, sapphires, rubies, tsavorites and turquoises in 18k yellow gold. He explains: "Each piece of fire opal is custom cut, polished and set within the body like that of stained glass work. The suite of spessartine garnets is so pristine and so well-matching. I waited for the design vision to come for about ten years! This necklace moves fluidly, and the head articulates so we can catch the fire of the bright green tsavorite eyes." There's lots of storytelling here, too. The phoenix holds the world (represented by a lapis lazuli sphere) in one talon and "breaks free from its shackles" in the other talon, which is represented by a platinum band around its golden leg. "Creating the movement and working with this array of gems brought this piece so much life, which I thoroughly enjoyed," Ricardo continues. "That is what I love to do – the unexpected details."
Creating such flamboyant pieces requires a healthy source of inspiration and new ideas. For Ricardo, this comes from the memories he's "tucked away" and the "shapes and styles that I recall from vintage cars or architecture". He's fascinated by history and the "how and why of older inventions," perhaps by one of the icons of invention, Nikola Tesla, who is mentioned in our conversation. He adds: "These are impressions that I have in my mind, and impressions lead me to create. Then I may come across a stone that tells me the creative direction to go, which is far and away different than I ever envisioned."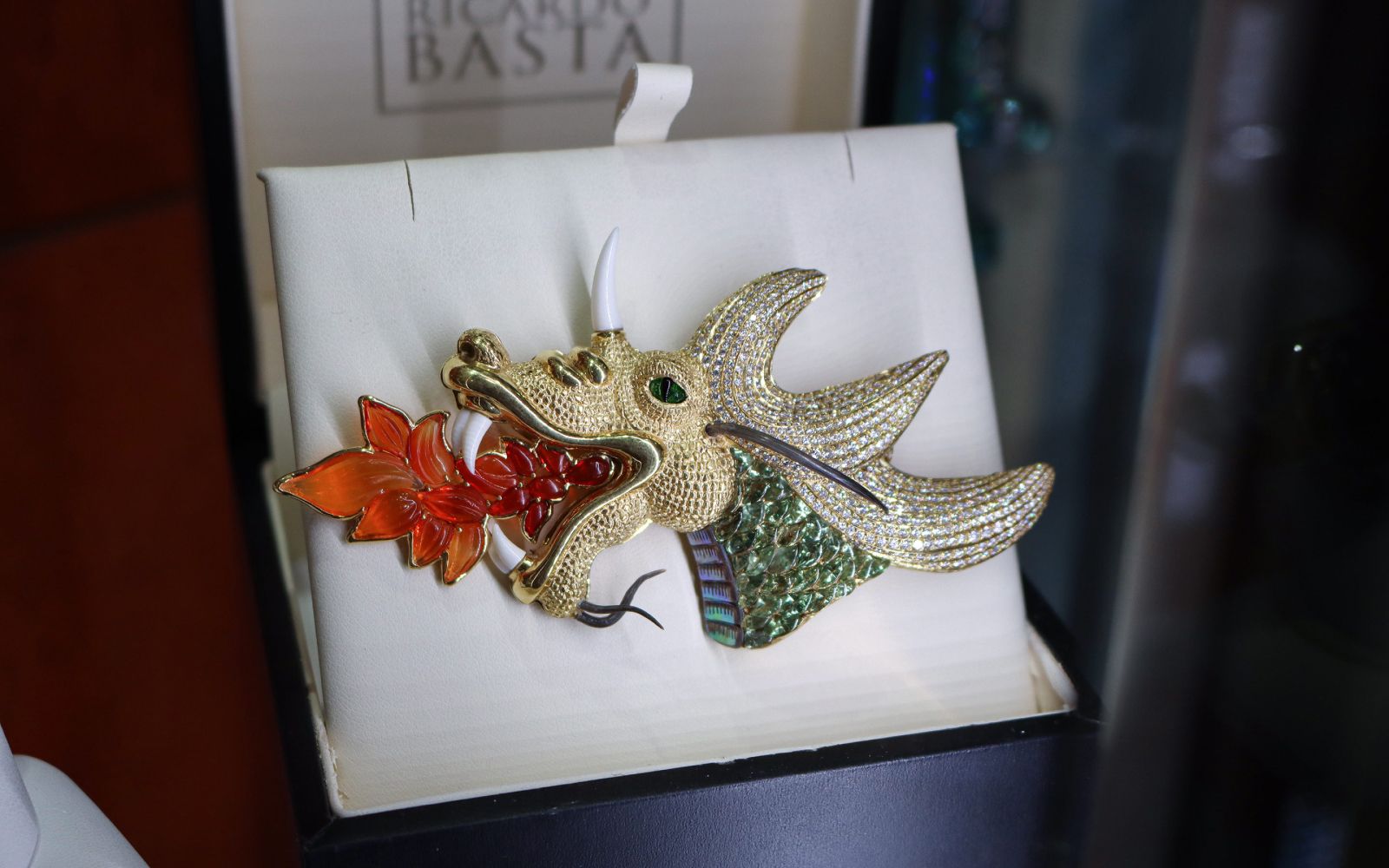 It's true that Ricardo's imagination truly kicks into gear when he's presented with a special gemstone. He says: "I am super passionate about wild, vivid, deep, unusual happy colours. I find most of those gems in the sapphire, garnet or tourmaline world." In recent years, he has also been experimenting with more diverse materials, like ebony, and utilising the natural form of gemstones to maximise their earthy, organic qualities.
Within the four walls of his Century City showroom is where we can see the truest expression of Ricardo's style. He's fond of moving parts, articulation and subtle motion, even if this is only minor. For example, a recent brooch takes the form of a panda with a carved jade leaf in its mouth that moves as the wearer walks. He also "creates a story on the back that reflects the front" to ensure his jewels are interesting from all angles and adopts the spirit of multi-wear with pendants that become brooches, rings that convert to pendants, and "ring conversions that are a ring cloaked within another ring for two looks in one".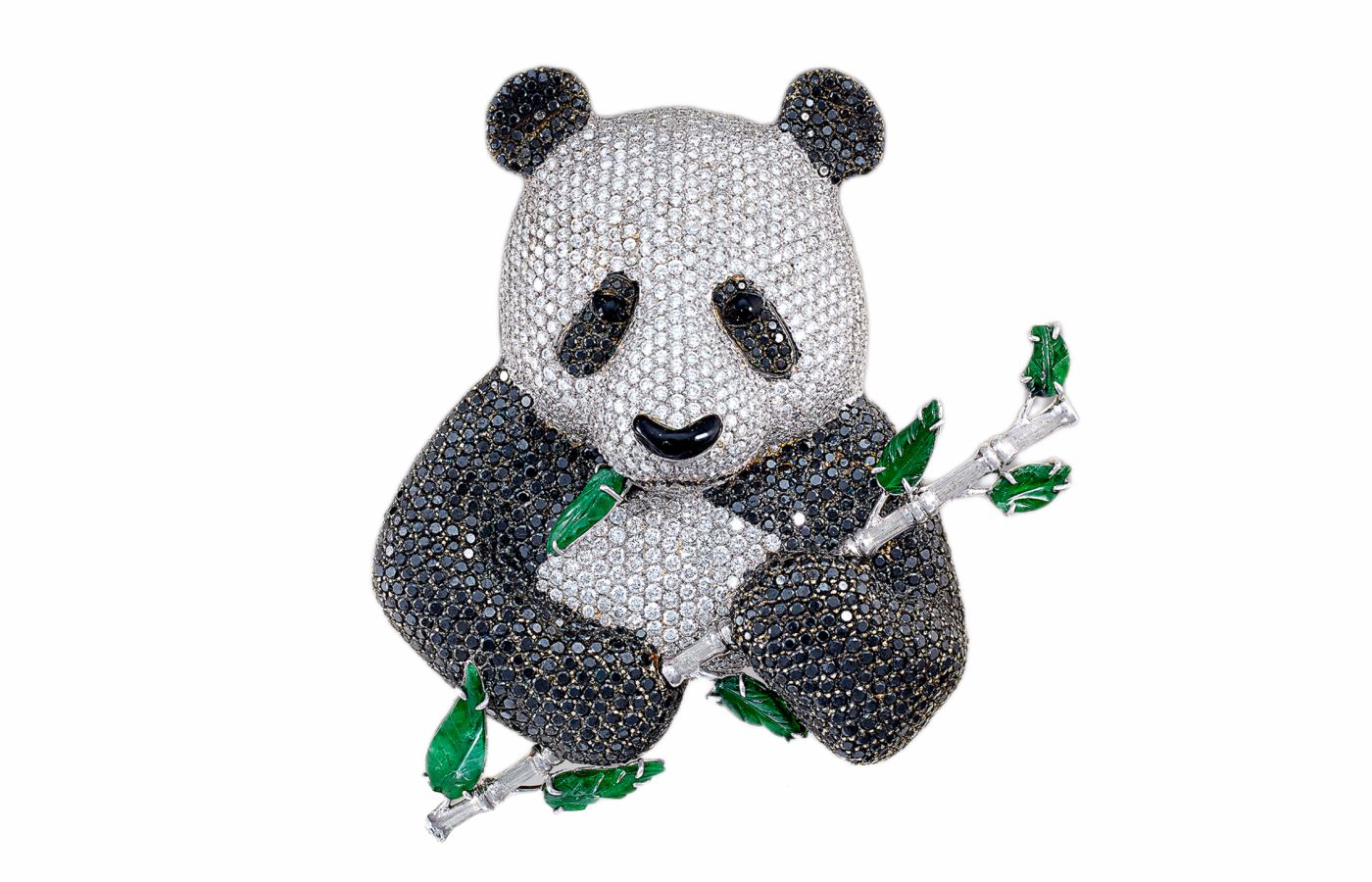 This signature style is partly based on a "feeling or vibe that I carry with me from Argentina" but also on the influence of his uncle – an accomplished jeweller in his own right. Ricardo explains: "Today, jewellery is advancing by leaps and bounds compared to my humble beginnings. It is refreshing to see true artistic talent and new ideas. In my way, I am in tune with my inner canvas, reflecting some of the romantic, maybe simple ideas and then giving them a crazy new twist to keep my own edge. My foremost desire is to fulfil my artistic passion and be true to my vision while diving into new arenas of possible movement and how to execute that! I like pushing the creative envelope always."
Finally, our topic turns to customers and the pieces he's creating for both his showroom and custom clients. Although he recognises trends, Ricardo is adamant about putting "a little of one of my touches" on a piece to distinguish its difference. Mostly though, he is approached for custom and unique creations that often repurpose family diamonds and gemstones in a very meaningful way. He explains: "We get to be a part of recreating the new version of a family heirloom piece, and I get to add a hint of Victorian or Edwardian flare." And here, Ricardo's true passion for the art of jewellery reveals itself again. He says that working on custom projects "makes my heart happy," and I can't think of a better way to approach going to work every day. As the saying goes, 'do something you love, and you'll never work a day in your life'.