We've all heard the phrase "rolling out the red carpet" for special occasions, so we're not sure what possessed the Academy Awards organisers to choose a neutral taupe shade for this year's carpeted grand entrance. The effect was to dampen some of the most remarkable fashion moments of the night, especially among those who opted for white, cream, and pale gold gowns (Florence Pugh, Jamie Lee Curtis, Michelle Yeoh, Emily Blunt, Zoe Saldana, Halle Berry, and Michelle Williams to name a few). Rather than standing out, they seemed to blend in!
There is, however, a silver lining. The fashion and precious jewellery at this year's Oscars ceremony were top-notch. Nothing felt forced or stacked and layered for dramatic effect. Instead, almost every ring, pair of earrings and necklace felt like it belonged, whether minimalist or maximalist. Pieces were chosen for their personality, shape, and colour palette, highlighting that, at least on this night, jewellery wasn't an afterthought but an essential part of the completed ensemble. Here are some of the most sensational examples to fill you with a healthy dose of envy.
The Traditionalists – Dazzling Diamonds
Diamonds felt strategic at this year's Academy Awards, like Lady Gaga bringing back 1980s style in a black gown, heavy kohl eyeliner, neon pink blush and round brilliant-cut diamond studs. She complemented this with a Tiffany & Co. diamond-set collar necklace in platinum that is utterly timeless in its simplicity. Of course, it's always important to remember that the pomp and circumstance of the Oscars are deceptive… after all, what appears to be a 'simple' diamond necklace probably contains 60 plus carats of gems! But, aesthetically, many preferred the sleekness of diamond lines, like Michelle Williams in Tiffany & Co., Winnie Harlow in David Morris, and Halle Bailey in De Beers Jewellery.
Of course, some made a splash with their diamond choices. We like Danai Gurira's selection of Messika jewels, including a bracelet, rings and an ear cuff. Elizabeth Olsen wowed in a pair of Cartier diamond fringe earrings, and Vanessa Hudgens opted for a floral suite of diamond jewels by Roberto Coin. A special mention must also go to model and actress Cara Delevingne who wore a stunning red dress (normally a no-go because of the red carpet!) with a Bulgari Serpenti High Jewellery necklace, bracelet, and clip earrings.
The Maximalists – Statement Necklaces
Alongside the white, black, and gold looks this year were some sensational bright colours, including orange, blue, yellow, pink, green and purple gowns. This spirit followed through into high jewellery, with some notable and adventurous necklace choices taking centre stage. Florence Pugh continued to define her own unique sense of style with a Valentino gown, a pair of Tiffany & Co. pink tourmaline and diamond drop earrings, and a Tiffany & Co. Botanica collection necklace that's an unexpectedly brilliant choice.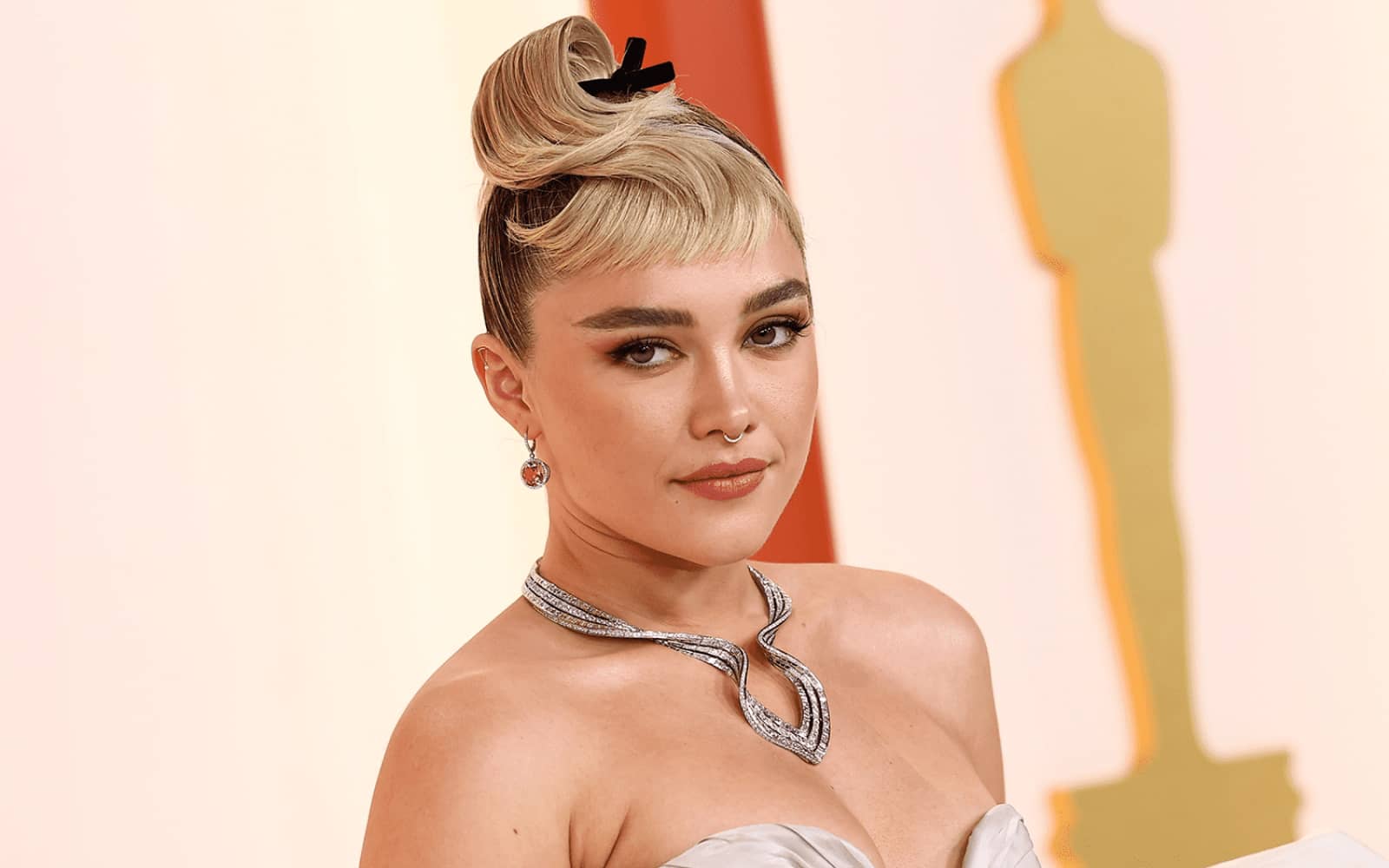 Sandra Oh paired a Grecian-inspired orange dress with a vintage Harry Winston pendant necklace with a citrine centre stone surrounded by nearly 78 carats of sapphires and 11 carats of diamonds. Angela Bassett was a purple dream in a Bulgari Serpenti necklace and matching bracelet, while Jessica Chastain upped the ante on her silver sequined gown with a Gucci Hortus Deliciarum High Jewellery necklace.
And the looks just kept on strutting down the cream carpet: Deepika Padukone wore a Cartier necklace with a large pear-shaped yellow diamond drop, and Jenny Slate wore a Gismondi choker with an asymmetrically placed pear-shaped emerald. Speaking of emeralds, we can't forget actress and singer Sophia Carson who stepped out in a Chopard necklace featuring 122 carats of emeralds and 92 carats of pear- and round-shaped diamonds alongside marquise- and baguette-cut stones.
The Pops of Colour – Vibrant Gemstones
Another popular look of the 2023 Oscars was adding a pop of colour through carefully chosen gemstones. These typically featured in earrings, but it was nice to see the occasional flash of pink, green and blue in rings too. Emily Blunt lifted her white gown with a pair of Chopard earrings with what appeared to be cascades of bright pink tourmalines. Fan Bingbing looked remarkable in a silver and green haute couture gown and Lorraine Schwartz jewels, including a pair of 85-carat emerald and diamond earrings and a matching 20-carat ring.
Some other favourites include Allison Williams' 4.80-carat purple sapphire and diamond ring, Stephanie Hsu wearing Cartier sapphire and diamond earrings, Laverne Cox in aquamarine earrings by Hanut Singh, and Chloe East in a Kwiat necklace set with 50 carats of Colombian emeralds and diamonds.
Finally, there's Rihanna, who performed her Oscar-nominated song on the Academy Awards stage. On arrival, she was snapped wearing a pair of brown diamond earrings from Moussaieff that perfectly complemented her brown leather Alaïa gown.
The Men – Lapel Brooches
Let's start with the obvious: Michael B. Jordan. The actor wore not one but two Tiffany & Co. Bird on a Rock brooches, originally designed by the legendary Jean Schlumberger in the 1960s. Lapel brooches were a trend this year, with Paul Mescal wearing a rose-shaped Cartier creation, John Cho adorned with Fred Leighton, and Brendan Fraser wearing a vintage sapphire and diamond piece from Platt Boutique.
After impressing us with a De Beers The Alchemist of Light High Jewellery brooch at the SAG Awards 2023, Oscar winner Ke Huy Quan had a lot to live up to in the brooch stakes. Fortunately, he didn't disappoint. There were two lapel pins: a Fred Leighton diamond and black velvet pansy and a 2.50-carat lozenge-shaped diamond… a literal solitaire pinned to his Armani suit. How chic!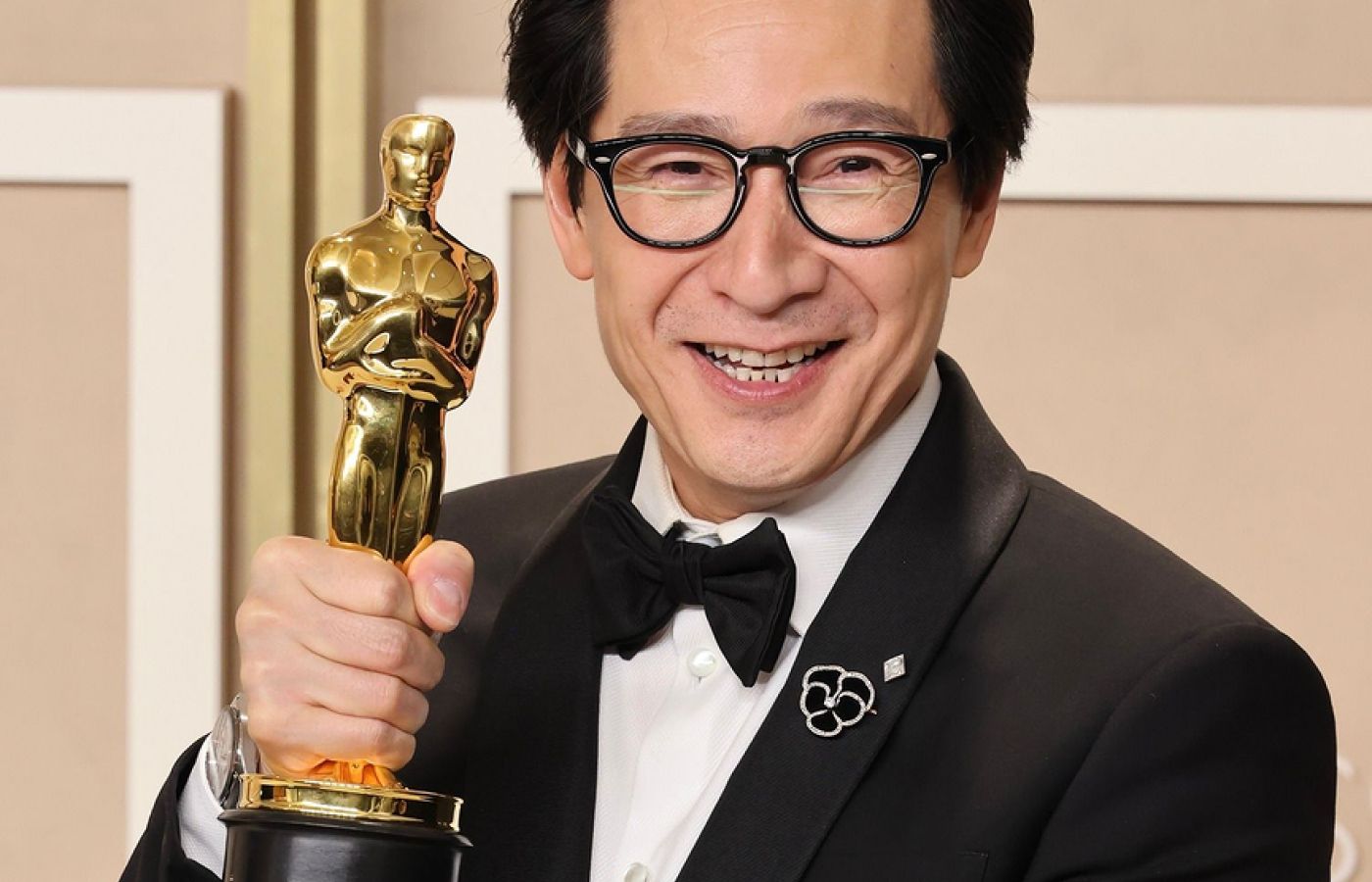 I'm sure there are many more great looks that we simply don't have space to mention here. Best Actress winner Michelle Yeoh wore diamonds cascading through her hair and down her ears, so there's plenty more to discover! This year's celebratory season has finally ended, but at least there have been plenty of great looks to keep us smiling here at KaterinaPerez.com.