I have often described jewellery design as a calling. Some people feel the pull to create jewellery while immersed in another art form, like painting and sculpture. Others are rocketed away from a totally different profession and into a world they never expected. Nathalie Knauf is an example of the latter.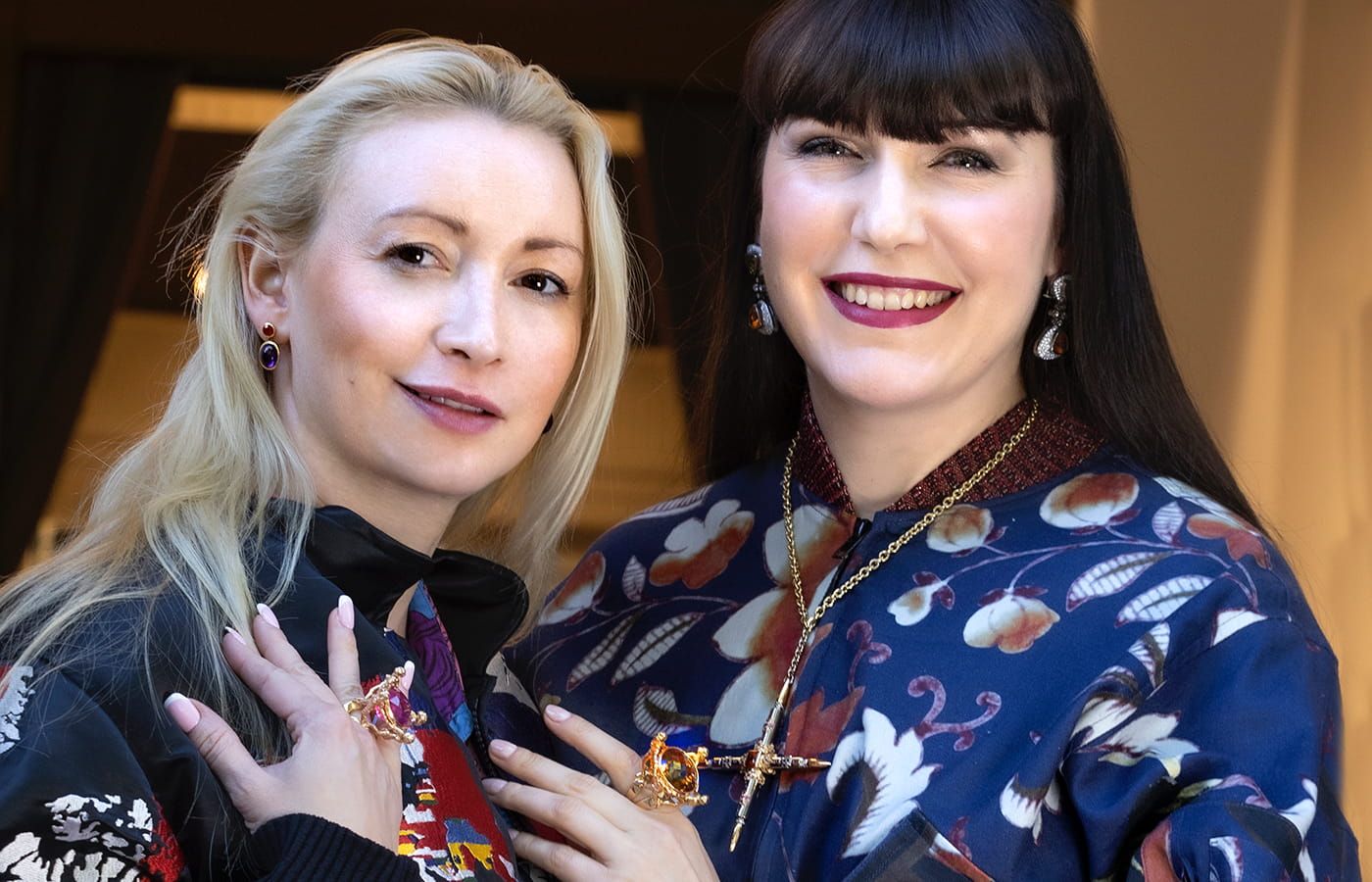 Based in Wiesbaden, Germany, Nathalie enjoyed an accomplished career as an economic analyst in the finance industry. She was focused on what the future held for her clients' assets, like stocks and bonds, and felt the pressures that come with such a difficult and stressful job. Her partner, Philippe, on the other hand, was more in touch with his artistic and creative side. As Nathalie explains: "He's an artist from the heart, especially painting, but he wanted to create something everlasting." This desire to create something unique and with real longevity was the starting point for the pair's fine jewellery business, which would eventually become Nathalie Knauf Jewels. Today, the brand focuses on high-end jewellery, fine jewellery and bespoke creations, as well as a selection of cufflinks, pendants and rings for men.
"I was tempted by being independent," Nathalie says of leaving her hard-won career in finance behind. "Jewellery inspired me to think I could do something by myself." Of course, starting a fine and high-end jewellery brand is far from easy! Since 2011, Nathalie has evolved her signature style and focused on building an excellent word-of-mouth reputation for bespoke, individualistic pieces with a real wow factor. She says: "Buying a piece of jewellery should be a momentous occasion. It immortalises a life moment that you and your loved ones can cherish both today and commemorate in the future."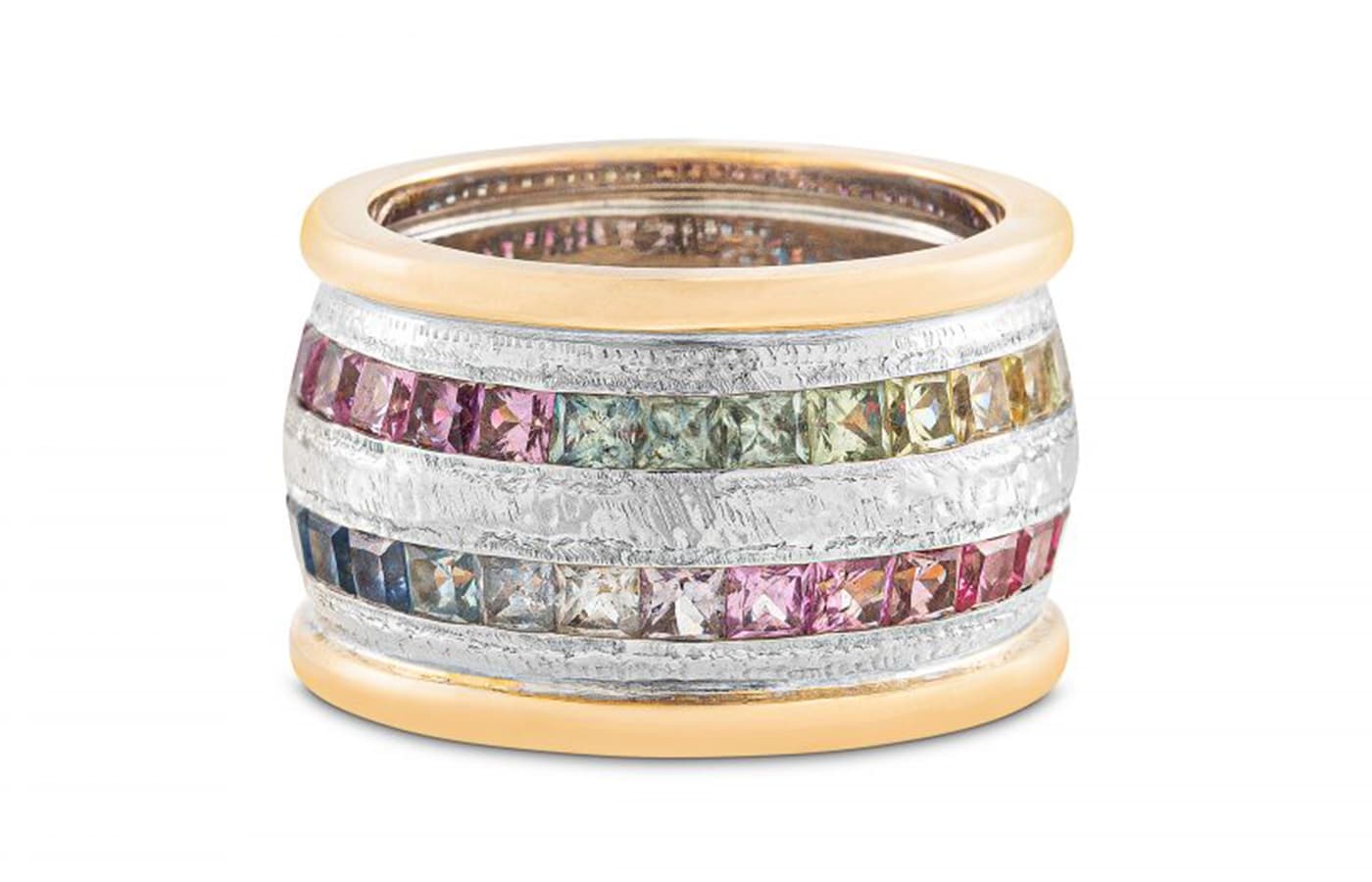 A big part of Nathalie Knauf Jewels' identity is "demystifying and personalising" the luxury jewellery business. And the best way to do this, as Nathalie explains, is by building trust. "A central tenet of the brand philosophy is, put simply, that honesty is the best and only policy."
"Honesty is an intrinsic element at every stage of our craftsmanship. Through our candid approach to discovering the compatibility of the piece with the client's lifestyle, we allow the client to be expertly informed and enjoy the surreal process of the stone choosing its owner," Nathalie Knauf.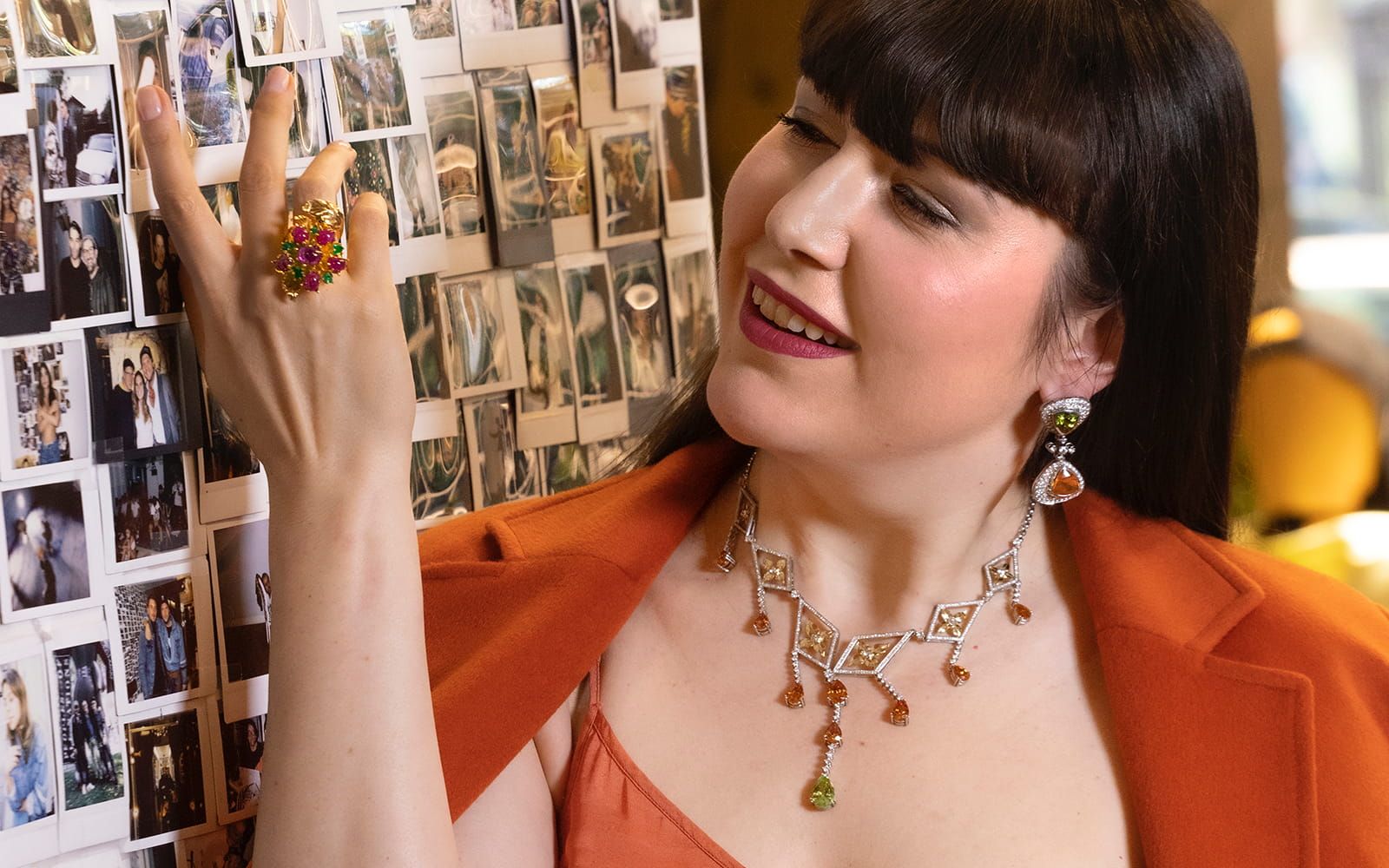 But perhaps the most vibrant philosophy at the centre of Nathalie Knauf Jewels is its passion for coloured gemstones and the science of gemmology. Using her analytical and business-minded background, Nathalie knew that to be adept at fine jewellery, she needed to understand her materials. This led to further training in gemmology and a flourishing belief that gemstones have a secretive and mysterious power. She explains: "I am a very practical person, but I sometimes believe a stone gives you power. I like to put something on, look in the mirror, and feel like a piece has good energy."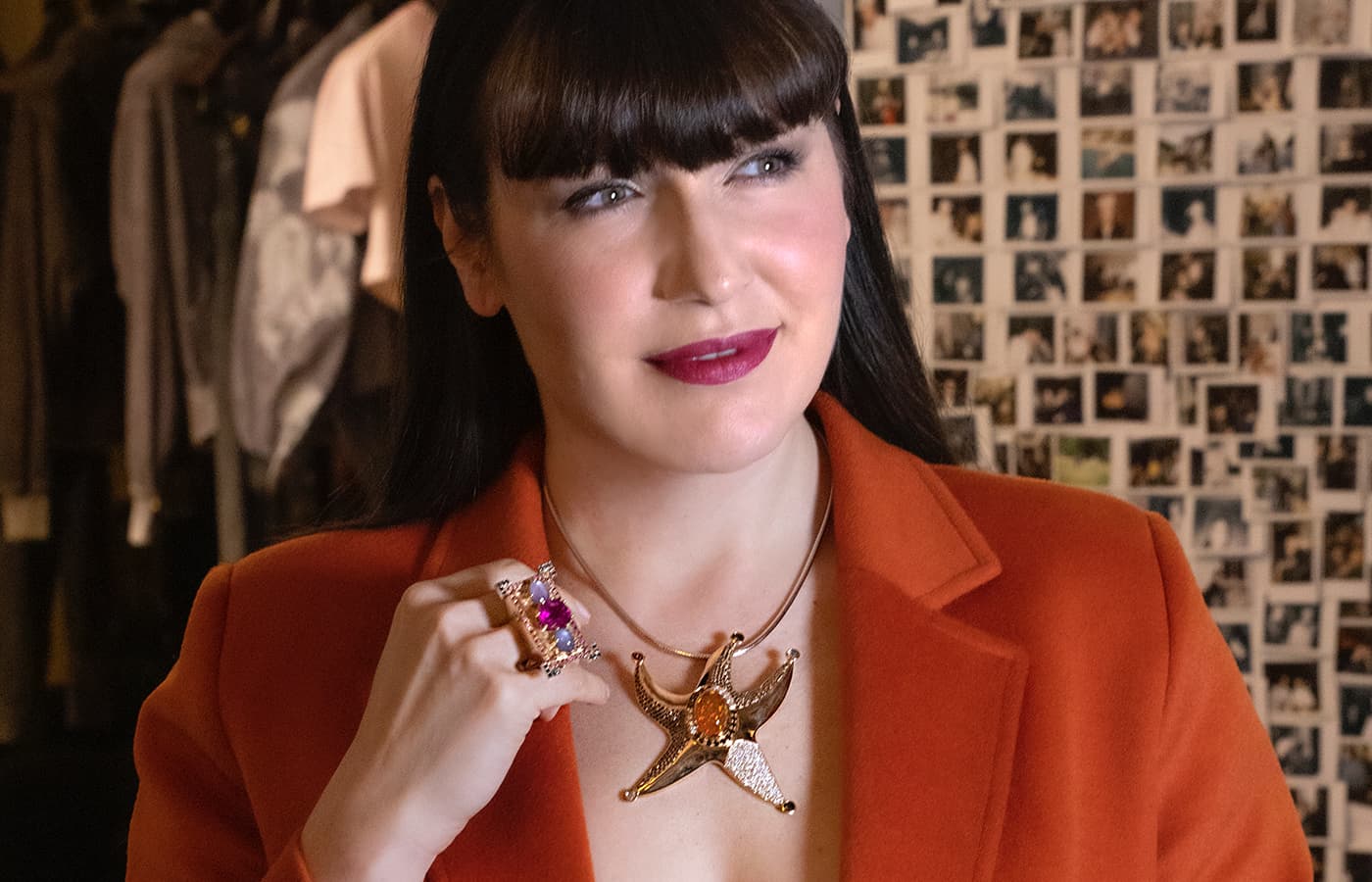 And with energy comes intuition. "I think, by karma, that every piece finds its person; the right one just needs to come along," she says. "There is a person for every design ultimately. I believe so strongly in that." But what do these designs look like? Nathalie Knauf Jewels is interesting for its aesthetic diversity across statement brooches, pendants and cocktail rings. A single, large gemstone typically anchors pieces in ways that feel feminine but also powerful, strong and determined. She explains: "A piece needs to give you confidence; it needs to make you proud, especially big statement pieces."
Most of her designs are underpinned by a desire to empower her customers with an uplifting and inspiring story. This explains why, during our meeting, the jewellery Nathalie was showing me was all so different in inspiration and style - the large cocktail rings, statement necklaces and drop earrings I was exploring were made for women with completely different personalities. Take, for example, a series of large rings inspired by the Henri Matisse painting, The Dance. A precious metal setting depicts women dancing in a circle, hands held together to create a loop, within which a large gemstone shines brightly. "They are holding the stone," Nathalie explains, "the stone of wisdom, of female power."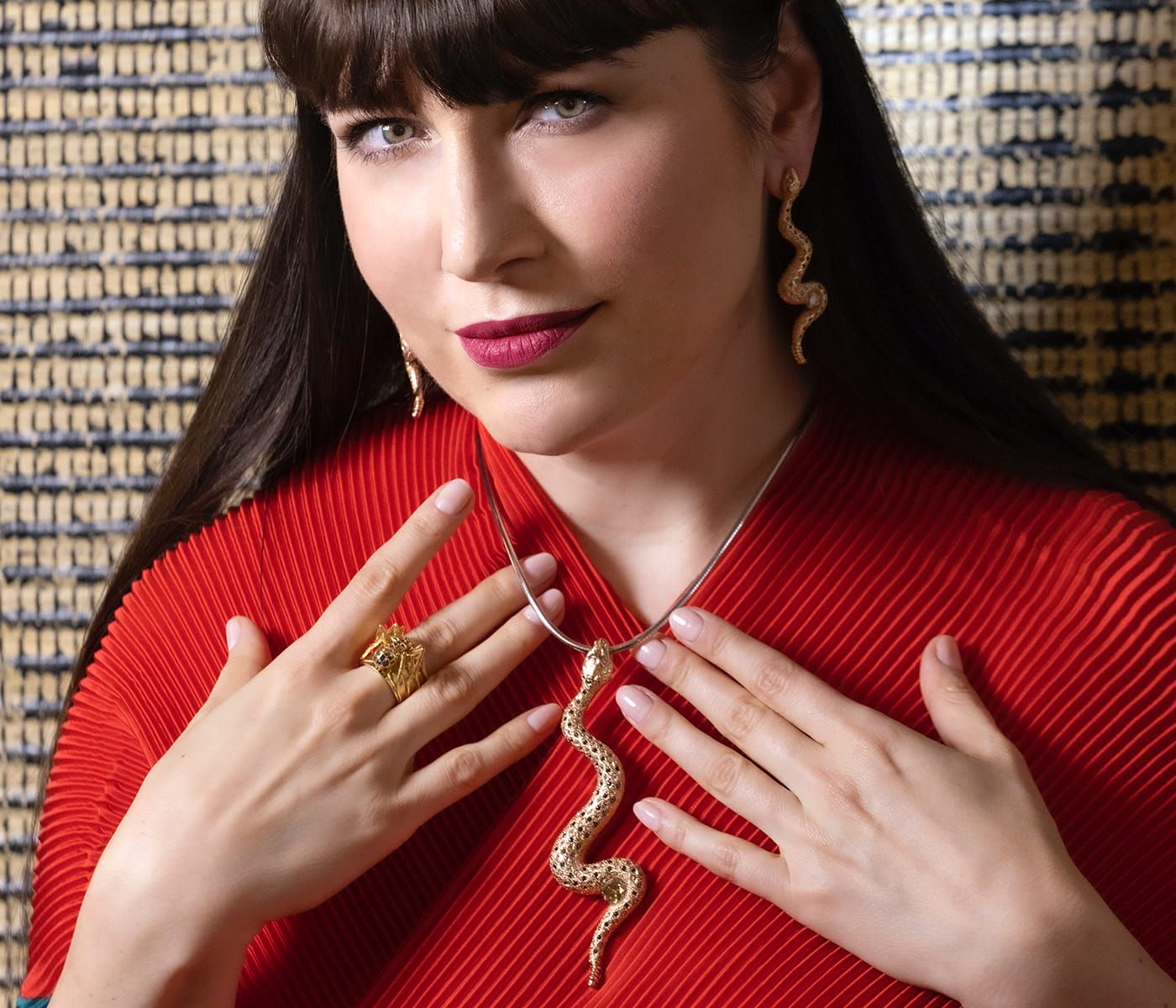 Next, there's a suite of sidewinder snakes in textured 18k yellow gold, including earrings and a striking pendant that appear to slither across the skin. Another design that captures the ambitious size and scale of Nathalie's creations is the Thorn necklace with highly polished barbs of yellow gold around trillion-cut peridot gemstones. The item took more than six months to produce due to the challenges of sourcing perfectly matching gems and crafting each element so it is comfortable (and safe!) to wear.
This blend of creativity, instinct, intuition and business tenacity has allowed Nathalie Knauf Jewels to flourish over the last decade. Now, Nathalie has a feeling for what her clients will love and can match women with the jewels they adore. "It's a satisfying feeling to create a piece for someone, and I am so proud when I see them worn on special occasions. When they have them on, that's the most beautiful feeling," she says. Perhaps this is the power of a jeweller; to create the piece you didn't know you wanted and to make you fall in love.