With personalised lockets, pendants and bracelets becoming increasingly popular, things like engraving services have become readily available at the click of a button. However, there are a few jewellers taking this personal experience to the next level by creating designs from scratch that are inspired by their clients' unique life experiences. With nothing but a story to guide them, the brands below have created beautiful works of bespoke jewellery that are one of a kind.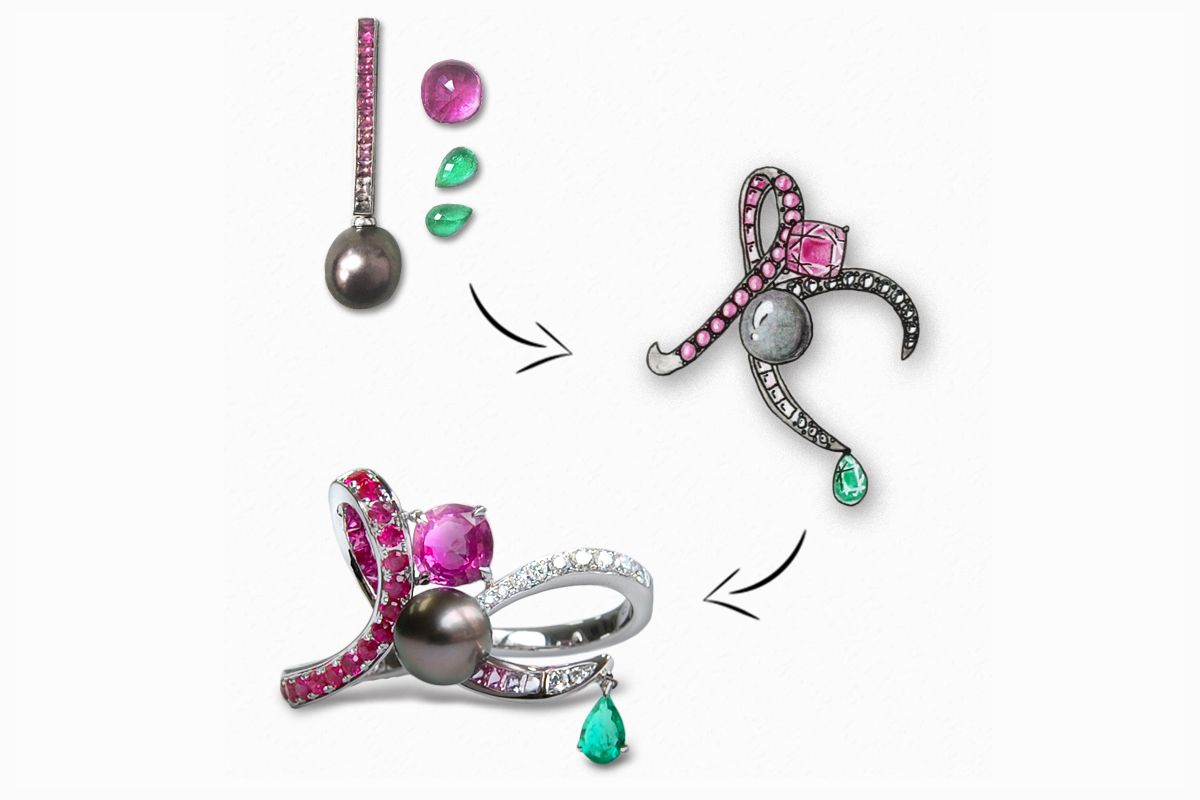 Alessio Boschi
Italian jewellery designer Alessio Boschi has been entertaining the jewellery world with his creations for over 20 years. His passion for this art form oozes out of every one of his creations. With emotion as the driving force behind his creativity, he shares two recent bespoke jewellery stories with us below.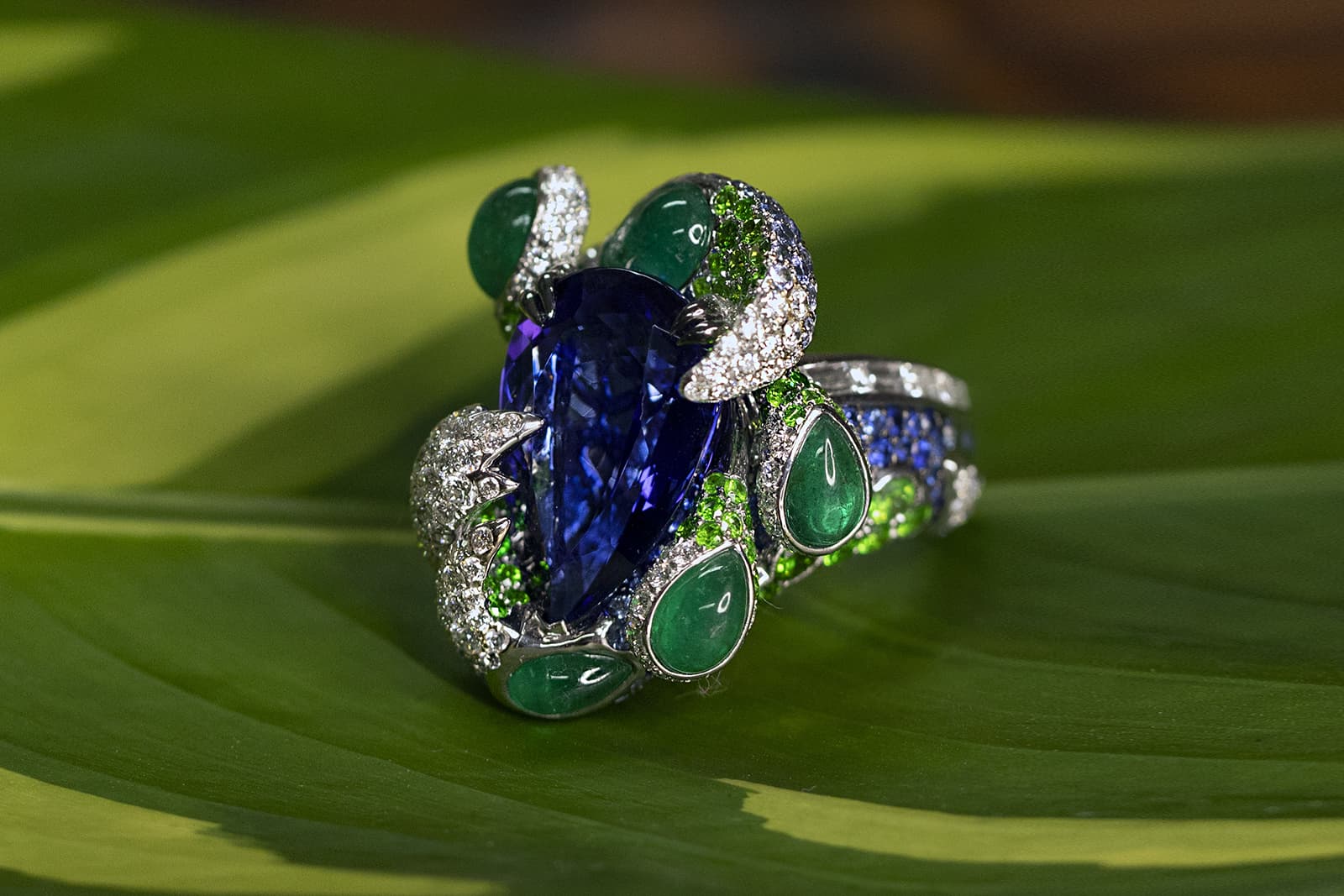 Alessio Boschi - The Journey to the Americas ring
"My client Ohenia Ortiz Rodrigues is a descendant of the aristocrats of Spain, connected to the Bourbon Royal Family by a blood lineage and the period of the Spanish conquistadores. Her childhood was delighted by memories of her grandmother's small village of Montefurado and the religious beliefs of protection associated with the Virgin of the Miracles and the Archangel Michael. Ohenia spoke to me about these religious beliefs and showed me the little gold medallion gifted by her grandmother. In terms of design, the importance of using the letter 'M' surmounted by the cross and framing below the two little hearts is a key element which was emphasised. I find these details to be the real 'soul' of our creation, a little secret hidden below the colourful and gem-encrusted waves of shaded blue sapphire and demantoids. These gems embrace the prominent and stunning tanzanite underneath, which is the hand-made carved detail representing religious symbolism. The rose gold gallery will always touch the skin of the wearer, Ohenia, her daughter, and hopefully many generations to come will transfer the apotropaic powers of the Virgin of the Miracles and the Archangel Michael."
The Vibrant Lily Bangle by Alessio Boschi
"My client, Liza asked me to create a bangle as a gift from her husband that would reflect her personality, lifestyle and her love for bright intense colours. It had to be something easy to wear, but also versatile and able to match most of her favourite clothes. It also had to have some unique features which would make it a one-of-a-kind jewellery creation reflecting her husband's love for her. I started with her favourite flower, the lily and her love of bright colours. I chose a stunning rubellite of over 25 carats in a beautiful trillion-cut shape. By observing this wonder of nature, I immediately had an image in my mind of a dark pink and magenta Lily. I researched images of such lilies until I finally found the most vibrant of them. Then, I carved by laser under the crown of the centre gem in Latin: AMOR VINCIT OMNIA, "Love wins over everything ", a clear message to empower Liza with her husband's love."
Antonio Seijo
High jewellery creation is embedded deep within Antonio Seijo's genetics. Born into a family of jewellers that have been in the industry for over a century, the artist combines his passion for history, mythology and geology with his family's love of jewellery to inspire his creations. A pair of his latest high jewellery earrings were inspired by his granddaughter's fascination with nature.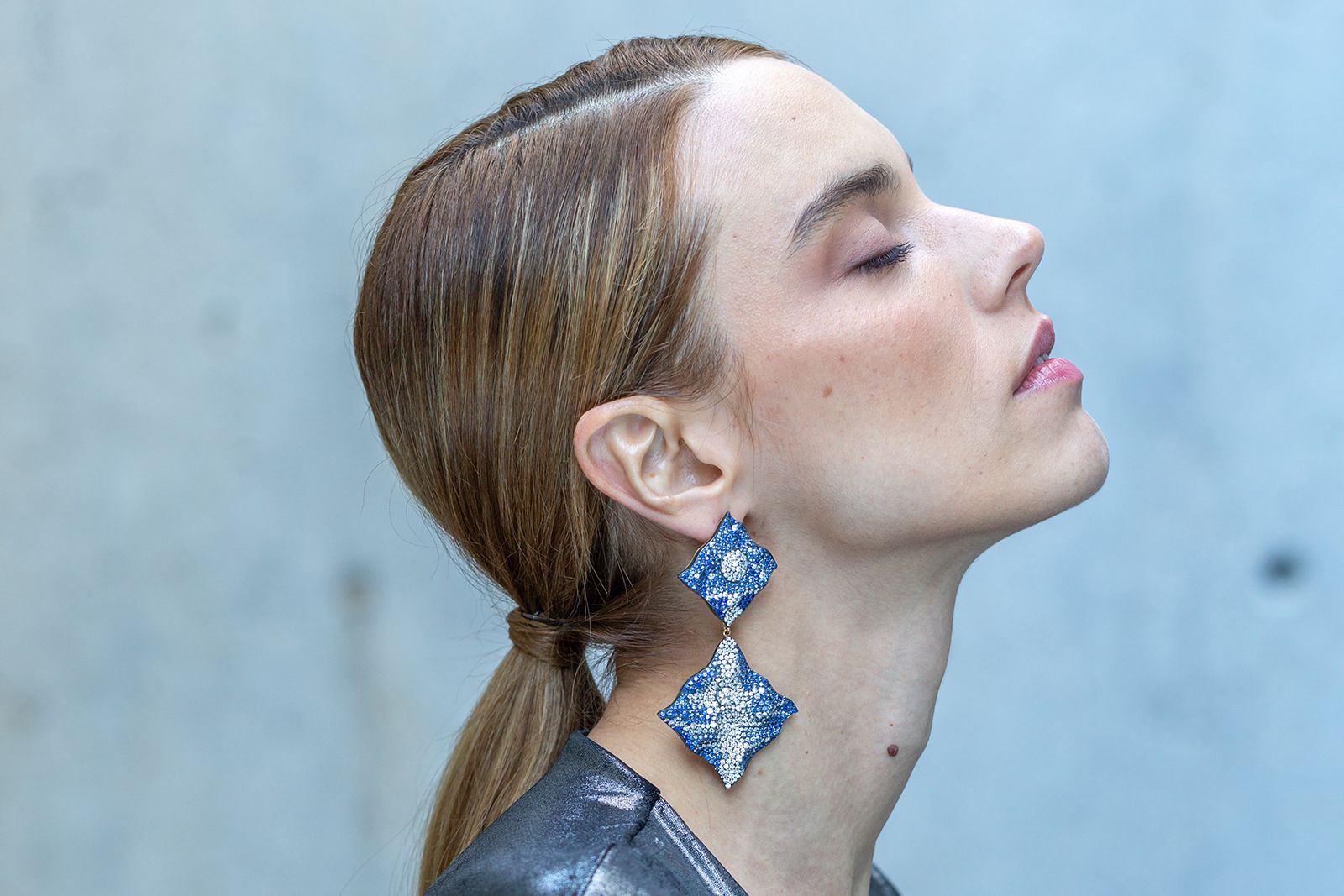 Antonio Seijo- The Isabella Luna earrings
"In our house, we have a holographic magnet of the moon on our fridge. When you move it, you can see the different phases of the moon. My granddaughter Isabella was fascinated by it. One full moon night my wife carried Isabella out the door to show her the real full moon while holding the magnet in one hand. It was gripping to see how the little girl suddenly grasped the similarity of her well-known image with the bright disc floating in the sky and illuminating the majestic mountain opposite our terrace. Enchanted she pointed at it, crying, 'La luna, la luna!' Since that night, whenever she visits us, she greets her friend, the moon, with a 'Buonanotte, Luna!' before going to sleep. To perpetuate her emotion, I dedicate the Buonanotte Luna earrings to Isabella. In the upper disc, we see the full moon, dazzling on a blue background, surrounded by luminous stars. From its heavenly place, it is reflected on a glittering sea. And like in the hologram it moves on the water as if coming to life, capricious, fun and sparkling."
Sarah Ho
Specialising in contemporary fine jewellery, Sarah Ho takes pride in taking important heirloom pieces and transforming them into jewels that her clients will be able to wear for many years to come. The two pieces below are perfect examples of how she injects a much-needed dose of modernity and innovation into heirlooms.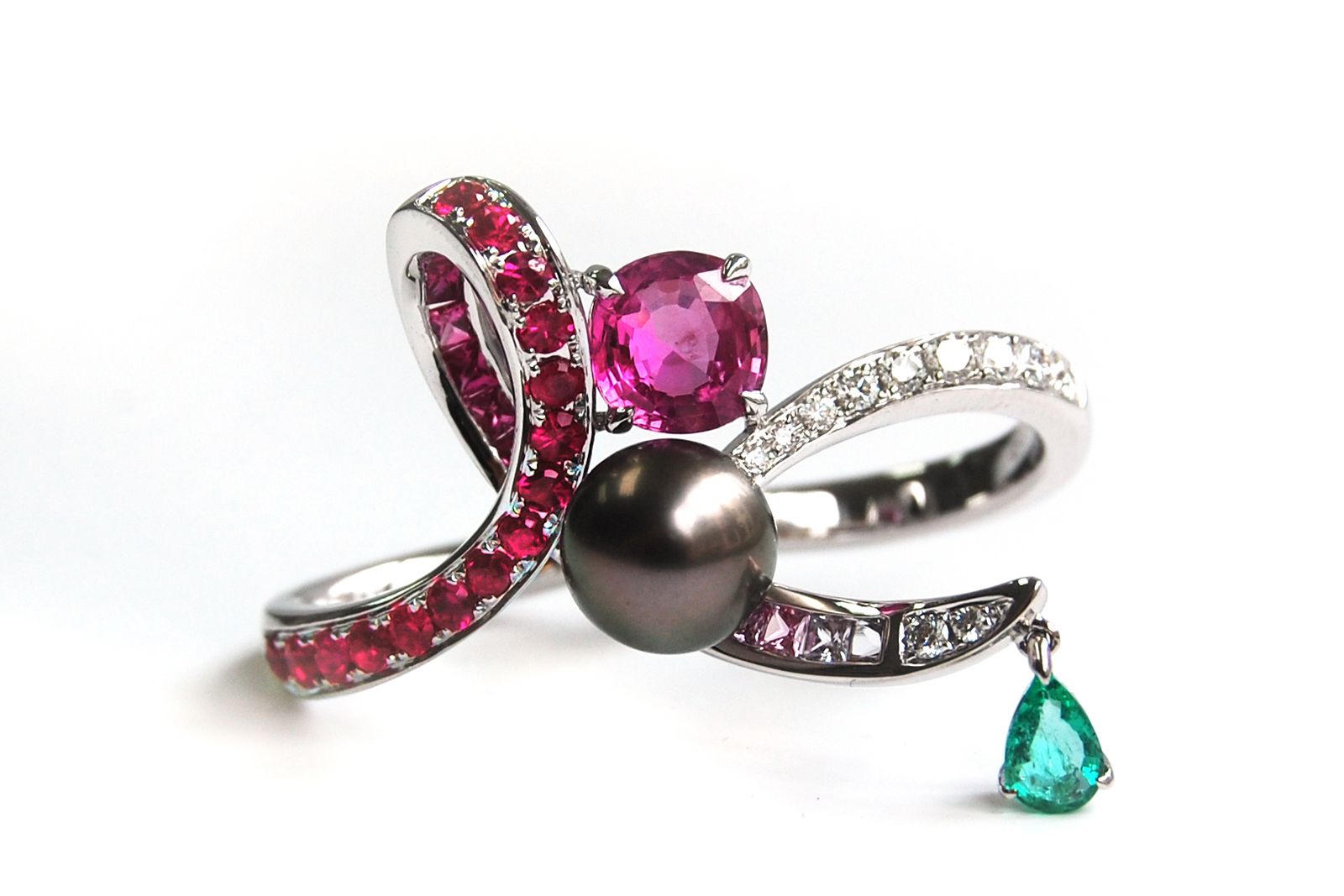 Sarah Ho - The Bespoke Diana ring and Kay ring
"Our client inherited an emerald necklace from her mother - a family heirloom that held many precious memories. However, the style of the necklace was not right for her. The client spoke to me about what she would like to do with the emeralds and how she would like the piece redesigned to enable her to wear the emeralds in a way that suits her. The final design brings together the emeralds and diamonds in a unique ring that can be worn now and treasured forever. Another one of our clients had a selection of loose gemstones with which she wanted to create a bespoke piece. She had a Tahitian pearl pendant from an ex-partner and some stones collected from her travels. She wanted a design that brought these gems together and uniquely represented her. I created a ring that spanned two fingers in the shape of a "K" - the client's first initial, with her collected diamonds and sapphires representing her date of birth."
Sarah Ysabel Dyne Narici
Italian British jeweller Sarah Ysabel Dyne Narici is obsessed with ancient Egyptian art and artefacts. Fascinated by hieroglyphics and their continued meaning and importance in the modern age, she uses her style as inspiration for her clients in all of her bespoke creations.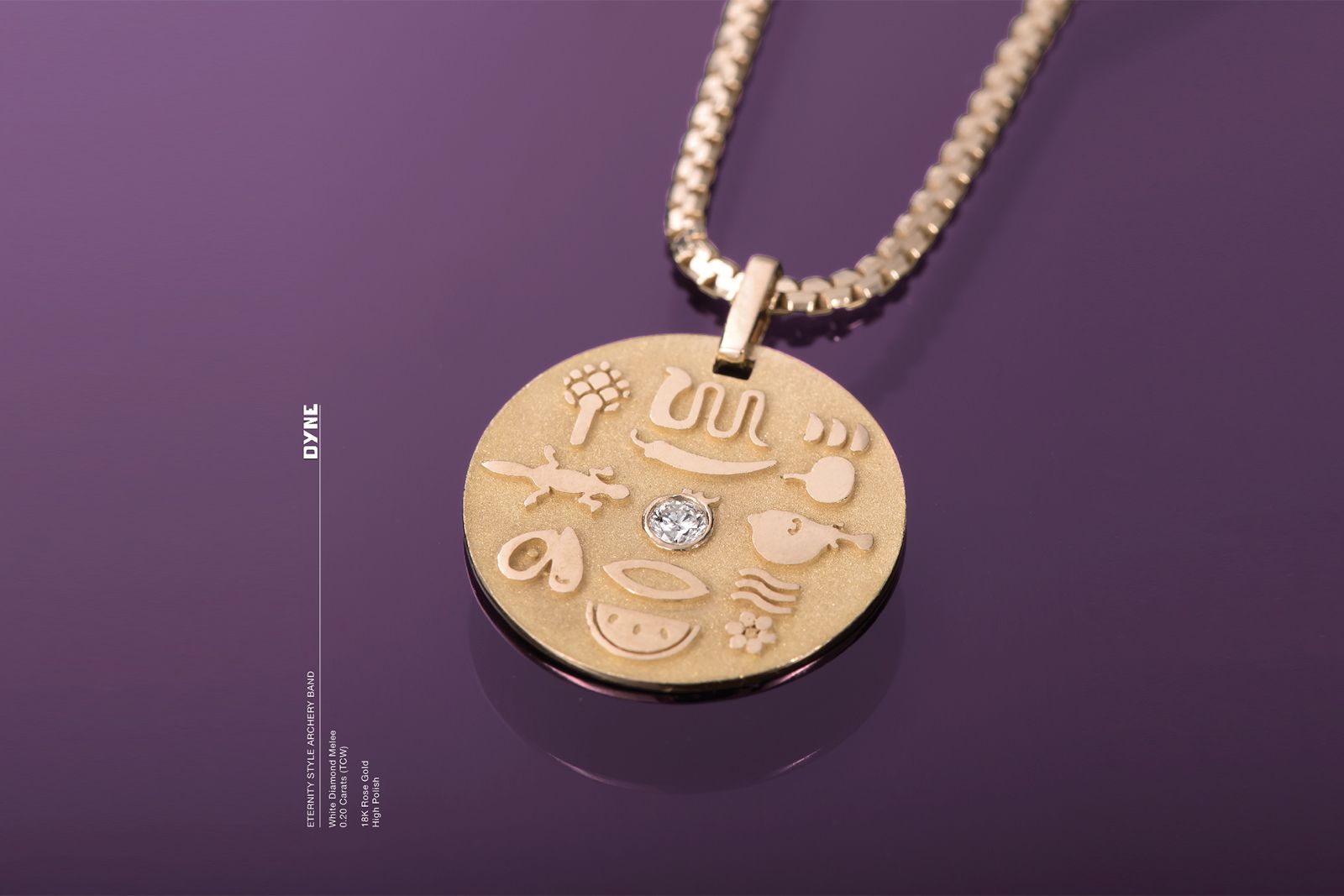 Sarah Ysabel Dyne Narici - The Atlas ring
"This ring was commissioned by a friend to mark the birth of her firstborn child, Atlas (seen engraved on the underside of the ring). The style of this ring is a classic chevalier shape. I continue to revert to iterations of this shape because of the contrast between the ancient and modern which it represents for me. Ancient because of its historical use as signet styles to hold family crests in ancient Egyptian jewellery, and modern because of the bold, clean lines that have a unisex appeal. Each marking and drawing on this ring represents something meaningful and unique to the family. My client gave me some important cultural and personal references and narratives, and I interpreted them into these hieroglyphic style illustrations, which were then recessed into the gold. The gemstones used are the family's birthstones."
Simone Jewels
Described as one of Singapore's top 10 designers for many years, Simone Ng of Simone Jewels has international representation all over the globe. Her jewellery creations are intricate and effortless, bringing to life the designer's unique style. Her latest bespoke creation was a record-breaking piece: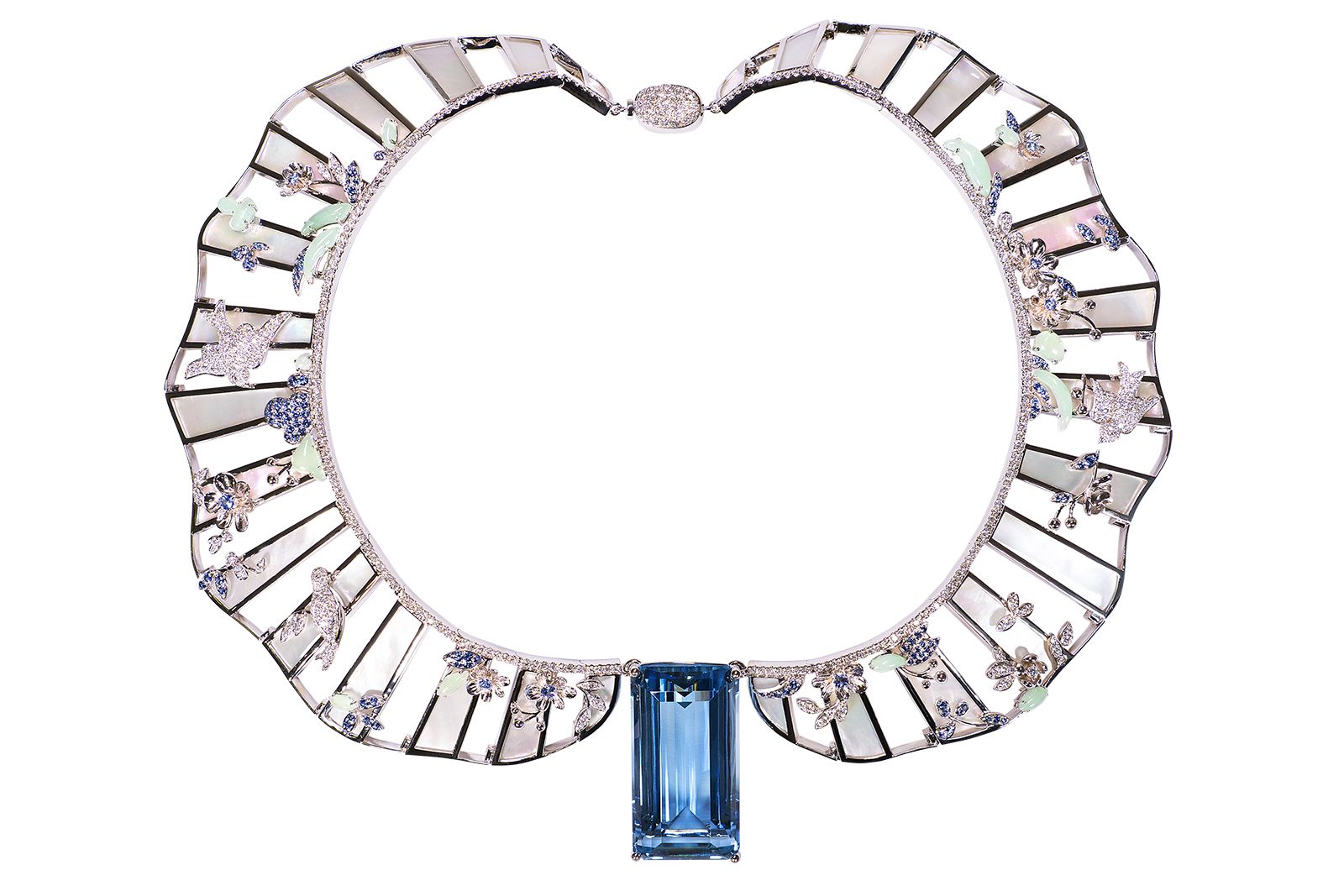 Simone Jewels - Le Grand Chinoiserie necklace
"One of my oldest customers approached me to design a piece to showcase a very rare and large Santa Maria aquamarine. It was the beginning of a journey that culminated in a stunning creation valued at over a quarter-million dollars. The whopping 86.92-carat aquamarine was discovered at the Manakana Mines in Madagascar. It was one of the finest aquamarines that I had ever seen. It was truly in a league of its own! The gem is certified as having a Santa Maria hue, the most desirable colour for investors and collectors of aquamarines. Heartbreakingly, it was kept hidden away in the customer's vault, waiting for an opportunity to be shared with the world. The perfect reason came when the customer wanted to commemorate a new life together with his then-fiancée, who was also an avid fan of high jewellery. They fell in love with my Parisian Chinois collection, inspired by the 'East meets West' arts and cultural exchange between the Qing court and King Louis XIV of France in the late 17th century that changed the history of fashion forever, fusing French and Chinese styles originally found in glass and porcelain artisanship. The result was a French collar necklace named Le Grand Chinoiserie which took more than eight months to complete. Crafted in 18K white gold, the necklace combines oriental motifs delicately carved from ice jade as a nod to the couple's Chinese heritage, with songbirds and French flower motifs crafted with 140 blue sapphires inspired by the lady's love of nature. The piece exudes passion, luxury and tranquillity from its nature-inspired motifs and blue gems."
From small dainty rings to full high jewellery necklaces, what each of these pieces has in common is that they hold a unique symbolism specific to the wearer. Illustrated through the rarest of gems, they are works of art that will be treasured for centuries.