Recently, high jewellery has embraced a more literal approach to animals. Rather than creating an abstract butterfly wing or a diamond-set feather, some of the biggest names in Haute Joaillerie have produced full, complete, three-dimensional animals… and not always the pretty ones. Now, you can adorn yourself with a jellyfish, a koala bear, a crocodile or a gazelle depending upon your affinity for wild animals. Here are some examples from recent collections to inspire your search.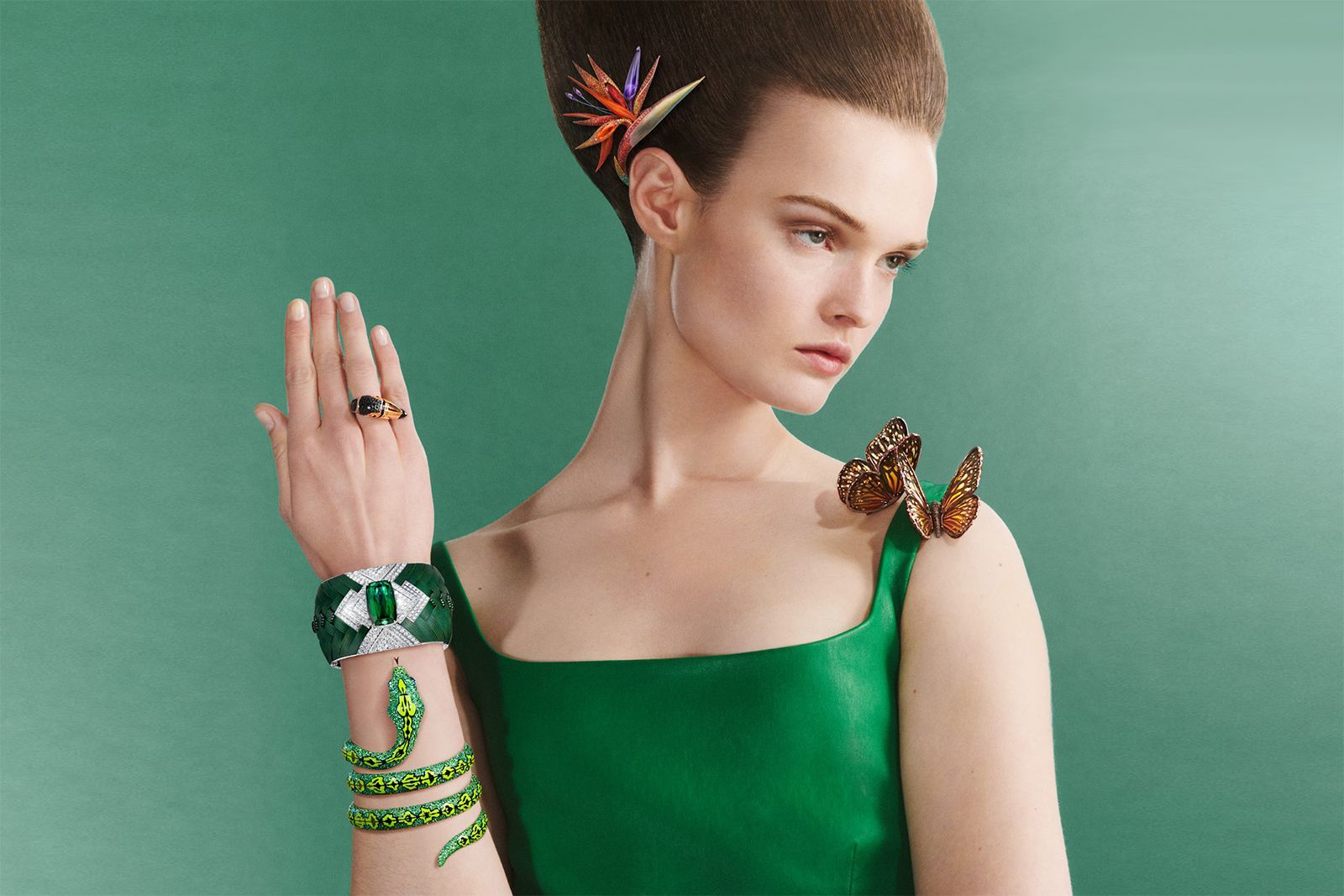 Cartier
The recent Beautés du Monde High Jewellery collection beautifies a range of animals. The Cymbale necklace offers an abstract interpretation of the cicada with diamonds, rock crystal, rubies and onyx, but other pieces are more literal. Four brooches stand out. There's the Éléphant Noir brooch crafted out of petrified magnolia wood and accented with a pink sapphire and briolette diamond. Next, we see a dragonfly with a 20.71-carat black opal and a quetzal shoulder jewel with feathers that sway with Paraiba tourmalines, sapphires, diamonds and engraved tsavorites. Finally, there's a flamingo with a trio of carved rubellites, totalling 41.81 carats, alongside onyx and yellow, pink and white brilliant-cut diamonds.
Mikimoto
If you wish to see all the animals in the Mikimoto Wild and Wonderful High Jewellery collection, you can read an article dedicated to the offering. But, while you're here, let me tell you about some of my favourites. There's the red-eyed tree frog brooch with a pear-shaped diamond droplet of water; a parrot brooch with a golden South Sea pearl body and ruby wings, and a koala brooch with four round Akoya pearls and marquise-shaped garnet leaves. Some pieces depict entire scenes that come to life, like a David Attenborough documentary. The best example is a trio of penguins ready to leap from freshwater pearl icebergs into an ocean of marquise-shaped beryls, aquamarines, spinels, sapphires and diamonds.
Boucheron
The Boucheron Ailleurs High Jewellery collection burst with animals, both living and deceased. The Leaf Woman set contains a toucan bracelet crafted in titanium with a beak sculpted from three citrine blocks that interlock together. There's also a serpent bracelet in this set finished with tsavorites, onyx and lacquer in titanium. Finally, I'd be remiss not to mention the Papillon earring in the Earth Woman set, which features natural butterfly wings set with brown diamonds and white diamonds in coloured titanium. If your curiosity isn't satisfied, you can read more about this Boucheron High Jewellery collection here.
Chopard
Earlier this year, Chopard again made its mark at the Cannes Film Festival with a suite of 75 jewels entitled "Chopard Loves Cinema". The collection takes a different approach to animals by using them to reminisce on famous movies and cartoons. For example, there's a nod to 101 Dalmatians with a canine cuff of white and black diamonds decorated with six 3D spotty dogs with blue sapphire eyes. There's also a pair of fish earrings with lightweight titanium tailfins that move when worn. The fact they're studded with brilliant green and blue gems, decorated in yellow gold, and topped with 'air bubble' gemstone beads only adds to the oceanic allure.
Rosior
Portuguese brand Rosior is especially well known for its colourful pavé jewels, which now include a pair of jellyfish earrings, a giraffe ring and a dolphin ring, thanks to some recent launches. The asymmetric jellyfish earrings are my favourite, as they combine such a diverse palette of gemstones, including 179 rubies, 173 blue sapphires, 138 colourless diamonds, and purple sapphires, apatites, and blue diamonds. Likewise, the giraffe ring is full of minerals, including 422 yellow sapphires of 3.51 carats, emeralds, amethysts, purple sapphires and brown, colourless and yellow diamonds. And last but not least, the dolphin is a wash of blue diamonds – some 2.50 carats – alongside two jet black diamonds for the mammal's eyes.
Elie Top
I took a deep dive into the creations of Parisian jeweller Elie Top last year, specifically the Magica Naturae collection of wild animal jewels. Since then, a new piece has slithered into existence! The Snake cuff coils up the wrist with an 8.88-carat rubellite, eyes of yellow sapphires, a body of patinated yellow gold, pink gold and silver scales punctuated with diamonds, and an articulated tail paved with diamonds and a ruby cabochon. Other pieces in the collection include a chameleon, tortoise and crocodile, all with the brand's signature gold and patinated silver metalwork.
Palmiero
Way back in 2015, I was writing about the Italian brand Palmiero and its chameleon brooch from the aptly named Animals collection. Its creations are colourful and ostentatious, especially The Curious Parrot necklace with more than 1,000 precious stones and a detachable parrot that can be worn as a brooch. The Pavone collection, otherwise known as the Peacock collection in English, contains many interpretations of this remarkable creature. A newer iteration is a pendant where the peacock's body swirls in shades of white, blue, green and orange stones. If you visit the jeweller's Instagram, I doubt there is an animal, mythical or otherwise, that it hasn't brought to life with gems.
Akillis
The Parisian jeweller's Animal Tattoo collection, which was launched in the spring of 2022, features 21 pendants that give terrestrial and marine animals a rock and roll makeover. The brand's founder Caroline Gaspard selected seven animals from the four corners of the world to evoke a feeling of freedom, including the jaguar, lion, zebra, oryx, koala bear, hammerhead shark and the manta ray. Each animal is available with graphic lines of either white diamonds, black diamonds or a combination of the two. I will admit the latter is my favourite as the monochrome palette creates a great sense of dimension and contrast.
If I had to single out my favourite aspect of all these jewels, it would be their ability to provoke conversation. Could you possibly walk into a room wearing a toucan bracelet or a tree frog brooch without someone remarking upon its inventiveness? So if you're a lover of animals and attention, perhaps this is the high jewellery path to tread!

Banner image: Mikimoto Wild and Wonderful collection jewellery