One can discover antique and vintage signed jewellery, old mine-cut diamond engagement rings and earrings as well as wedding day Riviere necklaces and coloured gems brooches when stepping into the Hancocks gallery, which has been in the Burlington Arcade since 1992. Back in June I visited the boutique to interview its Managing Director, Guy Burton, who specialises in old-cut diamonds and engagement rings, and his sister, Amy Burton, Creative Director, who has a particular love of vintage jewels and is also an adept designer of contemporary fine jewellery. Together, they represent the latest generation of their family to make antique, retro, contemporary and bespoke jewellery their calling. Whether you're a fan of Cartier or Van Cleef & Arpels, Art Deco or Art Nouveau, Victorian or Edwardian, Hancocks curated collection offers the best of the best, providing sought-after pieces for collectors and jewellery aficionados.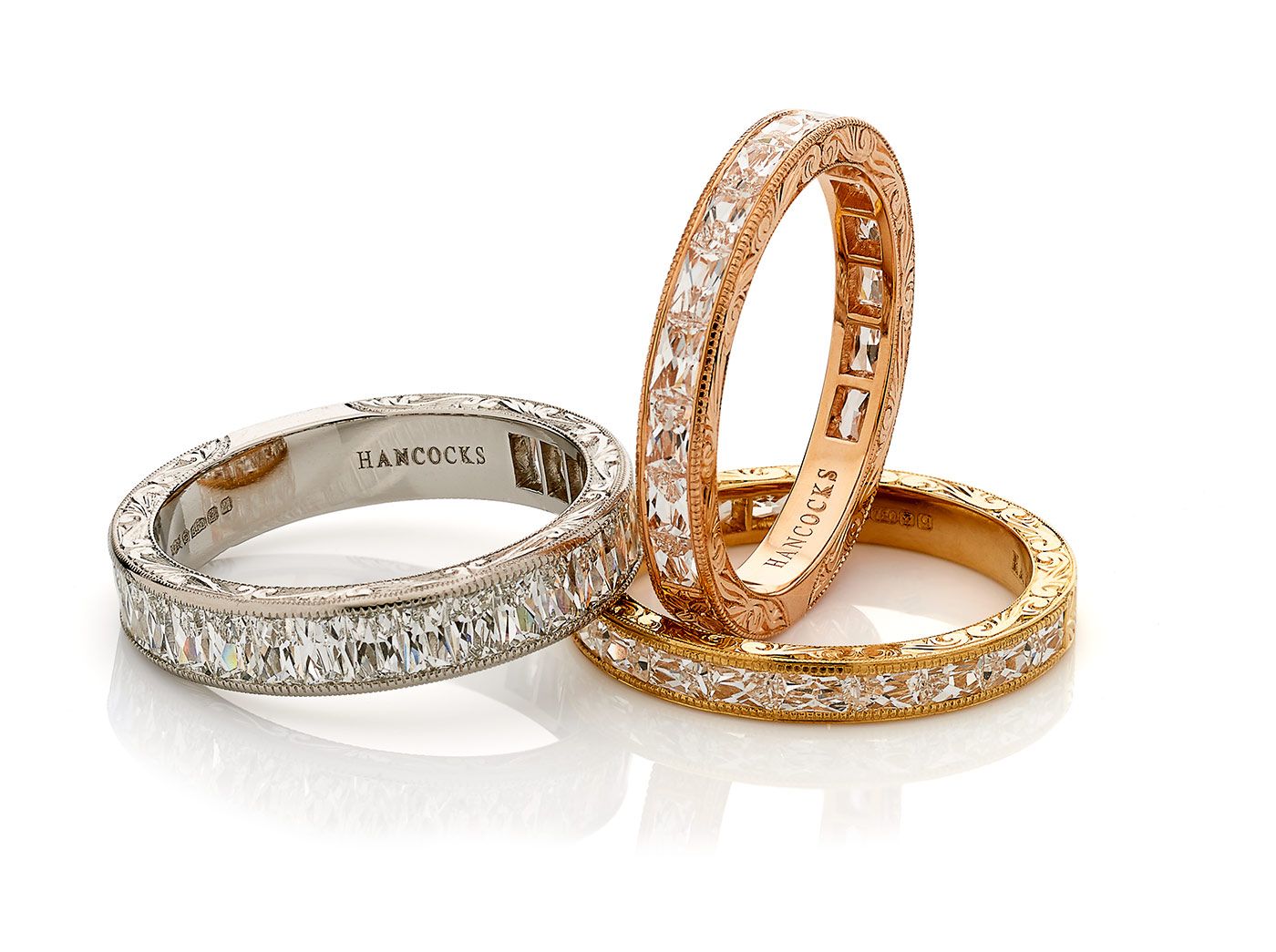 If I had to pick three things that set Hancocks apart, it would be the company's passion for old-cut diamonds and repurposed gemstones, its aptly named 'By Hancocks' collection of in-house fine jewellery, and its exceptional curation of antique and vintage jewellery. I'd like to focus in more detail on the first two factors, especially the antique-cut diamonds and gemstones, which reflect Guy Burton's belief that "the older style of cutting produced vastly superior stones aesthetically compared to their modern mass-produced counterparts". Let's dive in!
Covetable Engagement Rings
One of the best places to see this passion for old- and vintage-cut gemstones come to life is in Hancocks range of engagement rings. Before modern diamond cutting methods were introduced, stones were cut differently, manually and with less mathematically precise angles. Don't be fooled into thinking this is always a negative attribute though! Old mine, old-cut, antique-cut, whatever you wish to call these diamonds and coloured stones, have undeniable character and charm. Guy Burton dedicates much of his time to sourcing the best examples of older cut diamonds. I am told that only a small handful ever meet his stringent quality control standards, making him not just a collector but a connoisseur of the 'best of the best'. "What I aim to do and do well is the curation of antique stones," Guy tells me. "This is absolutely key as 99 per cent of all antique-cut stones weren't cut very well, so finding that one per cent that were cut by the Mazarins and the Joseph Asschers and the great cutters of the period is key. Anybody can find an antique stone but finding the best of them and then coupling that with the finest traditional craftsmanship here at our workshop in London… that creates 'one of a kind' pieces."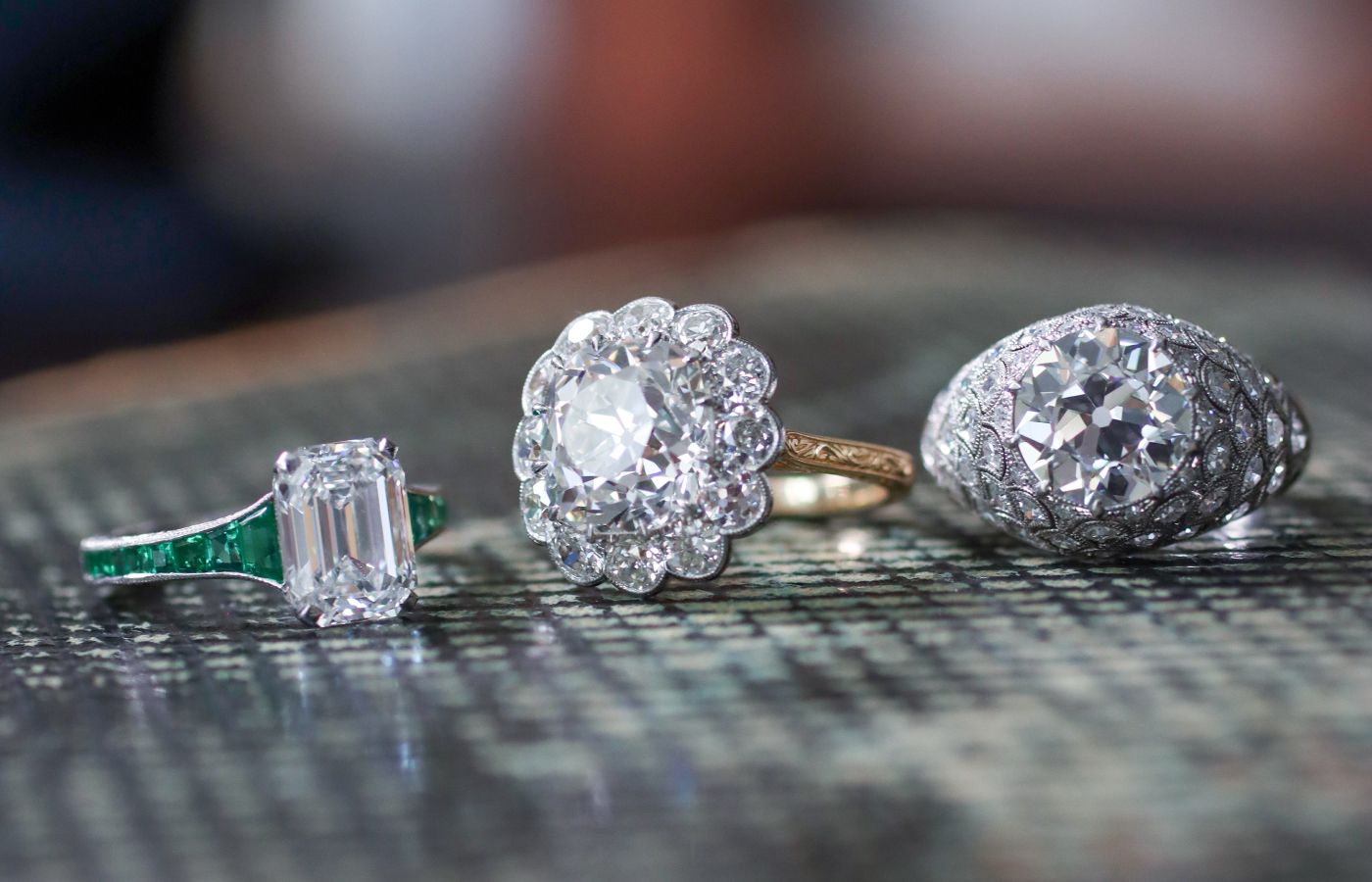 It's impossible to miss the passion that underpins everything Guy tells me about Hancocks engagement rings. Many are set with larger carat-weighted gems and are designed to be "classic but with a twist," often with subtle features on the shank that make each piece different from the last. Most of these antique diamonds are sourced from, you've guessed it, antique jewellery, which means 90 per cent are recycled. Why 90 per cent and not 100 per cent? Guy explains: "There are more loose diamonds in the world today than will ever be made into jewellery. Sometimes I will buy old cuts, they might have been cut in 1870, but they have just been bought and sold and never actually made it into jewellery. Other times, they've come out of tiaras or brooches."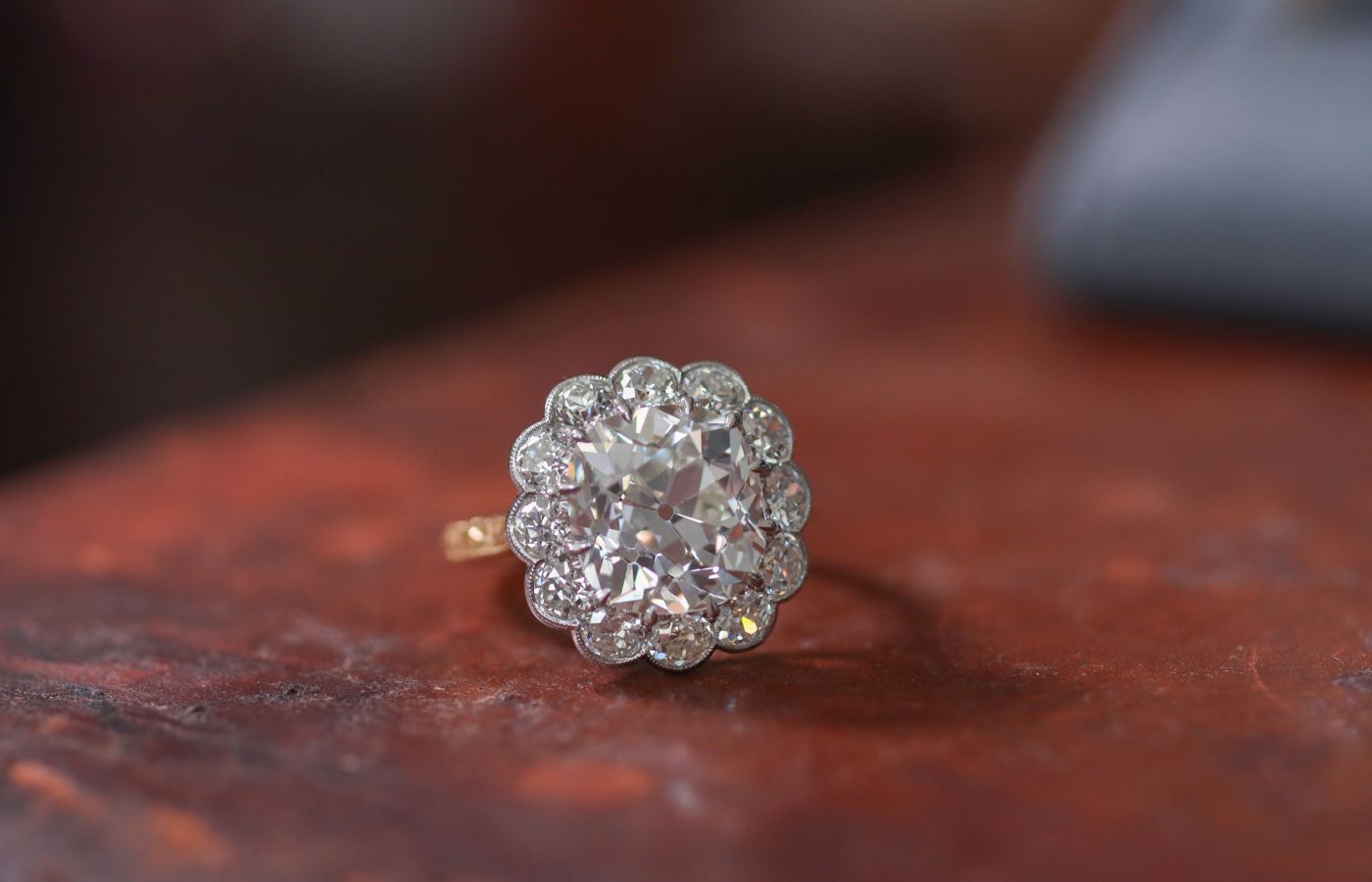 Hancocks is already at an advantage when it comes to sourcing antique diamonds, largely because of its connections and knowledge of antique fine jewellery from the Georgian, Victorian and Edwardian eras. I asked Guy what he looks for at auction, and his answer was surprisingly simple: "Cut, cut, cut; it's always about cut!" He continues: "I put cut above colour. Many people come in and are looking for a D to G-coloured diamond. But when asked, I say I will buy a D to Z – I like D colour as much as I like a Z colour. I bought my wife a Z colour because colour is not a quality grade; it's just about the amount of nitrogen in the stone."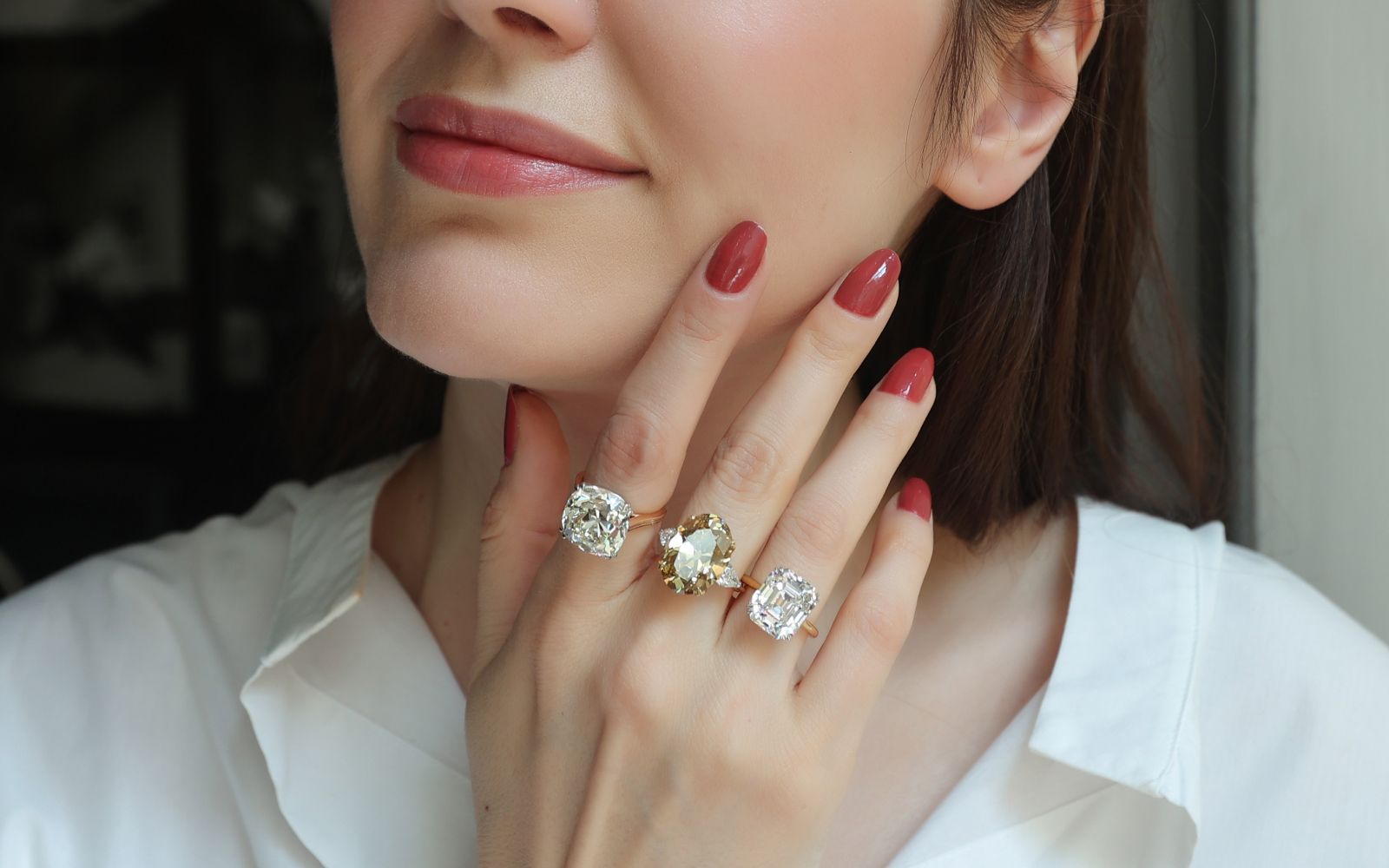 Even as a trained gemmologist, it can sometimes be challenging to keep up with the nuances of diamond cut – the angles, facets, proportions, ratios and values that transform a beautiful stone into something exceptional. During my visit to Hancocks, for example, Guy showed me an Asscher-cut diamond from the 1920s that was quite different to any modern Asscher-cut I had seen before. He explained that its larger cut corners would never be found in a contemporary gem, as this ultimately leads to a loss of carat weight and, therefore, a decline in monetary value. "Back then, they didn't care about that. They cared about making beautiful cut diamonds," Guy explains of artisans in previous centuries. He continues: "They didn't have the same constraints, and they let loose their artistic flair to create more unique cuts than what you get today."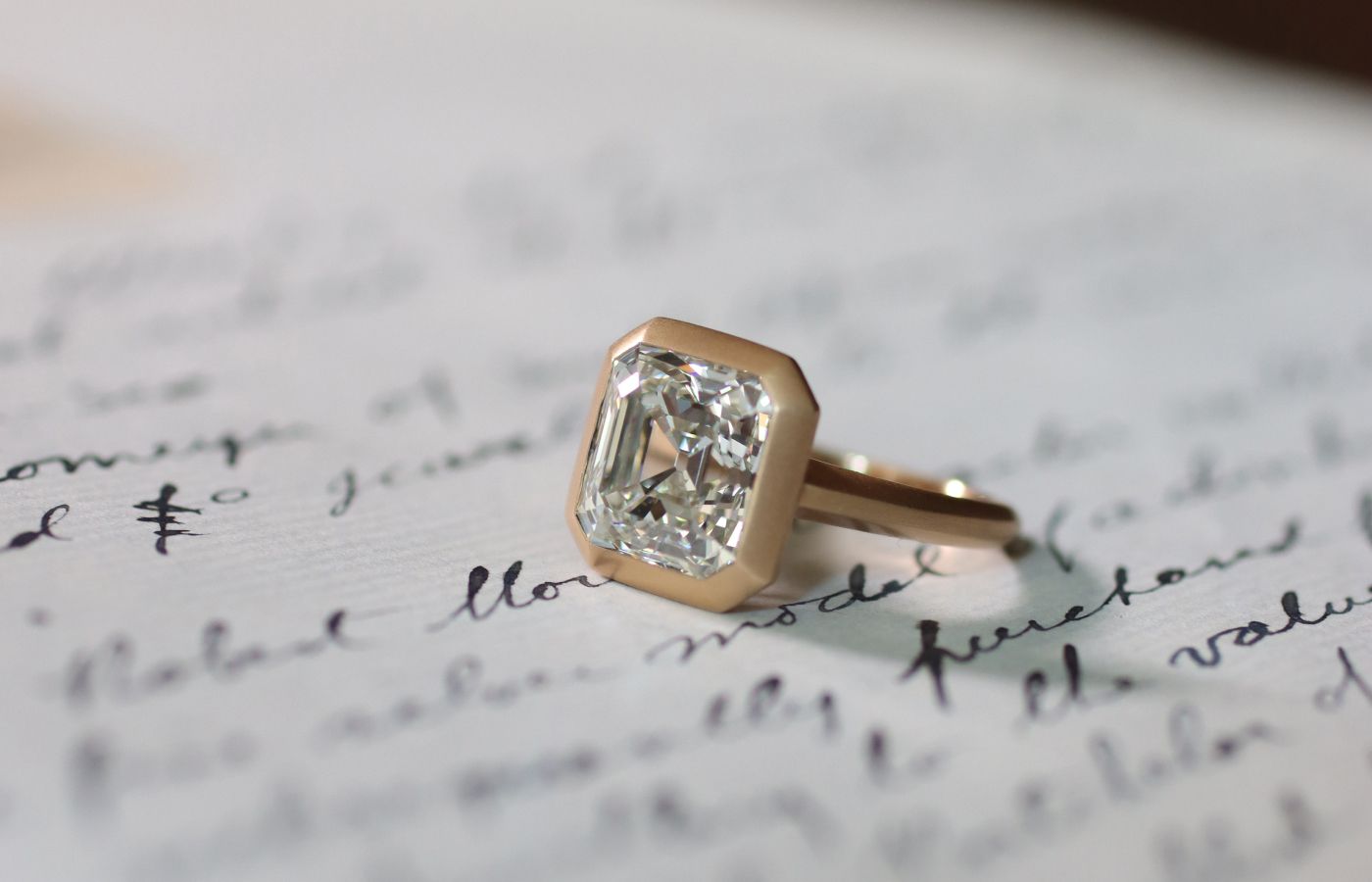 "Another feature that struck me was Hancocks use of French-cut diamonds, which have a tell-tale criss-cross pattern of triangular-shaped facets and a high crown. Guy describes this as a "beautiful cut that's sort of lost its way," so I am pleased to see it being brought back onto the correct path. I also like how its contemporary pieces reflect the period in which the central diamond was cut. For example, a stone fashioned in 1860 or 1870 is set in a Victorian-inspired cluster as a nod to the past, without trying to copy what has been before. "I always think of it as honouring the past but embracing the present," Amy Burton tells me.
Contemporary Creations
Of course, one doesn't need to get engaged to shop for special pieces at Hancocks - its contemporary collection of coloured gemstone dress rings is equally impressive. What unites all its pieces – whether you're an Old mine-cut diamond fan or a lover of deep blue sapphires – is London-based craftsmanship by a small but mighty team of master craftsmen. Each individual has different talents – an engraver, setter and polisher – who can pull together to transform an idea into a reality. It's safe to say that hand making is in the business's blood, probably because it hails from a time when modern machinery didn't exist. These skills have been handed down over generations from master to apprentice and so on.
Amy Burton explains: "Everything is handcrafted, and this is very much part of our USP. We do have solitaires, but they are not your average solitaire! For example, they might have beautiful hand engraving all around the band or the gallery might have an intricate detail to it. Every angle of the ring and the wearability of it how it sits on the finger is thought about."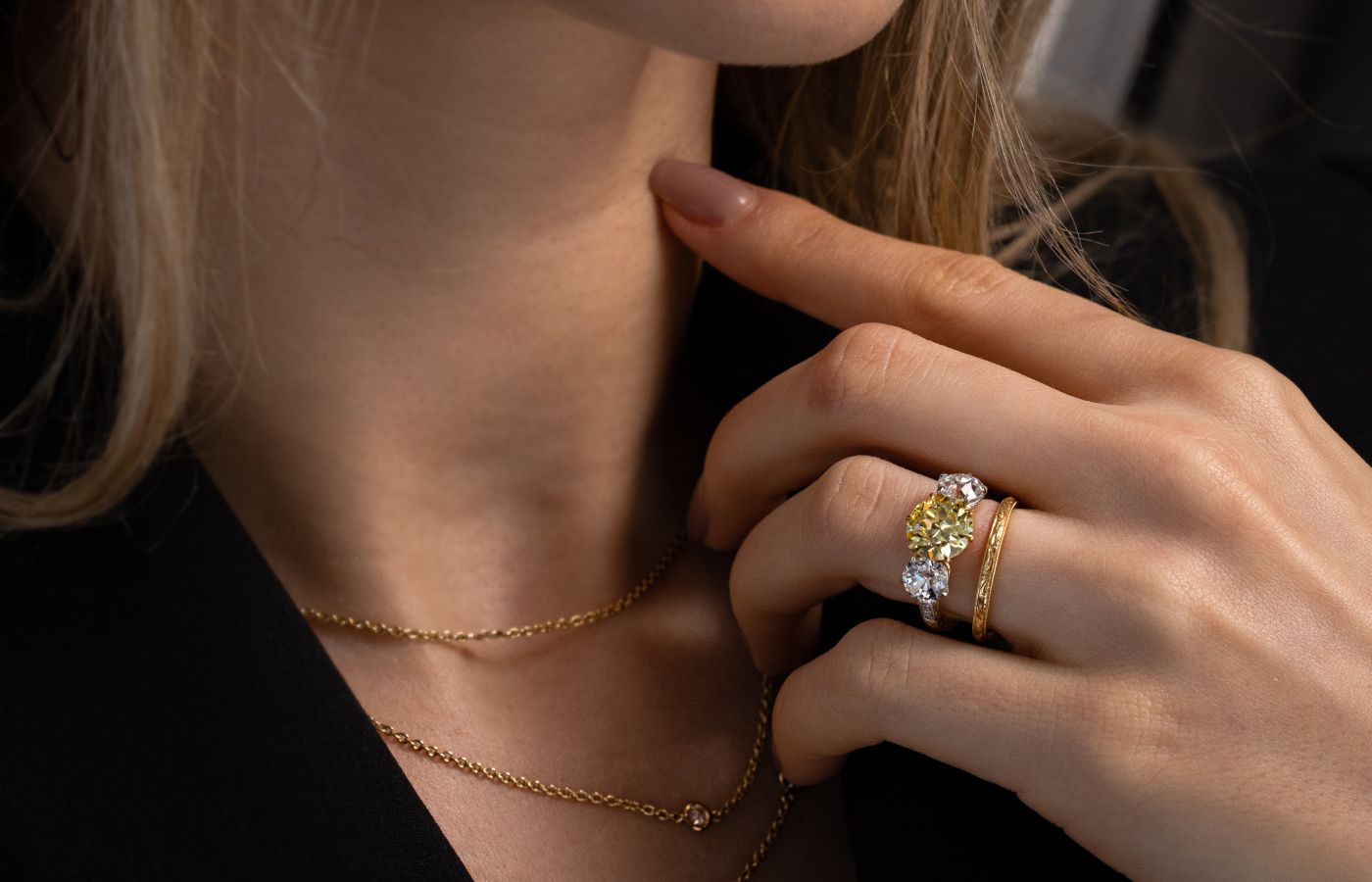 What I especially appreciated during my visit is that, as Amy says, "there's always those extra details that are really important to us when it comes to design" and this meticulous ethos applies whether you're shopping for a one-carat ring or a 10-carat showstopper. It was evident that Hancocks puts the same level of detail into all its pieces and really focuses on the nuances like making sure any calibrated stones are perfect, which are notoriously difficult and creatively challenging.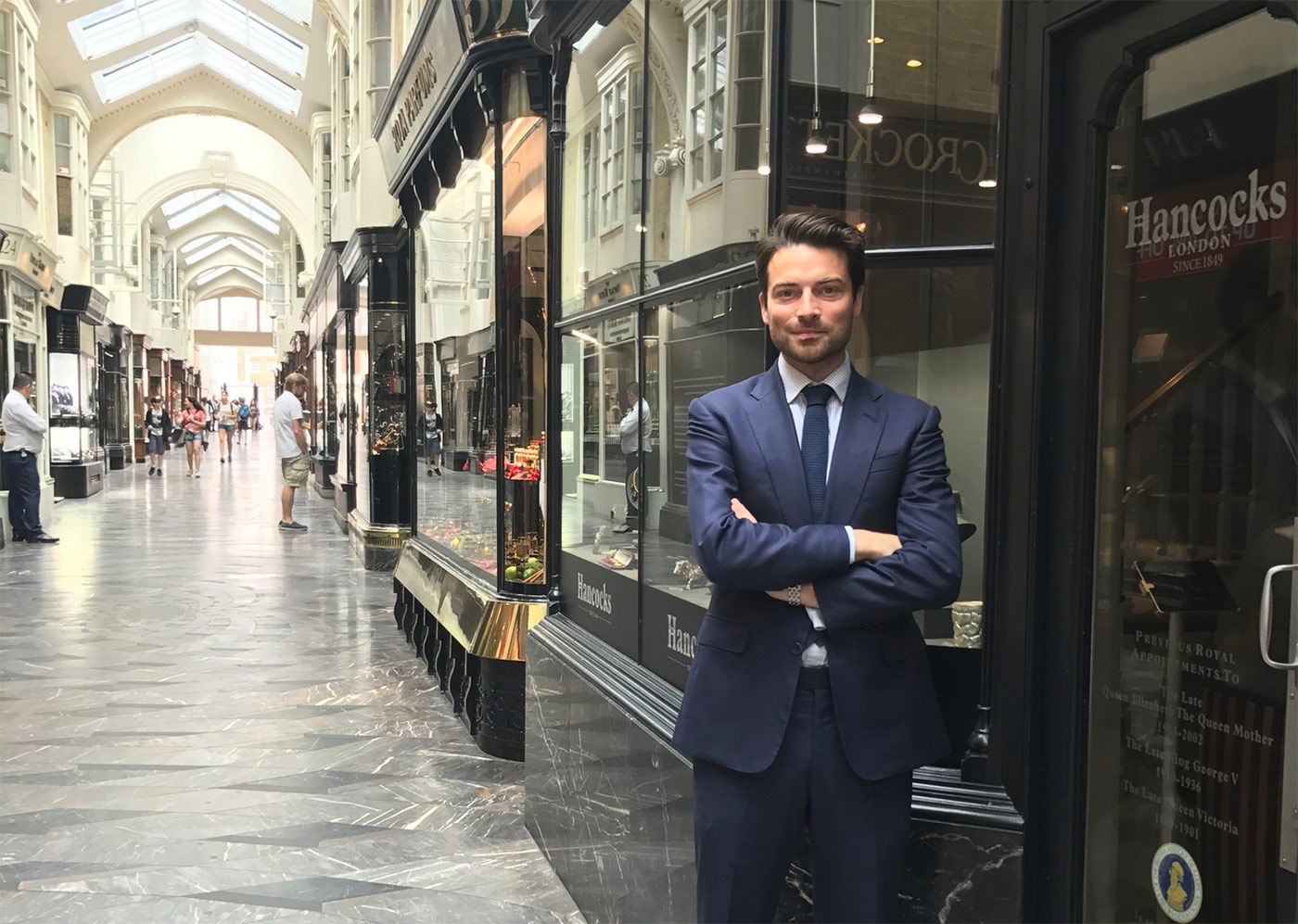 Past, Present and Future
It struck me during my visit that Hancocks pays homage to its past while continuing to be pioneering in everything it does. For example, by taking old mine-cut diamonds and other antique stones and providing them with a new home in contemporary jewellery, it is celebrating what has gone before without wasting each stone's potential to make someone happy in the present. Recycling and remodelling gemstones, coupled with recycled gold, is just one of the ways Hancocks participates in the sustainability conversation, staying true to its identity and heritage. Yet despite all this gazing into the past, Hancocks has its eye on the future in a big way. After five years of searching, the jeweller is expanding and has secured new premises just a short walk away from Burlington Arcade on the exclusive St James's Street located between St James's Palace and Piccadilly. The plan is to move into the new premises ahead of its 175th anniversary in 2024. I am told the space (a beautiful old Georgian townhouse) will have multiple floors, each designed differently to house antique, vintage, bridal and also contemporary jewellery. Of course, it will be sad to say goodbye to the Burlington Arcade after 30 years, but the Burton family is already thinking about the next generation. "Hopefully, it will be a home long after me, for my son and other generations of the family to come," Guy Burton adds.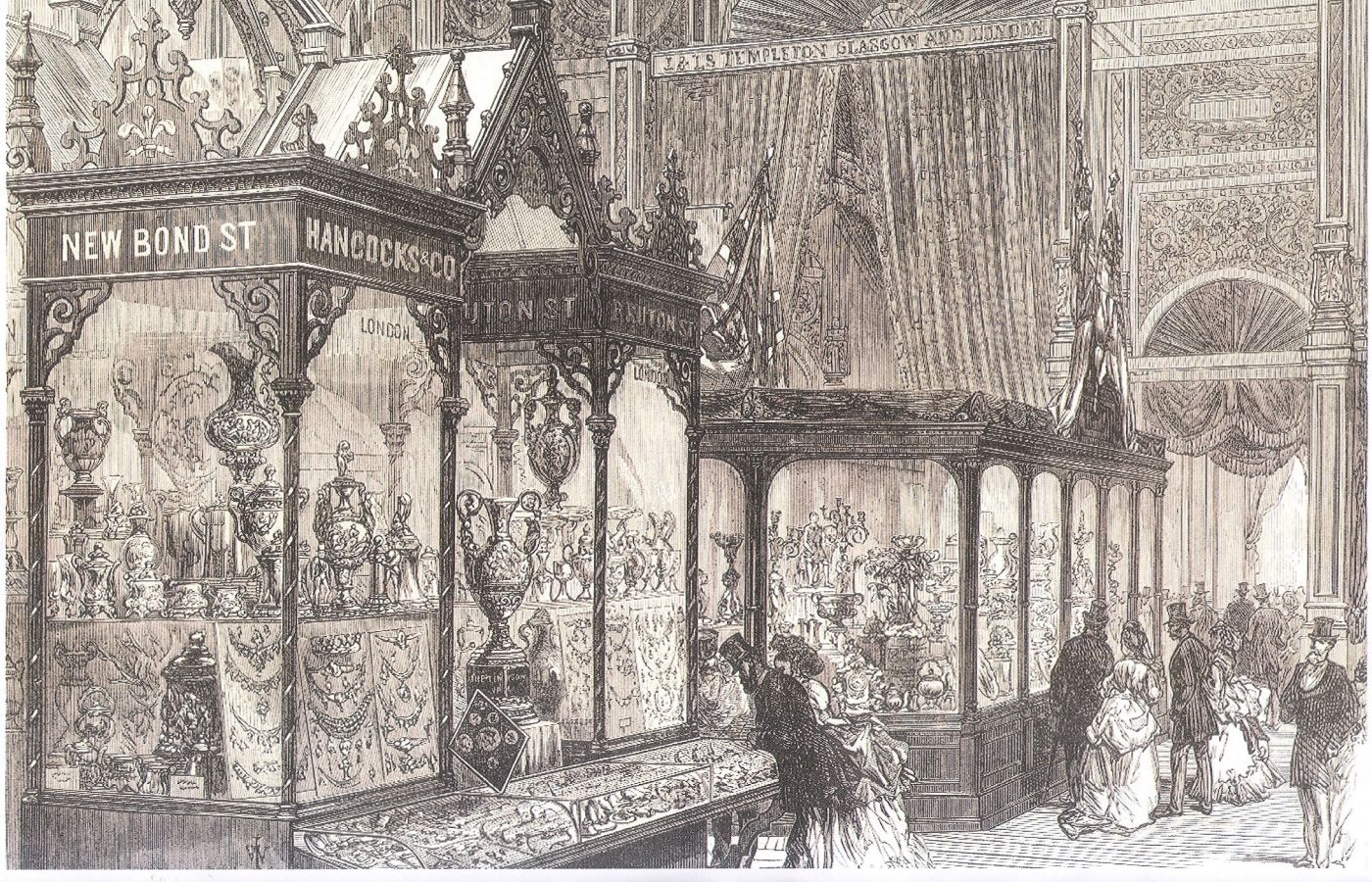 Within the four walls of Hancocks, I felt cocooned in a jewellery bubble that combined so many of the things I love: signed pieces, interesting gemstones, fine diamonds, creative artistry, heritage, a passion for collecting and so much more. For a collector who shares these fascinations, I can imagine no better place to obtain that next tempting treasure.