Each diamond pendant is inspired by a trip the designers Jade Trau, Jennie Kwon, Julez Bryant, Sara Weinstock and Zoë Chicco took to Botswana last year. During their time there, they learned about the activities and social programmes managed by Debswana, a joint venture between the De Beers Group and the people of Botswana.
"This trip changed my life, so the opportunity to commemorate it with a new piece of diamond jewellery was just the icing on the cake. It taught me a lot about rough diamonds and their supply chain. When I was asked to embody the brightest moment of the trip, I immediately thought of our visit to the mine. I wanted to honour the depths of the earth for the precious gifts they have given us. That was the idea behind my work: a beautiful artistic depiction of a diamond mine," explains Jade Trau, whose piece made with yellow and colourless diamonds. Her "Homeland of Diamonds" pendant is estimated to sell for $20,000 - $25,000.
Each design from the collaborative collection is dedicated to Botswana's people, wildlife and beautiful landscapes, as well as a shared commitment to creating a better world. The other four designers were primarily inspired by the various animal species that can be found in this African nation. They have captured a variety of creatures, great and small, in their works. Sara Weinstock used a monochrome colour scheme – white gold, black onyx and colourless diamonds – as dictated by the object of her inspiration, Botswana's Zebra. She says: "I wanted to participate in this campaign because I am eager to draw the attention of consumers, both young and old, to the benefits of the natural diamond industry, and to the ethical ways in which they can be mined. There are some really outdated ideas out there on this subject. During our trip, I was drawn to the zebra, Botswana's national animal, a creature with a colouring as unique as a diamond's. That's why I decided to use a zebra print in my work." The preliminary estimate for her striped pendant is $20,000 - $25,000.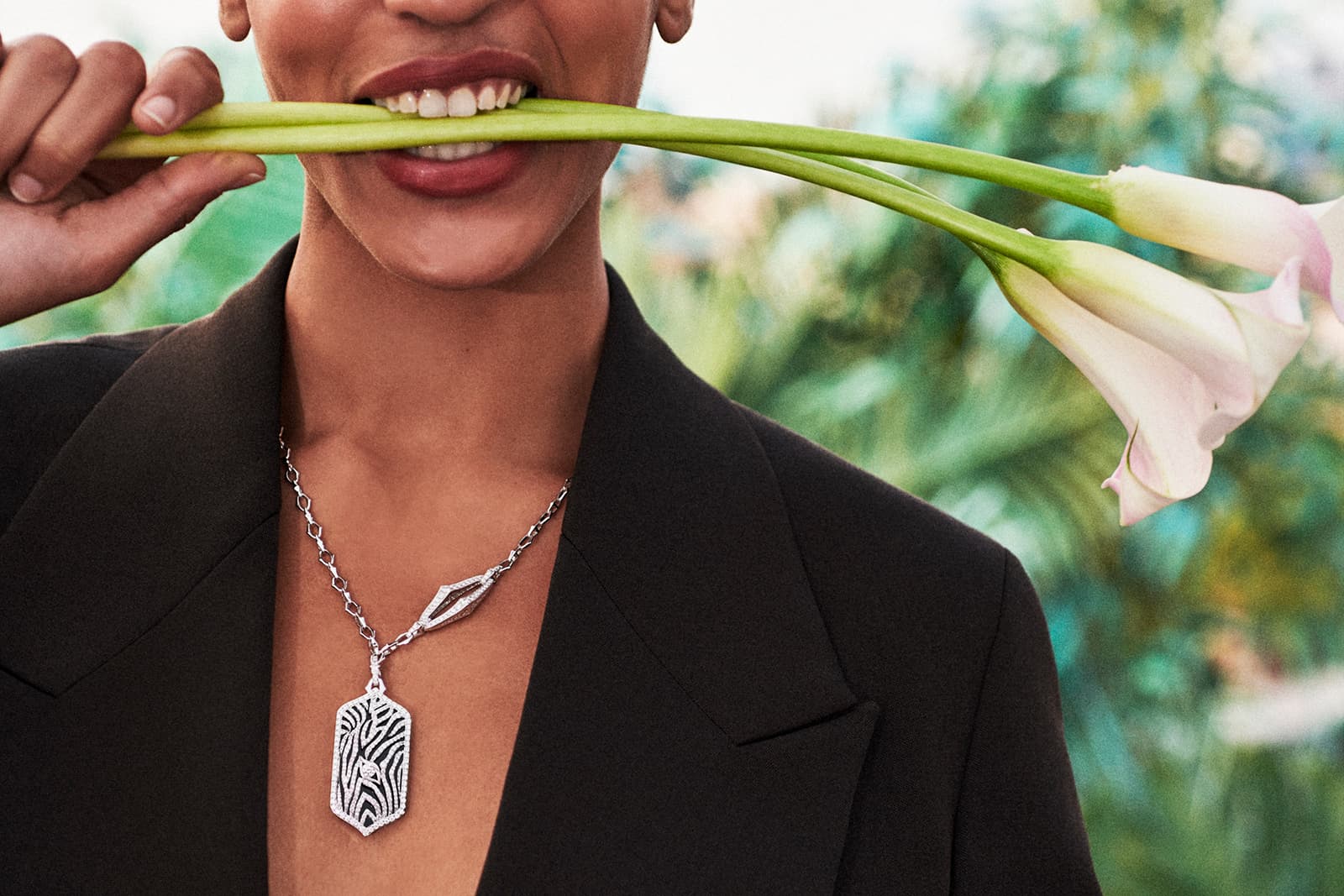 "I chose to take part in this project because the land of Botswana is sacred, and now it is a part of my soul," comments Julez Bryant. "The idea for my design came to me when we were driving in a Jeep and stopped to look at a herd of elephants passing by. I was so touched by these majestic creatures, the absolute silence around us and the colour palette of the background." Julez chose to depict the animals on a pendant made of gold with brilliant-cut diamonds, which is initially estimated to be sold for $20,000 - $25,000.
"We came across a leopard in Botswana sprawled along the branch of a tree. It seemed like we had hit the jackpot! This moment is now engraved in my memory and it became the inspiration for my design," says Jennie Kwon about her pendant, which includes a sculpted gold leopard and diamonds. The cost of her pendant is currently estimated at $20,000 - $30,000.
Finally, the muse of Zoë Chicco was the king of beasts: the lion. "My favourite moment was when we met some lions. My son's name is Leo and he really loves these animals, so I created my pendant in the shape of a lion's head which has a rough Botswana diamond placed in its mouth." This joint project is called the ReSet Collective and is the first in a series of collaborations under the De Beers Group's new ReSet platform. Its goal is to offer a fresh perspective on the responsible and sustainable sourcing of diamonds and the positive impact that De Beers' natural stones have on the people and places in the regions where they are mined.
All the auction's proceeds will be donated to the Botswana-based childcare organisation Stepping Stones International and the NAACP Legal Defense Fund which serves to combat racial inequality in the USA.