Mark your diaries for April 27, 2022, because that is when Bonhams will welcome bids for the array of creations in its London Jewels sale, taking place in person at its New Bond Street location. What struck me when I perused the catalogue for this auction is the 'chapters' of the sale, which take you from 20th century masters to contemporary creatives and then swiftly back to Victorian, Edwardian and Georgian jewels. It is truly a feast of fine jewellery and loose gemstones!
Let's start with something that caught my attention: Lots 195 to 202 represent a private collection of jewels by Victoire de Castellane for Christian Dior. Bonhams has secured some fine examples of de Castellane's signature bright and blooming aesthetic, including the Chardonnus Kiwi Mangue necklace from the 2008 Milly Carnivora collection (Lot 197, estimate £10,000 - £15,000) with a fancy-cut peridot, mandarin garnet cabochons, diamonds, tanzanites and an emerald drop, complimented with polychrome lacquer. Two other pieces from the same collection also appear: the Egratigna Angelique ring featuring a reimagined rose in neon lacquers of white, pink, blue and green and rose and brilliant-cut diamonds (Lot 201, estimate £10,000 - £15,000), and the Egratigna Chipie ring with vivid enamel, diamonds and a central spinel on a neon green enamel vine (Lot 202, estimate £15,000 - £20,000).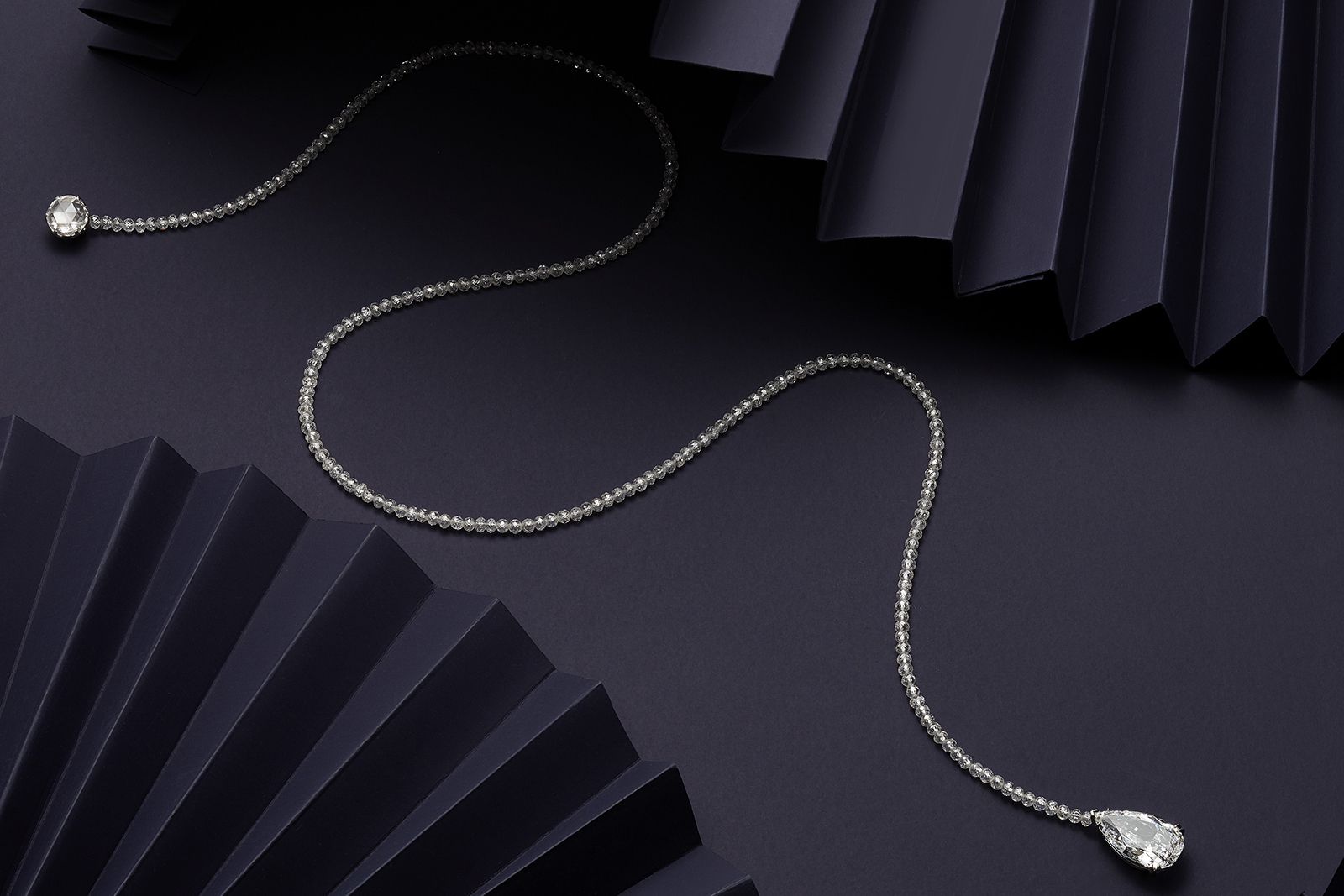 Of course, there are some highlights within the sale that are notable for their mineralogy… and by this, I mean covetable large gemstones and diamonds! Lot number 235 is an elegant diamond lavallière necklace (estimate £120,000 - £180,000) with a single strand of facetted diamond rondelles, totalling 24.14 carats, terminating in a 5.09 carat pear-shaped, D colour, VVS1 diamond drop. There's also a 1.26 carat rose-cut diamond on the clasp for good measure. Next, there's a Cartier diamond ring from the mid-1920s that is expected to garner attention (Lot 72, estimate £80,000 - £100,000), not only for its provenance but also for its credentials – 4.21 carats, E colour, VS1 clarity.
Two rings by Hancocks, one set with a sapphire and the other an emerald, are also notable for their size and origin. The former, Lot 220 (estimate £55,000 - £75,000), is a cocktail ring with a 13.83 carat, no-heat Sri Lankan sapphire surrounded by diamonds, while the latter is centred on an 8.59 carat sugarloaf Colombian emerald with shield-shaped diamond shoulders (Lot 231, estimate £60,000 - £80,000).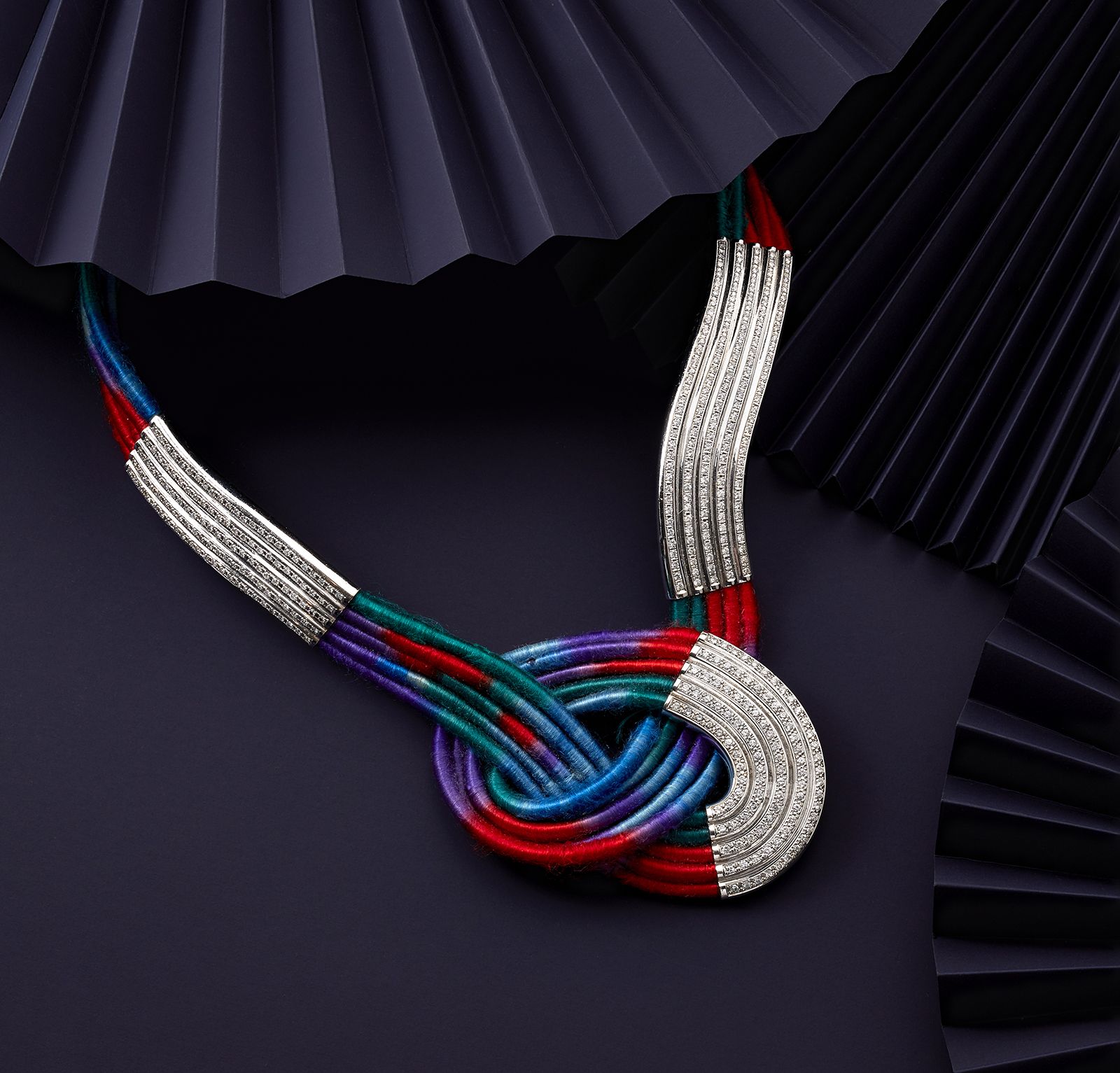 Fans of 20th century jewellery will also find plenty to lust after in this Bonhams sale. One of the highlights is a quartet of diamond starfish (two brooches and a pair of ear clips), circa 1935-1940, set with old brilliant, brilliant, single and baguette-cut diamonds for a total weight of 32.50 carats (Lot 194, estimate £25,000 - £35,000). In fact, the first 18 lots of the sale are dedicated to a private collection of 20th century jewels, which was acquired over several decades by an individual with a discerning eye. There's a diamond-set collar by Sterlé, circa 1967 (Lot 6, estimate £5,000 - £8,000); a Grima opal and diamond dress ring from 1984 (Lot 7, estimate £3,000 - £5,000), and an Angela Cummings for Tiffany & Co. gem-set bangle and ear clip suite, also from the 1980s, with inlaid circular lapis lazuli, jasper, black jade and mother of pearl (Lot 10, estimate £5,000 - £7,000).
If your tastes are even more honed to the particulars of the 1970s, you will also likely be bowled over by a pair of Aldo Cipullo for Cartier rock crystal and onyx ear clips from 1972 (Lot 11, estimate £3,000 - £4,000); a silk and diamond necklace, circa 1970, by Makiko Murakawa for Miki with brilliant-cut diamonds totalling 6.70 carats (Lot 17, estimate £3,000 - £4,000), and a diamond-set sautoir, circa 1970, with a leather cord and 16.57 carats of brilliant-cut diamonds by Tomoko Kobayashi (Lot 18, estimate £3,000 - £5,000).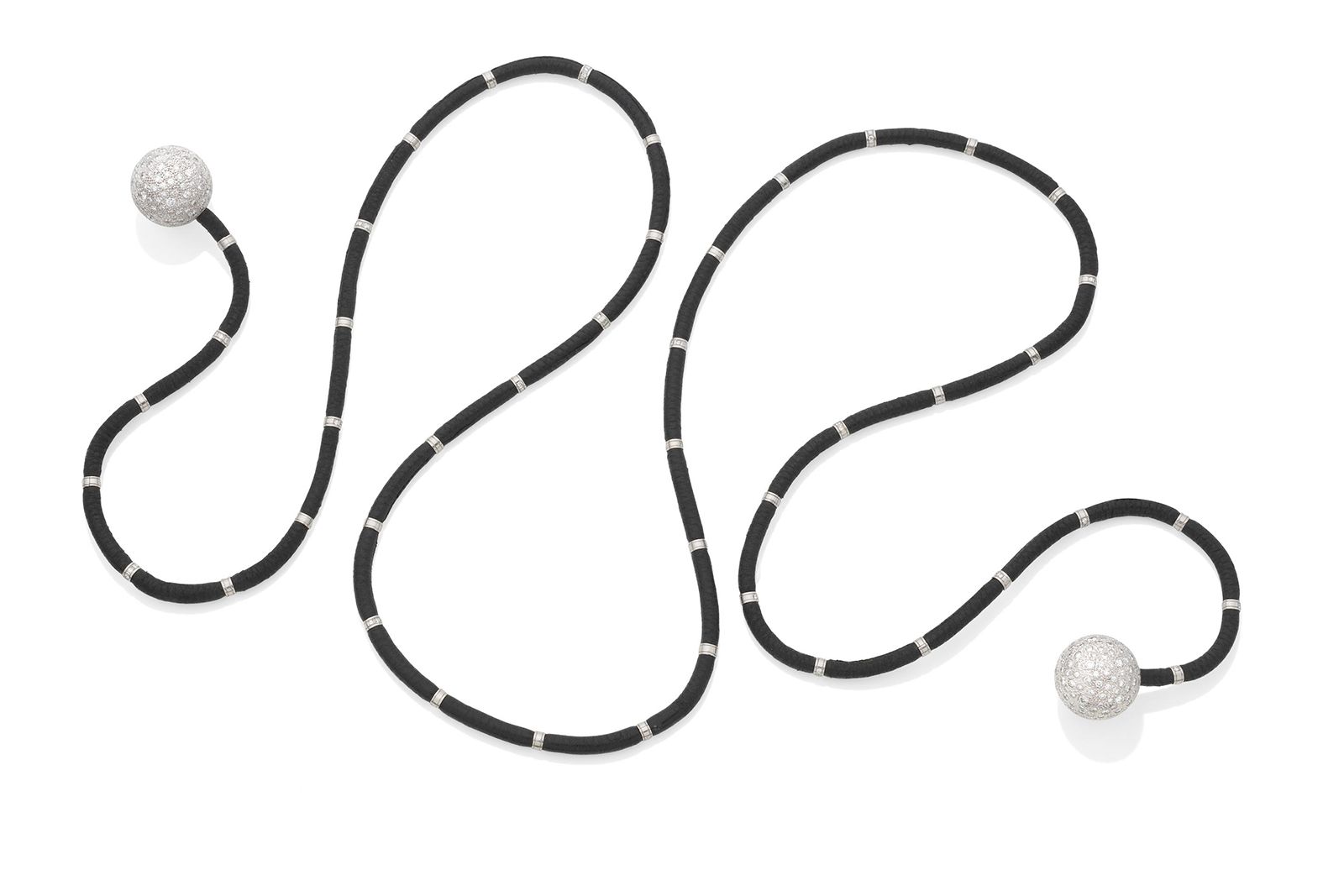 Elsewhere in the London Jewels sale, you will find a private collection of jewellery from the Trefusis family (Lots 20 – 27), which has connections to HM Queen Mary of Teck, the wife of King George V, via their predecessor Lady Mary Trefusis (1869 – 1927). Of note is an opal and diamond pendant from the 19th century, set with cabochons, beads and cushion-shaped, old brilliant and rose-cut diamonds (Lot 20, estimate £4,000 - £6,000). And from one lady of note to another, there are also two diamond, pearl and yellow gold engagement rings in the sale that once belonged to the British actress, author and producer, Dame Joan Collins (Lots 146 and 147).
Finally, you might say I am saving the best until last. Lot 234 is described as a 'Magnificent Collection of Gems' comprising six Kashmir sapphires and one Burmese ruby (estimate £390,000 - £450,000). Presented as a blooming flower of corundum in a pin, the central ruby is 4.07 carats and shows no indications of heat treatment. The surrounding six sapphires range from 2.03 carats to 3.25 carats in size and are also devoid of heat treatment.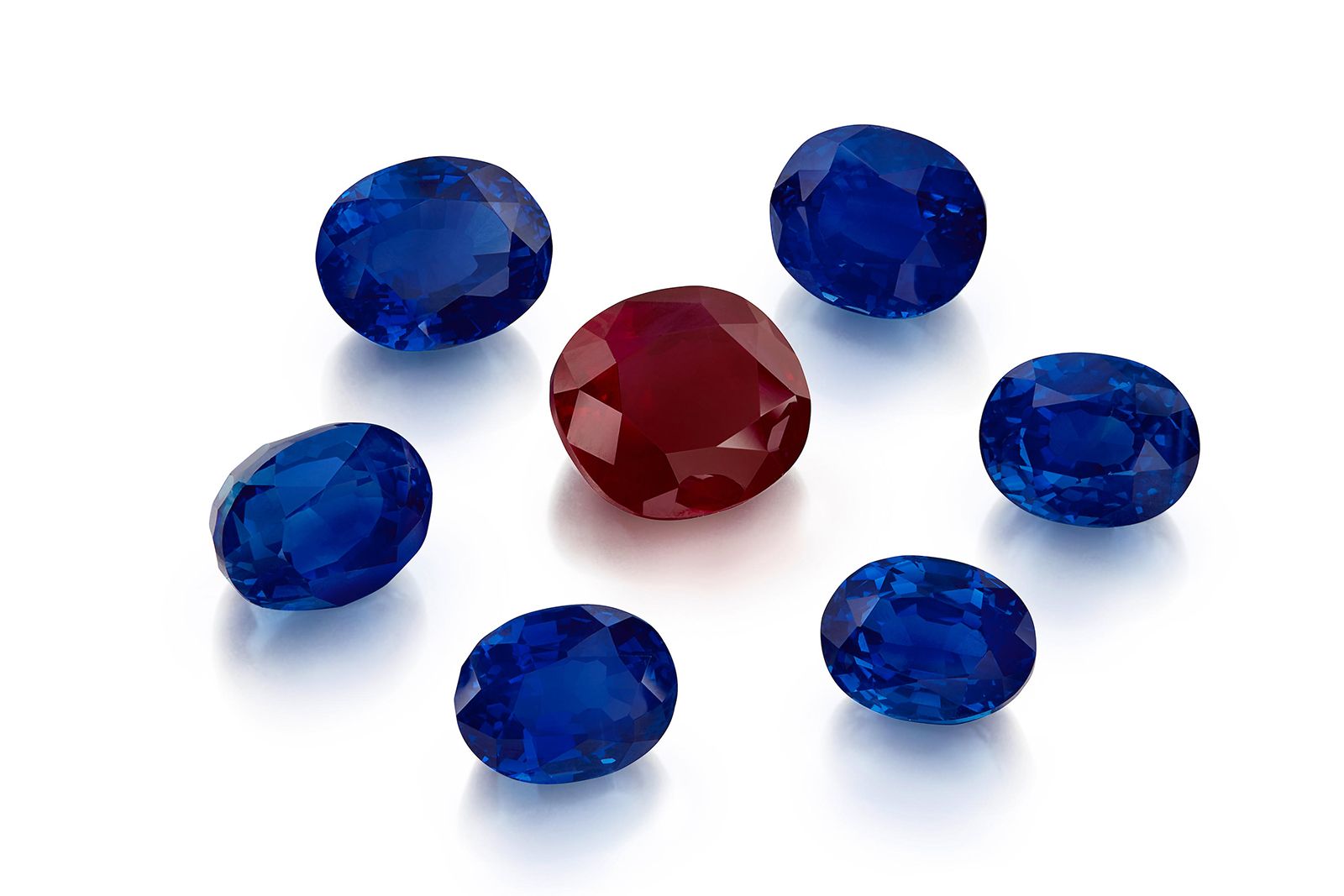 No matter your personal jewellery tastes, I am sure you will find something within this Bonhams sale that will excite your palate. Its variety is certainly what drew me in… whether you are keen on a Boucheron Art Deco diamond and pearl waterfall pendant brooch (Lot 226, estimate £35,000 - £40,000) or, at the other end of the sartorial spectrum, a Lalaounis 'Neolithic' collar necklace in sweeping layers of yellow gold (Lot 160, estimate £15,000 - £20,000). I invite you to peruse this jewellery menu for yourself!