Imagine for a second the sound of a gavel dropping on the sale of a US$48 million blue diamond. This reality will soon come to pass at Sotheby's Hong Kong, where the largest fancy vivid blue diamond to ever appear at auction will be sold in April 2022 at a landmark, standalone event. The stone is the De Beers Cullinan Blue Diamond – a 15.10 carat, step-cut natural marvel that was recently cut from an exceptional rough discovered almost exactly one year ago. To put its significance into perspective, only five blue diamonds of greater than 10 carats have ever come up for auction and none have been over 15 carats… except this one. As such, it is the largest internally flawless step-cut vivid blue diamond that the Gemological Institute of America (GIA) has ever graded. It was also confirmed to be a Type IIb diamond, which represents less than 0.5% of all diamonds worldwide.
Patti Wong, Chairman of Sotheby's Asia, commented: "Blue diamonds of any kind are rare on the market, but this is the rarest of the rare; nothing of remotely similar calibre has appeared at auction in recent years. Hundreds of millions of years in the making, this extraordinary blue diamond is surely one of nature's finest creations. Now brought to dazzling life by the hand of one of the world's most skilful cutters, it is the ultimate masterpiece - as rare and desirable as the very greatest works of art."
The rough material from which the De Beers Cullinan Blue was cut was first discovered at the Cullinan Mine in South Africa in 2021. It is one of the world's few sources of rare blue diamonds and is now especially significant considering the closure of the Argyle Pink Diamond Mine in Kimberley, Western Australia. It was cut and polished by De Beers partner, Diacore, which is one of the world's most experienced master diamond cutters. The Cullinan Mine has yielded many impressive diamonds, including the 530 carat Great Star of Africa – the largest faceted colourless diamond in the world – and all the De Beers Millennium Blue diamonds, in particular a 10.10 carat oval-shaped fancy vivid that sold for $31.8 million at Sotheby's Hong Kong in April 2016.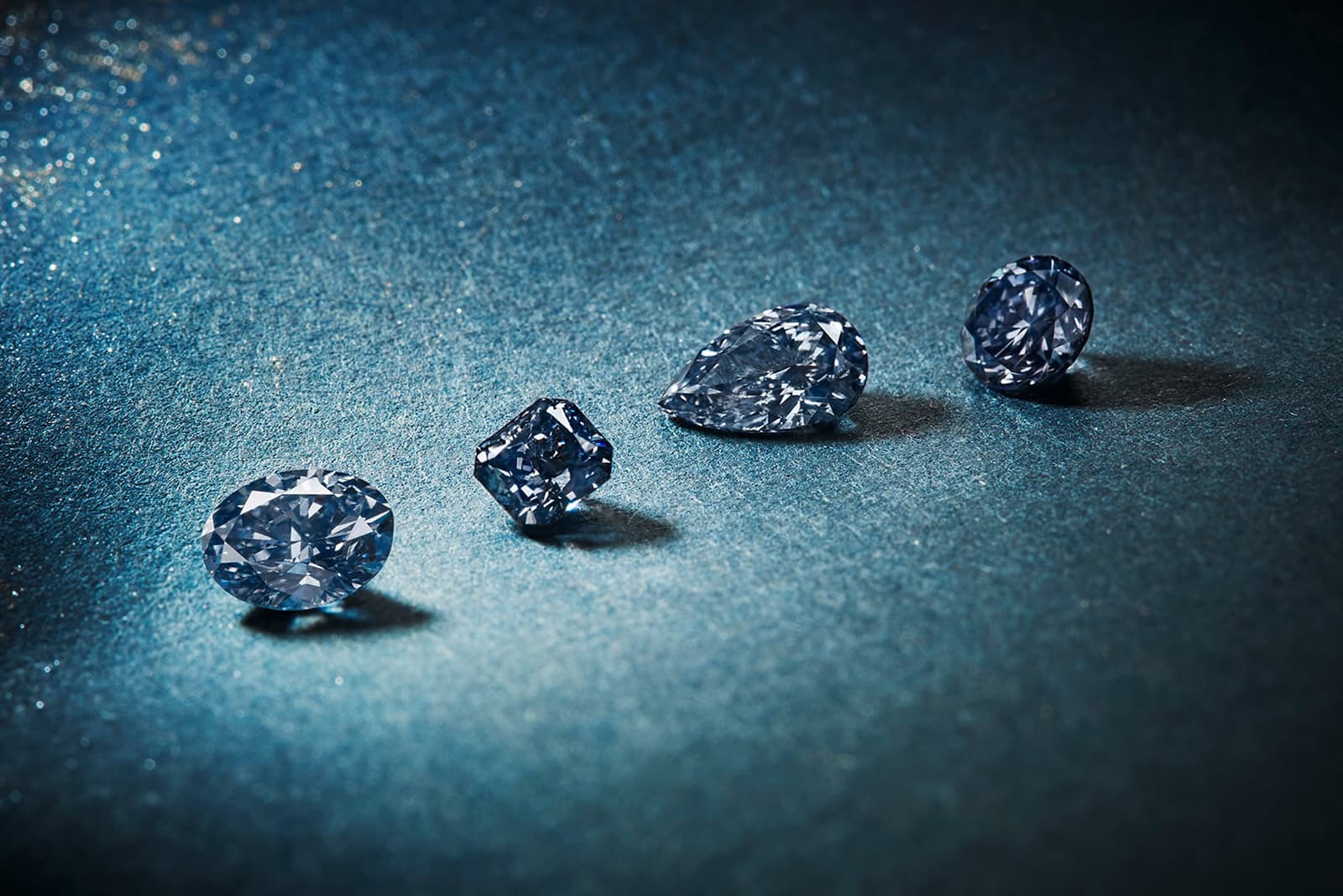 In case you needed a quick reminder, blue colour in diamonds is caused by trace amounts of the element boron in the carbon crystal lattice. Throughout history, the significance of the colour blue, as well as the obvious relationships to the sky and ocean, has made the hue internationally covetable.
"The deeper the blue the more it beckons man into the infinite, arousing a longing for purity and the super sensuous," Wassily Kandinsky (1866-1944), expressionist painter.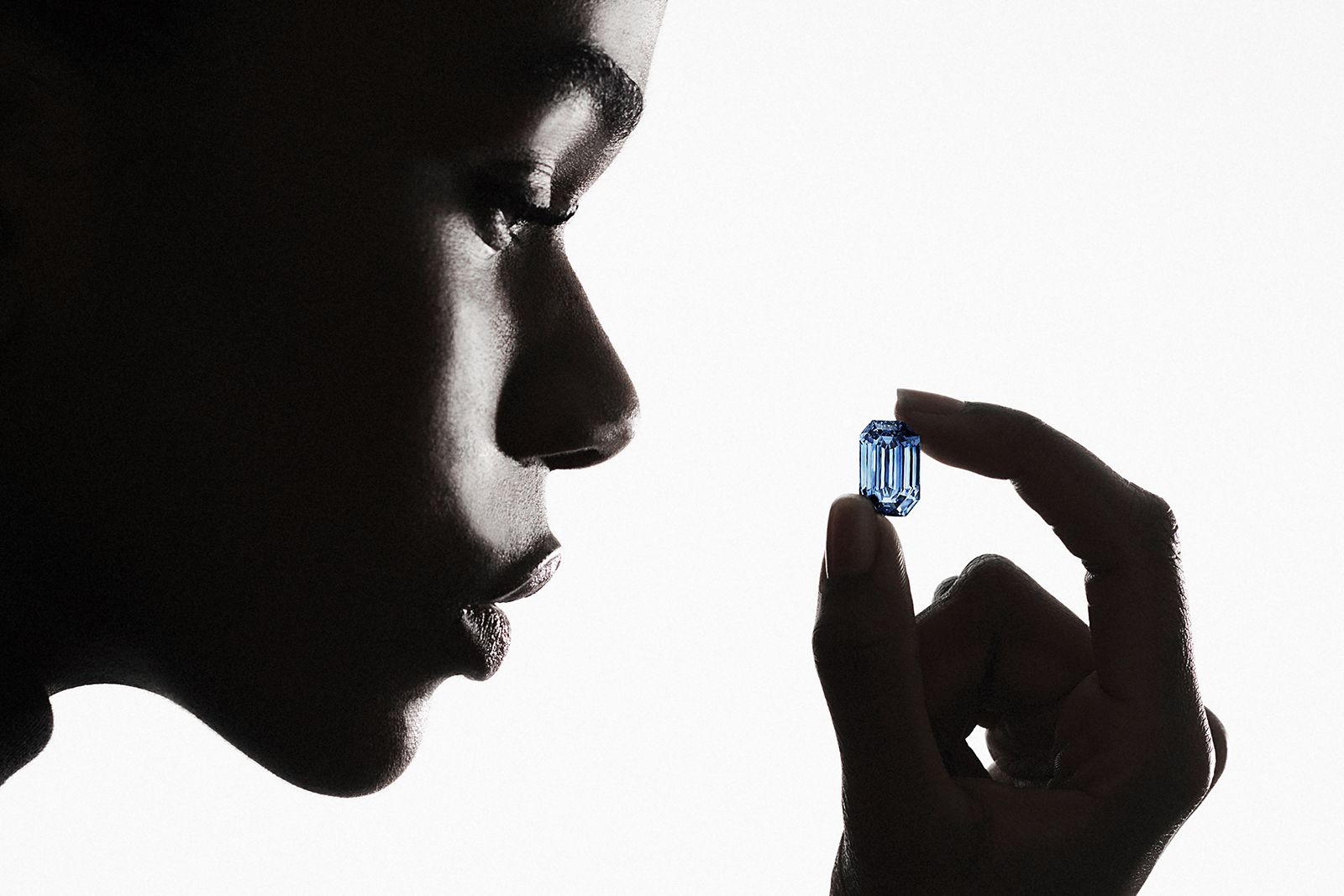 If we briefly look back on the history of blue diamonds at auction, there are some fantastical highlights to mention. In 2007, a landmark Sotheby's auction in Hong Kong sold a 6.04 carat, internally flawless emerald-cut fancy vivid blue diamond for a record price of US$1,321,495 per carat, breaking the 20-year-old record held by the famous 'Hancock Red', and propelling all sizable fancy vivid blue diamonds to new market levels. Imagine if you had been in the room for this sale and then, suddenly, found yourself presented with the Mellon Blue Diamond in 2014 (renamed 'The Zoe Diamond') or 'The Blue Moon of Josephine', a 12.03 carat cushion-shaped internally flawless fancy vivid blue diamond that was sold by Sotheby's Geneva in 2015. Here are the auction highlights that you need to know at a glance…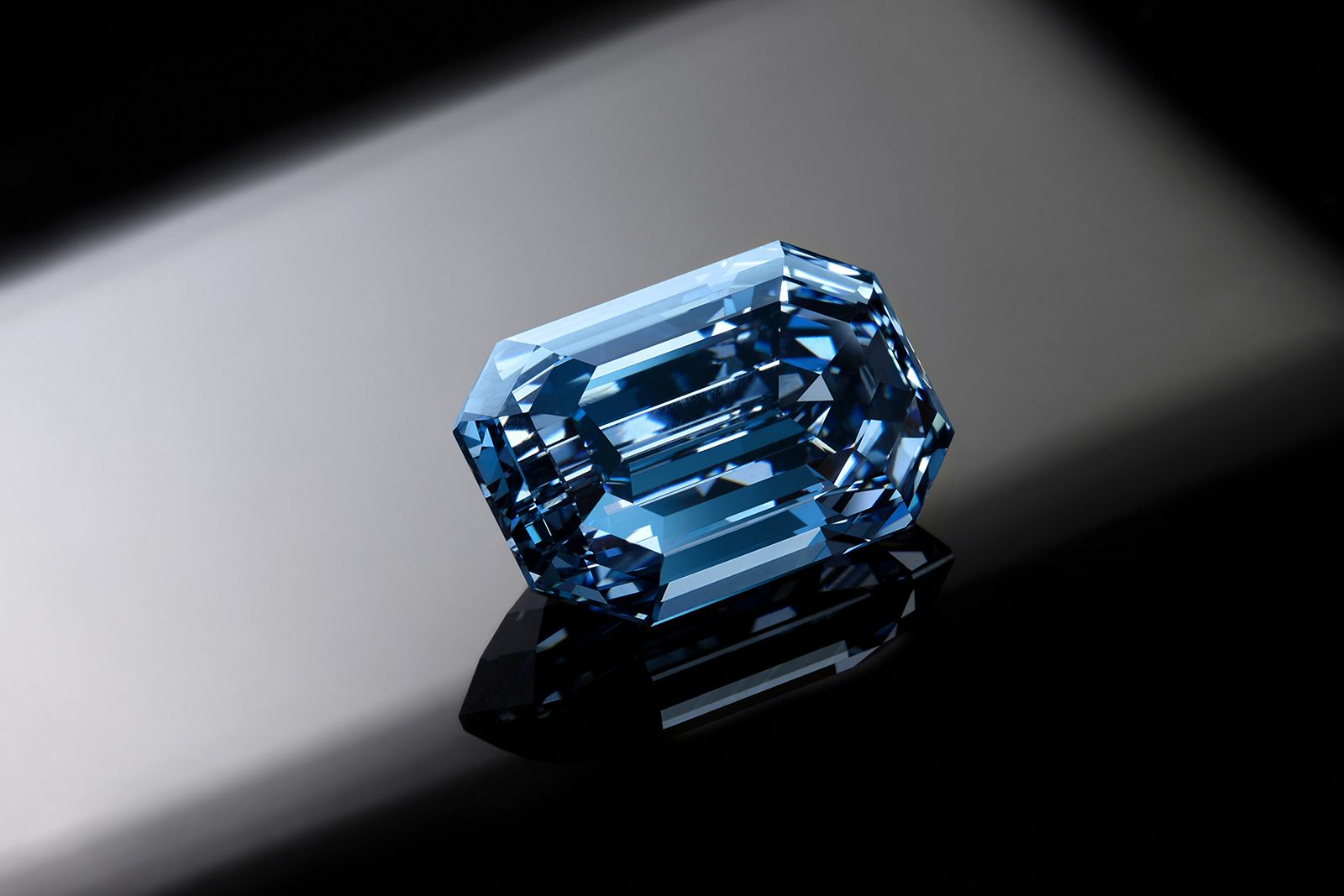 The Blue Moon of Josephine
Still holding the world record price per carat for any diamond or gemstone sold at auction. This fancy vivid blue cushion-shaped 12.03 carat internally flawless diamond is an icon across the world. It sold for US$48,468,158, which equates to US$4,028,941 per carat. We wrote about this diamond and other high profile Sotheby's sales here.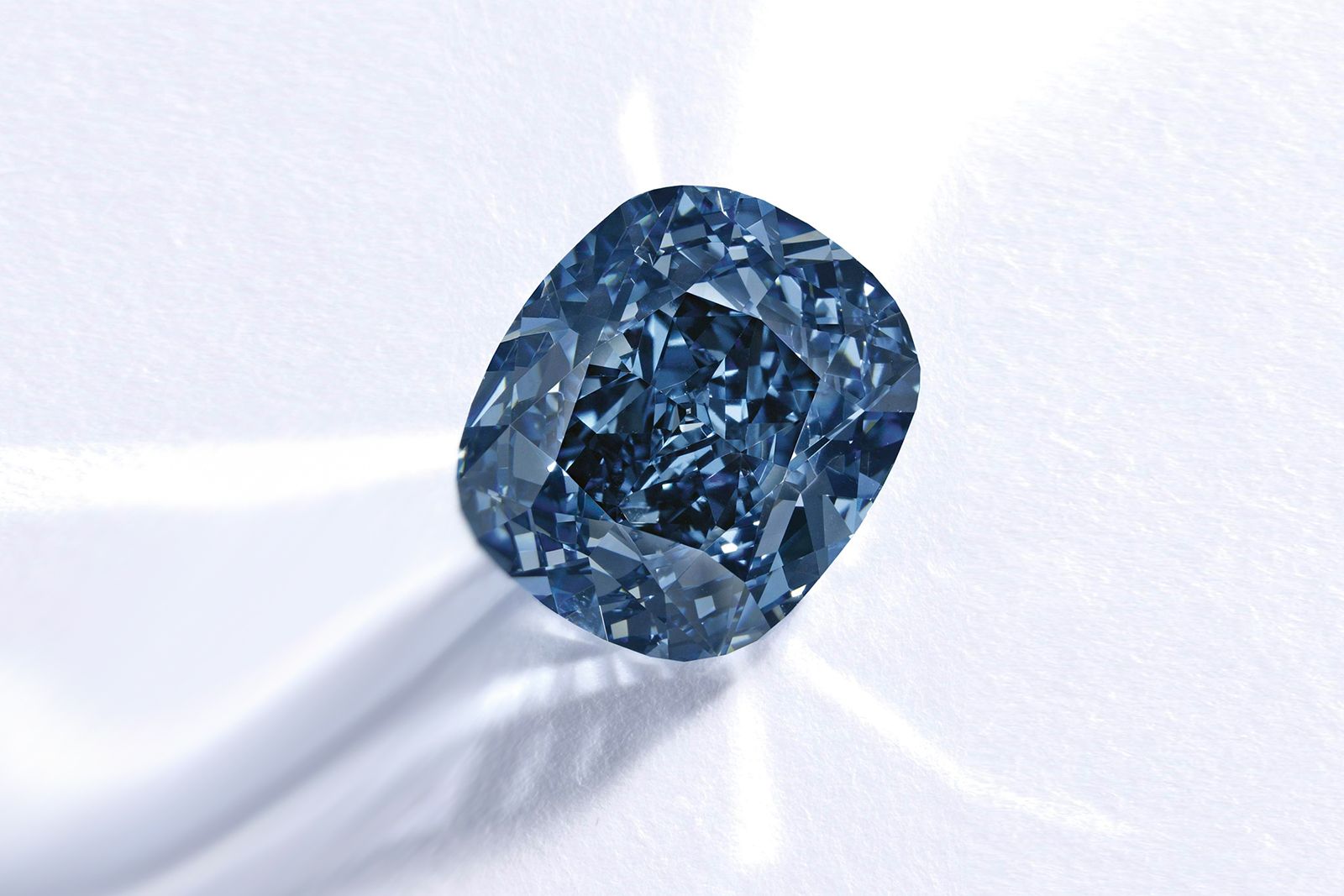 The Oppenheimer Blue
Next, there's the Oppenheimer Blue – a fancy vivid blue, step-cut diamond of 14.62 carats and VVS1 clarity. It was sold by Christie's in Geneva in May 2016 for US$57,541,779 (US$3,935,826 per carat).
The Zoe Diamond
From the Mellon Collection, this pear-shaped fancy vivid blue diamond is 9.75 carats and VVS2 clarity. It was sold by Sotheby's in New York in November 2014 for US$32,645,000, which works out at US$3,348,205 per carat.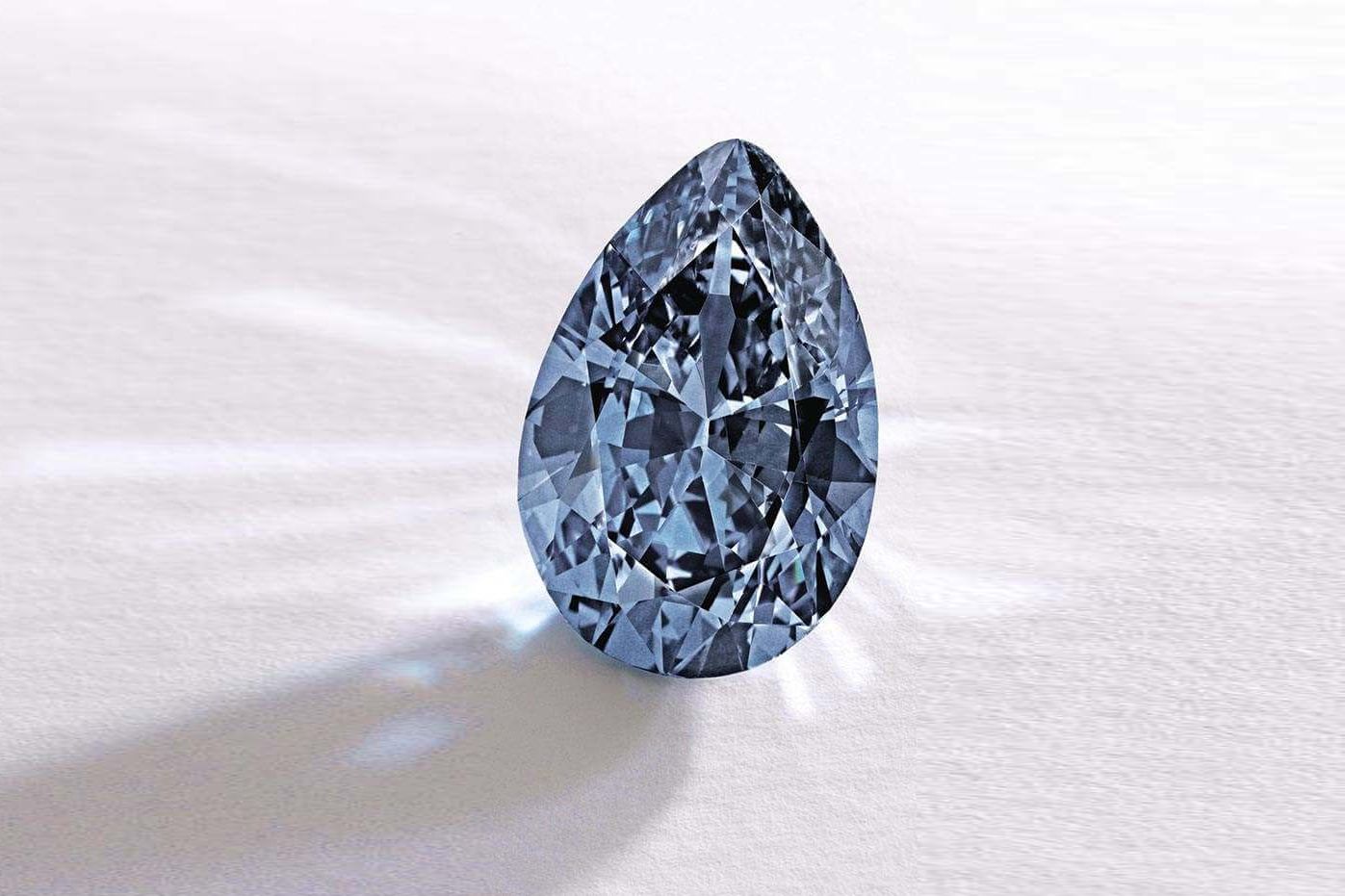 The Millennium Blue
This is another fancy vivid blue diamond, oval-shaped, with a total weight of 10.10 carats and also internally flawless like the Cullinan Blue. It was sold at Sotheby's in Hong Kong in April 2016 for US$31,830,766 (US$3,151,561 per carat).
The Memory of Autumn Leaves
If you don't recognise the name of this diamond, there's a very good reason. It was originally known as the Apollo diamond and was part of a duo – Apollo and Artemis – which were sold as a pair of asymmetric blue and pink diamond earrings in May 2017 for US$42,087,302 (US$2,894,587 per carat). Now called 'The Memory of Autumn Leaves' (and its pink partner is called 'The Dream of Autumn Leaves'), this stone is a pear-shaped 14.54 carat gem that's perfectly internally flawless.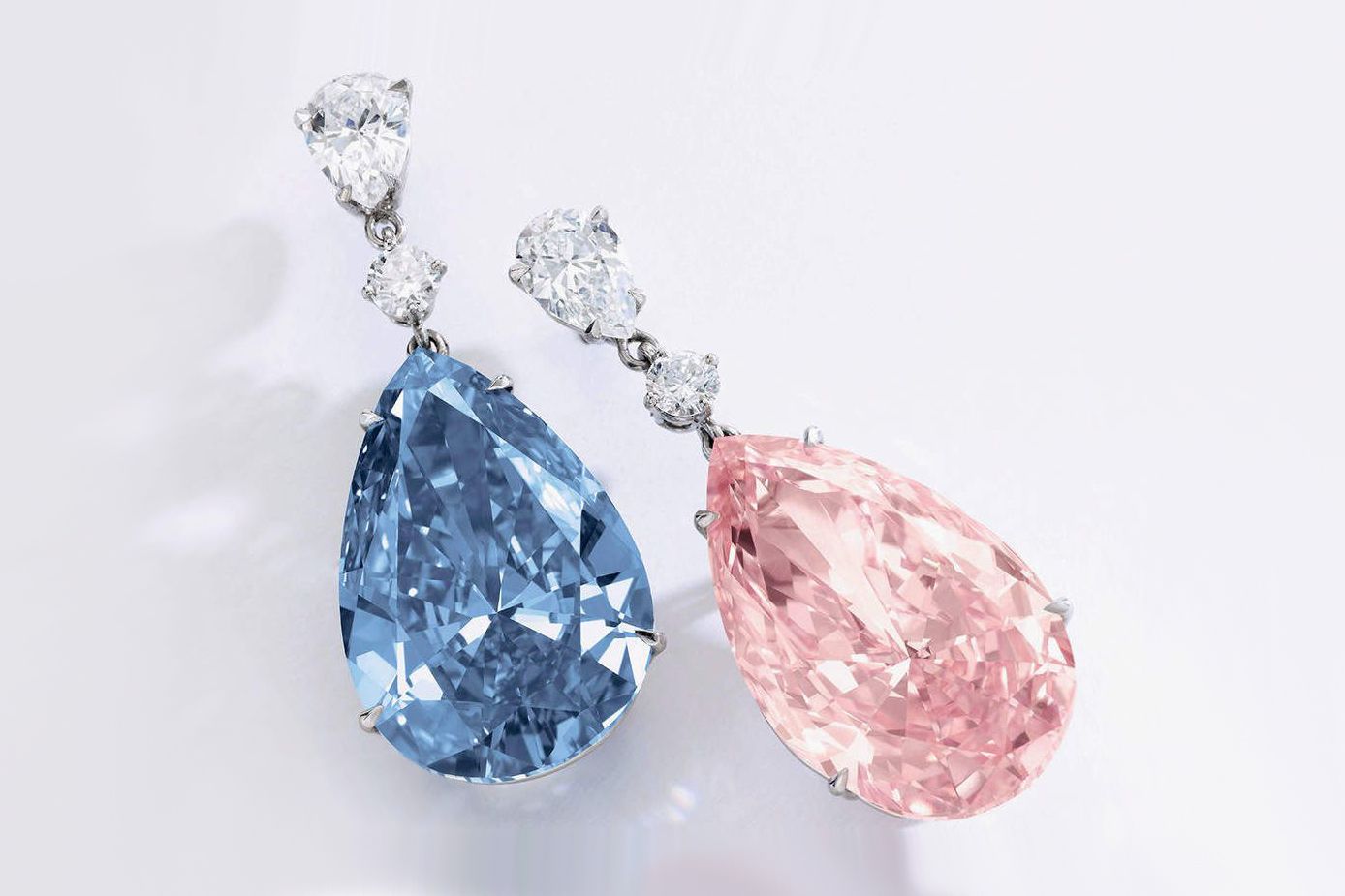 The Sky Blue Diamond
We have also written about this diamond – an 8.01 carat square-cut, VVS1 fancy vivid blue that was sold set in a Cartier ring by Sotheby's Geneva in 2016. It sold for an impressive US$17,074,168 (US$2,131,607 per carat).
Due to the global interest in this gemmological wonder, the De Beers Cullinan Blue diamond will go on tour around Sotheby's galleries worldwide, starting in New York and followed by London, Dubai, Singapore, Shanghai, Beijing, Shenzhen and Taipei. All the essential dates are to be announced in due course. I am sure you will agree that this is one auction not to be missed for the privileged few.