Founded in 2017 by Harakh Mehta, a fourth-generation jeweller hailing from Mumbai, each Harakh jewel is meticulously handcrafted to the highest standards in India and set with only the finest D-F colour diamonds. We spoke to Harakh Mehta to find out what it feels like to be part of the new wave of Indian jewellers who are shattering the traditional misconceptions surrounding Indian jewellery whilst making a name for the HARAKH brand as a purveyor of the most spectacular high jewellery.
Katerina Perez: Can you tell us briefly about your family's heritage in diamonds?
Harakh Mehta: I grew up listening to all kinds of stories about diamonds since many members of our extended family and the community are in the industry. My great grandfather was one of the first Indians to set up an office in Antwerp and used to supply the finest diamonds and gemstones to the royal families in South India. While my grandfather and then my father eventually followed in his footsteps and expanded the diamond business, it was really my mother, Nayna – the design genius of the family – who laid the foundation for jewellery making by taking on bespoke orders from friends and family. I continue to be both humbled and excited to take on their legacy and followed the next logical step of establishing our own brand.
KP: Your brand focus is on a very high degree of craftsmanship and you use only D-E-F colour diamonds. Do you feel there is a gap in the market for this kind of jewellery?
HM: Absolutely. There is a particular audience that we cater to and they are a mature, well-informed, well-travelled group of individuals who truly appreciate the pinnacle of quality in jewellery. They love the fact that we use colorless diamonds, which essentially is the purest form of carbon, since there are no trace elements present. Therefore, when we decided to use such high-quality diamonds, it went without saying that we had to match the craftsmanship to the level of the diamonds. We create each piece with painstaking attention to detail. Every single part of the jewel is looked at in detail, whether it is the finishing, the joining – all the technical details. It is like those extremely precious, time-honoured, exclusive recipes which are perfected with the best ingredients. Ultimately, a HARAKH piece will talk for itself – it just has to stand out. We do not want to have to explain what makes it exceptional!
KP: Do you feel that using only the highest quality diamonds in your designs disproves the traditional misconceptions surrounding Indian jewellery?
HM: Katerina, I cannot tell you how many times when we have presented our jewellery that I have been asked: "Is this made in India?" I take that as a huge compliment. We want to break the stereotype that high jewellery cannot be made in India. There are all sorts of different perceptions when one thinks of Indian jewellery – opulent, large necklaces with precious stones, heavy gold work with enamel and uncut diamonds, spectacular one-of-a-kind pieces with obvious Indian motifs is what immediately comes to one's mind. This is because the erstwhile maharajas and maharanis were seen in such royal jewellery. However, as beautiful as these pieces were, the diamond quality was really a vast range. That may be because the mastery in diamonds in India has come about in the past 30 - 40 years, whereas the jewellery making tradition dates back centuries. Currently, people might not even believe that precious jewellery with the finest diamonds can be made in India, but one look at our jewels and people soon change their notions.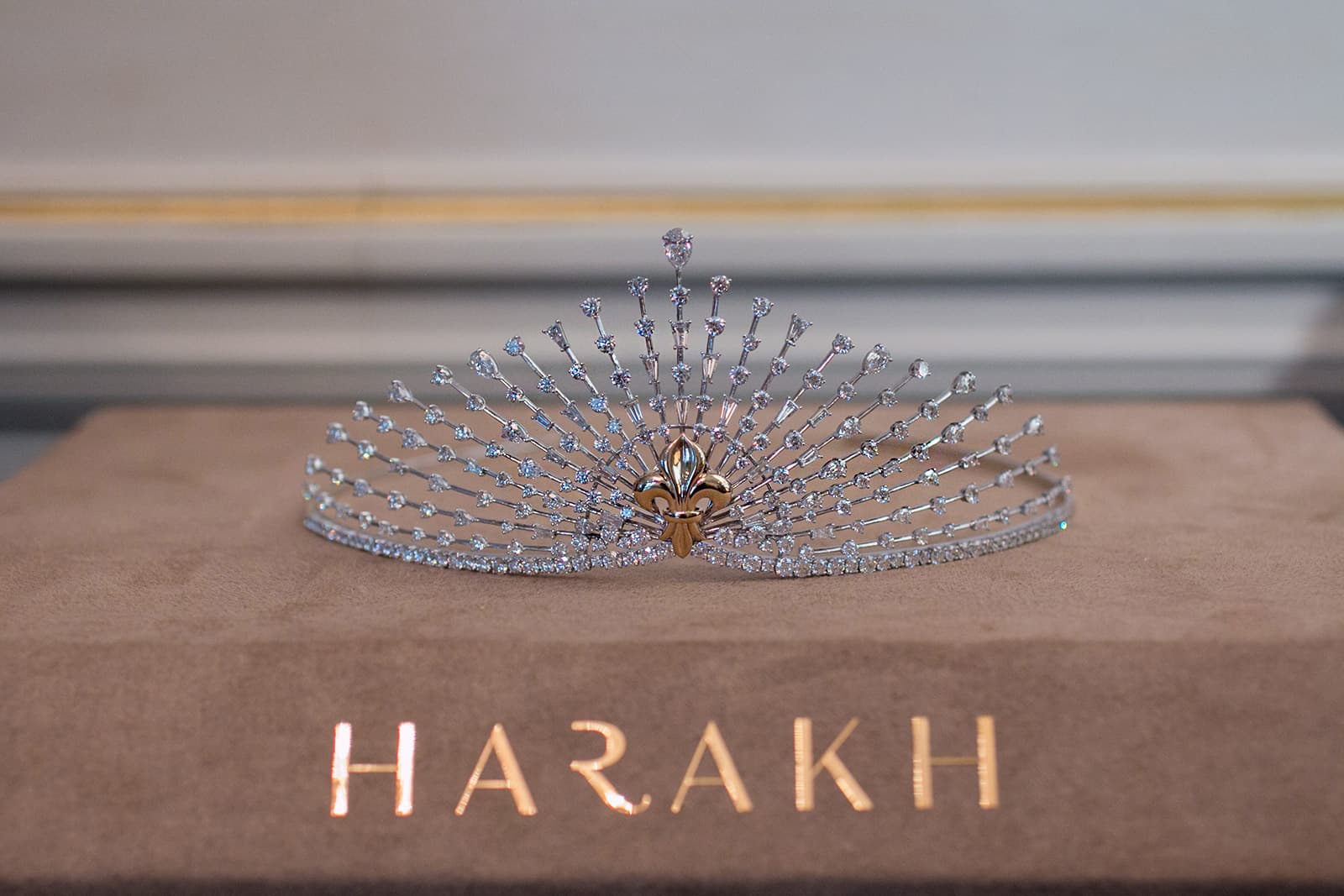 KP: What, according to you, is the difference between high jewellery and other fine jewellery?
HM: It all starts with the passion to create something exemplary. Then it is the use of those very rare and extremely precious stones and metals, essential ingredients for high jewellery. Then comes the dizzyingly high levels of craftsmanship and specific attributes, which may well be invisible at first glance but lend their own character to the piece. Finally, the piece of high jewellery, when complete, needs to have its own soul and rhythm, which gives it its own unique identity.
KP: Can you talk to us about some of your high jewellery pieces?
HM: We had the opportunity to create a tiara for HRH Princess Louise d'Orléans for her debut at the prestigious le Bal des Debutantes in Paris in 2019. This was part of our Peacock Collection, which is an ode to our tradition (the peacock is the national bird of India). It was created with a central 'Fleur De Lis' in yellow gold, HRH's royal symbol, surrounded by an array of round, baguette and drop-shaped diamonds that spread like the wings of a peacock. It has a total of 229 diamonds weighing 29.92 carats. Another piece that was very memorable was a rare pink diamond suite consisting of a three-layered necklace and a matching ear cuff from our Haveli collection. We captured the iconic shapes of the palatial arches and studded it with rare pink diamonds, all sourced from the Argyle diamond mines, which have now shut down production. A combination of rose cut, brilliant cut and pear cut diamonds complete the look. The ear cuff was specially constructed so that part of it was invisible when worn as it neatly tucked in behind the ear and magically appeared from the top in a single pear drop.
KP: What process do you follow while designing such pieces?
HM: Each piece has its own story! One creation that deserves a special mention are these long dangling earrings, the latest from our Raindrop collection. Comprising entirely GIA certified colourless diamonds, the smallest size is 1.00 carat and goes up to 3.00 carat. It is a medley of round brilliant cut, pear shape and emerald cut diamonds. This was a sourcing challenge, to get 34 of the most brilliant luminous, sparkling pieces and then literally sew them together with gold wires in one earring. Funnily enough, after a futile day of trying to design this piece, when the idea came to my mind, this was drawn up on a piece of paper late at night, when I was home, after putting the kids to bed and within literally 5-6 minutes I had sketched the entire design!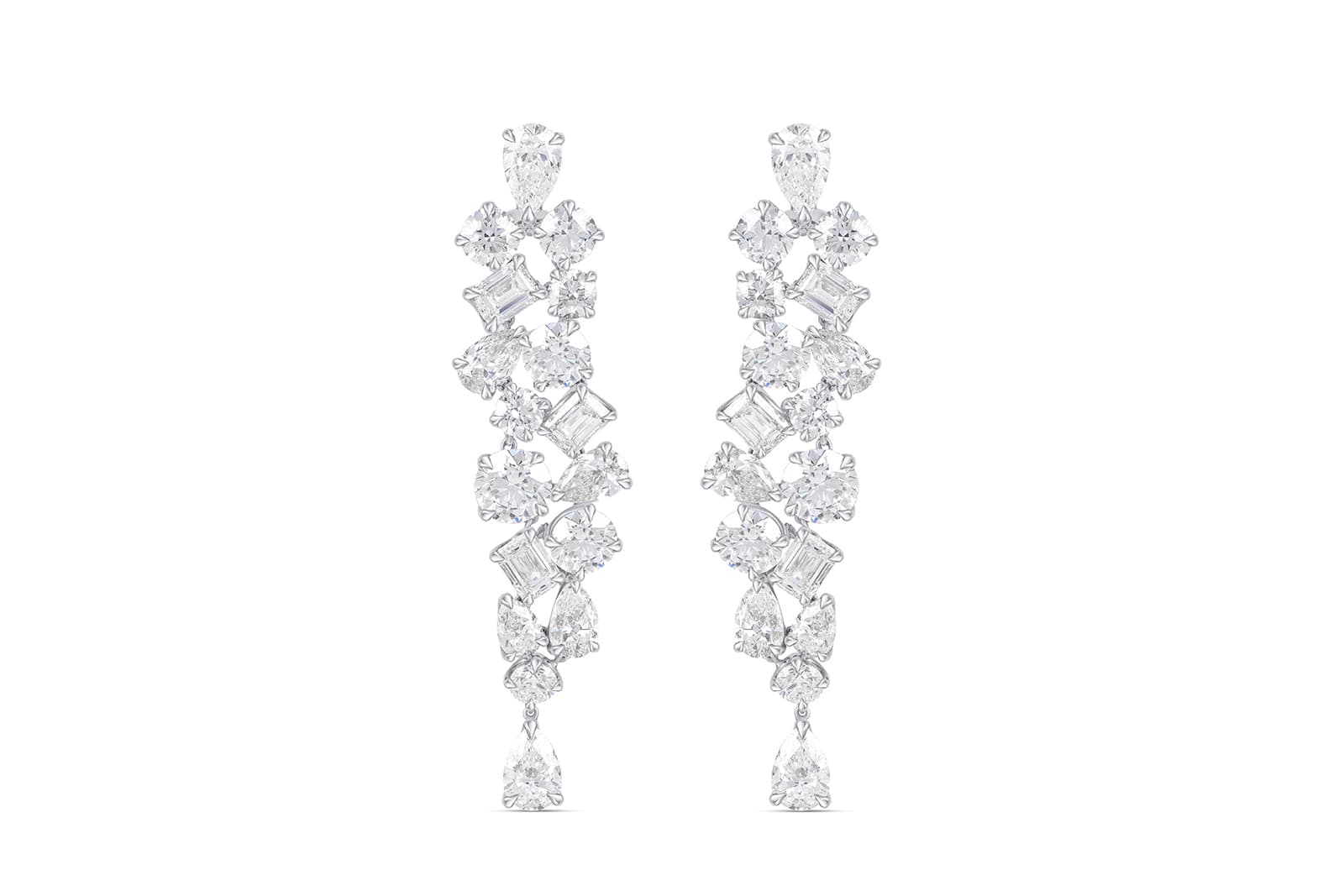 KP: Besides diamonds, do you use any other precious stones in your jewellery?
HM: We are getting more and more requests for coloured stones. However, our brand principles apply to them as well, they need to be an exceptionally high colour and completely free of any treatments. Recently, we completed a suite of a necklace, ring and earrings comprising 21 rare certified natural pigeon blood rubies for the necklace alone! It is a complete suite with matching ring and earrings – all are studded with GIA certified diamonds and natural rare rubies. It was quite a task to source so many stones and equally challenging to set them all up into the jewellery. There are quite a few technical things one must be aware of while working with untreated and rare gemstones – they cannot be immersed in generic cleaning solutions, they must be kept below a certain temperature etc. But it was fascinating to see these creations come alive as they progressed.
KP: You must be very proud that your brand won the Fashion Group International (FGI) Rising Star Award for jewellery.
HM: To be honoured by the wider fashion community, where the jury consists of superstars in the luxury space, is truly humbling. While I am happy, I would like to give credit to the selected talented artisans who actually create these stunning pieces! They are the ones who bring to life the vision that I have. These artisans have learnt some distinctive techniques of making jewellery from their ancestors, which we believe in preserving and promoting.
KP: What are you currently working on?
HM: For now, we are busy with holiday requests and doing what we do best – helping people celebrate their moments of joy. Through our recent collaboration with 1stDibs, our ecommerce partner, our jewellery is now available to acquire by collectors across the world.