These two very separate visual references may seem to have no connection at first. However, the colours of the sky at sunrise or sunset in the eponymous mountains, as well as the popular colours in art and visual mediums of the 1980s are emulated in the bright pastels of both the enamel and the gemstones decorating NUUN's 'El Hada' collection.
Tourmalines, morganites and aquamarines within this line are almost exclusively baguette or triangular cuts; the faceting and linear forms of these jewels emulate the shapes of the precious metal outlines in the earrings, rings, bracelets and necklaces which Nourah Al Faisal has created.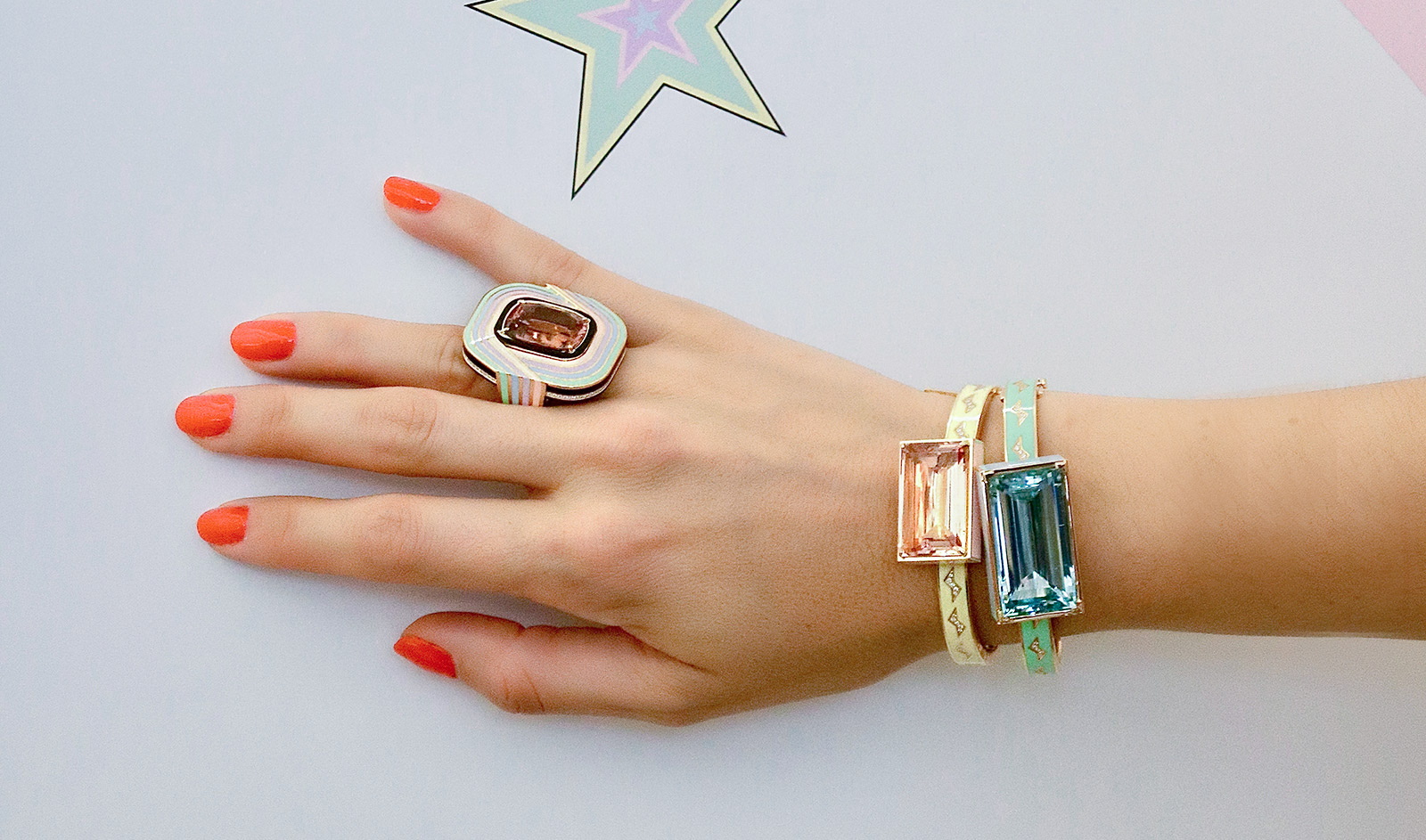 The traditional geometrical shapes of the 'El Hada' collection are embodied in zig zags, circles and overlapping lines, all of which are the main identifying motifs of the Memphis art movement that then inspired the pop culture of the 1980s. In 1982 the Italian design and architecture group was founded in Milan by Ettore Sottsass, and its creative direction was focused on Postmodern furniture, fabrics, and sculptures from 1981 to 1988. The Memphis group's work was characterised by ephemeral design featuring colourful and abstract decoration, as well as asymmetrical shapes, sometimes alluding to pop art, Art Deco, kitsch or futuristic themes. These influences have unmistakably transcended into NUUN's latest collection.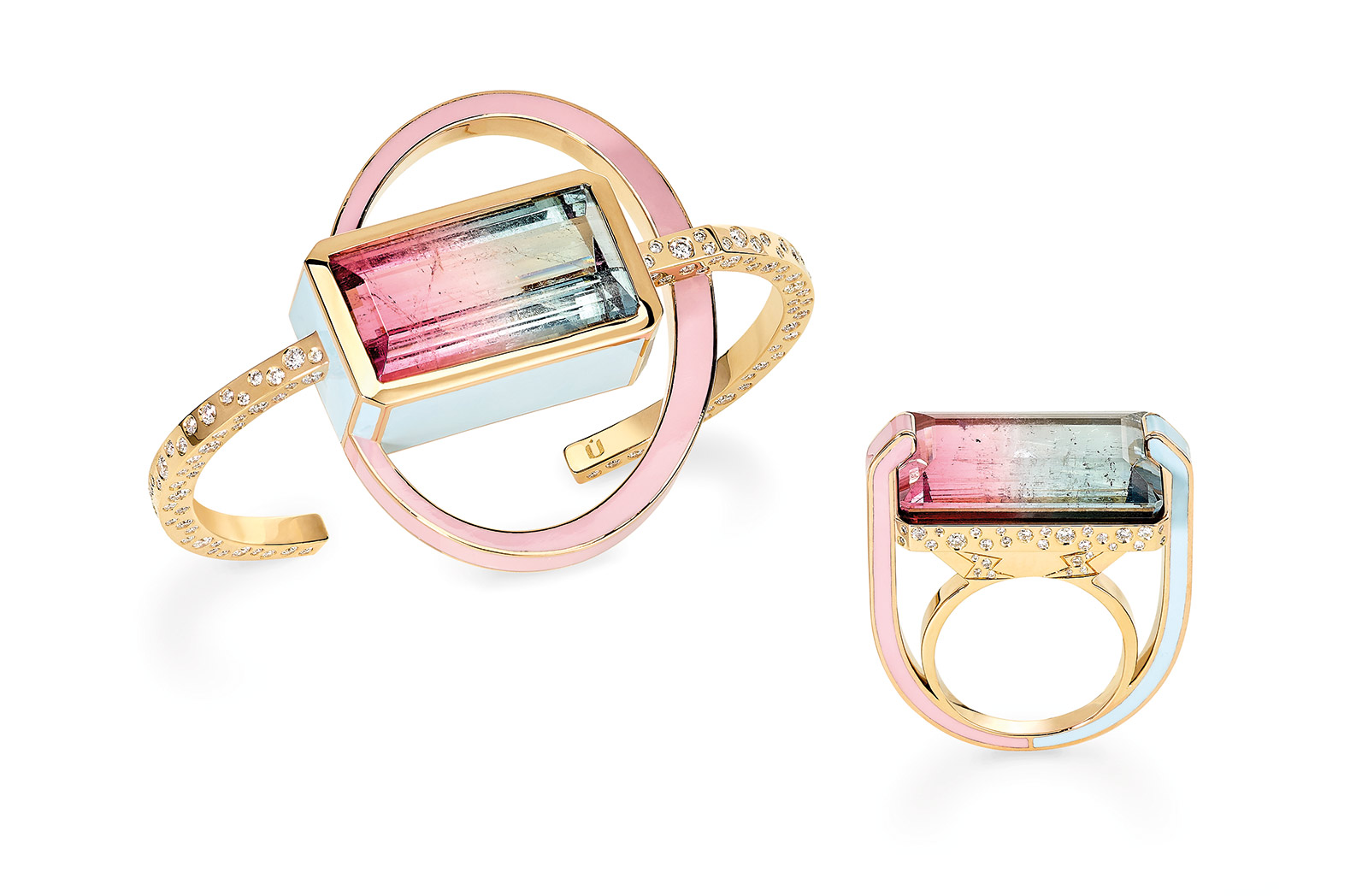 The graphic and architectural inspiration within the jewellery line is evident in the use of step cut stones and enamel combinations, occasionally emphasised by the diamond decoration. They have been employed on all visible angles of the jewellery, and the fact that this has been considered draws the jewellery back to the realm of sculptural, 3D art - rather than simply jewelled accessories.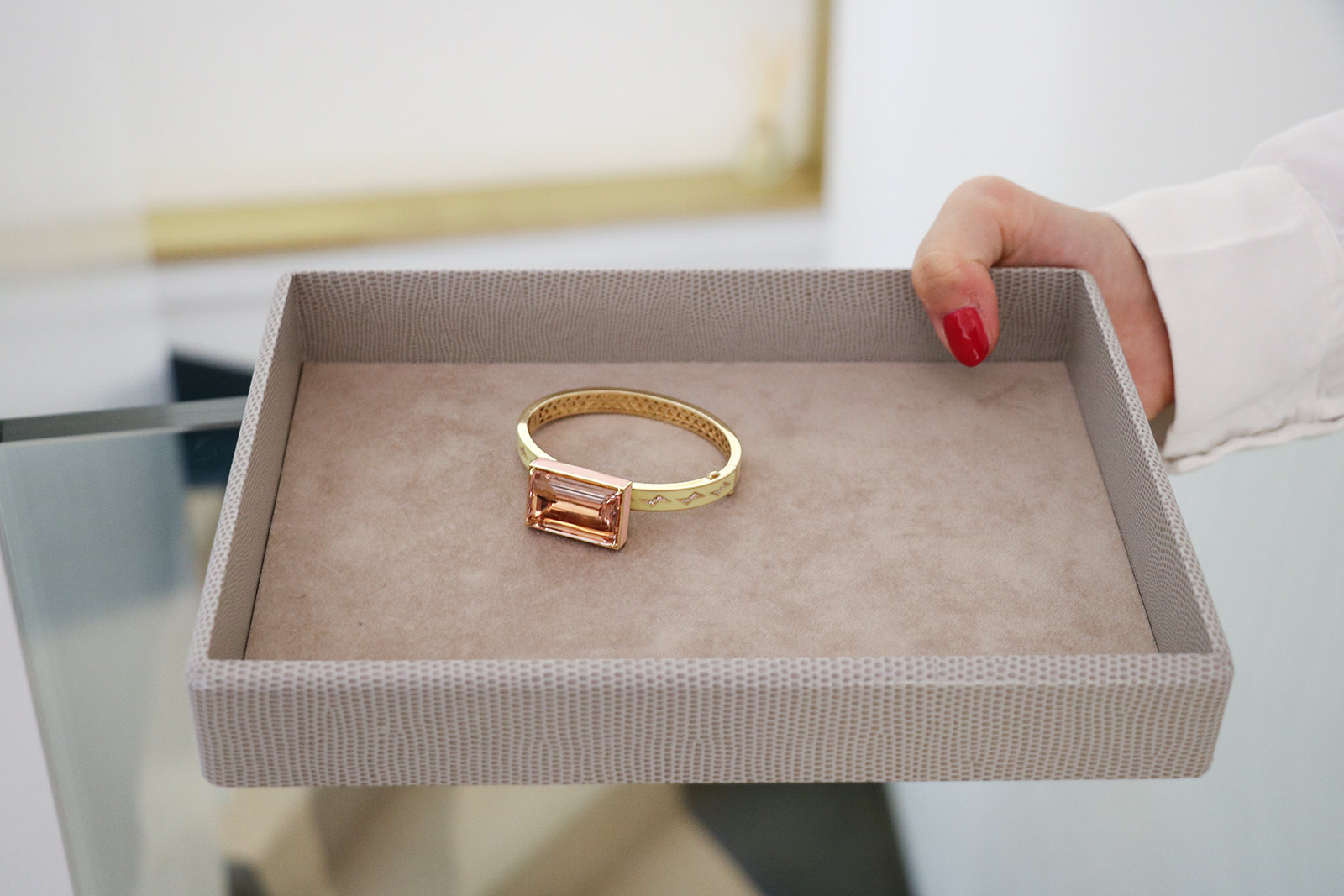 Further connection can be drawn between artistic direction in the 'El Hada' collection and the obsession with futuristic design in 1950s and 1960s American culture – inspired by the 'space race' - in the light diamond embellishment. It gradates like stars in the sky and rings circling around gems like planets, alluding to stellar objects and their pop art representations.
The stand out item within this collection are the large, lightning bolt shaped 'Bowie' earrings, which are the only piece boasting statement gemstones. The deep red rubellite cabochons and largest diamonds within the collection set apart this piece from all of the other pastel toned novelties. The music icon David Bowie was himself a fan of the Memphis art movement, collecting a vast array of pieces – drawing us back to the artistic references and the relationship between influences in Nourah Al Faisal's design inspiration for the 'El Hada' collection.
In Nourah Al Faisal's own words, the 'El Hada' collection is outlined as: "Colourful geometry, magnetic jewellery, a representation of youth and innocence, a mix of pastel colours and playful shapes." As with all art – ranging from the Memphis movement to modern fine jewellery – references and influences are open to individual interpretation, and made all the more exciting for it.