This June, the British Isles are set to erupt in celebration as we mark the Platinum Jubilee, an historic landmark that represents 70 years of Queen Elizabeth II's rule. With the anniversary linked to a precious metal, jewellers have been quick to jump on the occasion to launch royal-themed collections and one-off masterpieces, and to highlight houses' historic links to Her Majesty.
A jewel for every decade
British jeweller Pragnell has long associations with the royals, with its founder George Pragnell serving as personal jeweller to Queen Mary. Pragnell also bought the business of Philip Antrobus, the jeweller who crafted Queen Elizabeth II's engagement ring, as well as a diamond bracelet she wore on her wedding day. To celebrate this history, Pragnell has released a seven-piece Her Majesty's Platinum Jubilee Collection inspired by original sketches in the Philip Antrobus archives.
Each one-of-a-kind piece ties into a particular decade of the Queen's rule, inspired by the tradition of gifting certain materials on important anniversaries. A collet of Cornish tin features on a sapphire ring for 10 years, while the handle of a china teacup bridges snow-set diamonds in a ring design for 20 years. Pearls, rubies and Welsh gold – the metal used for all royal wedding rings – are the features of 30, 40 and 50 years. For 60 years, a rare Jubilee-cut diamond was sourced and – of course – platinum was the metal of choice for a necklace crafted to commemorate this year's jubilee.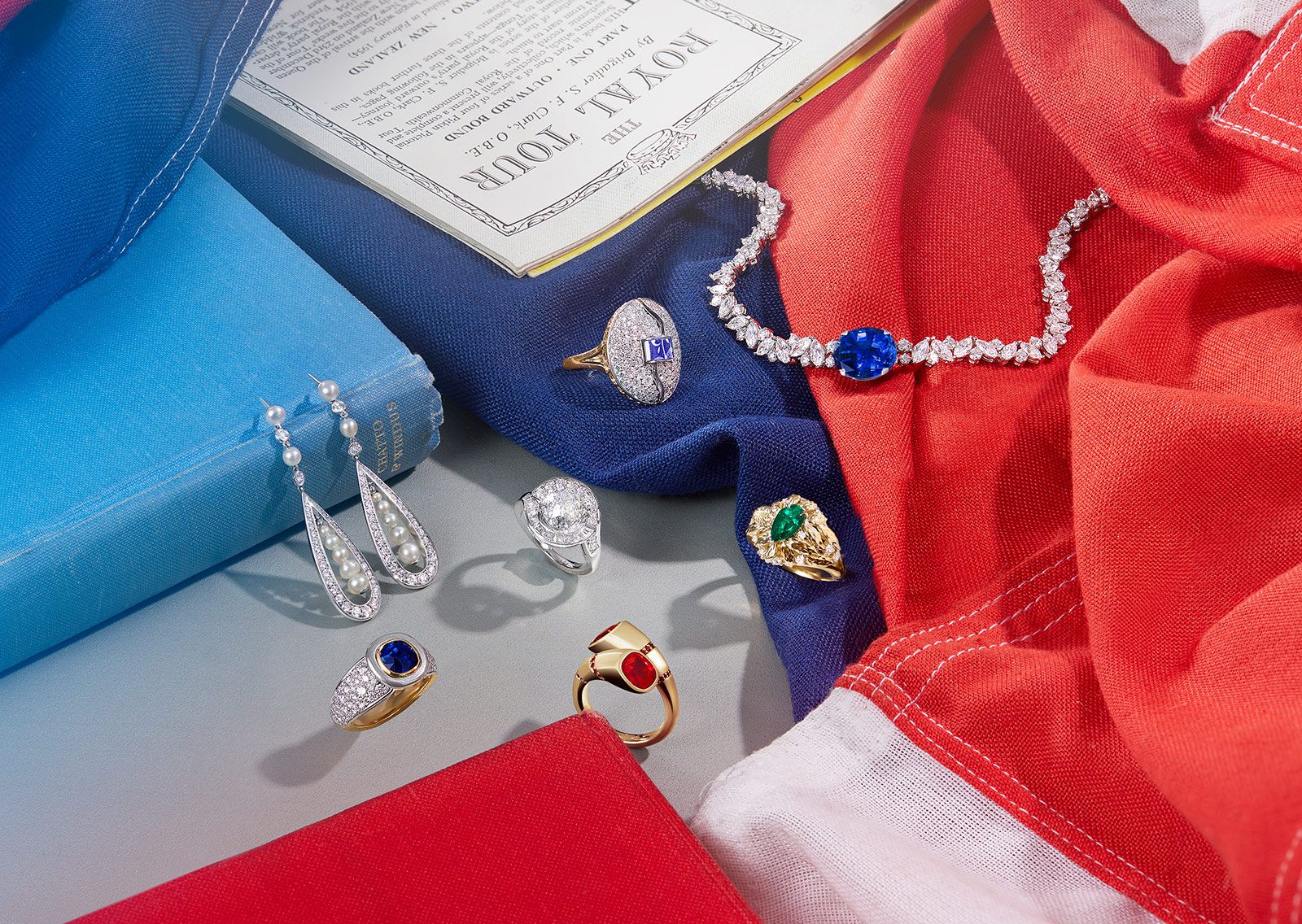 Jewellery brand Annoushka has also tapped into this theme and has created seven platinum versions of its popular Crown rings, set with patriotic rubies, diamonds and sapphires, to mark seven decades. It has also designed playful corgi and orb charms for those who wish to commemorate the moment by way of their charm bracelet.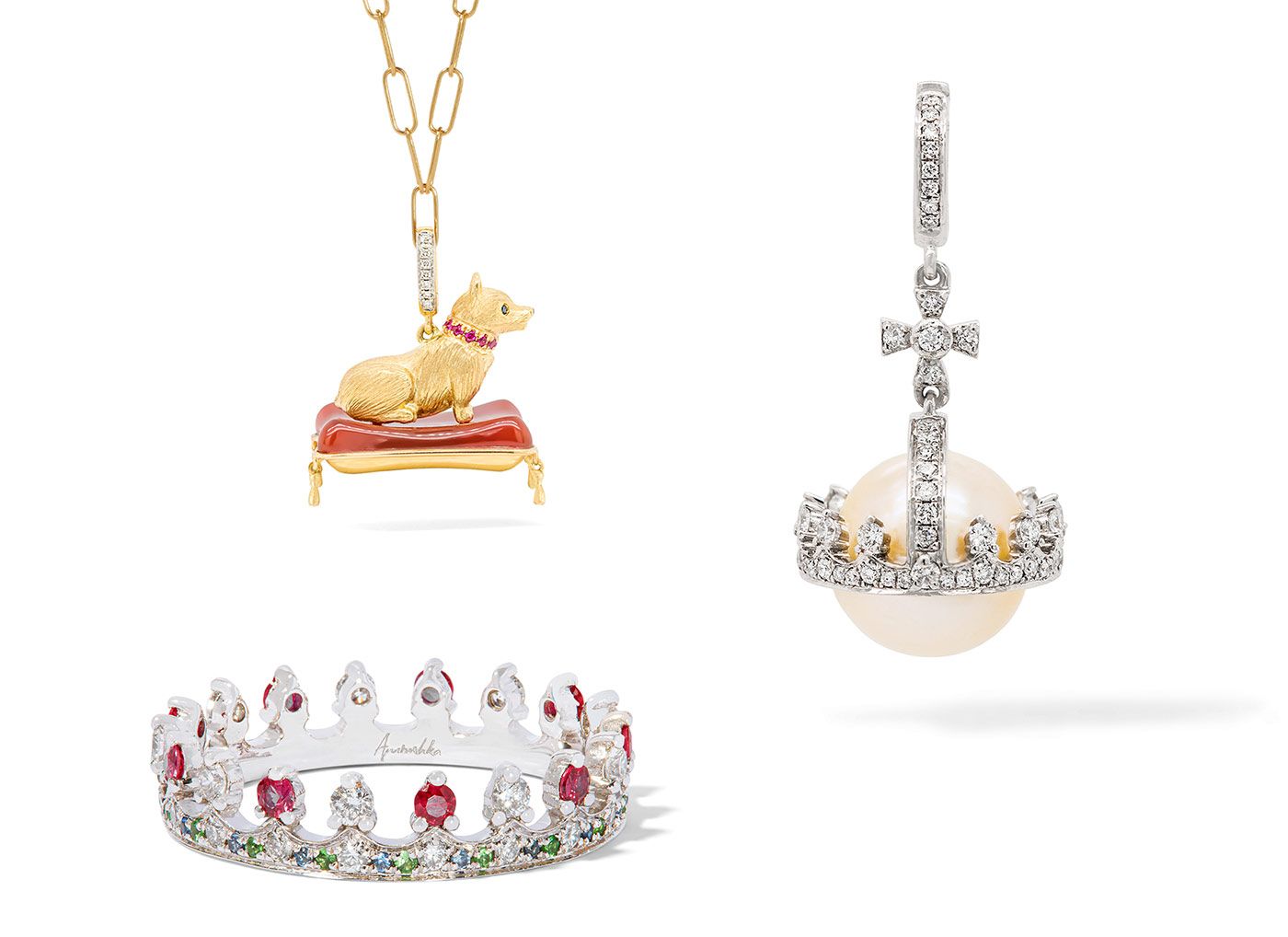 One-off topaz pin inspired by the Sovereign's Sceptre
Garrard, which has made many jewels for the royals, including the crown set with the Koh-i-Noor diamond that the Queen Mother wore to her daughter Elizabeth II's coronation in 1953. To celebrate the Platinum Jubilee of that very day, the British jeweller, which was appointed Crown Jeweller in 1843, has made a one-of-a-kind Garrard Jubilee pin. The shape of the pin pays homage to the brand's Sovereign motif, which mimics the setting Garrard used when securing the Cullinan I diamond to the Sovereign's Sceptre, part of the British Crown Jewels, in 1910. The pin has been set with a 4.9ct London Blue topaz and can be worn as a lapel pin, hair jewel or hat accessory.
Garrard has also released a more accessible Jubilee jewel in The Royal Blue Aloria pendant, which also plays on the Sovereign shape, this time filling it with a royal blue enamel. "The clean curves and simplicity of design draw the eye to the rich, bold colour that we are all so excited about," says Garrard creative director Sara Prentice. She describes it as "the perfect everyday piece" and shares a secret: the pendant can be reversed to reveal a flash of white diamonds.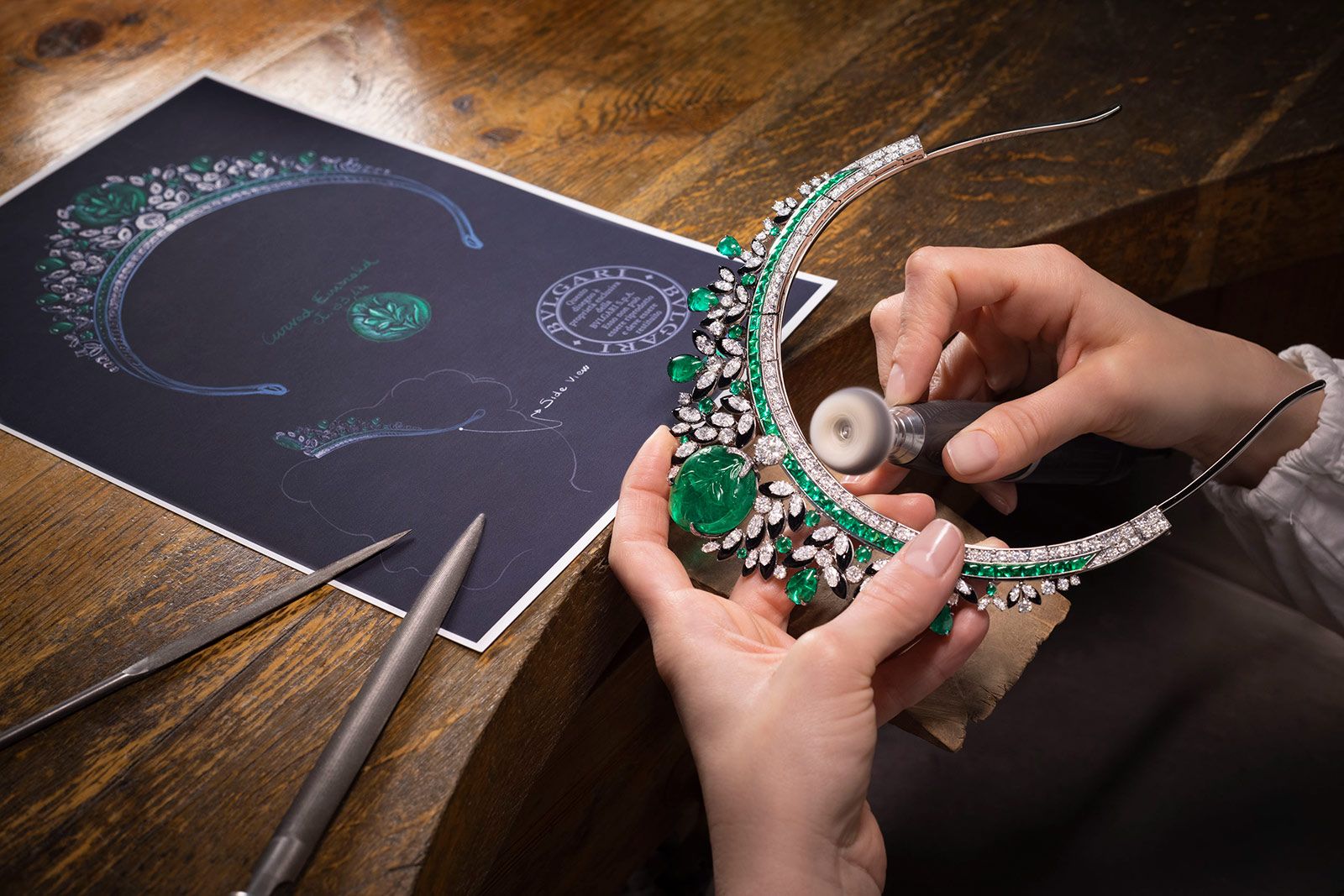 Transforming tiara for Her Majesty's love of emeralds
Bulgari has no historic affiliations with the British royal family, other than having once signed Lady Kitty Spencer, niece of Princess Diana, as ambassador. Yet high jewellery creative director Lucia Silvestri felt driven to create a parure that would pay homage to the monarch at this time. "I was inspired by the Queen, a strong and powerful woman, an icon of our times, and by her historic admiration of emeralds," she explains. Her Majesty does indeed enjoy an emerald, with many jewels in her collection set with the green gem, including a necklace and tiara decorated with the Cambridge Emeralds, which were once famously won in a raffle by the Duchess of Cambridge, nee Princess Augusta of Hesse-Kassel, in 1818.
The Bulgari parure made in the Queen's honour comprises a magnificent Jubilee Emerald Garden tiara, which can also be flipped and worn as a necklace, and a Diva's Dream high jewellery watch. The platinum tiara, which took master gem setters 1,500 hours to complete, has at its centre a 63.44ct Zambian emerald, carved with the image of a blooming lotus flower. Zambian emeralds are also set in the white gold watch, with eight custom-cut fan-shaped gems nestled amongst more than 11cts of diamonds.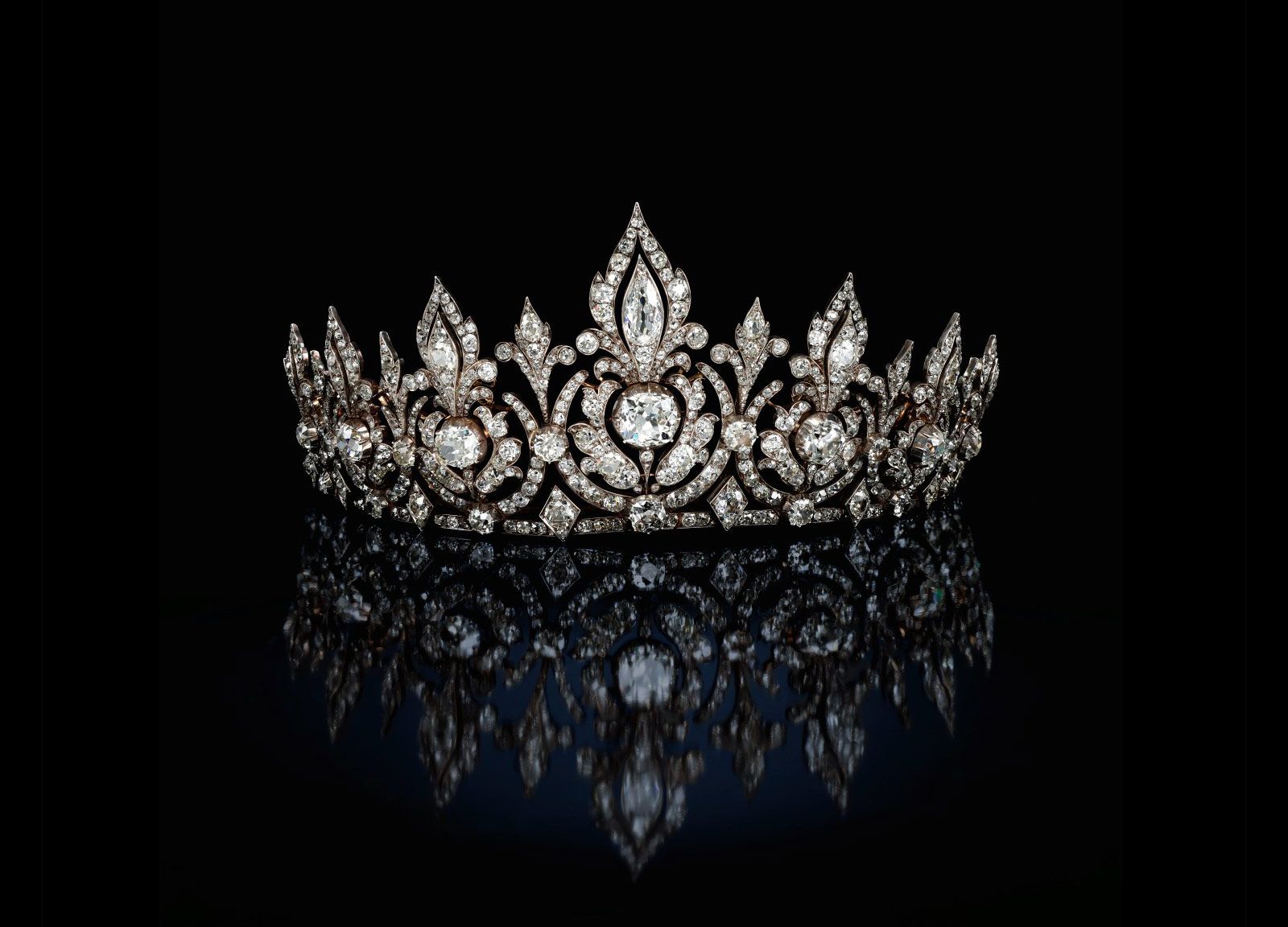 Diamonds from the same mine as the Crown Jewels
Although Boodles' Peace of Mined collection has been a long-held ambition, the timing of its releases, the jeweller admits, has been "serendipitous". The 25-piece collection is a landmark one for the family-owned jeweller as each piece has been set with diamonds from a single mine. As well as offering a strong traceability story, the jeweller, which is an official partner of the Platinum Jubilee Pageant, points out that it is a mine with royal connections.
The Cullinan mine in South Africa, from where the Peace of Mined diamonds come, is also the source of the famous diamond of the same name, a 3,106.75ct rough stone that lays claim to being the largest gem-quality diamond ever unearthed. The stone was so big, it was split into many smaller diamonds, all of which were set into the British Crown Jewels. The largest, the 530.2ct Cullinan I and 317.4ct Cullinan II, were centrepieces of the crown and sceptre Queen Elizabeth II wore and carried during her coronation.
See the real deal
While brands are lining up to offer jewels inspired by the Platinum Jubilee, there will also be a chance to see genuine royal jewels throughout the Platinum Jubilee. Jewellery from Her Majesty's personal collection will go on display this summer at Buckingham Palace, Windsor Castle and the Palace of Holyroodhouse in Edinburgh at a series of exhibitions. Jewels on display will include The Diamond Diadem, set with 1,333 brilliant-cut diamonds and worn by the Queen on the day of her Coronation, as well as the Delhi Durbar emerald necklace, which was recently worn by the Duchess of Cambridge.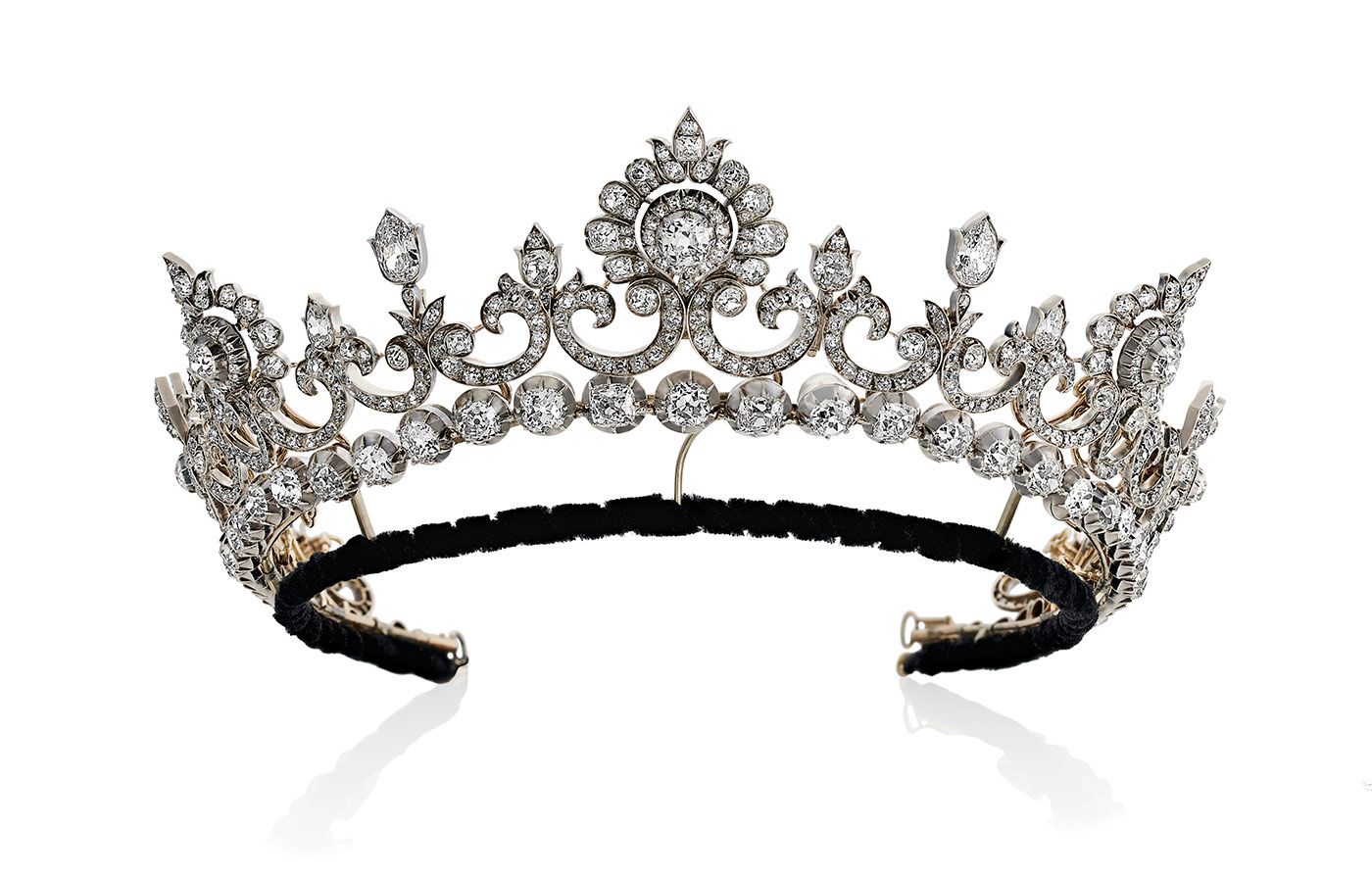 Antique jewellery specialist Hancocks will use this moment to put a special tiara up for sale that was worn by Marjorie Paget, the Marchioness of Anglesey, to the coronation of George VI in 1937 and then to the coronation of Queen Elizabeth II by her daughter in law, the next Marchioness of Anglesey Shirley Paget. For more tiara history, head to Sotheby's Royal Portraits & Manuscripts exhibition, taking place in London from May 28th to June 15th, where 50 tiaras will be on display, with 19th century masterpieces alongside more contemporary offerings from jewellers including Van Cleef & Arpels and Kiki McDonough.