Magnifica translates from Italian as 'Splendour', which is, I think, a rather fitting name for 122 high jewellery masterpieces and watches that perfectly encapsulate the brand's Roman DNA and its 137 years of jewellery making experience.
A necessary element of high jewellery is the use of spectacular gems. It is with these gems that the creative director of the Bvlgari jewellery brand - Lucia Silvestri - teases us from time to time on her Instagram. Some of these gems, which are of high quality, great rarity and always possess impressive carat weights, have gone on to adorn the neckalaces, rings, earrings, and bracelets of the Magnifica collection. They work to help express Bvlgari's bold, colourful, and timeless style.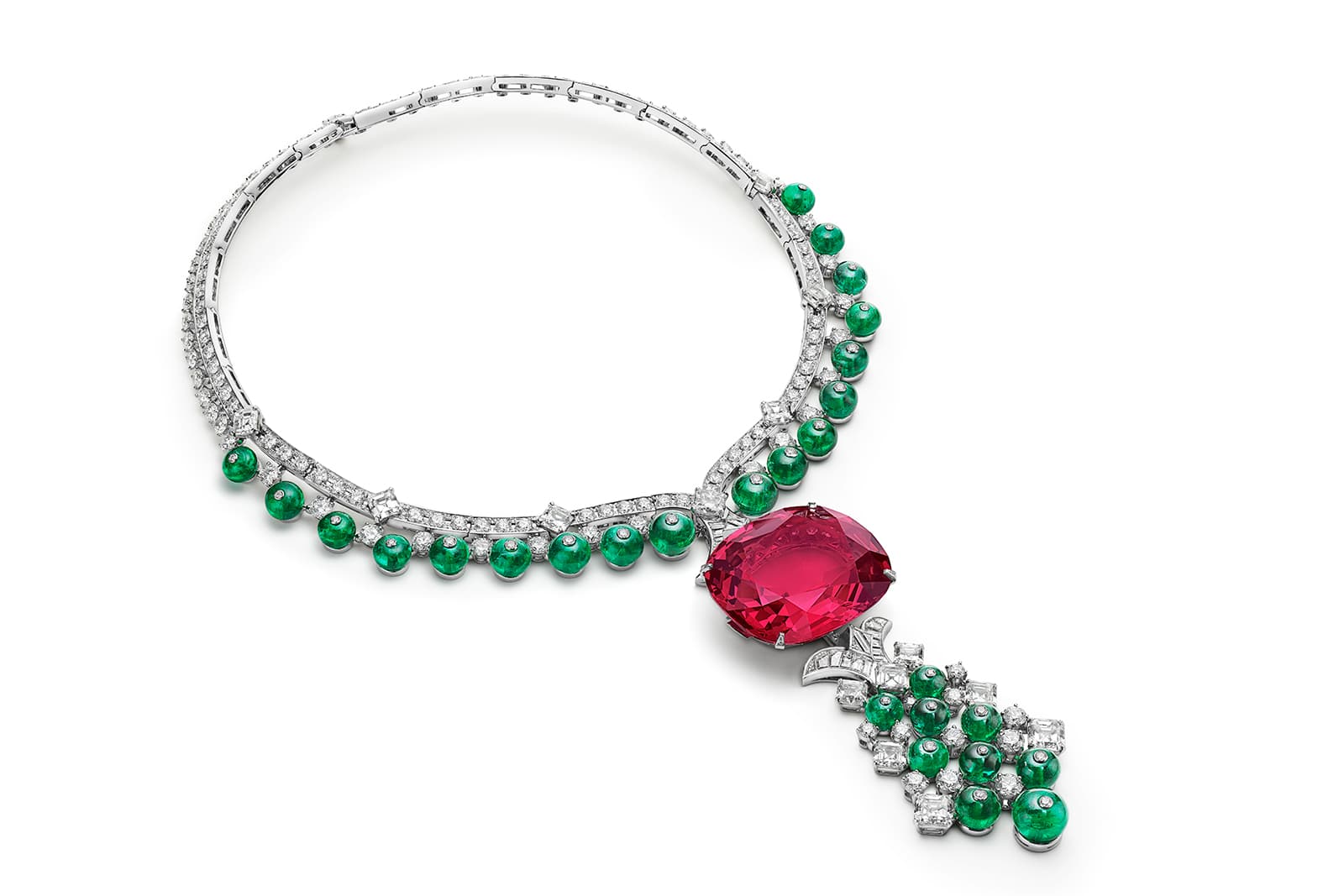 Let's begin our tour the new collection with the one-of-a-kind Imperial Spinel set jewels. I can confidently say this facet of the collection is an ode to the most precious and regal stones that can be found on our planet. The centrepiece of the collection is a 131.24 carat spinel from Tajikistan (the historic origin of all spinel), set in a necklace, which is ranked fourth in the world in terms of carat weight and can safely be considered of impeccable quality. The three gems that appear higher on this world-renowned list are set in the crown jewels of the British and Russian monarchies.
Next up, let's turn our attention to the 93.83 carat Colombian emerald cabochon that adorns the Hypnotic Emerald necklace, and in particular the house's famous snake emblem. It is widely considered to be difficult to work with sizeable stones, largely because they are so spectacular in their own right. One is tasked with having to come up with a design that will emphasize the importance of the stone itself, while at the same time not distracting from the overall design. Bvlgari has achieved this with its typical mastery. I should note at this point that another hugely costly 64.03 carat cabochon emerald, this time from Zambia, can be found attached to the Emerald Ellipse necklace.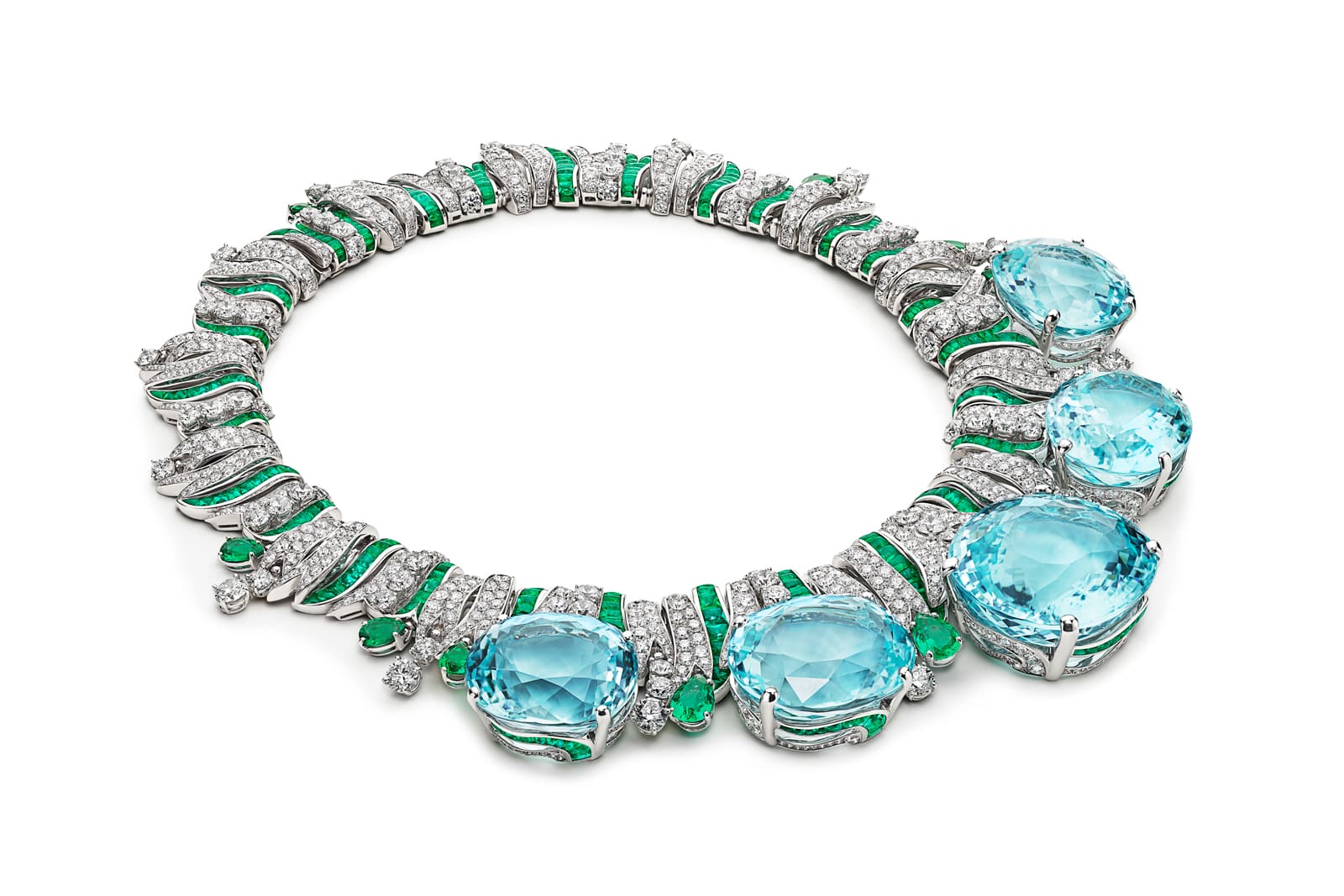 Have you ever seen almost 500 carats of Paraiba tourmalines in a single necklace? I can safely say that in 12 years of working in the industry that I have never come across such stunning riches. I am definitely not the only person who has been surprised by Lucia Silvestri's Mediterranean Queen necklace! The central stone alone weighs 153 carats, and all five when combined together weigh a staggering 473.82 carats. The collection includes another necklace consisting of a 12.82 carat Paraiba from Mozambique, as well as a ring, bracelet and earrings. Again, the skilled design ensures this central stone becomes an integrated part of the overall design and not a dominating element.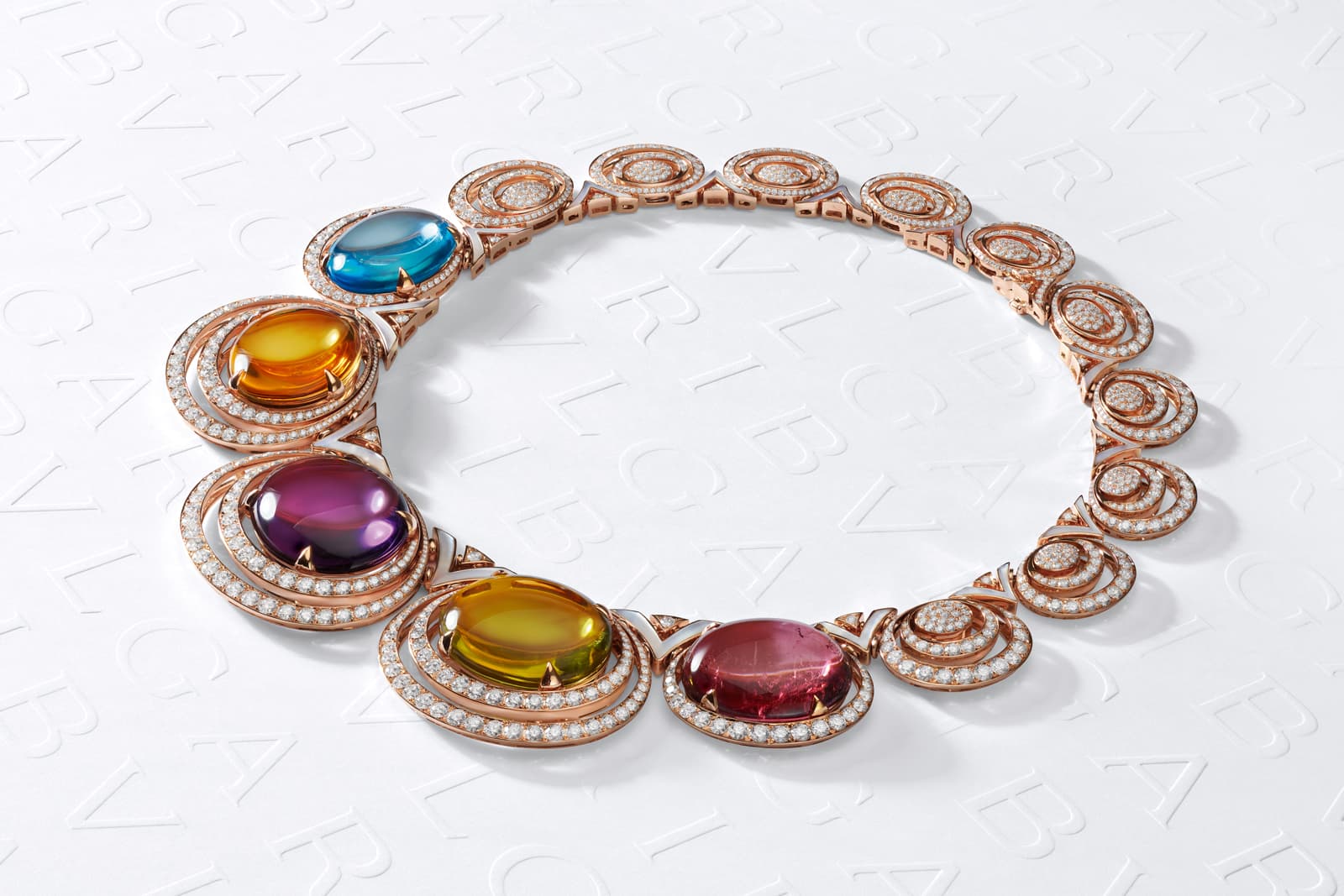 Continuing the theme of large minerals that evoke associations with the sea and with summer, let's look at the Colour Legacy necklace. This piece consists of seven oval aquamarines possessing a total weight of 83.77 carats. It is designed with the very best traditions of Bvlgari in mind and contrasts a rich variety of shades. The blue is diluted with shades of rubellites and amethysts. The diversity and contrast continues in the Colour Ripple necklace, which consists of five cabochons of topaz, citrine, amethyst, green tourmaline and rubellite, which are in turn surrounded by rose gold and pavé diamonds.
We talked about spinels, emeralds, rubellites and Paraiba tourmalines, but where are the pieces with collectible sapphires and rubies, you ask? Such work has, of course, long been an integral part of the collections of high jewellery art. Bvlgari's creative director didn't forget about them during the development of Magnifica… just look at the Ruby Flow necklace with 11 'pigeon's blood' rubies from Mozambique for a total weight of 25 carats. Lucia has also decorated the Ruby Heartbeat ring with a 10.15 carat African ruby. The ruby-decorated watch, which I have written about separately, is accompanied by a jewellery set including the Bvlgari Ruby Metamorphosis necklace, the centre of which is decorated with a 12 carat ruby surrounded by diamonds and further rubies — an additional 100 carats
Let's turn our attention to blue sapphire. A 34.45 carat stone adorns the heart of the Sapphire Petal necklace, which is crafted in the shape of a flower with five petals that border the neck. A 19.30 carat sapphire from Sri Lanka is a crucial element of the Precious Weave necklace, as is a 7.10 carat sapphire in a ring of the same name. And that's not even all of the sapphire jewellery! If I were to dwell on each Magnifica masterpiece, this article would perhaps never end.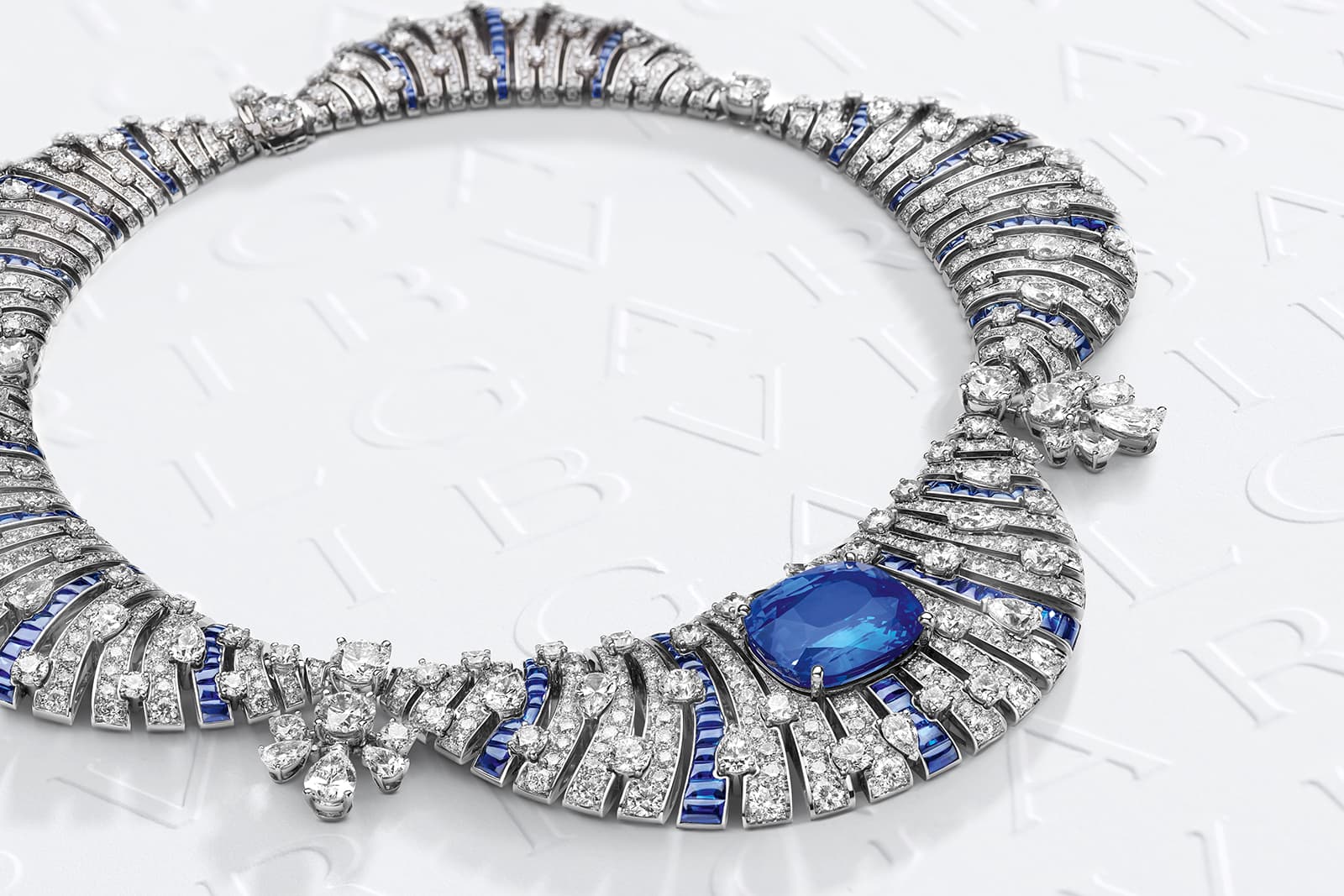 Finally, I would like to note that the creation of this collection cost literally hundreds of millions of euros and required hundreds of thousands of hours of painstaking work by Bvlgari masters. According to the House itself, this new collection is the largest and most precious in the entire history of the Italian brand. I have no doubt, readers, that you will appreciate the end result!