Our lives are full of promises. A day rarely goes by without one, whether it's a quick "I'll call you…" or something planned like "I'll pick you up at 7…". Amongst all these fleeting promises with the passing of time comes a particularly momentous one: "Yes, I will marry you." To tie the love knot, we have become accustomed to exchanging engagement and wedding rings. 
However, that is not always an option (and all too often it is for financial reasons). But let's say you have a young man who wants to express his noble intentions but there is still some time to go before he is in a place to make any lifetime promises. What can he do in that situation? He can give a pre-engagement ring, known as a promise ring.
Here and in the photo with the red cushion – Carerra Y Carrera Promesa rings in white and yellow gold with diamonds. Above – Chaumet, Tiffany&Co and Carter gold rings with diamonds
What is this ring and what does it look like, you ask. There aren't any specific criteria. It can be quite similar to a wedding or engagement ring, but sometimes it might be completely different. A promise ring symbolises a vow to have a monogamous relationship with someone else so everyone is going to express this in their own way.
For those who are hopelessly in love, as so many of us are, jewellery designers have created entire collections that celebrate love. If you're choosing a promise ring, you can find dear little diamond 'Liens' criss-cross patterned rings at Chaumet that symbolise a strong bond between two people in love with each other. Cartier offers simple 'Love' bands engraved with small screw motifs to show that one's passionate feelings for someone are securely fixed. Tiffany&Co has created a range of different rings with hearts, the icon of strong love, and infinity symbols. 'Promesa' ('Promise' in Spanish) collection by Carrera Y Carrera has a little cast of a man and a woman kissing in an intense but tender embrace and would also be an ideal pre – engagement ring.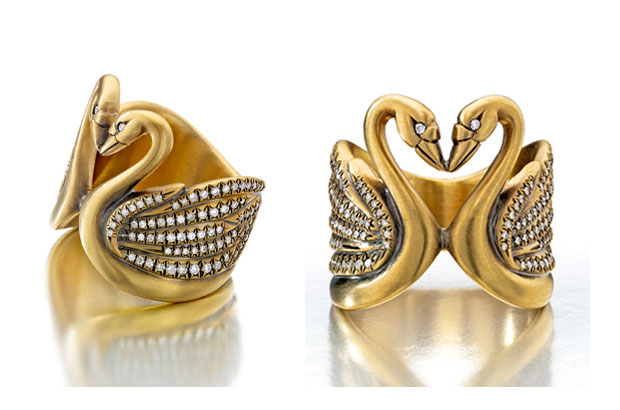 Wendy Brandes Cleves ring in brushed gold with diamonds
A piece decorated with a dove, a swan or an apple would also work well as a gift for your loved one because all of these are symbols of love. American designer Wendy Brandes has come up with several varieties of gold rings with gracious swans on them. While Gemorie ofers a sweet little ring in a shape of an apple decorated with diamonds.
It is recommended that a promise ring for your other half should be based on the following: it should be not only symbolic but also comfortable, more modest in terms of its price and appearance than an engagement ring. Your loved one needs to understand that the place where your promise ring now sits will, on one glorious day, be home to a precious engagement ring and, after that, a wedding band.
So which finger are you supposed to wear this ring on? Again, you decide, but it is probably best not to wear it on your engagement ring finger. For instance, in Europe, a promise ring is often worn on one's left hand, but in Russia it is not so consistent. The main thing is to agree on it together, to decide which finger it is most comfortable on and where it will be closest to your heart.
Gemorie Apple Solitaire ring with .93 ct diamond in the centre