The first Asian artist to be part of the TEFAF show, Wallace Chan brings with him fine examples of work that exemplify his patented jadeite thinning and luminosity enhancing technology, along with his revolutionary methods of setting gemstones without prongs. His unbridled imagination draws upon Chinese legends and ancient stories, which he then translates into tangible masterpieces. Bold designs in vibrant colours, whimsy in gemstones, wearable sculptures, magical forms and three-dimensional engravings – all bear testimony to Chan's innate skill, artistry and craftsmanship. Here are a few of Chan's jaw-dropping works that you need to look out for at TEFAF New York:
Cicada brooch
Crafted using Imperial Jadeite, the ruby-eyed cicada's body features wafer-thin wings as it holds a luxurious oval green jade complemented with lavender jade and coloured diamonds. The jade beads are embedded with the aid of the tenon-and-mortise technique. Embodying a 5,000 year-old Chinese story, this design celebrates the little insect that inspired ancient poets and scholars, and went on to become a much-loved metaphor in Chinese art and literature. The bamboo sculpture – crafted in crystal, adorned with colourless and yellow diamonds, pink sapphires as well as tsavorite garnets features leaves that bear carved 'cicada patterns' evocative of patterns found on bronze vessels during the Shang dynasty.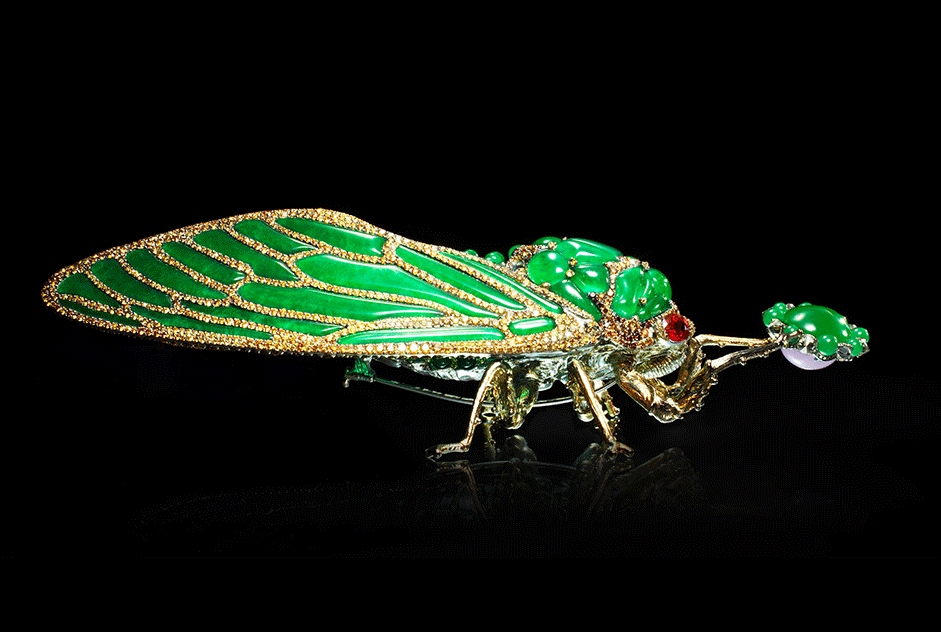 Apsara brooch
The apsara's (celestial maiden) body is sculpted in titanium and sprinkled with gemstones. In her hand, the ethereal maiden holds a heavenly gift, a luscious yellow diamond hemmed by four emeralds, while a pink diamond sits daintily on her topknot. Swirling and cascading drapes and ribbons are adorned with pink, yellow, white and green diamonds, while carved crystals set on top of some parts of the diamond echo the water motif carved on the apsara's body.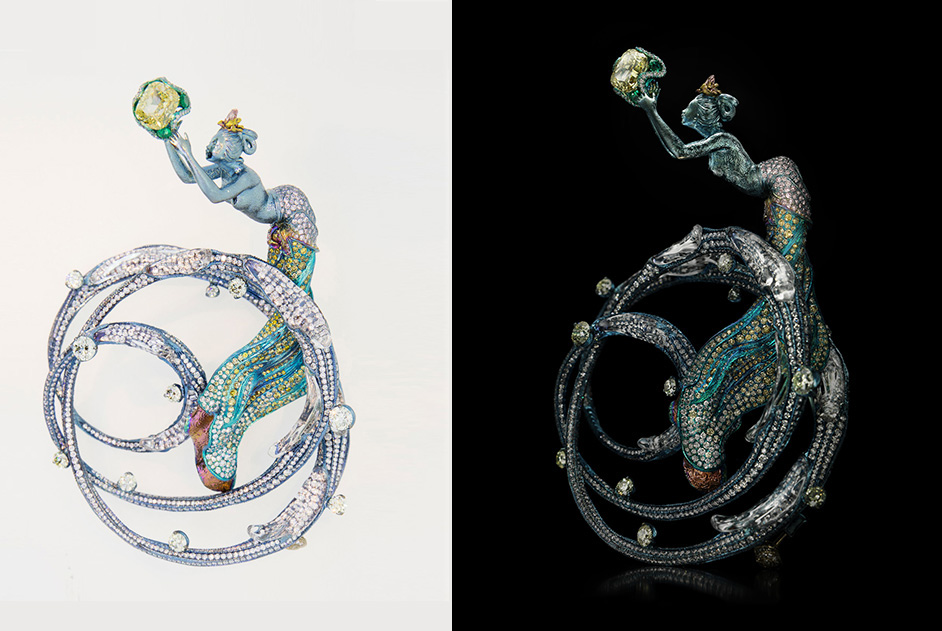 Damask Silk necklace
DIF diamonds, pink tourmalines and white agate unify to form the damask silk. To add to the lightness, titanium is woven like a web to ensure the necklace curves around the neck and the joints are skilfully hidden to make is flawless and supple. The shimmer of the diamonds and texture of white agate is offset against the lovely pink of the tourmalines, as colour and geometric forms play on the backside of this beautiful necklace.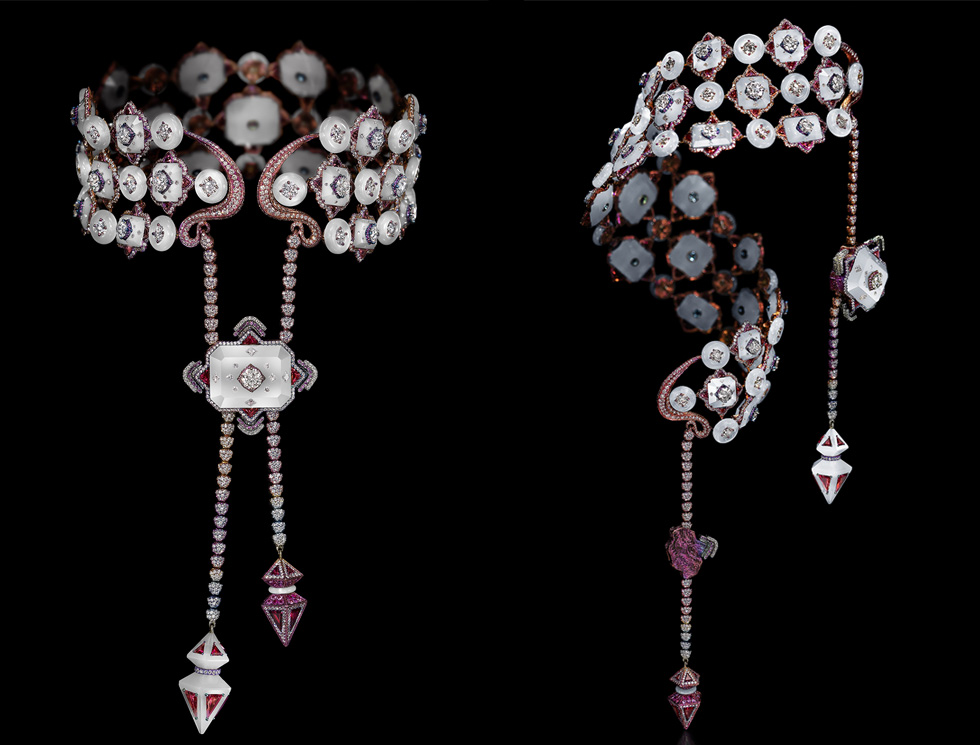 Night of Violet ring
This masterpiece has a 116.2-carat amethyst skillfully set without any prongs in its mount. It seems to float in purple radiance, as contrasting yellow diamonds embrace and accentuate the beauty of the amethyst. Pave-set diamonds in the form of two triangles beneath the amethysts on the side add abstract glamour to the ring.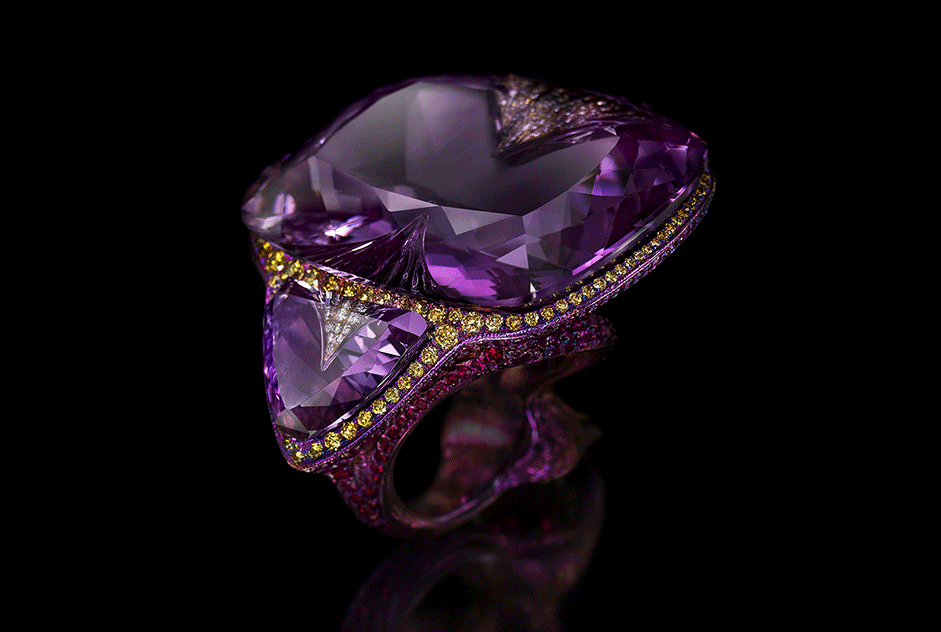 Tale of Two Dragons brooch
Chan halved the white jade dragon belt hook from the Qianlong period (1736-1795) and doubled its parts. The two dragons, father and son, in the brooch were then realised in titanium and highlighted with gemstones.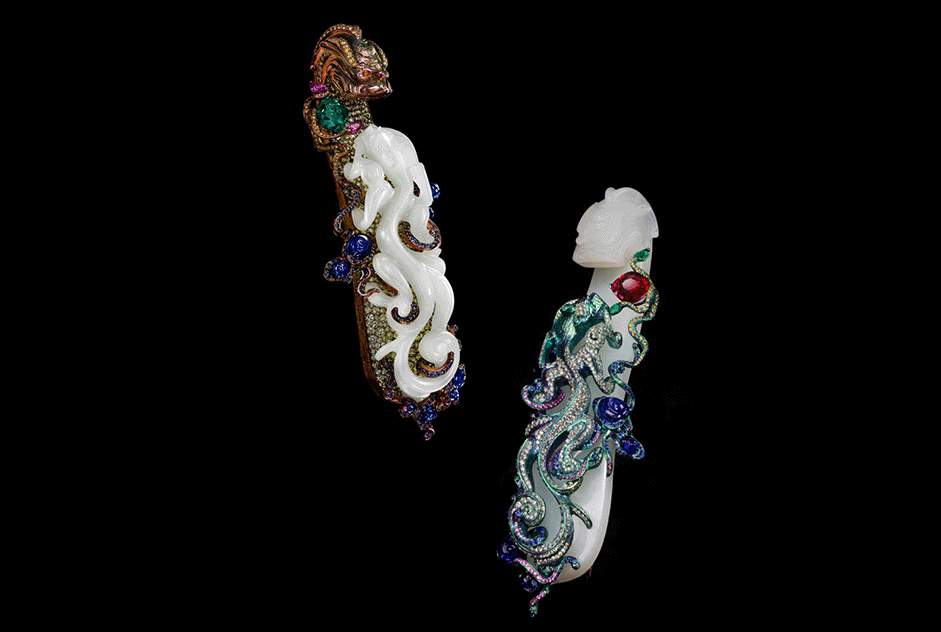 Rise of Heart sculpture
The flitting butterflies amidst an exquisite swirl of petals echo the charm and beauty of spring. This 2.2-metre tall peony is sculpted in titanium. A handful of rubies, citrines and amethysts make up the pistil, as happy butterflies dance around the bright blossom. A symbol of love, affection and a sign of spring, the Rise of Heart is a symbol of Chinese culture, while also being an ode to Chan's vivid imagination.