At Paris Fashion Week in January, I saw a jewellery collection that made me witness once again how the world's most famous jewellery maisons have started to re-evaluate the way in which high jewellery is designed. In the past, this type of jewellery used to glimmer with valuable gemstones cut in traditional shapes (round, oval, pear-shaped, emerald, etc.,) set in timeless designs that gravitated more towards classic look, but over the last few years I have noticed audacious jewellery made more and more often with diamonds, and now with unconventionally cut emeralds.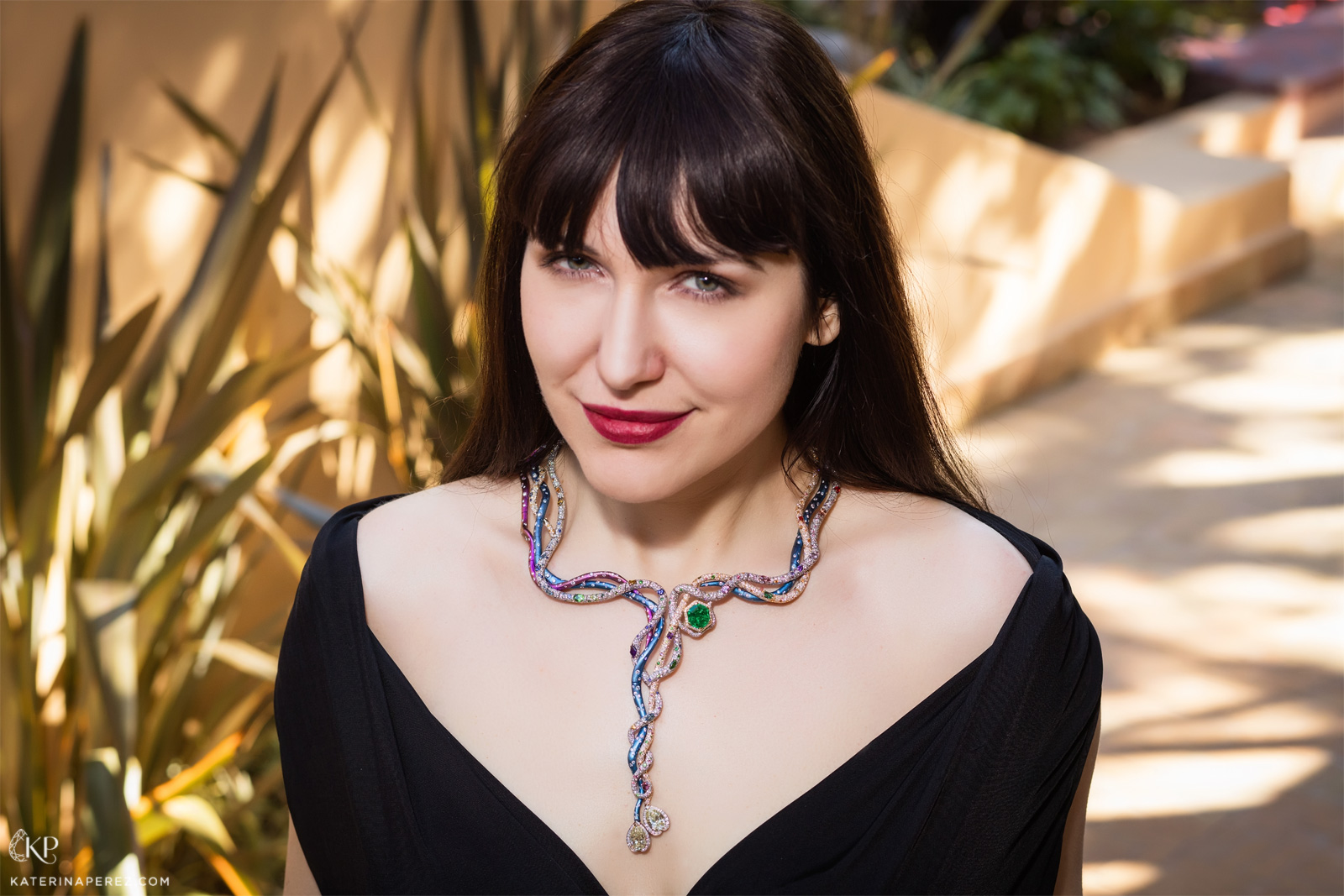 The collection that prompted me to write this article was created by Piaget, one of the maisons on Place Vendôme where they regularly experiment with jewellery materials and techniques. At an exhibition of new pieces from the 'Sunlight Escape' collection, I got glued to a showcase with 'Night Illusion' necklace and earrings (ear cuffs and hoops) adorned with rough emerald crystals, blue tourmalines and diamonds. It looked as if, out of the centre of the necklace, rays of light were being reflected in all directions in a form of 44 polished green beryls; on the earrings, there were 22 of them and on the ear cuffs – 10. They lent high jewellery pieces a certain audacity they sometimes lack, sweeping millennials off their feet.
Another example of emerald crystals being used is available from Theodoros in the form of stud earrings with crystals coming out from all sides. Diamonds and gems of the most unusual shapes have long been the signature of the Greek designer. Incidentally, finding them sometimes takes much longer than creating Greek jeweller's pieces themselves. For the earrings, Theodoros acquired 80 carats of emerald crystals from Afghanistan directly from the Panjshir mine. Indeed, "emerald crystals from that region are very clean and are therefore tougher. So, I took my chances and went ahead with a design that had the emeralds exposed from various angles. Despite the spikey design, these earrings are surprisingly light and comfortable on the ear." To create an emerald pavé design, Theodoros used 22 carats of brilliant-cut gemstones from Colombia.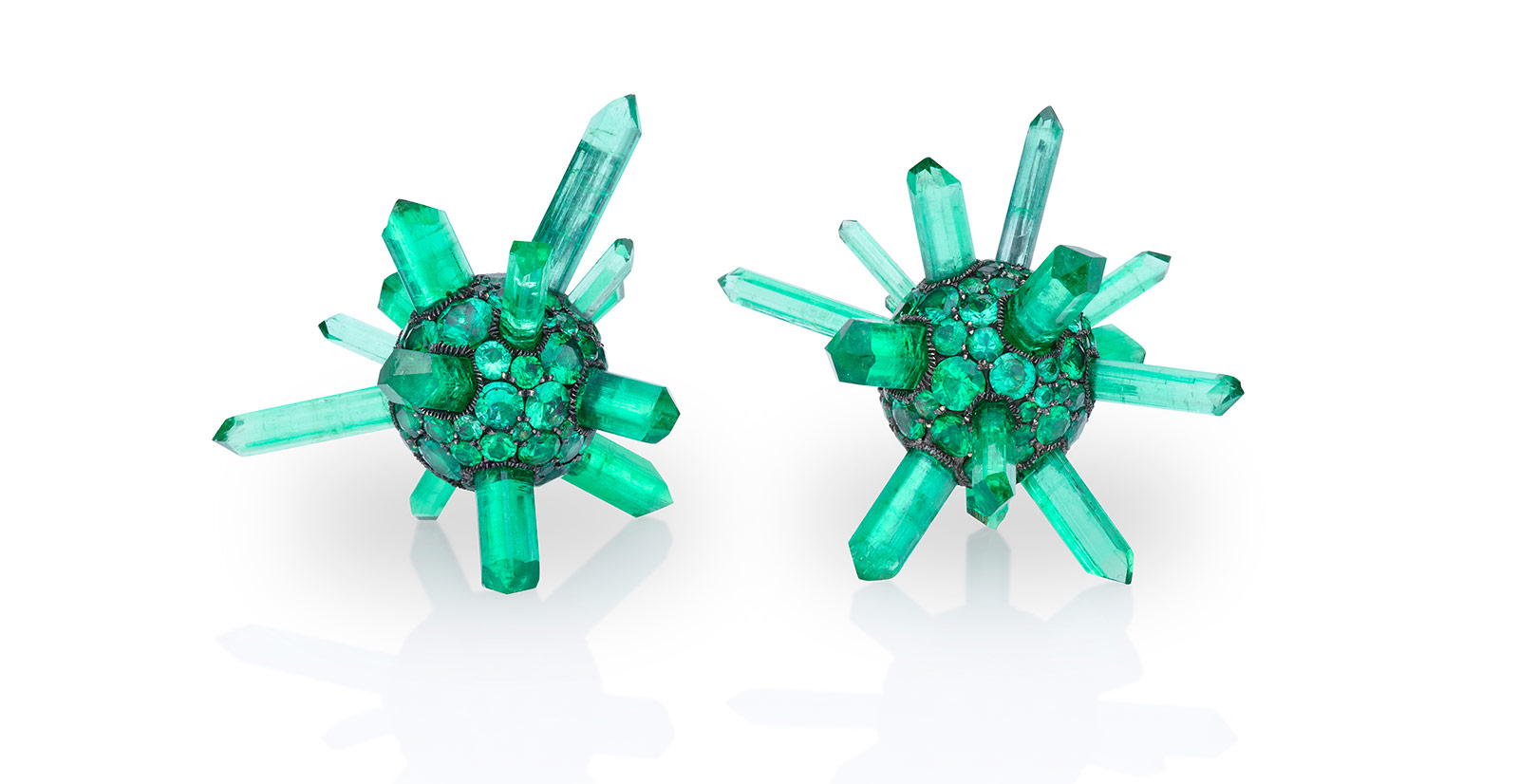 Those who regularly follow the updates on my website have probably read my article about trapiche emeralds with their typical black inclusions that look like rays radiating from the centre of the stone. This singular stone is by no means attractive to everyone; only truly creative and bold designers find a place for them in their high jewellery. One such 'experimentalist' is Qiuqiu He from Shanghai. She works closely with emeralds and diamonds, realising her full creative potential by using a whole variety of green beryls. Her exceptional drop earrings from the 'Shanghai/Shanghai' collection are decorated with 21.21 carats of trapiche emeralds and prime D / E colour rose, marquise and pear cut diamonds.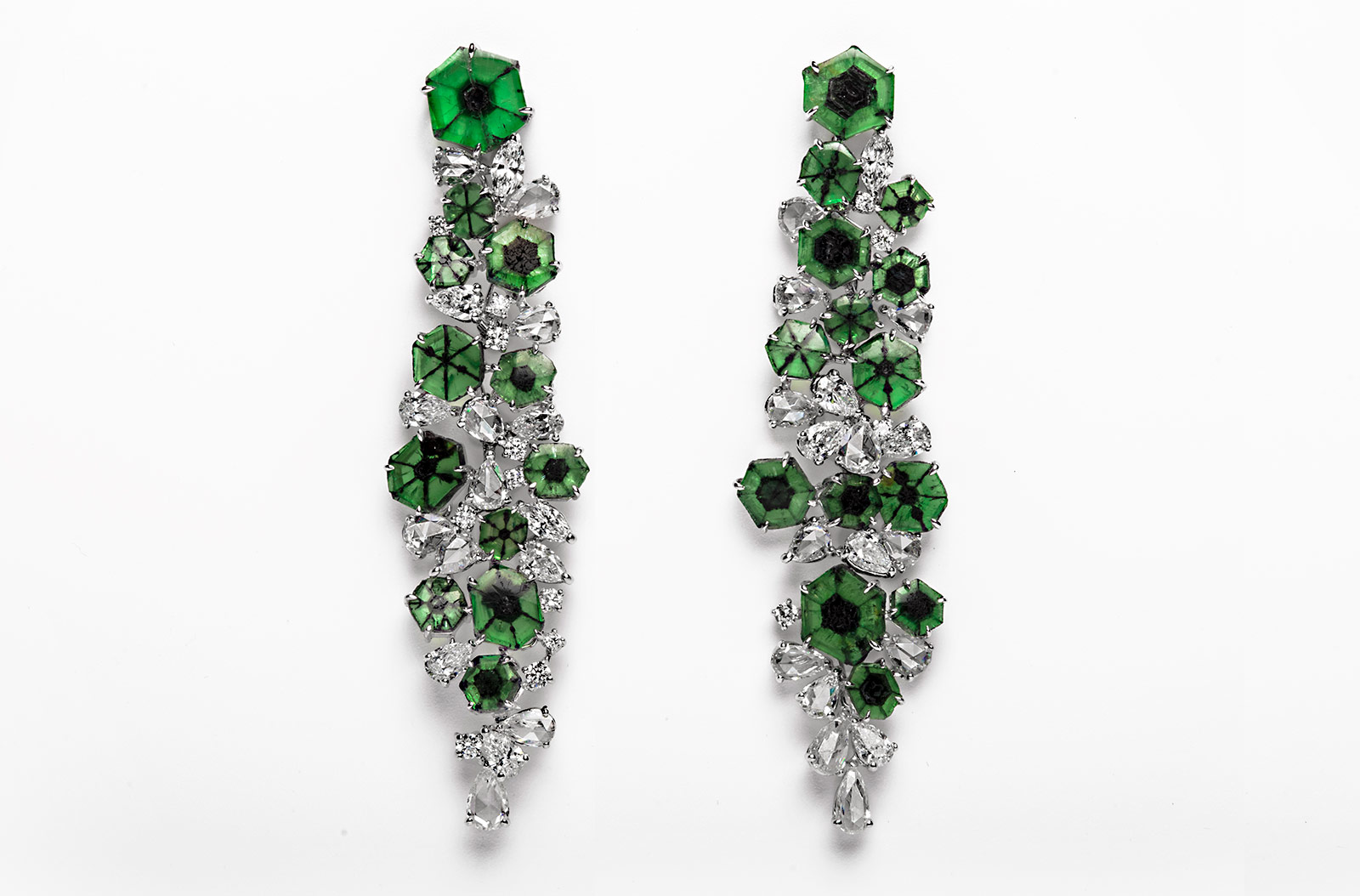 Founder of VMAR Maral Melhem is a huge supporter of everything unusual and that includes her taste in gemstones. You are probably familiar with the brand for its extravagant 'Orion&Ortiga' earrings made with pink tourmalines cut by Atelier Munsteiner. Another variation on the theme of celestial bodies is the 'Orion' ring made of green titanium, the construction of which allows it to withstand a uniquely cut 16.54 carat Colombian emerald. Criss-crossing lines encrusted with diamonds mimic the facets of the beryl and form geometric shapes that evoke constellations.
It is no secret to anyone that the most common cut of emerald is the emerald cut as it best defends this wonderful but rather fragile stone from damage. However, when it comes to creating masterpieces, practicalities are not the first priority. It is the originality of the idea which is important. This is why designers at the Moroccan high jewellery maison M Haute Joaillerie, together with H.R.H. Princess Lalla Meryem of Morocco, have decided to 'crown' the one-of-a-kind 'Titania' necklace from the 'A Midsummer Night's Dream' collection with a hexagonal emerald from Colombia. In addition, the titanium lianas that skirt around the neck are studded with sapphires, spinel rubies, tsavorites, amethysts, tourmalines and of course diamonds.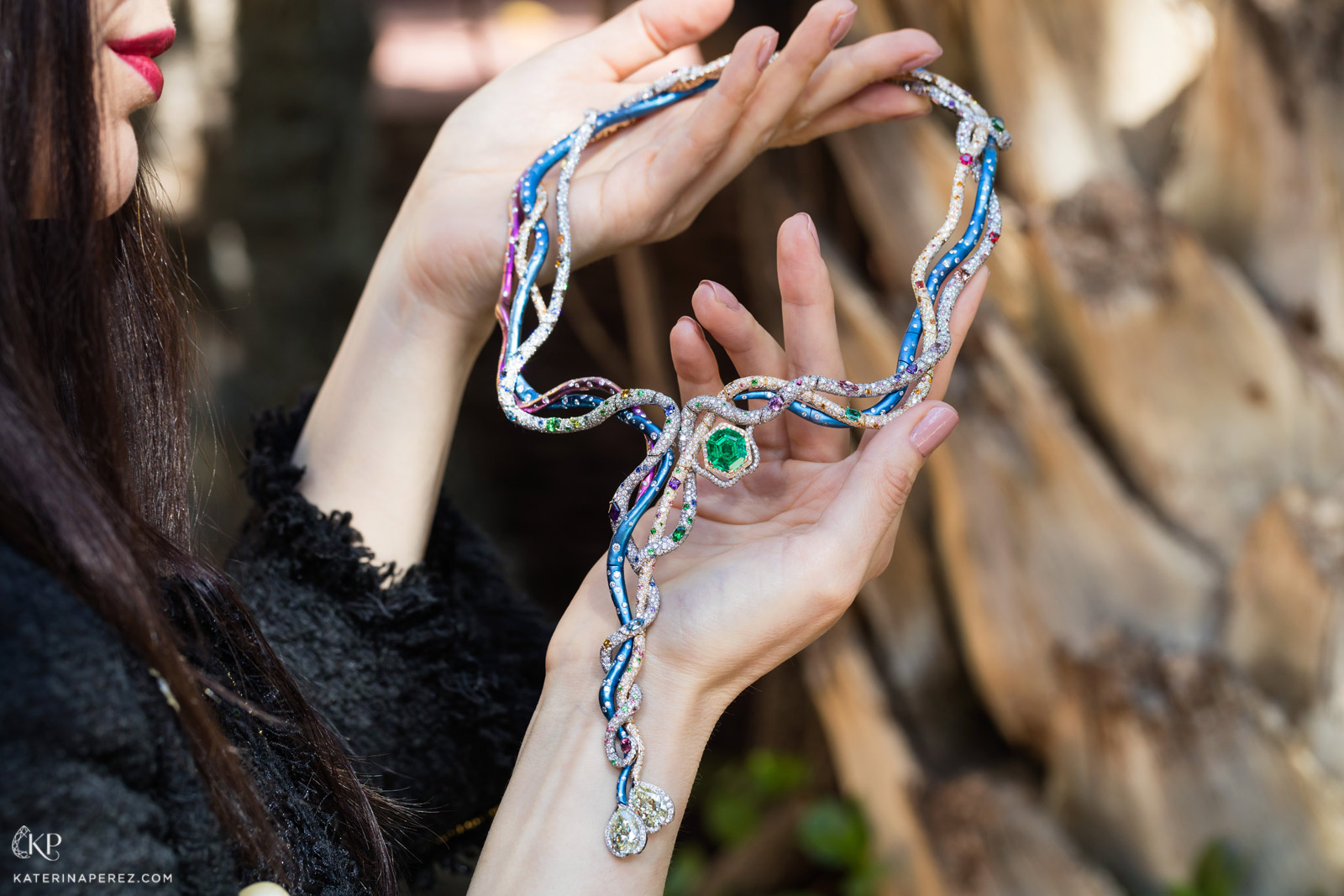 The 5 pieces of jewellery described in this article are just a few examples of innovatively designed jewellery made in the last year. I can say with confidence that their number can only grow in future along with the creative potential of the gifted designers in different countries all over the world.