Leading up to the Couture Show in Las Vegas 2018 - one of the most highly anticipated jewellery exhibitions of the year – I was introduced to the brand's latest 'Essentially Colour' collection. This line is a departure from Picchiotti's signature selection of rich rubies, emeralds and sapphires, into a summer appropriate rainbow of vivid gemstones.
Ten distinctive pieces - among which are seven cocktail rings and three pendants - comprise the 'Essentially Colour' collection. From the first glance, all of the hallmarks that distinguish Picchiotti's timeless style come to view. Quality of craftsmanship, uniqueness of the designs and beauty of gemstones are clearly represented in each and every piece in this summer-perfect collection.
Featuring Paraiba tourmalines, green tourmalines, rubellites, tanzanite, peridot, amethyst, and alexandrite, each gemstone is complemented by colourless diamonds and a white gold setting to bring the bright gem hues to the fore. "Working with coloured gemstones is a matter of love, passion and dedication for me," says Giuseppe Picchiotti, founder and creative director of the brand, "spending a lifetime in search of nature's greatest treasures fulfils me in a deeply personal way."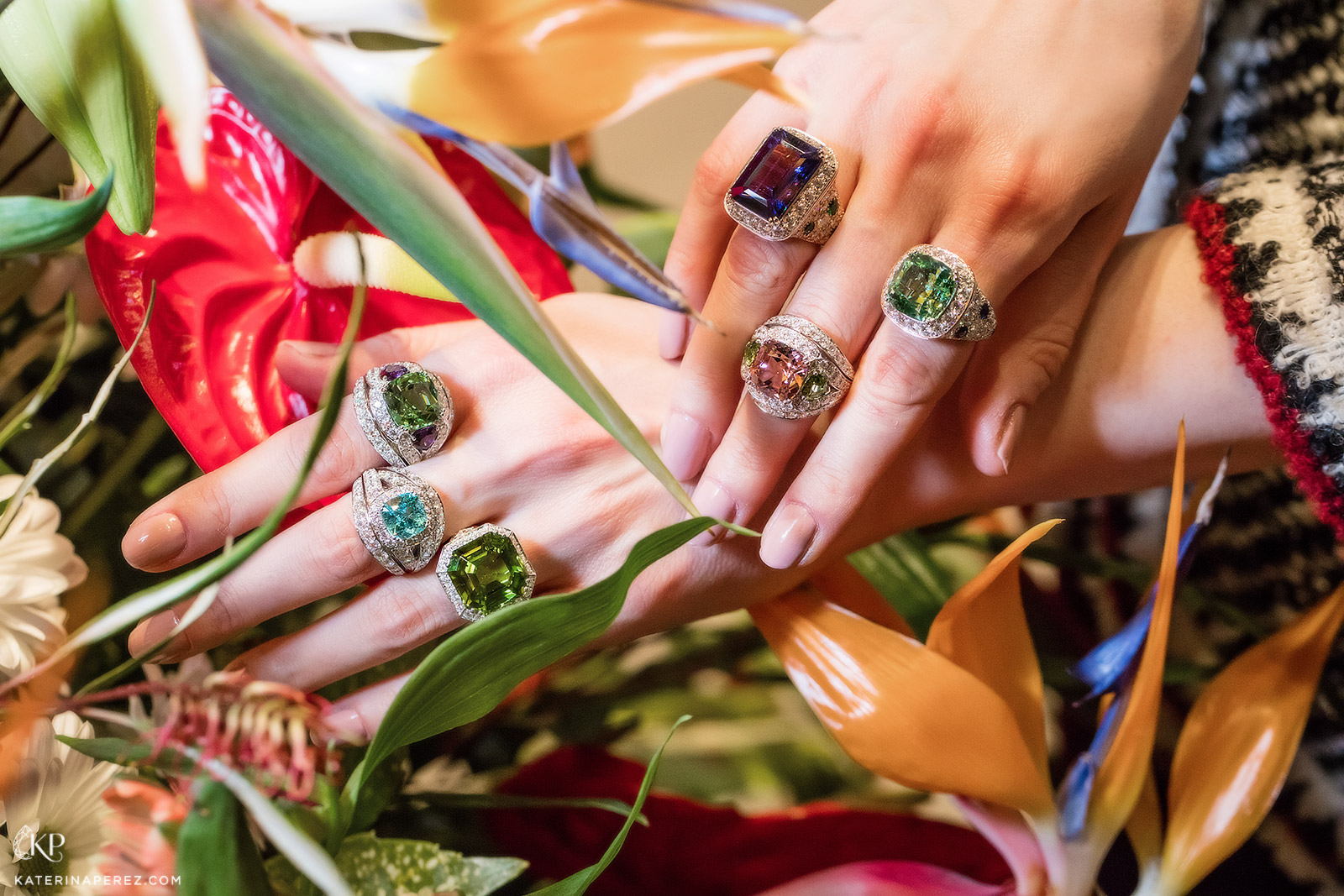 The use of these recently popular but less wide-spread gemstones is more frequently seen in younger, less well-established brands than Picchiotti. However, in the 'Essentially Colour' collection, the Italian company has adapted the signature themes of their jewellery while incorporating exciting new gems seamlessly.
So, what is the inspiration behind the timeless jewelled treasures that Picchiotti has produced? Simply put, it is Giuseppe Picchiotti's fervent research and literal treasure hunting for unique gemstones around the globe. Once the perfect specimens were found, it was simply a case of realising the best designs to celebrate their beauty and the range of their tones.
It is not only the gemstone choices which are unusual for Picchiotti, but "the designs are a little bolder than our usual classical pieces," says Maria Carola, Giuseppe's daughter and Picchiotti's communication director. Indeed; the instantly recognisable retro inspired voluminous jewellery - often with one statement gemstone colour accented by an abundance of diamonds in complex, sinuous settings – has been replaced by art deco-like geometric settings and pendulous fronds reminiscent of art nouveau designs.
The most spectacular 'Essentially Colour' jewel is the tanzanite sautoir, which is a distinct step in a completely different design direction for Picchiotti. The lens shaped white gold pattern contains the vivid gems, while drawing the eye around the length of the necklace. At once modern in its use of the ferociously popular tanzanite, the design simultaneously stays true to Picchiotti's aesthetic codes.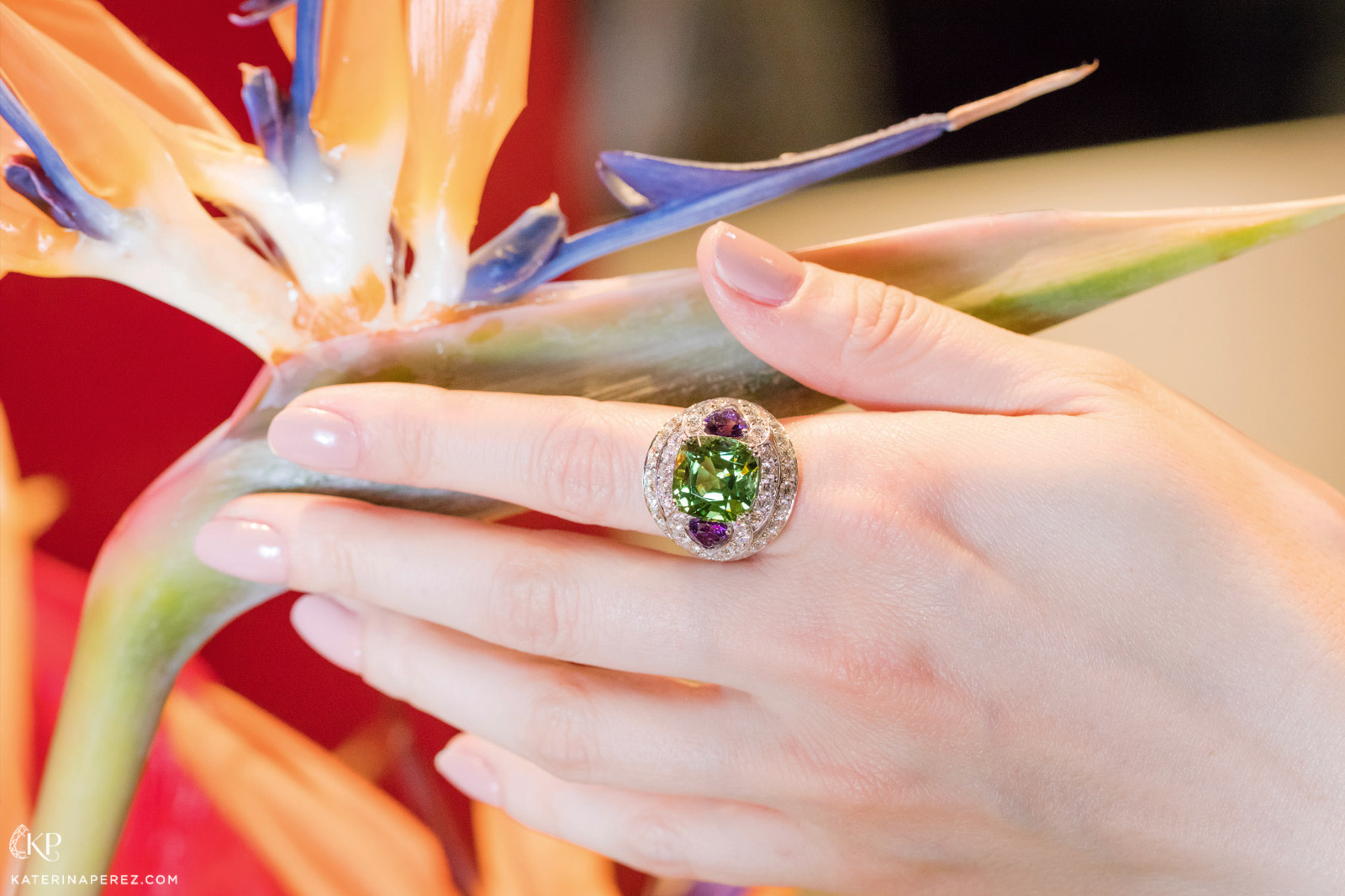 If you are fortunate enough to be visiting Couture Las Vegas this year, be sure to take a moment to wonder at the gemstones which have achieved no small feat of invigorating a brand with half a century of fine jewellery heritage.