This collection follows the first narrative about the king of the jungle that was told in gold, diamonds and other gemstones in 2013. That line was called 'Sous le Signe du Lion' ('Under the Sign of Leo') and - in the words of its creators - was dedicated to the astrological sign under which Coco Chanel was born, as well as the legendary lion of St. Mark, the heraldic symbol of Venice, the city which saved Gabrielle Chanel from grief and despair after the death of her beloved Boy Capel.
If Chanel's youth is associated with Venice, then her later years (and the commercial success that went with it) is linked to the atelier at 31 Rue Cambon. This famous residence, with its Coromandel screens and magnificent mirrored spiral staircase, was where she hosted friends and her select clientele. The apartments of the great Mademoiselle are, to this day, decorated with her favourite things and antique objects, displayed on beams, consoles and mantelpieces. Among them are dozens of lions, as her superstitions lead her to believe that predatory cats were her lucky charm.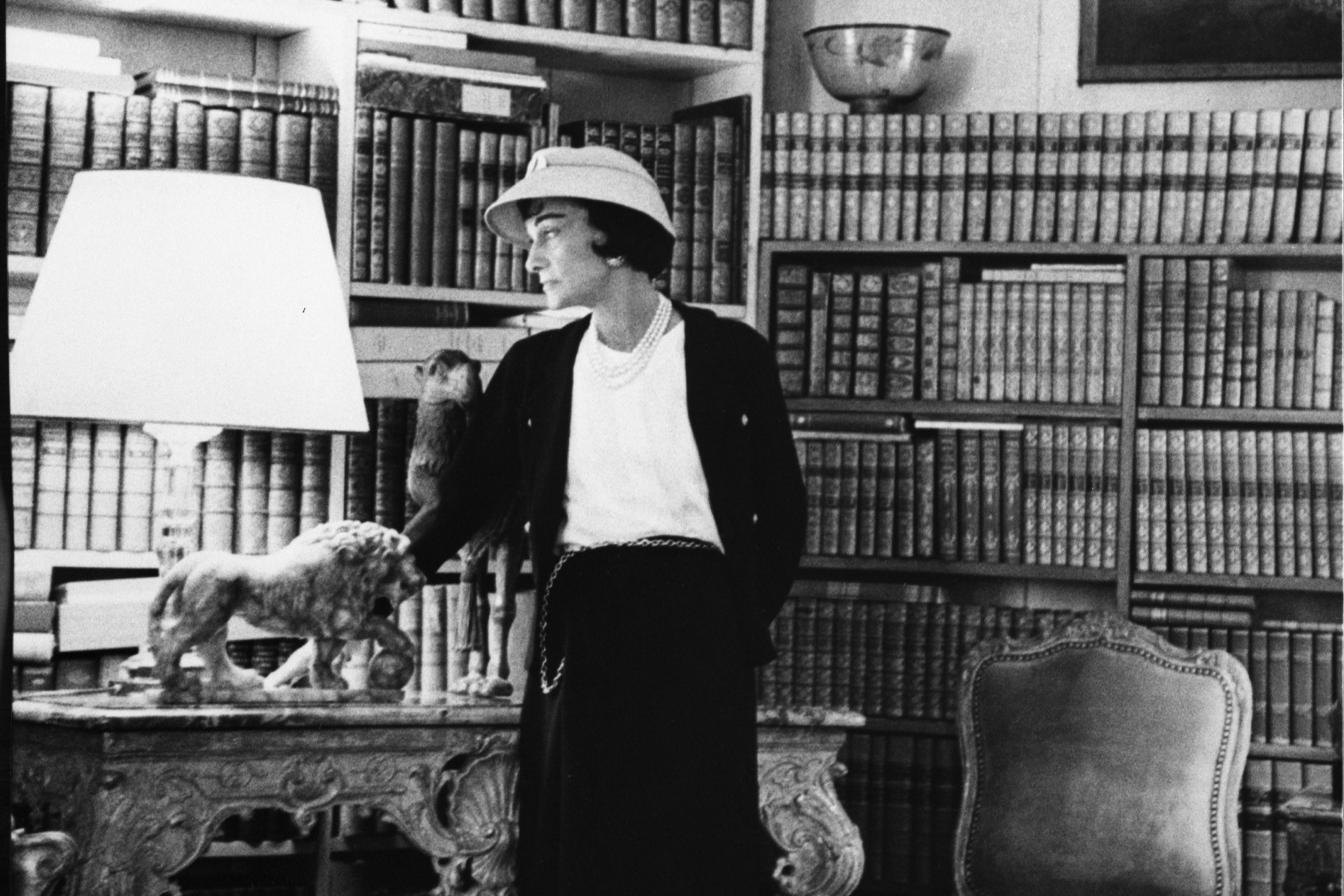 It was this range of omnipotent lions, some cut from wood, others sculpted from marble, bronze or gold-plated, that inspired Chanel's jewellers in Place Vendôme to create this new 53-piece collection, which was shown to clients and industry experts in January 2018 during Paris Fashion Week.
The 2013 lion collection had rutilated quartz as its focal gemstone. For example, a lion's figure was cut from the stone to create the collection's flagship necklace. In 'L'Esprit du Lion', the golden heliodor beryl fulfilled this role. Using the same technique, the engravers cut a lion's snout from the stone to cover the Eternelles watch face. 32 stretched oval cut heliodors adorn the Dazzling necklace, the most extravagant in the collection, 15 decorate a bracelet and 3 were assigned to a pair of asymmetric earrings.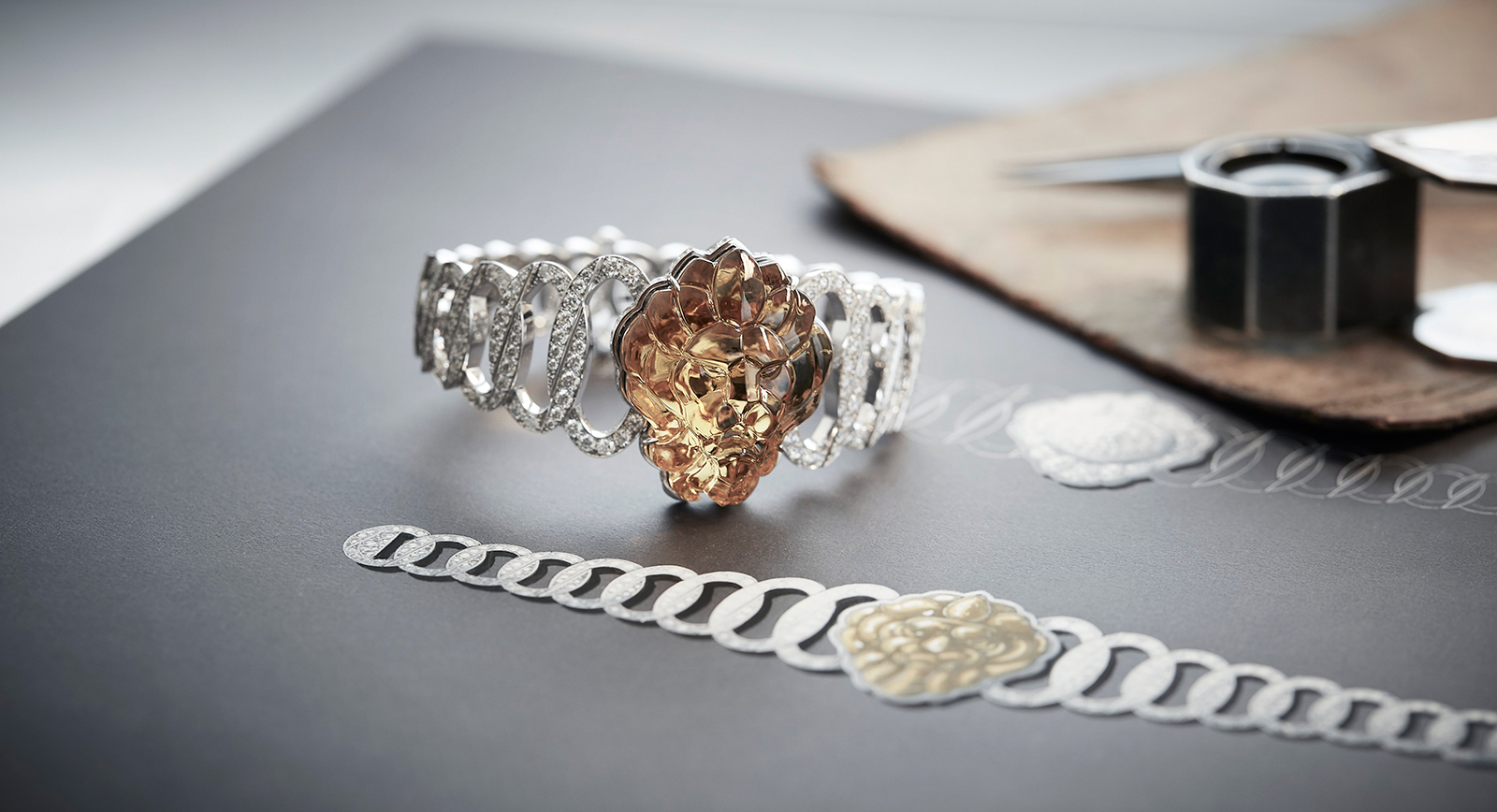 Another vibrant stone chosen by the collection's creators is a bright orange octagonal topaz that recalls the shape of Place Vendôme, and the perfume bottle stoppers of Chanel No. 5. This was the focal stone of the 'Passionate' line, featuring a transformable necklace boasting a 30 carat topaz, a bracelet and chandelier earrings. The orange topaz is accented by pink and lilac sapphires in a variation of cuts.
Lion snouts and profiles are cast in a variety of poses by the jewellers at Chanel with – almost without exception - a thick link chain motif. Whereas the sautoirs have chains which are usually ductile, the collar necklaces and cuff bracelets are solid and broad. This is a frame, bejewelled with pavé set diamonds, that only resembles a chain. Amongst the pieces in the 'Eternal' collection - an asymmetric white gold and diamond necklace and a bracelet - there are several types of chain with links of varying sizes.
The frames of the jewels have been produced in 18 karat white or yellow gold, or platinum. Several pieces have been duplicated to produce a number of iterations: for instance, there are the 'Timeless' brooches made of yellow gold, yellow sapphires and diamonds, as well as a version in white gold and diamonds. The 'Protective' collection also includes pieces made using colourless diamonds, or a combination of colourless and tawny diamonds: a brooch pin, a bracelet, a necklace, chandelier earrings and a magnificent ring with a cushion cut yellow diamond weighing nearly 5 carats. However, that isn't the biggest stone of its type in the collection: for the 'Legendary' necklace, the jewellers selected a 30 carat stone.
Among the highlights of this collection are a ring with a 5.28 carat marquise cut colourless diamond from the 'Commanding' line, and the elegant 'Byzantine Brilliant' ring containing spessartines, yellow sapphires, diamonds and Japanese pearl, comprising two parts joined by a chain.
The confidence and strength of the Lion which was so influential in Coco Chanel's own life has inspired this statement collection, for strong-willed women everywhere who adore fine jewellery.