69.37 carats – that was exactly the carat weight of the rectangular cut Russian Alexandrite in the 'Imperial' necklace by Rubeus, which belonged to the debuting 'Imperial' collection. This Italian company belongs to the small number of ultra-luxury brands, and this status as reflected in the jewellery that they recently presented in Paris. Nine Alexandrites weighing over 5 carats each were the main design features of the 'Imperial' pieces, inspired by the gemstone crystals formed deep within the bowels of the earth. Before Rubeus, not a single jewellery brand had included so many of the rarest Alexandrites from the Ural mountains in a single collection throughout the entire history of jewellery art. The second largest faceted Alexandrite, weighing 29.62 carats, adorns the 'Imperial' ring.
Have you ever heard of heliodor - a 'relative' of emerald and aquamarine? This attractive yellow coloured gem also comes from the beryl family but - unlike its famous counterparts - it appears much less frequently in jewellery collections because it is less well known. This did not stop Boucheron Creative Director Claire Choisne from adorning the 'Duo Taille Emeraude' pair of cocktail rings from the 'Paris Vu Du 26' collection with two specimens weighing 31.03 and 32.50 carats. Both stones with perfect crystal clarity are faceted in the shape of a rectangle, and are outlined with a thin line of diamonds as well as black lacquer. They are mounted into a ring of the same shape - an homage to the brand's logo and the rectangular shape of Place Vendome.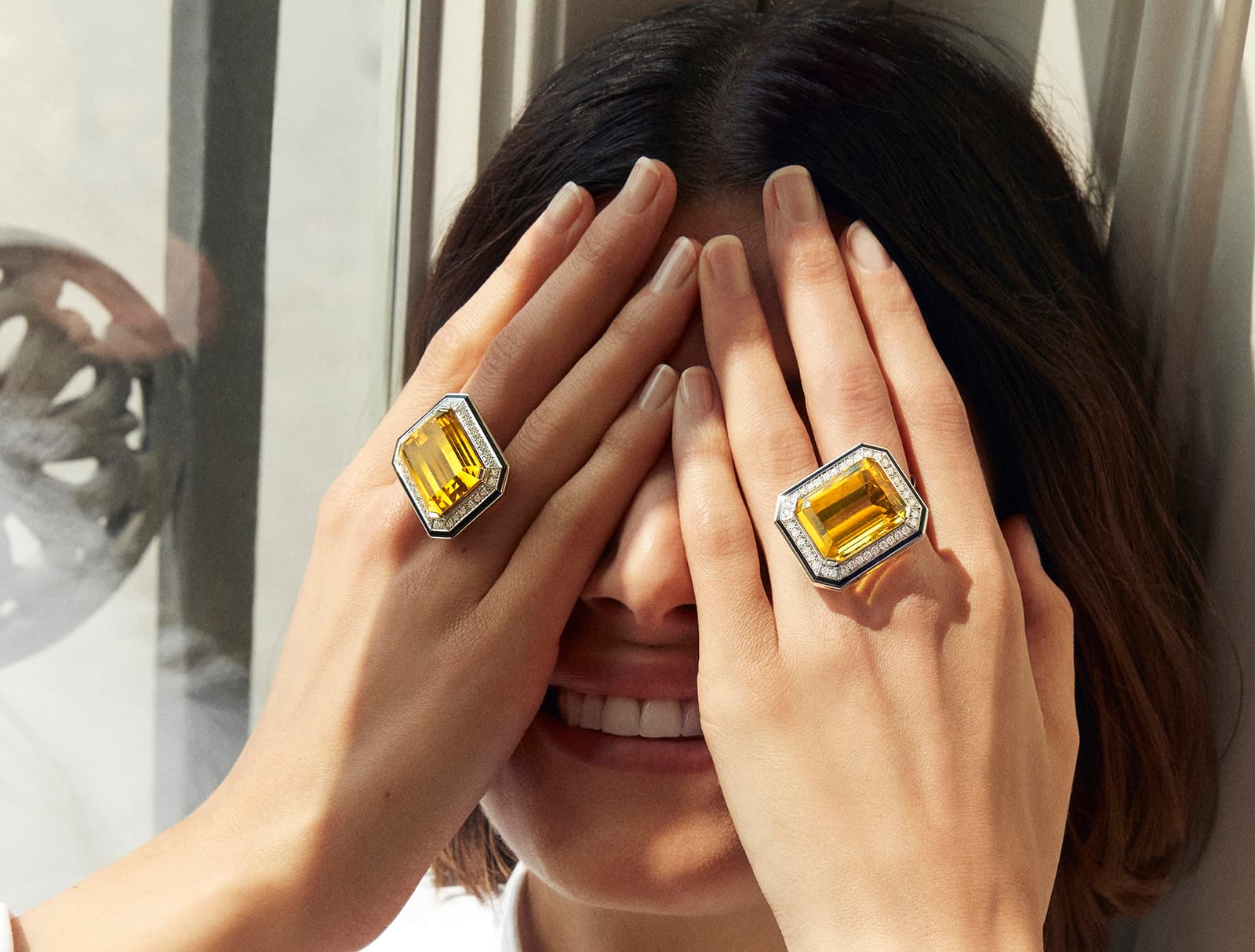 Emeralds are regulars in high jewellery collections, but faceted emeralds that are more than a couple of a dozen carats with good transparency are not so easy to find. One of these completely unique faceted beryls weighing 43.83 carats was used to make the 'Butterfly Rose' cocktail ring by Asian designer Anna Hu. The emerald is surrounded by moonstones, coloured sapphires and diamonds on blossoming flowers with a butterfly perching on them. A sophisticated design and a beautiful gem also merge in the new 'Budelli' cocktail ring by Buccellati. The kunzite, weighing 19.20 carats, is decorated with a lace skirt of white and yellow gold made with the same traditional methods behind manufacturing delicate lace - which has become a signature of the Italian brand.
I regularly come across large aquamarines used by jewellers in their designs alongside other precious stones. However, a pair of pear cut blue beryls with a total weight of over 100 carats surprised not only me - but possibly all of the visitors at the launch of the 'Romeo & Juliet' collection by Van Cleef & Arpels. The two giant stones in the 'Fiore' bracelet do not look out of place despite their large size; due to the mosaic pattern of sapphires, emeralds, black spinels and diamonds that complement them. The overall composition is devoted to the fountains of Verona where the plot of the work by William Shakespeare unfolds.
Large, high quality sapphires weighing over 20 carats are quite rare, especially if any of them is a Burmese stone. Such collectible corundums have long been an object of desire amongst jewellery lovers and collectors alike, and now they have had the opportunity to enjoy one such precious jewel: namely a necklace from Bvlgari's new 'Cinemagia' collection and its completely unique sapphire. This stone from Burma has a rich blue colour, weighing 70.22 carats after being cut into a sugarloaf shape, and is accented with 11.36 carats of sapphires and 28.16 carats of diamonds.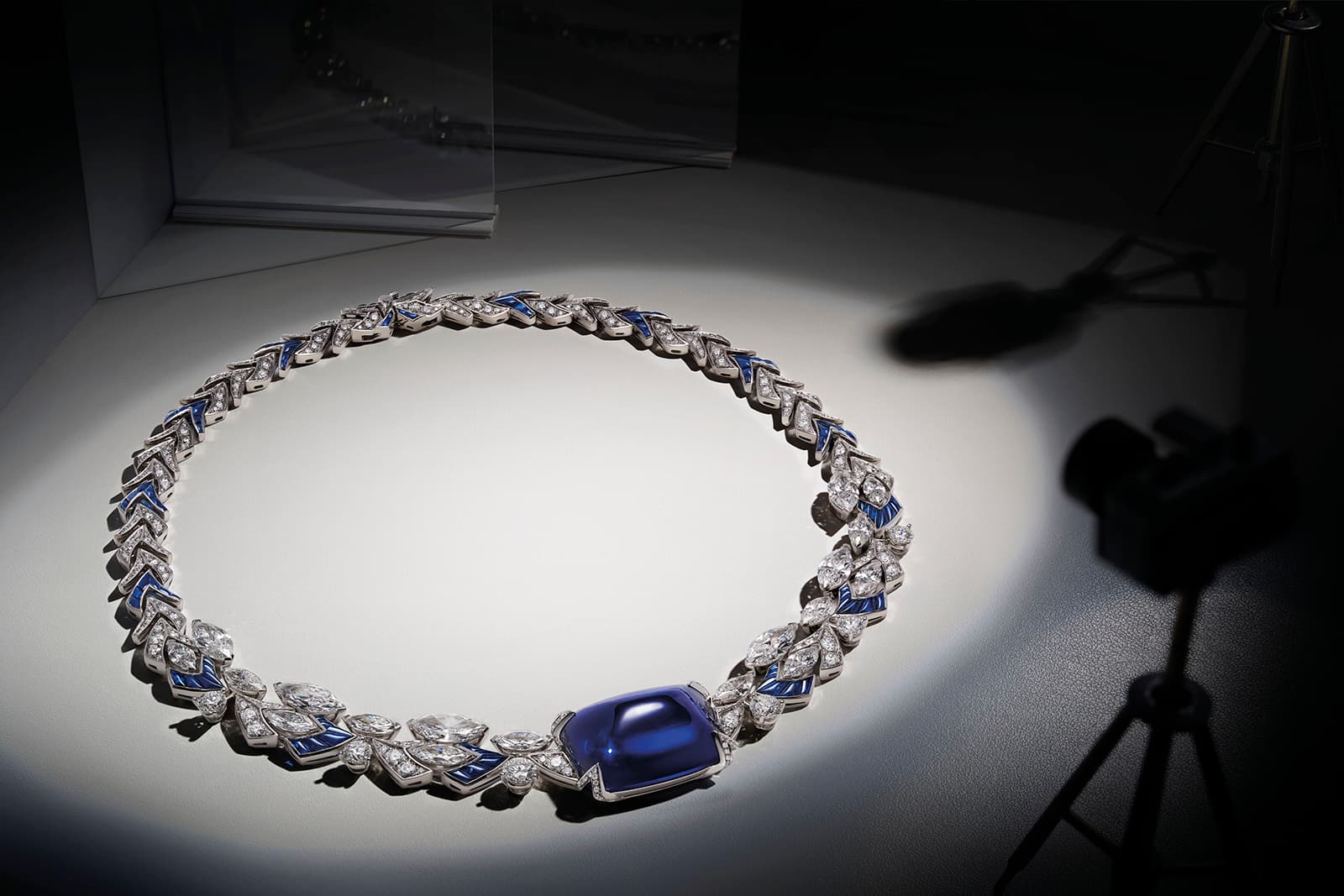 To finish things off, I want to draw your attention to the 'Lueurs d'Orage' necklace from the 'Les Ciels de Chaumet' collection. It is decorated with sapphires of various shades from Ceylon and Madagascar, spinels and diamonds, which swirl around like a whirlwind around the most important gemstone: the Imperial topaz. This pear cut stone is one of exceptional size and quality, weighing 37.68 carats and sporting a orange pink tone which typifies the standard of this gem.
Gems become an inseparable part of jewellery - as a rule - due to their naturally rich colour, their sporadic appearance in nature or their impressive carat weight. However, if all these three aspects merge together, there is no doubt that such a gemstone will elevate high jewellery into a masterpiece.