The first thing to note about Nour by Jahan is that it's both independent and interlinked with the wider Jahan brand. You'll find a separate website and a fresh look-and-feel, but this designer's story is inextricably linked to that of her family's magnificent high jewellery heritage. "I am truly blessed to have this dynasty and heritage behind me," Nour explains. "Jahan's solid and respected reputation gives Nour by Jahan a huge advantage and each jewel is made to the very highest standards with all the assurances you would expect from my family."
In addition to this, Nour by Jahan has all the hallmarks of a youthful and independent brand designed for women who want to infuse their daily lives with jewellery. You could say that 23-year-old Nour is designing for herself, which is why pieces are so wearable and can so easily transition from daytime to evening appropriate. And while filling this fine jewellery niche she is also expanding her family's operations to meet the needs of a new customer. To find out more, I spoke to Nour and asked her my questions about history, heritage and the life lessons she's learned from starting a diffusion brand in the midst of a global pandemic!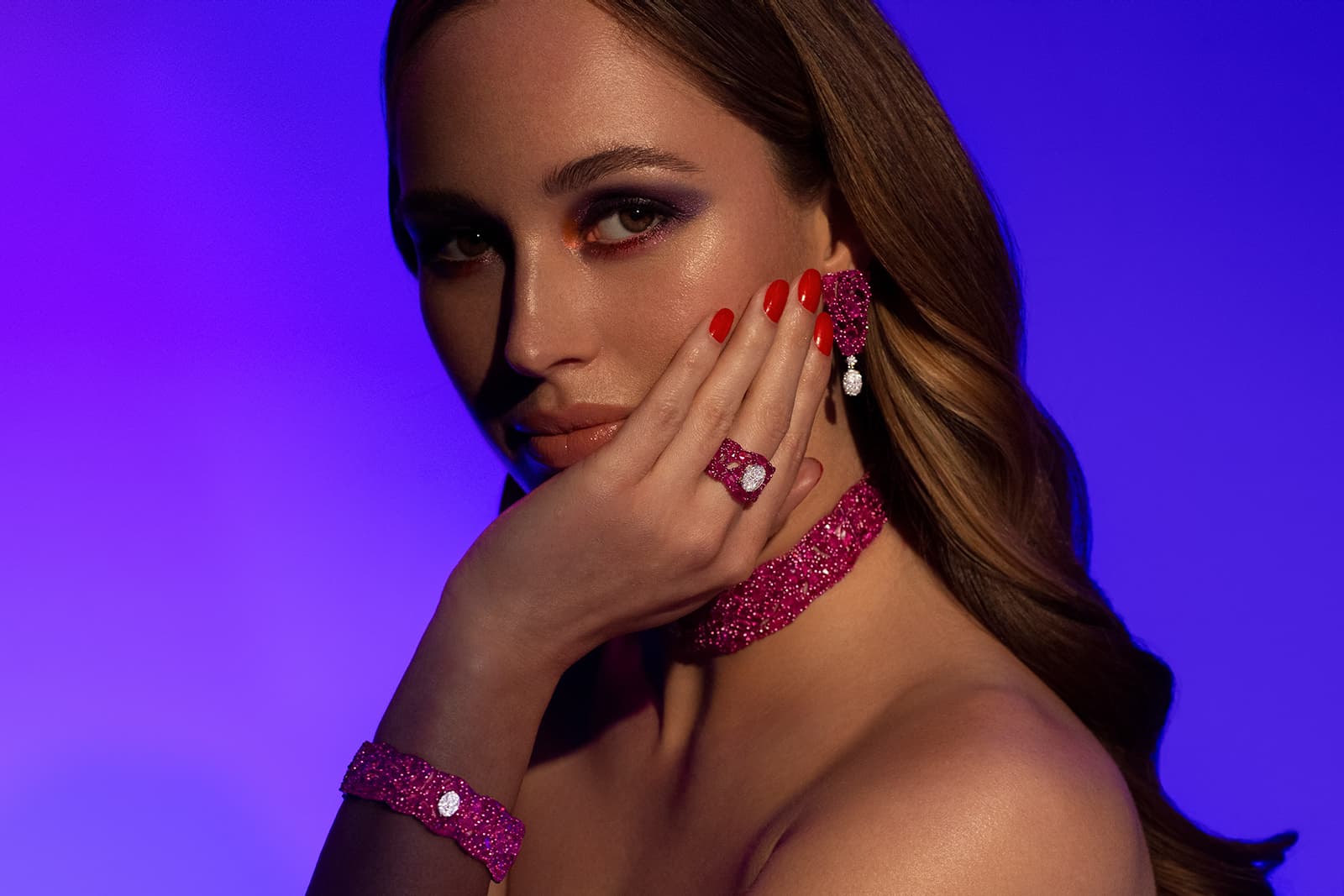 Katerina Perez: Why did you decide to add to the Jahan story with your own Nour by Jahan line?
Nour Jahan: Each generation brings something new to the family business and I feel that it is my duty to expand our operations. Being born into the world of jewellery and craft, I have always loved it. I grew up seeing my family's devotion to creating such magnificent jewellery and instantly knew it was something that I wanted to be a part of, which is why I am taking this step to create my own line, Nour by Jahan. Nour translated from Persian and Arabic means 'the divine light' and I see the art of creating jewellery as my way of sharing my inner light with the world. When you wear Nour by Jahan jewels, I want you to feel special.
KP: You are the eighth generation of your family to specialise in jewellery. Did you study or train in any other disciplines that help you today?
NJ: I studied BSc Economics and Management at Kings College in London and then obtained an MSc in Psychology of Economic Life at the London School of Economic. I learned many important skills and assets in business that help me everyday at work. However, I could not imagine doing anything else, as jewellery has always been my biggest passion in life. My love affair with jewellery began in childhood. Every day after class I would head straight to our Geneva workshop to watch beautiful jewels being created by my uncle Shahpour, CEO of the Jahan Company. I would sit by his side as he analysed gemstones and refined his designs. With the gemstones laid out before him, he would explain to me who they were for and what he intended to do with each stone. I was fascinated by his boundless knowledge and appreciation of gemmology. The more I learnt about our craft, the more determined I grew to become a world-renowned jeweller.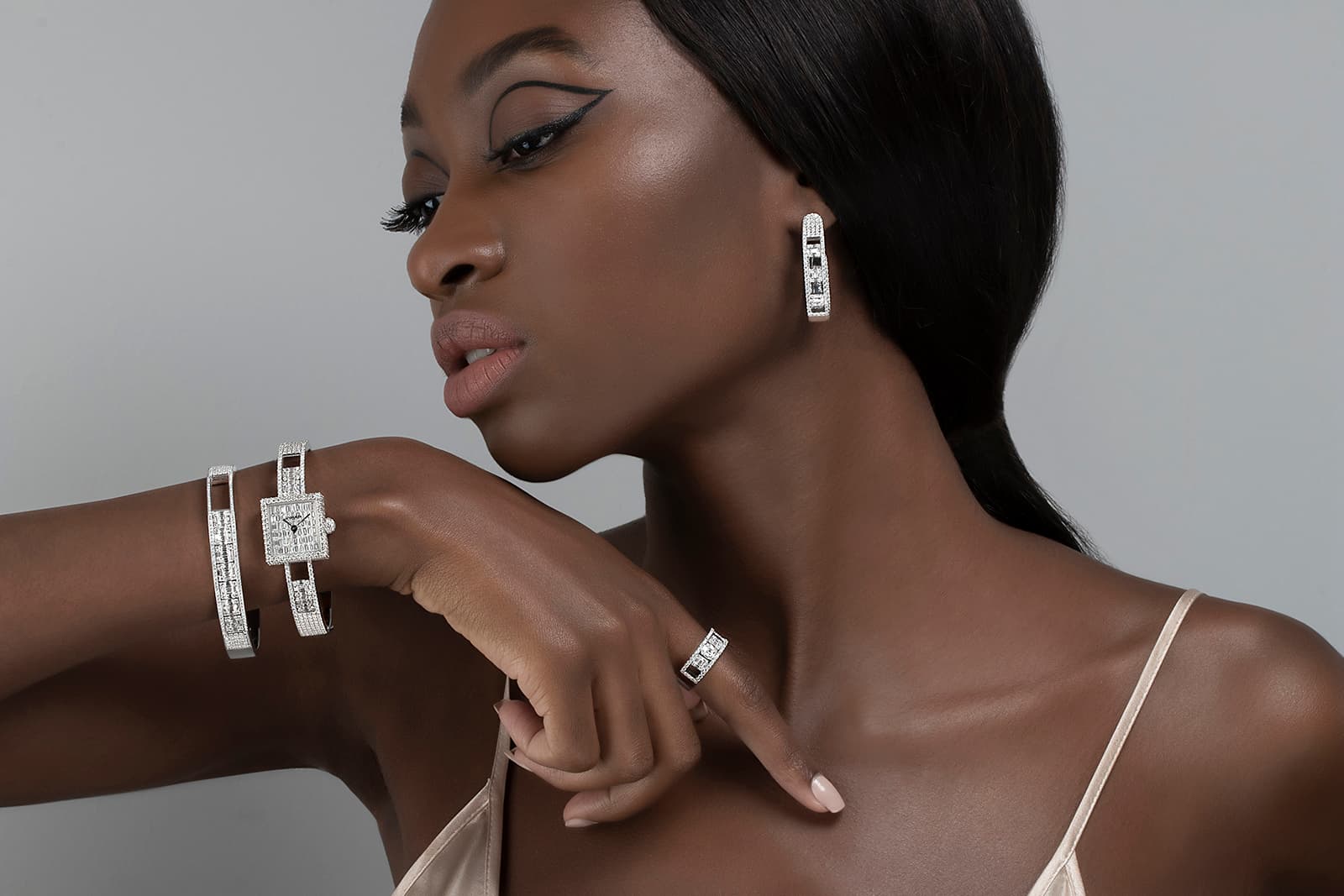 KP: Nour by Jahan only launched in 2020; how has the experience been so far and what have you learnt in this short time?
NJ: Launching in 2020 has been a real challenge due to the global pandemic but I am proud to say it has been a real success. Loyal Jahan customers have been very excited about the new collections. Nowadays, digital and social media enables the brand to reach out to the world and show the jewellery collections worldwide. The brand story as well as the description and price details about the jewellery are all available via the website. Our online shopping platform is great, giving the clients the possibility to purchase in one click and we deliver to their door, worldwide.
KP: Can you tell me about some of your core Nour by Jahan collections and why they exemplify the brand?
NJ: All my collections share one common message – the light, but each collection has its own story. For example, the Nour by Jahan Signature collection sets different shapes of sapphires and diamonds as if they are floating in the night sky and the stones sit directly against the bare skin. Jolie uses mixed shapes of diamonds, as I believe that like diamonds, we have all different sides of our personalities. For Dancing Diamonds, my inspiration comes from the sun's energy as it lights up the whole sky; dazzling in its beauty and illuminating everything it touches. Movement is a key element in the Nour By Jahan jewels and each brilliant-cut diamond dances playfully along its own band of pure gold in this collection. Just as the sun brings its brilliant glow to everything it shines its light on, so do you as you wear the Dancing Diamonds collection. It took a long time to get this just right and it requires the expertise of master jewellers with many years' experience at the bench.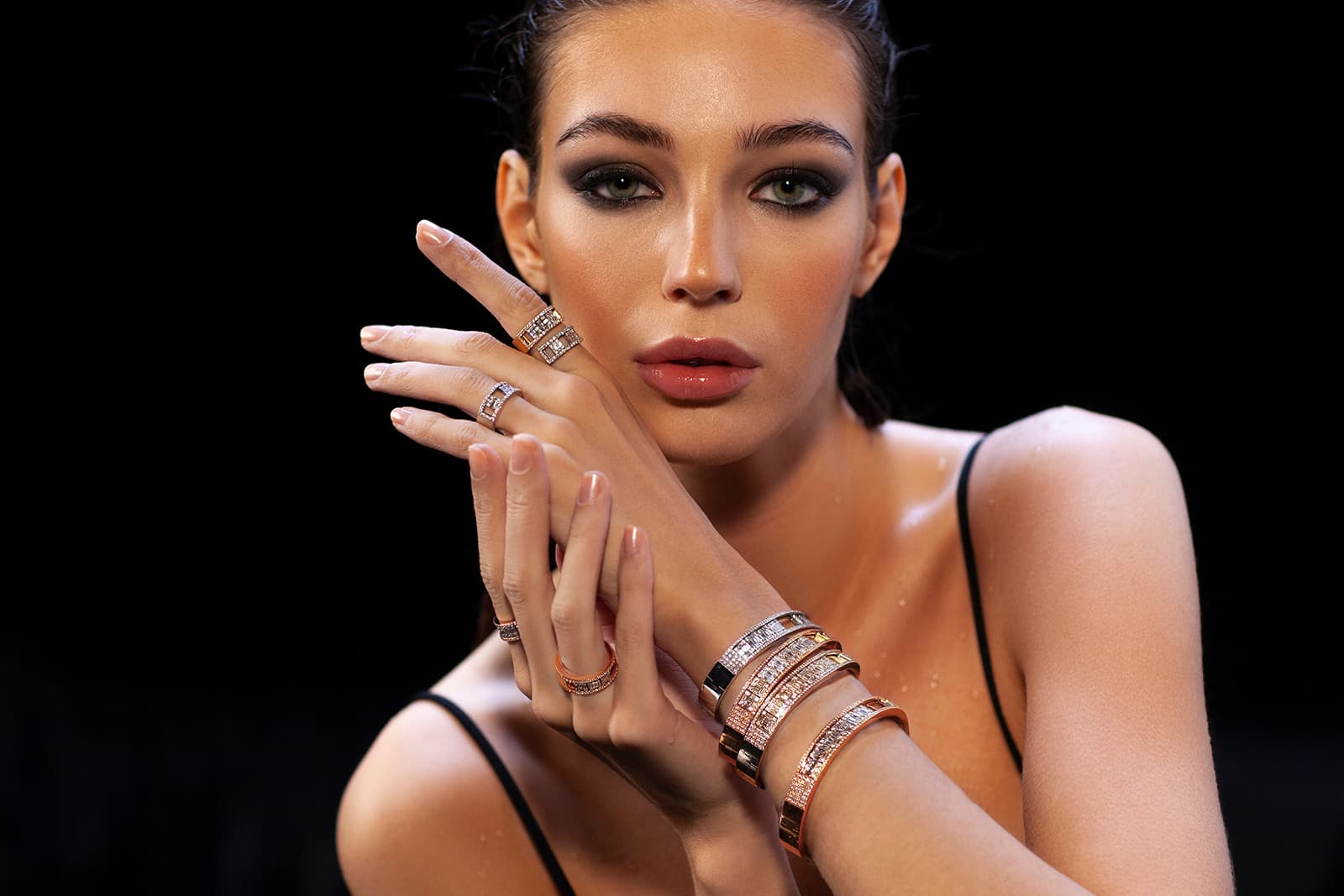 KP: What is your design process and what inspires you?
NJ: I design every single piece and I personally check every step from start to finish of the creation process. I sketch with pen and paper and then I take it to be converted into a 3D computer-aided design to refine and perfect every detail. As for inspiration, I find it every day in the beauty of the world surrounding us, as my jewels capture the essence of a moment. I see the beauty of the world and the things surrounding me and I transform them into a work of art. When passion is combined with precision and perseverance, the creation of each statement piece becomes the ultimate art of sculpture. My aim is to create perfection.
As the first female to join the family business, Nour is bringing her own spirit to the role and her own perspective as a young, worldly, and educated woman. The Nour by Jahan line is the perfect complement to the wider Jahan legacy, which can now dress even more aficionados with its storied blend of craftsmanship and savoir-faire.