This new high jewellery collection continues, but in no way repeats, the winter collection RoseDior. Instead, it is dedicated to the historical heritage of Monsieur Dior and offers a complete renewal and transformation of some of the Maison's most iconic 'calling cards', alongside the revival of the Dior boutique at 30 Avenue Montaigne. Models showcasing dresses from Dior's collections have descended the stairs of this historic building since 1947, and an advertisement for one of the brand's fragrances was filmed here... now there will be a roof garden and an exhibition gallery.
This global reconstruction inspired Victoire de Castellane, creative director of Dior's fine jewellery division for over 20 years, to create a whole "Dior world" in which romantic roses, stained-glass roses, futuristic roses and abstract haute couture roses luxuriantly and harmoniously coexist. Taking a closer look at the collection, we can distinguish 6 'chapters', each of which presents the rose in its own way: Couture, Couture Abstraite, Vitrail, Futuriste, Gem Dior and Rose Mantique.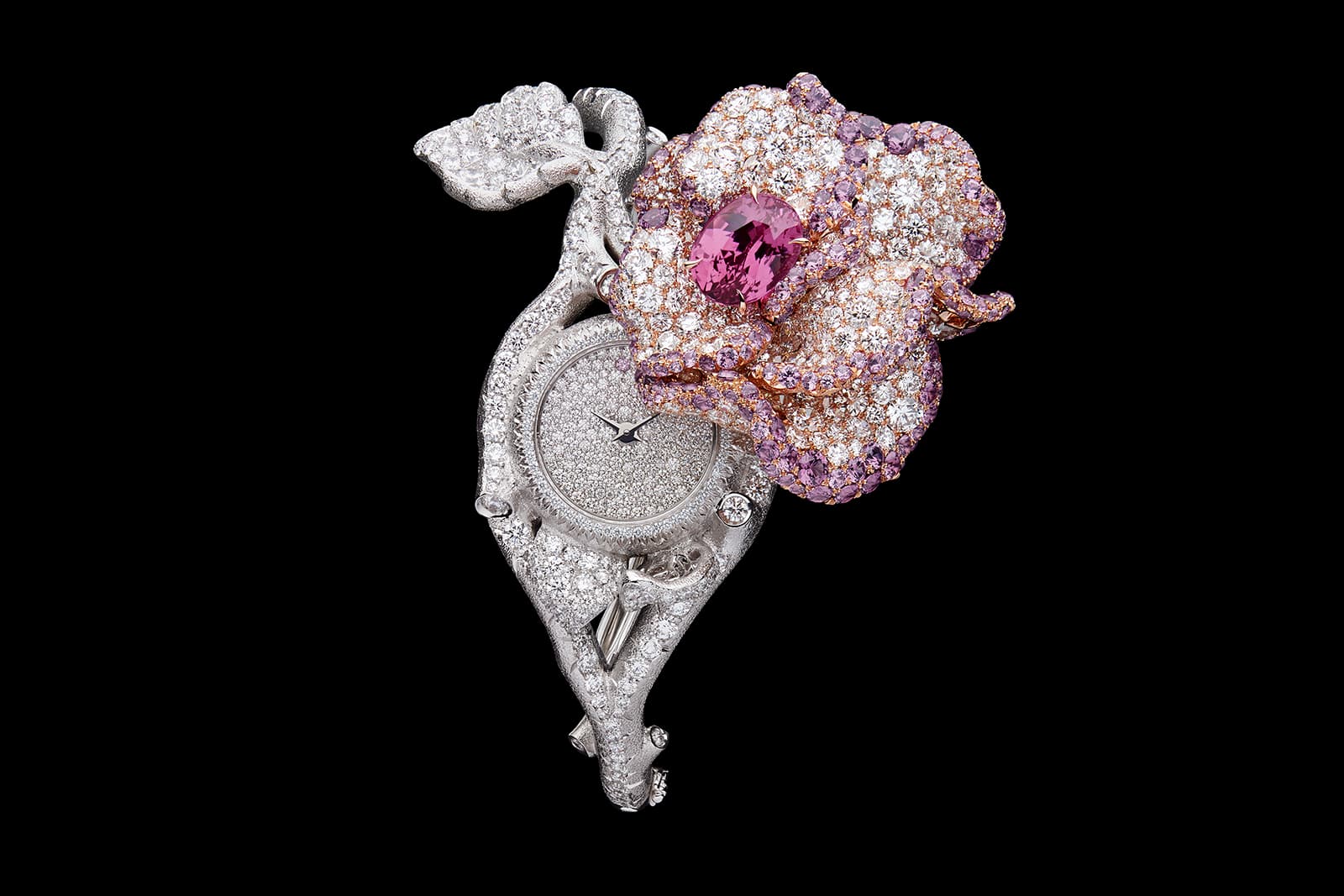 In its most romantic imaginings, the rose is the closest to the image that nature itself created. The Rose Mantique parure, consisting of a necklace, earrings, bracelet and double ring, combines blue Myanmar sapphires, emeralds and diamonds. An angled emerald-cut diamond illuminates the necklace and ring, while faintly blossoming pink sapphire flowers with pistils 'sit' on the diamond sepals. I especially like the jewels with petals outlined in red and pink lacquer.
In its stained-glass incarnation, the queen of flowers, as if made of coloured glass, is 'dressed' in harmonious gradients of green and red tones variously produced by velvety Colombian emeralds and Mozambican rubies. The transparency and permeability of light is fully ensured by baguette-cut diamonds and, of course, rose-cut ones too.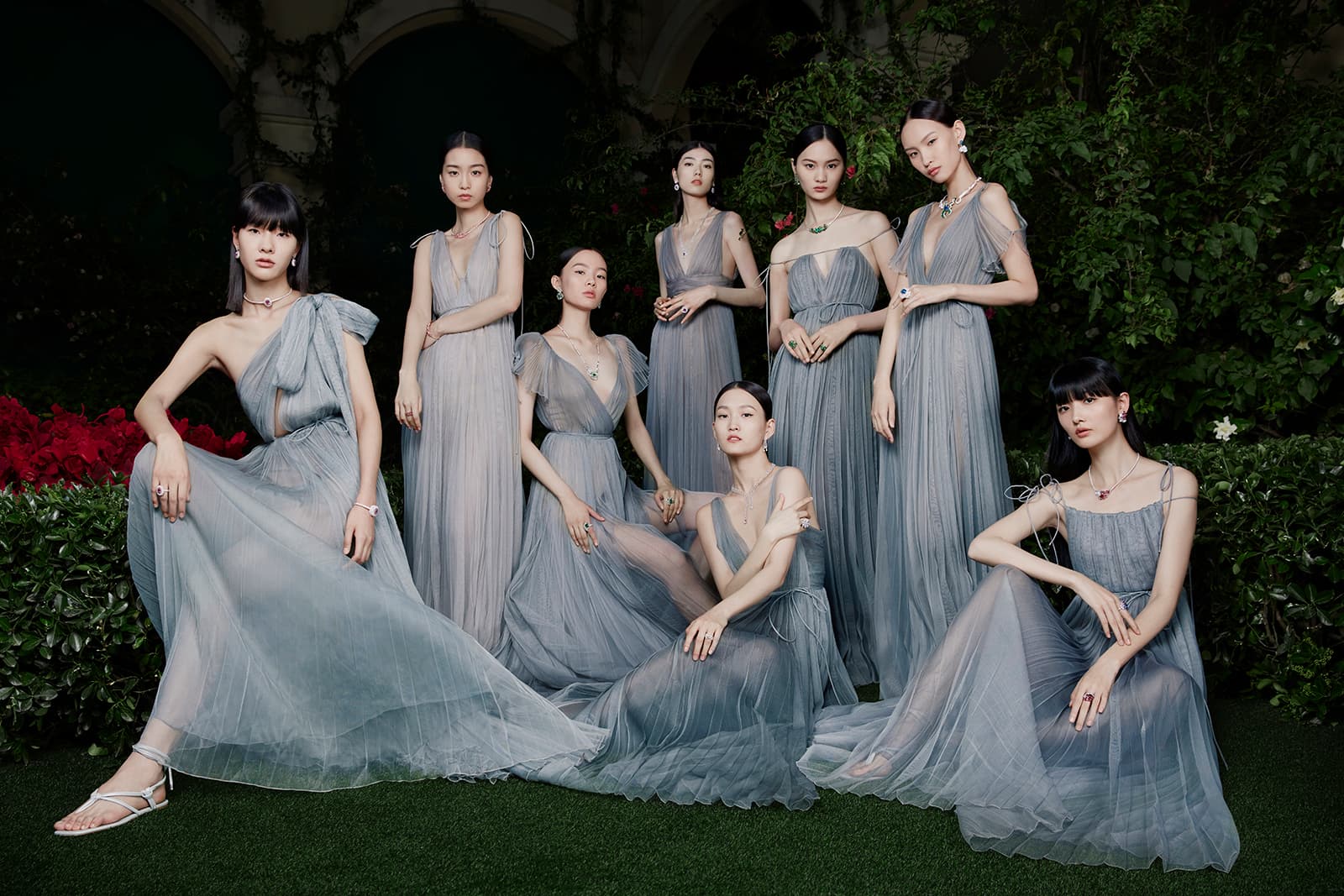 And futuristic roses, as is typical of avant-garde art, are keen to surprise with their unusual shapes; like peering at a pixelated, very low-resolution photograph, we can only see the outlines. Opals, Zambian emeralds, lacquered 'claws', golden South Sea pearls, pink spinel and tsavorites - this precious arsenal is designed to complement each other in an original interpretation of the flower.
The abstract rose, enjoying the privileges of 'haute couture' status, appears in a more symbolic form. Sri Lankan sapphires, scarlet rubies and yellow diamonds that border the central stones could be easily mistaken for real petals. At the heart of the Dior Rose collection, incidentally, you can find many references to previous collections. For example, Victoire has added some diamond and sapphire jewellery made in the style of the earlier GemDior collection.
The jewellery from the Couture chapter has practically nothing to do with the rose flower but they include some iconic elements of Dior jewellery such as the unusual kite-cut diamonds that Victoire used in the 2017 collection Dior à Versailles, Côté Jardins and the 2018 collection Dior Dior Dior. I should also point out that this is not the first or even the second collection dedicated to Monsieur Dior's favourite flower. Exactly 10 years ago Victoire created the Le Bal des Roses collection in which she used various carved stones as petals.
The Dior Rose collection is now the Maison's most extensive high jewellery collection. Its presentation to Dior VIP clients took place in early June in Chengdu (China) in the format of a dinner and a show. The creative director of the company's fashion division, Maria Grazia Chiuri, designed evening dresses especially for the occasion using the colour palette of a cloudy sky, something which worked to accentuate the colours of the jewellery's gemstones.