To mark the 20th anniversary of the 'J12,' a new version of the watch has been created, with the design's priority being to stay true to the original. Minor evolutions have occurred which are imperceptible to the naked eye or to anyone other than a connoisseur, whilst updating the classic white and black ceramic and diamond embellished 'J12'.
The 'Première' was the first watch created in 1987 exclusively for women by Chanel. It was inspired by the octagonal shape of the N°5 bottle-stopper, which - in turn - was an interpretation of the Place Vendôme shape. For 2019, the 'Première' collection has expanded to include new colourways, as well as an exceptional manchette featuring links dappled with diamonds and pearls, and a watch which seems to float amidst them.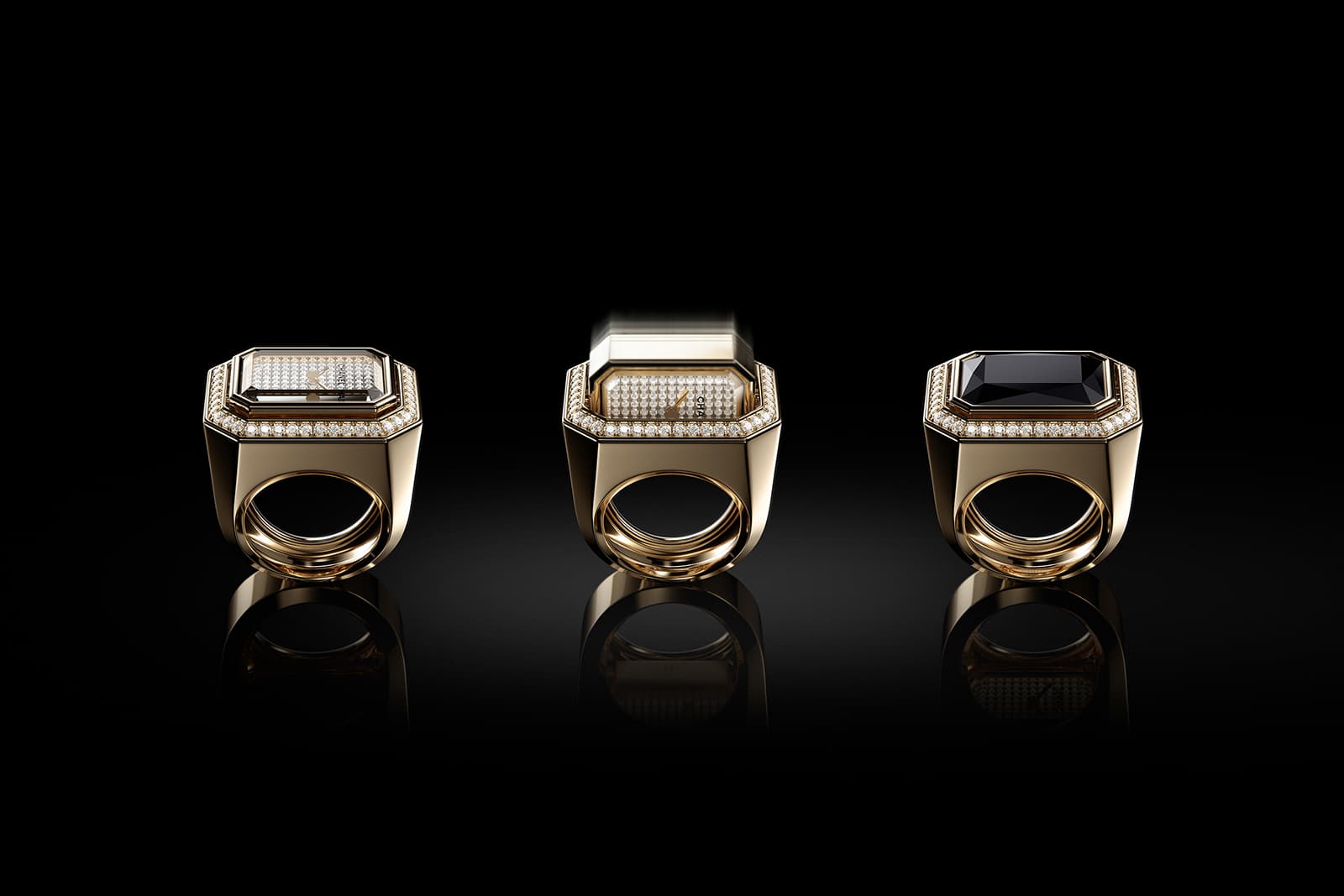 Imitating the clasp of Chanel's most famous design - the 2.55 bag created by Mademoiselle Chanel in February 1955 - the 'Code Coco' has become a favourite watch among fashionistas and jewellery lovers alike. This design harks back to the first women's watches, which were secret watches - as it was considered unfeminine to check the time. Whether worn open or closed, the 'Code Coco' can conceal or unveil the time. With a diamond on the black dial, the quilted design of the precious metal strap further alludes to the handbag which has been the muse for this creation. The latest 'Code Coco' is available in beige gold version - an exclusive Chanel alloy - as well as steel and ceramic models with diamond set dials, and two breath-taking high jewellery versions resplendent in diamonds or rubies.
'Mademoiselle Privé' is a collection which opens the door to the intimate world of Gabrielle Chanel, and showcases her most cherished symbols and objects she surrounded herself with. This year, this line includes a sautoir inspired by the poetic beauty of the Coromandel screens Gabrielle Chanel coveted. The Chanel Watch Creation Studio has enlisted the expertise of artisans - enamellers, engravers, carvers and stone-setters to design this specialist piece, featuring onyx, 18 karat beige gold and diamonds.
Chanel is a jewellery house that is not afraid to play with tradition, and the 'Boyfriend' series of watches perfectly exemplifies this. The 'Boyfriend' upholds the art of merging elements from the masculine and feminine wardrobe, which was key to the fashionable ideology of Mademoiselle Chanel. The new 'Boyfriend' watches experiment with a range of colourful yet traditional tweed prints, as well as the 'Skeleton' style face in intense black.
Whatever your style, there are a plethora of Chanel watches to choose from - whether you are looking for an all-out fully diamond embellished jewellery timepiece, a masculine, timeless watch, or an edgy, fashion-led creation that happens to tell you the time!