What I love most about the Tubogas is how it originally came into being. The inspiration for this seminal design came from very humble of origins – a woven metal covering designed to protect gas pipes. The technique of winding precious metals around a central core, mimicking industrial gas piping, was first invented in the late 19th century, but it really took off when Bvlgari mastered the technique in the 1940s. After the long years of the Great Depression, which hit Italy particularly hard, women wanted functional jewels that were also fun to wear, and Bvlgari's first Tubogas designs couldn't have been better timed. Even the name, a clever riff on the Italian tubo gas, which literally translates as gas tube, exuded sleek modernity.
Characterised by its clean, rounded edges, the Tubogas bracelet is a feat of micro-engineering. Crafted in Bvlgari's Valenza workshop, the largest jewellery manufacturing facility in Europe, it requires an enormous amount of time and specialist skill to braid two or more wires of precious metals around a wooden or copper armature without the need for soldering of any kind, after which the armature is either extracted or dissolved in acid. The original Tubogas designs were crafted in gold, but before long Bvlgari was experimenting with different materials to create unique chromatic effects, alternating yellow, red and white gold in bracelets that changed colour as they spun on the wrist.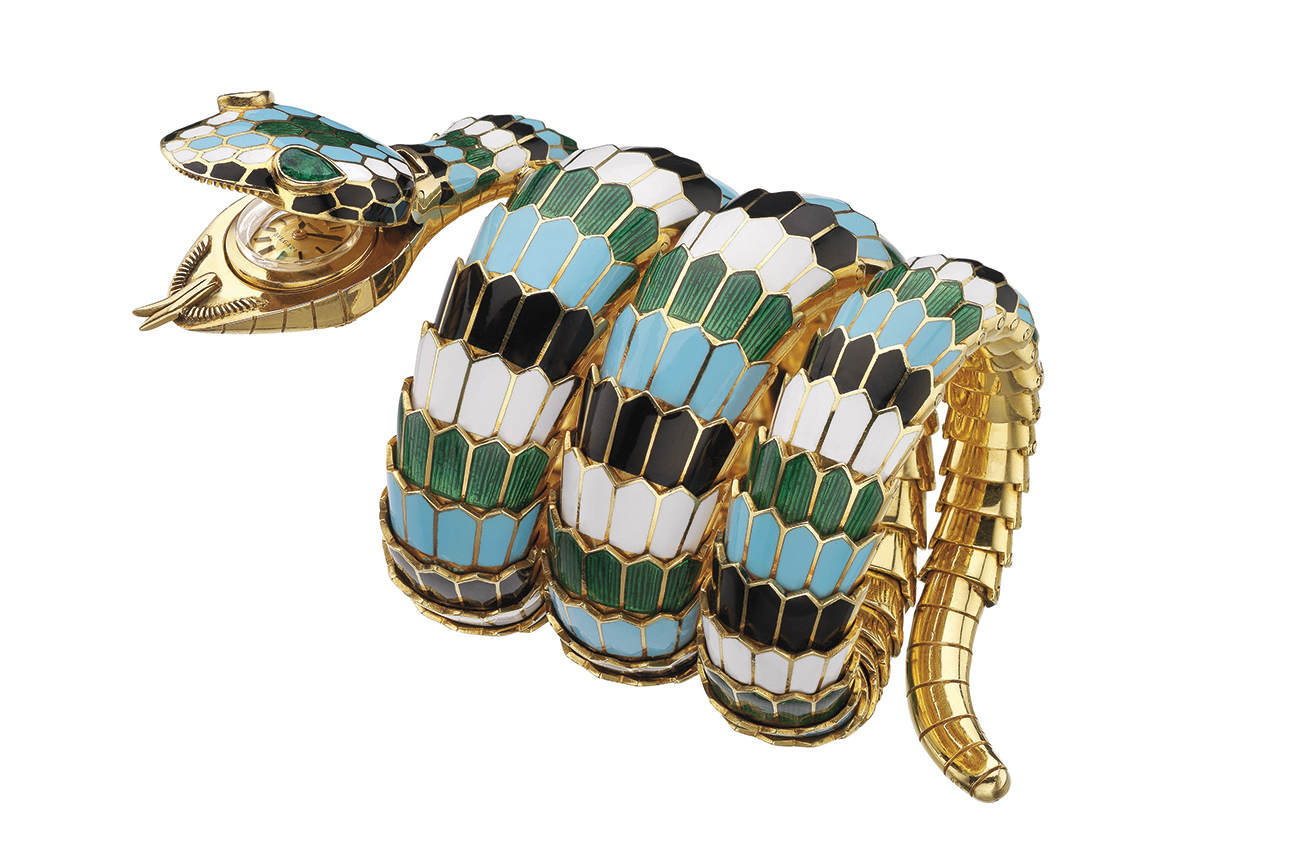 In the 1970s, the Tubogas bracelet evolved even further, contrasting the coolness of steel with the warmth of gold. This latest innovation required Bvlgari to find a way of working steel, which has a much higher melting point and is far less malleable than gold, into the tight coils that are the Tubogas' signature. A solution was found, but the creation of each gold and steel Tubogas bracelet was so complex and labour-intensive that this version was more expensive than the same design made in pure gold.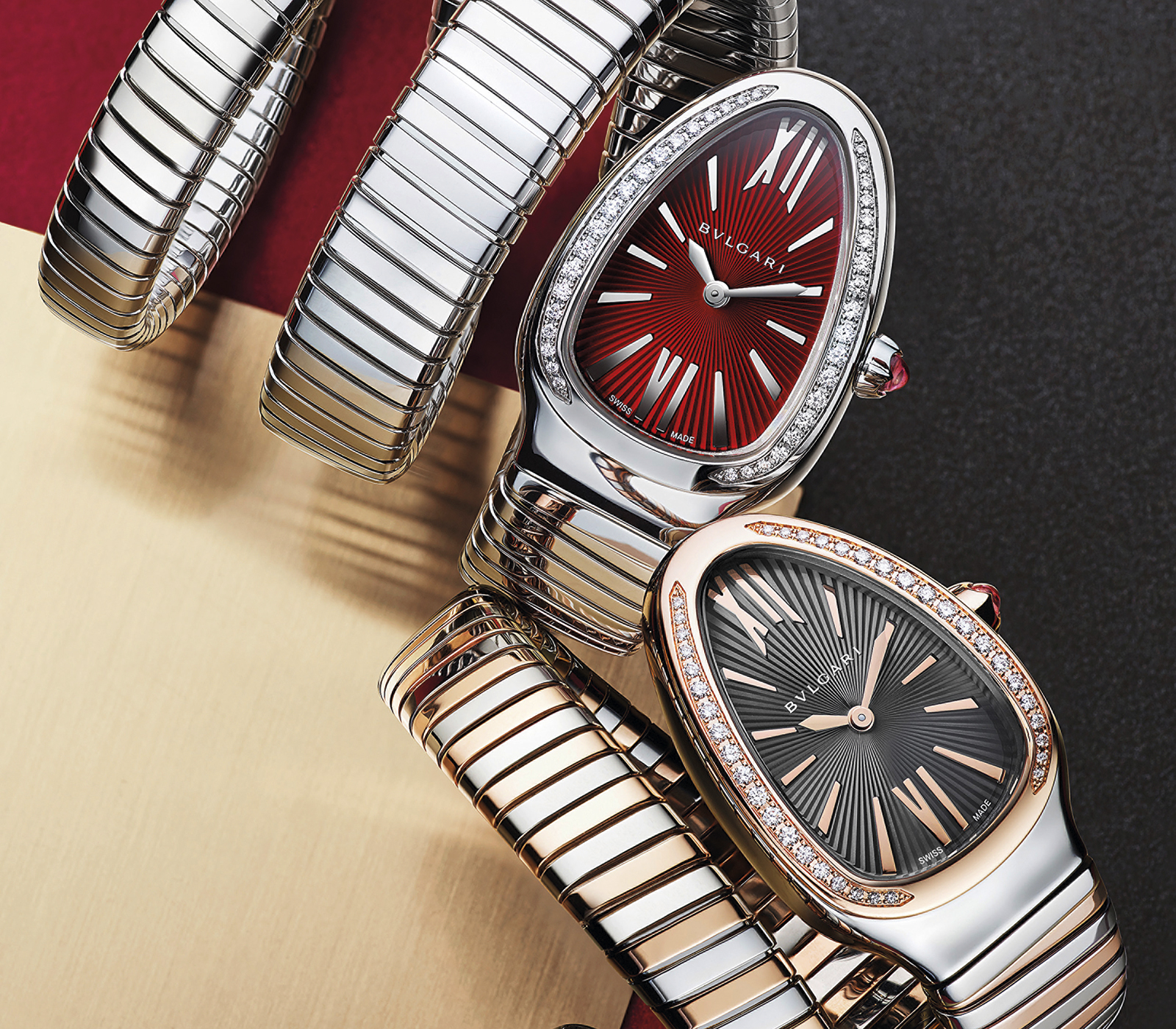 The original Tubogas bracelet has had many incarnations, spiralling up the arm like the most precious of snakes in Bvlgari Bvlgari watches, twisting around the wrist and neck in Monete jewels adorned with ancient Roman coins and, perhaps most memorably, combining two Bvlgari icons in one design with Serpenti watches presented on a Tubogas bracelet.
A bold yet wearable reimagining of Bvlgari's iconic snake silhouette, which has also enjoyed seven decades as Bvlgari's most-loved motif, the Tubogas bracelet was used on the very first Serpenti timepieces ever created back in the 1940s and 50s. Revisited and revived by Bvlgari in 1910, the new collection of Serpenti Tubogas timepieces enveloped the wrist in one, two or, more dramatically, seven sinuous spirals. Incredibly popular from the moment they launched, their snake-like charm combines with the kind of stand-out simplicity that makes them perfectly suited to everyday wear while always attracting an audience.
There are few jewels and timepieces that haven't been touched by a little Tubogas magic at Bvlgari, from the simplest of bracelets to exceptional pieces of high jewellery that transform Tubogas' tubular silhouette into one-of-a-kind necklaces set with rare and colourful gems. Whatever new form it takes next, the Tubogas bracelet continues to transcend the worlds of watches and jewellery, constantly defying categorisation, making it a true design icon in its own right.