The origin of the interlocking letters, and how they came to be an instantly recognisable symbol of the French maison, dates back to 1854, the year in which Louis Vuitton established his luggage business in Paris. As rail and then automobile travel became an essential part of life, his business flourished and his beautiful leather goods became a practical accompaniment to journeys, as well as status symbol in their own right. By 1896, the famous monogram print, featuring quatrefoils, flowers and the overlapping LV of Louis Vuitton, began appearing on the brand's leather trunks and a design icon was born, with Louis Vuitton monogram leather goods becoming the It-accessories of the 1950s and 60s for the jet-set crowd.
Louis Vuitton has long plundered the LV monogram design codes for inspiration for its fine jewellery collections, transforming the quatrefoil and flowers fine jewellery collections like Les Ardentes and Blossom that are instantly recognisable as Vuitton. The LV Volt collection is different, however. Rather than faithfully recreating the interlocking L and V, Amfitheatrof instead uses the interlocking initials as a starting point to explore bold, gold silhouettes, transforming these iconic letters into abstract art forms.
Divided into two chapters and designed with no specific gender in mind, the new collection cleverly contorts the capital letters, setting them at off-beat angles, unleashing them as pulses of electricity, stacking them in graphic formations and etching them into gold. Petite single stud earrings and pendants are the entry point into the collection, but it is the chunky rings and stackable cuffs that grab the attention in chapter one of the LV Volt story, with the L and V split apart and heavily grooved into the surface of the jewels.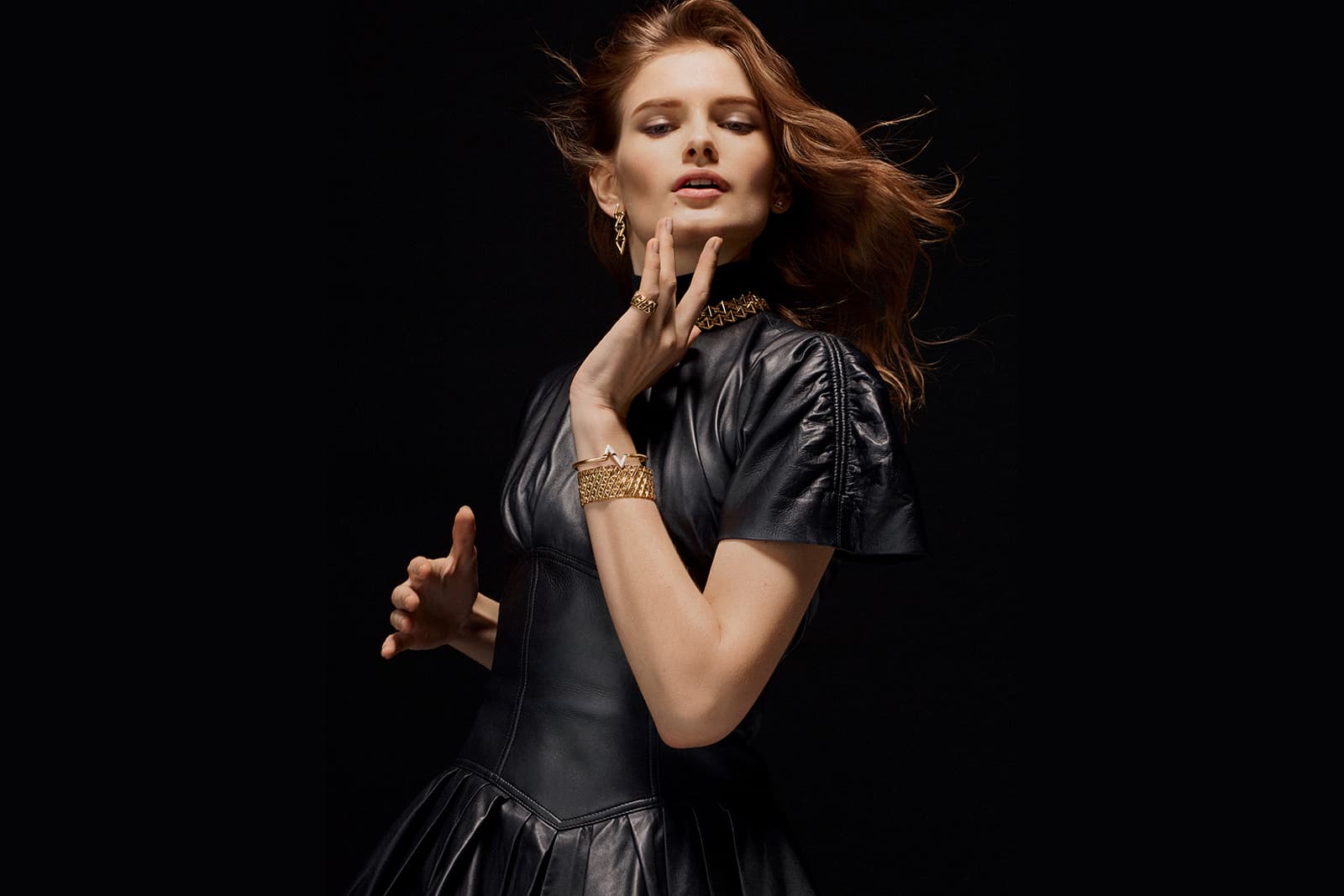 The second chapter is where things get really exciting, with more volume, texture, experimentation and, of course, diamonds. The hero piece for me has to be the extraordinary necklace, which transforms the letters of Louis Vuitton into an incredibly fluid mesh. This intricate web of gold reproduces the shape of a bandana and even forms fabric-like creases as it moves with the wearer. Another highlight are the claw-like rings, emboldened by a graphic pavé diamond set V. Their obvious asymmetry makes them perfect for stacking side by side, emphasising their angular allure.
Francesca Amfitheatrof joined Louis Vuitton in 2018 after three and a half at Tiffany & Co., where she created a fresh buzz around the New York jeweller with her designs for the Tiffany T collection. Her architectural eye for detail is even more apparent in the LV Volt collection, which plays with volume and shape, texture and patina – all creative signatures of the Artistic Director. The LV Volt collection has been described as an allegory for momentum. Edgier than every fine jewellery collection that has preceded it, it certainly pushes the aesthetic of fine jewellery at Louis Vuitton forward.
With LV Volt, Amfitheatrof has created a new aesthetic for Louis Vuitton jewellery that is rooted in its rich heritage but reinvents it for a new generation who care less about logos and more about using jewels as a means of expressing their unique style, regardless of their gender.