A few years ago Graziela sourced Midnight Aqua - a type of aquamarine, whose colour is much deeper bluish-green that we are used to. After that, the Brazilian designer surprised me with one-of-a-kind earrings and rings that featured an unusually fashioned paraiba tourmalines – not the faceted stones, but their slices. Did I expect more surprises from Graziela? Of course! And this year Graziela Kaufman made a buzz at Couture again.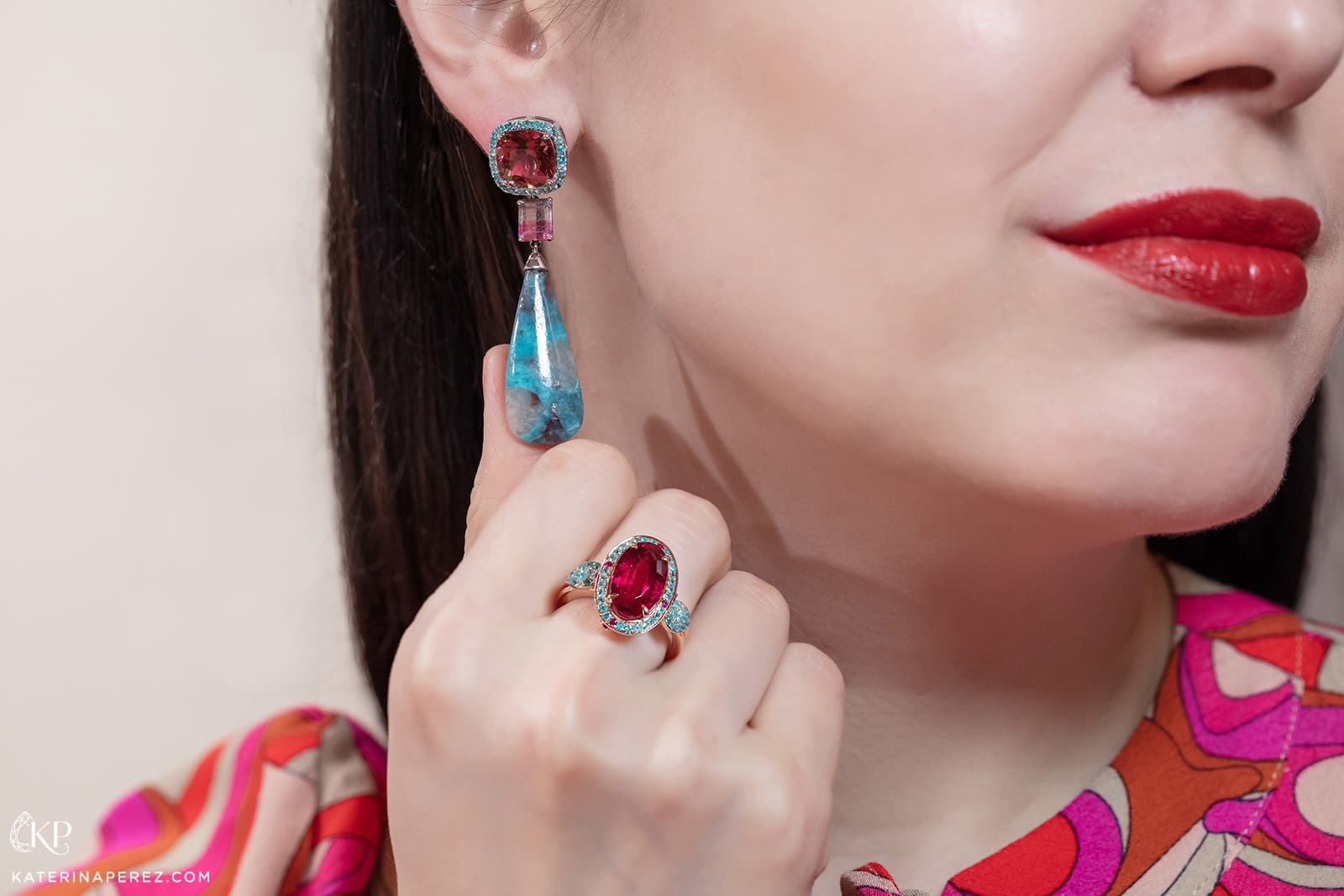 Katerina Perez: You're so in love with colour that you have brought two new collections; one with coloured titanium and the other with completely new coloured gemstone! Let's talk about titanium first, what fascinates you about this metal?
Graziela Kaufman: I find it absolutely amazing that we can achieve the colour that we want by just changing the wattage during the adonizing process. You dip the titanium in a bucket of water that has an electric current and an electrolyte solution, and you get a different colour depending on the voltage. At 20 volts you get blue, at 30 volts you get purple, but the colour changes within 5 seconds once the voltage is running through, that's why one has to be quick and extra careful when trying to achieve a certain hue. Nevertheless, it's a very fun and interesting process!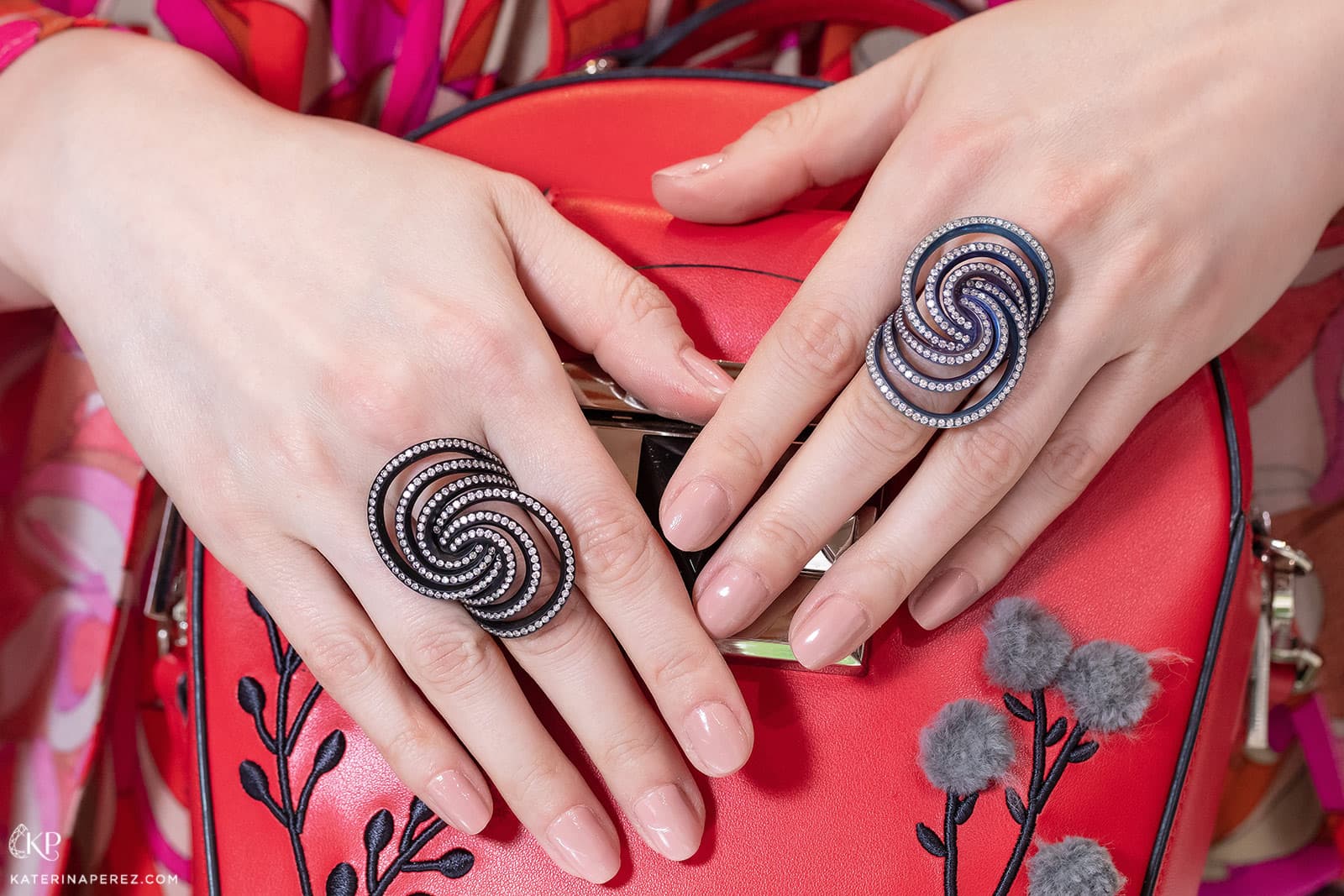 KP: So, is colouring titanium the biggest challenge while working with it?
GK: No, it's actually shaping titanium which is such a hard metal. It is not an easy task to fashion it, making one titanium piece can take anywhere between 200-400 hours of labour. For example, this new Swirl ring took about 250 hours, because it's all hand set with diamonds. Also, one needs to keep in mind that there aren't many people who can make titanium jewellery, especially here in the USA. Usually titanium jewellery is made in Switzerland or Italy.
KP: I think for me personally the most exciting thing is to see your brand-new 'Tribal' collection in real life as it features a new Graziela tourmaline that you have just discovered. It has a certain resemblance with Paraiba, but it is chemical structure is not the same…
GK: I will tell you how I discovered it: a dealer that I work with owns a few mines and sources all my Paraiba tourmalines. Recently he called me to tell that he had made a discovery at a very local show in Brazil, with literally just 20 gem dealers exhibiting. There was a family who discovered a stone that had astonishing resemblance with Paraibas. So, the dealer could not understand, how they found so many wonderful tourmalines! And the family's answer was: "these are not Paraiba tourmalines, they are our tourmalines and they are different!" So, my dealer went to the mine with them and confirmed that the tourmalines were all natural, then he showed me the rough.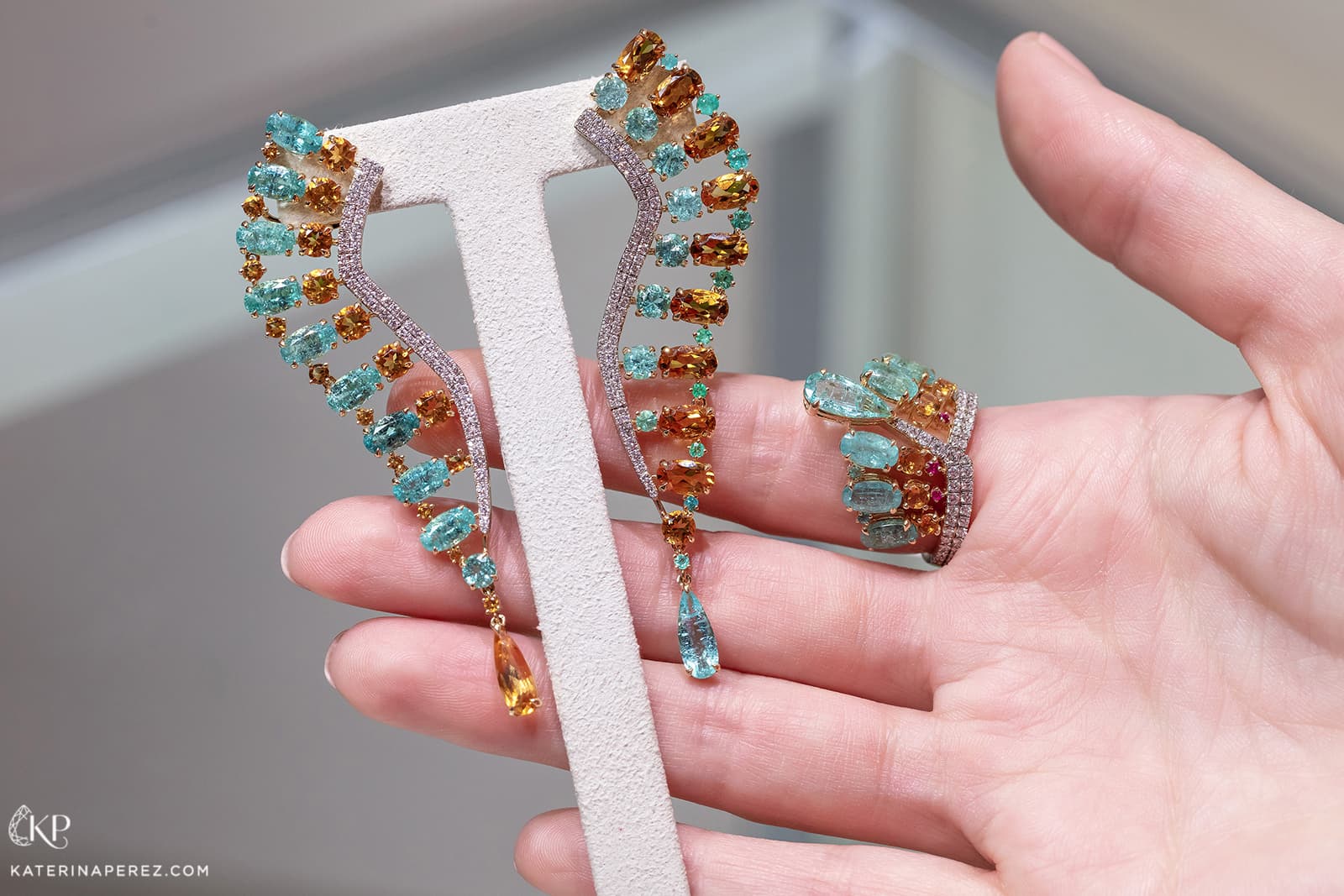 KP: Obviously you sent it to the labs and that's how you discovered the chemical composition lacked copper...
GK: I sent it to the GIA the next day and it turned out that the properties of these gems were exactly the same as of Brazilian Paraibas except there was no copper. It is this specific chemical element that is responsible for creating neon effect and even though it was missing, the newly-discovered tourmaline boasted bright 'swimming pool water' colour.
It is rare for a brand to simultaneously present two innovations at the Couture show; but for Graziela Gems this is simply a reaction to what consumers wants – adorn themselves with something unique and different. It can be specifically applied to the gem which no-one else in fine jewellery has introduced before!