Dior consistently turns to the natural world for inspiration, as proved in most recent 'Rose Céleste' collection courtesy of the luxury maison. For the latest addition to the Dior Joaillerie canon, Victoire de Castellane drew inspiration from Christian Dior's passion for the divine arts and his interest in astrology. The couturier noted in his memoirs that he followed the guidance of a clairvoyant, and that doing so gave him "the strength to act". Dior Joaillerie's Artistic Director reimagined both the Moon and the Sun in 'Rose Céleste' collection consisting of rings, bracelets and delicate medallion pendants. Two motifs embellish the jewels: either a mother of pearl Moon with three white gold stars set in onyx or a textured yellow gold sun on a mother of pearl background. Available in yellow gold, these modern talismans refer to the heritage of the maison.
Shooting stars and constellations have illuminated Chanel's jewellery since the first collection in 1932. These motifs were beautifully reimagined in the contemporary 'Cométe' collection that features necklaces, rings, earrings and pendants with colourless diamonds and pearls set in white and yellow gold. Gabrielle Chanel stated that the five-point star "best highlights the sparkle of diamonds." Dynamic diamond-embellished stars with sweeping trails mimic the comets which the collection is named after.
Tatiana Verstraeten is a protege of Chanel's Studio Creation atelier, where she designed jewellery and headwear for Karl Lagerfeld in 2011. Moving on to fine jewellery, she teamed up with a diamond supplier to create striking designs under her own name. The most notable Tatiana's pieces which caused a stir in 2019 were the diamond fringe earrings. Their unique feature was a layer of shoulder-length chains climbing up to various motifs on the ear-love, one of the most popular being the constellations of stars.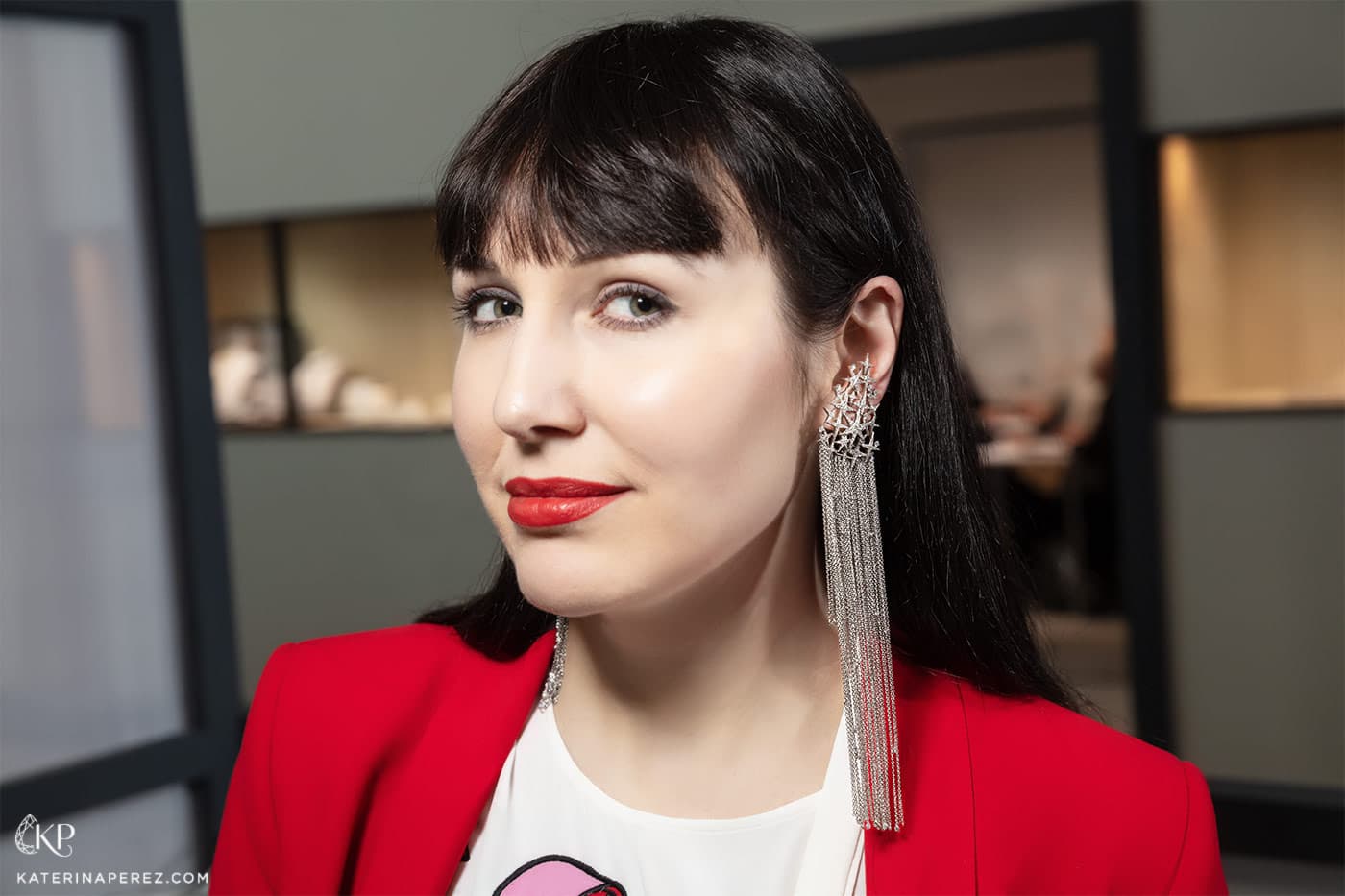 Italian company SICIS first started producing jewellery in 2013, and initially specialised in micro-mosaic haute joaillerie predominantly inspired by nature. So it comes as no surprise that the stars were also depicted in their jewelled form as a luscious necklace, drop earrings and a statement ring in the Etoile set. The brand's Jewellery Director Gioia Placuzzi further incorporated celestial designs into the everyday 'Universe' line - launched in 2019. The rings, bracelets and earrings appeared deceptively simplistic at first glance, however, the craftsmanship behind the micromosaic technique shines through the star shaped forms, with white and blue mosaic, diamonds and sapphires set in white gold.
One of the leading jewellers of Egypt - Azza Fahmy - has incorporated stars and moons in the DNA of her brand's aesthetics. Celestial bodies span across most designer's collections from 'The Gypsy' to the latest 'Mamluk' line, which references Cairo's architectural history. In 'Mamluk,' Azza Fahmy depicted Arabesque motifs like the eight-pointed star as a prominent geometric design. Made in 18 karat gold and sterling silver with pearls and champagne diamonds, the 'Jashankir' earrings are inspired by a pattern of these stars found in the Mausoleum of Sultan Baybars al-Jashankir, built in 1310.


The US-based jeweller Anthony Lent also made celestial jewellery his signature but in a completely different way: his stars, sun and moon designs always feature a sculptured dreamy face. Referring to his work's folkloric qualities, Anthony describes his most popular design as the "moon of the collective unconscious. This is a precious, wearable, jewelled version of the moon illustrated in Victorian children's books: reminiscent of the work of Maxfield Parrish, N. C. Wyeth, and the early animation of Winsor McCay, the Crescent Moonface, Sunface and Starface". These remarkable creations became a part of the 'Celestial' collection, which is the most extensive line he has produced thus far.
Other designers who have sought inspiration from the skies include Colette Steckel of Colette Jewellery, who was enchanted by the starry sky from an early age. Spending her childhood in Normandy, her family "would spend a lot of time watching the stars with telescopes, seeing shooting stars all of the time - there was a time when I was sneaking outside just to see the stars" she says. Her substantial 'Galaxia' collection reflects her appreciation of heavenly bodies and includes multiple designs showcasing antique-like crescent moons and art deco stars, primarily in diamonds set in white or rose gold.
Bibi van der Velden used the same source of inspiration as a basis of her 'Galaxy' collection creating 3 dimensional designs that she refers to as "miniature sculptures." Spinning rings, chandelier earrings and pendants were crafted using such unconventional materials as mammoth, and others were embellished with more traditional Tahitian pearls, opals, sapphires and diamonds.
Stars and planets capture the eye's attention, as well as the hearts of jewellery admirers. Glittering in diamonds, celestial bodies are a motif which is timeless, chic and which excites childlike wonder in all of us.