Mikimoto couldn't resist the opportunity to highlight its new Wild and Wonderful High Jewellery collection at Paris Couture Week 2022. The whimsical offering mostly centres on animal-themed brooches, including birds, koala bears, flamingos, frogs, gazelles, and other iconic species of each of the world's continents. The pieces are focused on statement pearls, as one might expect from Mikimoto, but with lots of coloured gemstones and diamonds to bring entire scenes to life, including penguins leaping from icebergs and rainforest frogs climbing flexible branches. Chokers, necklaces, earrings, and bracelets are introduced sparingly and thoughtfully, perhaps to allow the brooches to be the true showstoppers. Let's enter Mikimoto's animal kingdom on a journey across the globe.
Africa
There are two suites of jewellery in the Wild and Wonderful High Jewellery collection, with the Africa necklace, bracelet, ring and earrings being one of them. All the pieces are zebra-themed with a graphic crisscrossing of black South Sea cultured pearls, Akoya cultured pearls, alexandrite, spinel and diamond, set in 18k white gold and accentuated with black rhodium. Next, there are a pair of brooches worthy of special mention. The elephant brooch is crafted in 18k white gold with Akoya cultured pearls, opal, tourmaline, diamond and mother of pearl, while the gazelle brooch captures two beasts running across the plains in 18k white and yellow gold, black rhodium, Akoya cultured pearls, beryl, garnet, onyx, diamond and mother of pearl. Also in this Africa-inspired offering is a flamingo brooch, set with a natural conch pearl body surrounded by sapphires, garnet, onyx and diamond.
Eurasia
Here we see the second high jewellery suite of the collection, which is inspired by peacock feathers. The necklace is the true star with black South Sea pearls and a gradient of tourmalines, tanzanites, aquamarines, sapphires, garnets and diamonds that crescendo down the décolletage. This is complemented with a pair of peacock feather earrings. Of course, brooches feature here, too, including a spectacular red-crowned crane with Akoya pearls, alexandrite, spinel, ruby, onyx and diamond set in 18k white and yellow gold. The elegance of this piece is balanced by the humour of the panda brooch, featuring two cubs balanced on baroque-shaped Akoya pearls as if to reach tasty leaves of green-hued gems.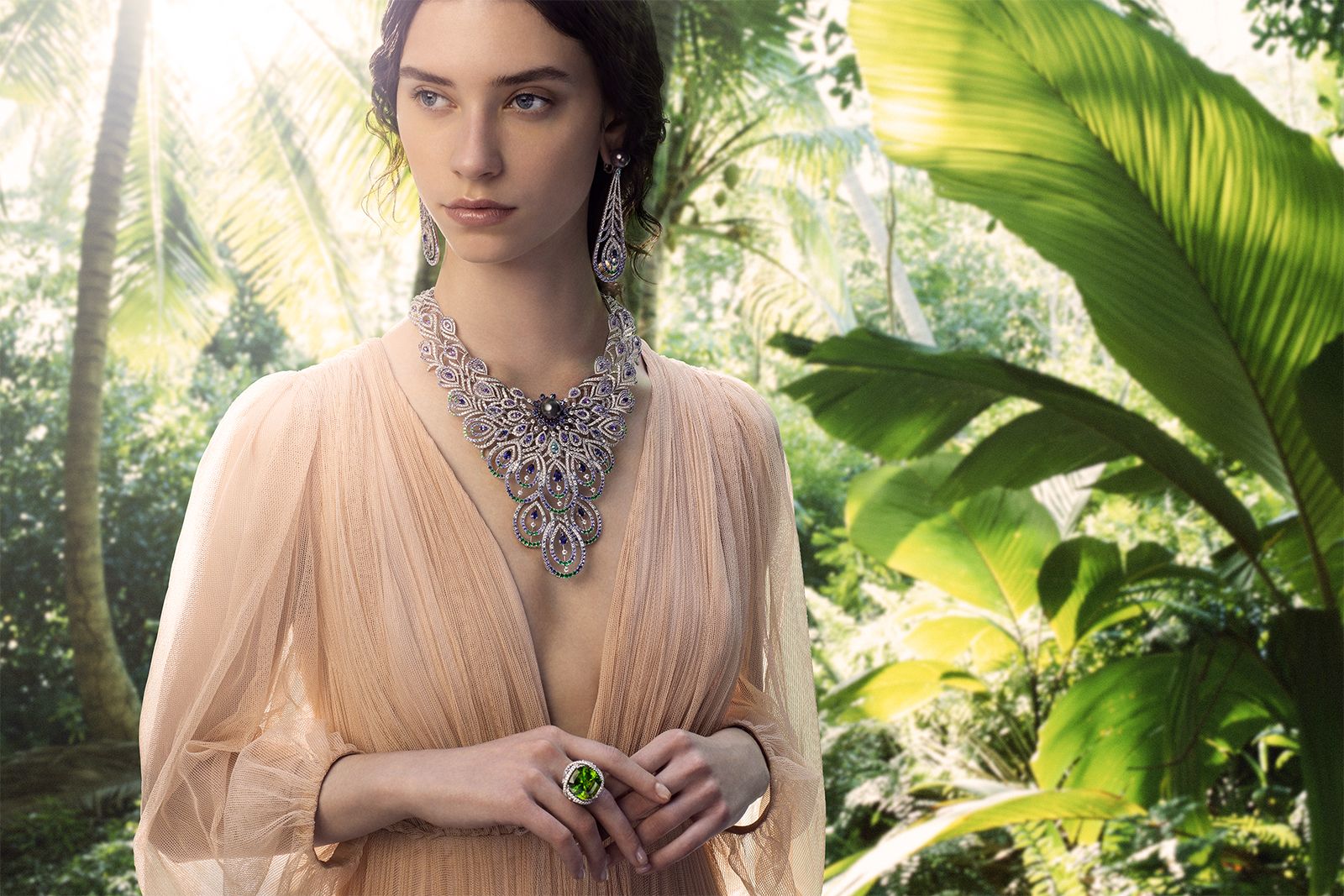 America
Next, we move on to the Americas and the rainforests of the south with a red-eyed tree frog brooch. The little critter is seen clinging to a blade of grass with a large dewdrop poised to fall to the rainforest floor… of course, this dewdrop is a sizeable pear-shaped diamond! The rest of the piece contains further diamonds, garnet, tourmaline, spinel, ruby, sapphire, peridot and onyx, set in 18k green, white and pink gold, partly decorated with black rhodium. Here, we also find two distinctive bird brooches. The first portrays a hummingbird with a pear-shaped aquamarine, sapphire, emerald, spinel, garnet, onyx, peridot, tourmaline ruby and diamond, while the second captures a parrot taking flight with a golden South Sea pearl body, ruby wings, plus sapphire, alexandrite, garnet, onyx and diamonds in both 18k white and yellow gold.
Australia
One does not normally associate a pigeon with luxury. However, Mikimoto has found a way to make the Victoria crowned pigeon decadent with Akoya cultured pearls, sapphire, ruby, alexandrite, spinel, tourmaline and diamond. Notably, this 18k white gold piece is photographed on the lapel of a man's jacket in Mikimoto campaign imagery, highlighting the unisex nature of its animal creations. Also included in the Australia chapter of the collection is a koala brooch with four round Akoya pearls, marquise-shaped garnet leaves, an 18k yellow gold branch, as well as diamonds and onyx. The most spectacular use of colour is reserved for the land turtle brooch that blends a large aquamarine centre stone with round brilliant-cut tanzanites, garnets, spinels, onyx and diamonds.
Antarctica
Last but certainly not least, there are the icy creatures of Antarctica, including a playful diamond-set seal brooch with waves of Akoya pearls, sapphires, aquamarines, spinels, and diamonds. The penguin brooch is especially well-conceived with a trio of little birds poised to jump off two 'icebergs' of natural freshwater pearls. Their trajectory is mapped with marquise-shaped beryls, aquamarines, spinels, sapphires and diamonds that cascade like ripples in water under the penguins' feet. Finally, there's a second penguin-themed brooch, this time a solitary animal diving beneath the waves. Its body is made of a perfectly shaped natural freshwater pearl (complete with a flipper-like protrusion!) adorned with spinel, sapphire and diamonds.
If you are a lover of brooches in any form, Mikimoto may have created one of the most covetable collections to date. The playfulness, the humour and the construction of such miniature scenes with precious materials are only surpassed in desirability by the two jewellery suites, which I believe will be even more spectacular when viewed in person come October 2022.