It is a widely held belief that jewellery made with conventional materials and influenced by equally traditional, naturalistic themes has every chance of being utterly ordinary… unless it falls into the hands of Prabal Gurung. Since becoming Creative Director of TASAKI in 2017, the New York-based designer has continued the company's bold experiments with pearls, while also offering a more innovative take on its traditional style. More than once the Creative Director has stated: "I am not from the jewellery industry, and so for me there are no restrictions on the use of pearls."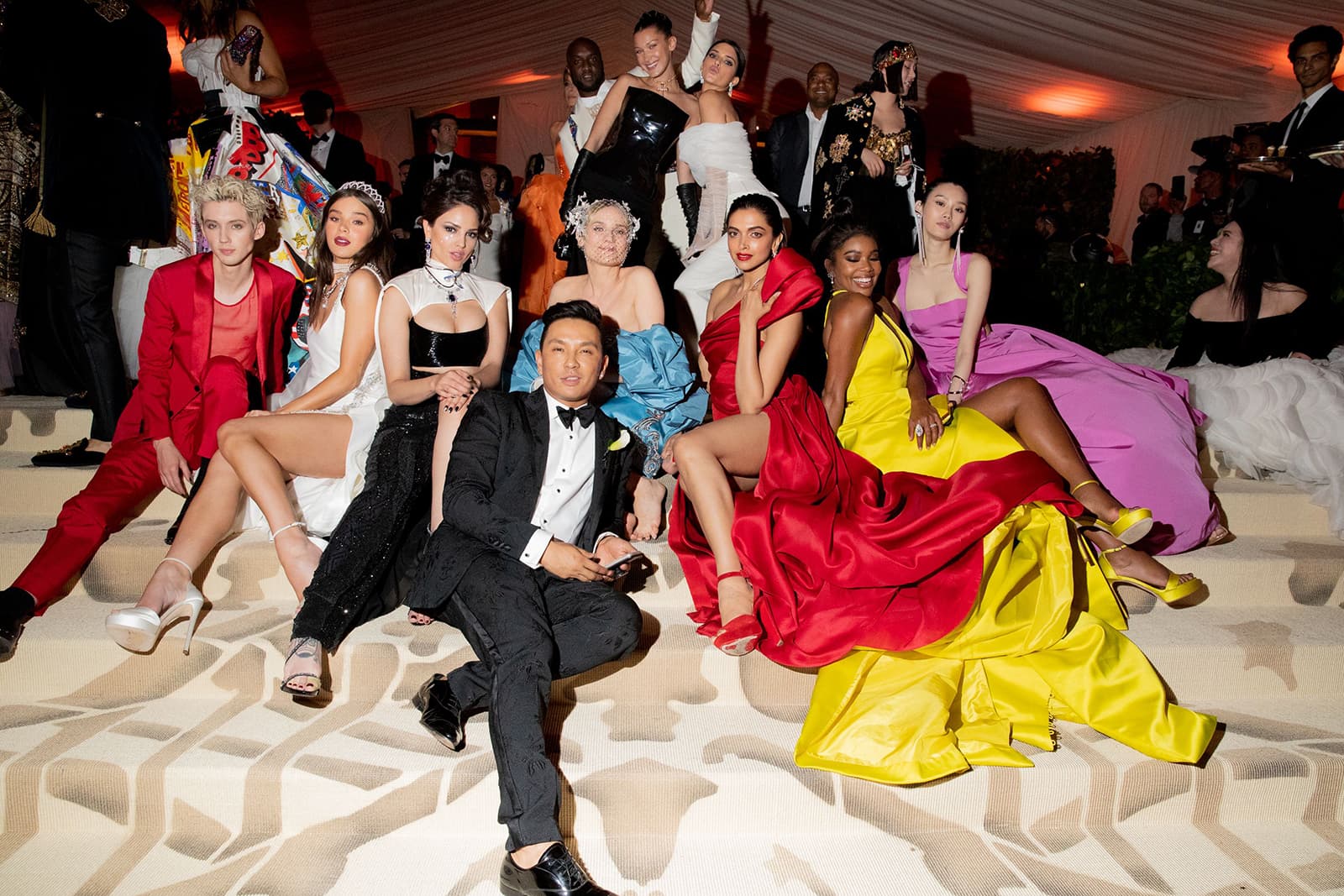 So, what's new about Prabal's most recent TASAKI Atelier collection, otherwise known as a selection of pieces created for the brand's high jewellery line? Firstly, the angle from which he decided to capture nature is interesting: he prefers the deserted expanses of the Arctic - illuminated by the flashes of the Northern Lights - dangerous active volcanoes and subtle natural phenomena over serene landscapes and fragrant flowers. Let's take a look at each of the collection's 12 jewellery sets in detail.
The snow-white Aurora jewellery, with its unique, organic forms, reflects the beauty of warm sunlight spread across continuously moving seas in rays of white gold, softly embraced by South Sea pearls. Colourless diamonds, with which the entire visible surface of precious metal is inlaid, provide refinement and sophistication to the smooth silhouette of the pieces.
The iridescence of pearls is one of nature's most beautiful mysteries, the uniqueness of which can only be compared to the Northern Lights. Their enchantingly peculiar shimmer of all the colours of the rainbow is called 'pearlescence', analogous with the way layers of mother-of-pearl diffuse and reflect the light. The dynamic pieces in the Nacreous set are dedicated to this unique natural process. Their layers of pointed shapes and sculptural curves are inspired by the contrast between the hardness of a seashell and the softness of a pearl's light. Jewellery from the Cascade set evokes the trajectory and beauty of falling water drops illuminated by the sun. The design focuses on one specific moment, captured in white, yellow or the brand's signature SAKURAGOLD gold, encrusted with pearls and diamonds. Another set that is also dedicated to water, Waterfall, contains enormous necklaces and minimalistic earrings, utilising soft organic curves and straight graphic lines, giving each shape its own uniqueness. The Waterfall Ear Cuff earrings, with their combination of both Akoya and freshwater pearls, particularly caught my attention. Incidentally, the same contrasting technique is employed in earrings in the brand's Moulin set, which are inspired by rays of bright sunlight cast directly into caves. Here, this technique manifests itself in multi-sized South Sea and Akoya pearls, reinforced with a sprinkling of diamonds and coloured sapphires - an incredibly spectacular array!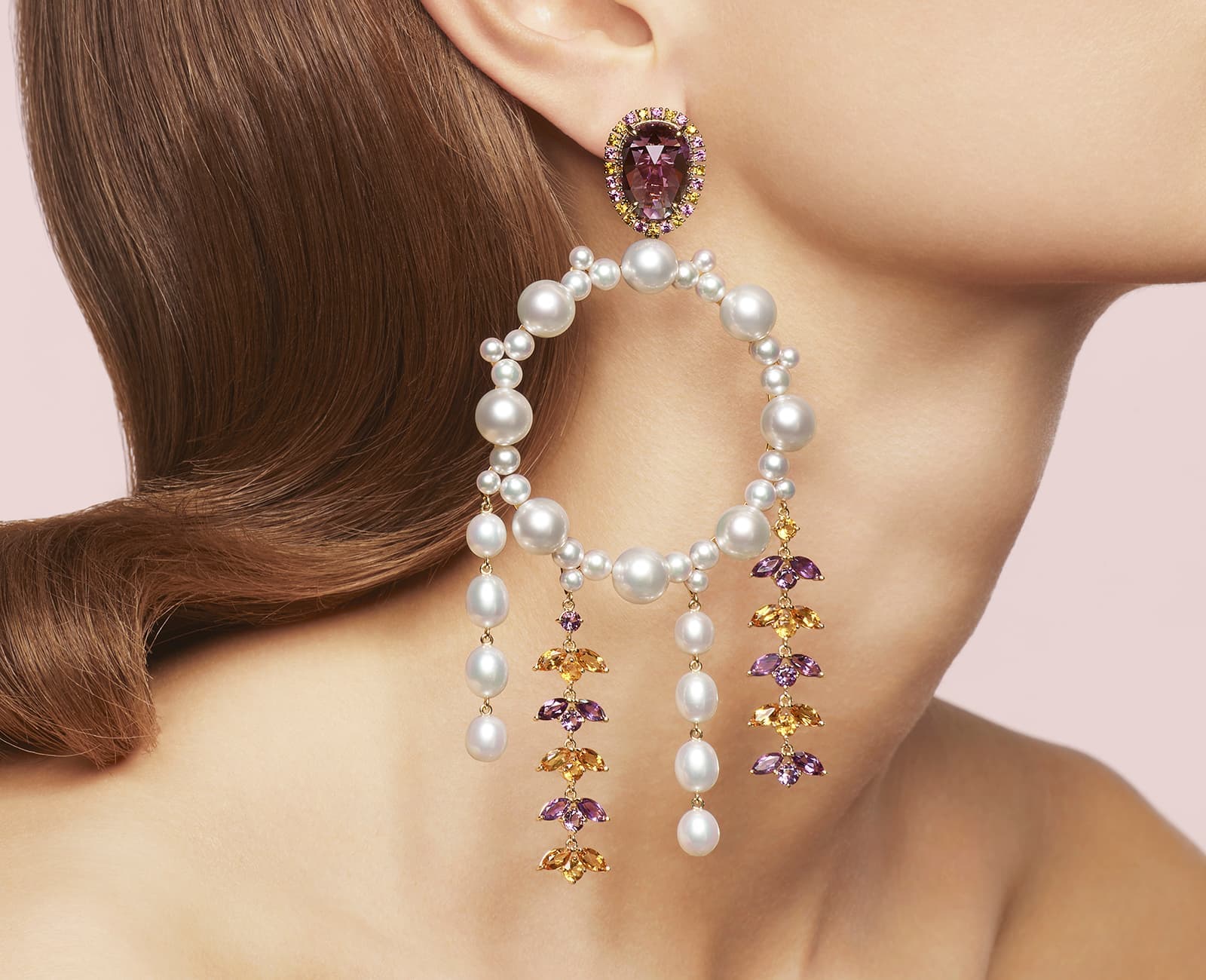 The Cove set, dedicated to coves and the pearl shells that lurk in their waters, features six designs that include Akoya pearls in various shades. Its protagonist is a necklace with a majestic imperial topaz drop. TASAKI's jewellers have also created earrings with colourless diamonds or pink sapphires to match. I must admit, the earrings are stunning in their own right! Another impressive trio, a luxurious necklace and a choice of two pairs of earrings, can be found in the Forest Valley set: a blue-green palette of tourmalines, beryls, aquamarines and sapphires that celebrate the diversity and grandeur of nature's flora.
Calderas, or giant underground 'magma reservoirs' that cause catastrophic volcanic eruptions, are the subject of two asymmetrically designed Ore earrings. The fantastic spectacle of the movement of lava, ash and earth is conveyed not only in a variety of pearls but also in a colourful palette of minerals: opals, topaz, citrine, chalcedony, tourmalines, amethyst, aquamarine, peridot and quartz. In addition, bright accents of coloured gemstones are set in the Nightfall and Sunset Glow earrings, inspired by dusk and sunset respectively, while the outstanding Iridescent earrings feature colour-changing 'clouds', played by two golden pearls, one for each ear, that float past the sun.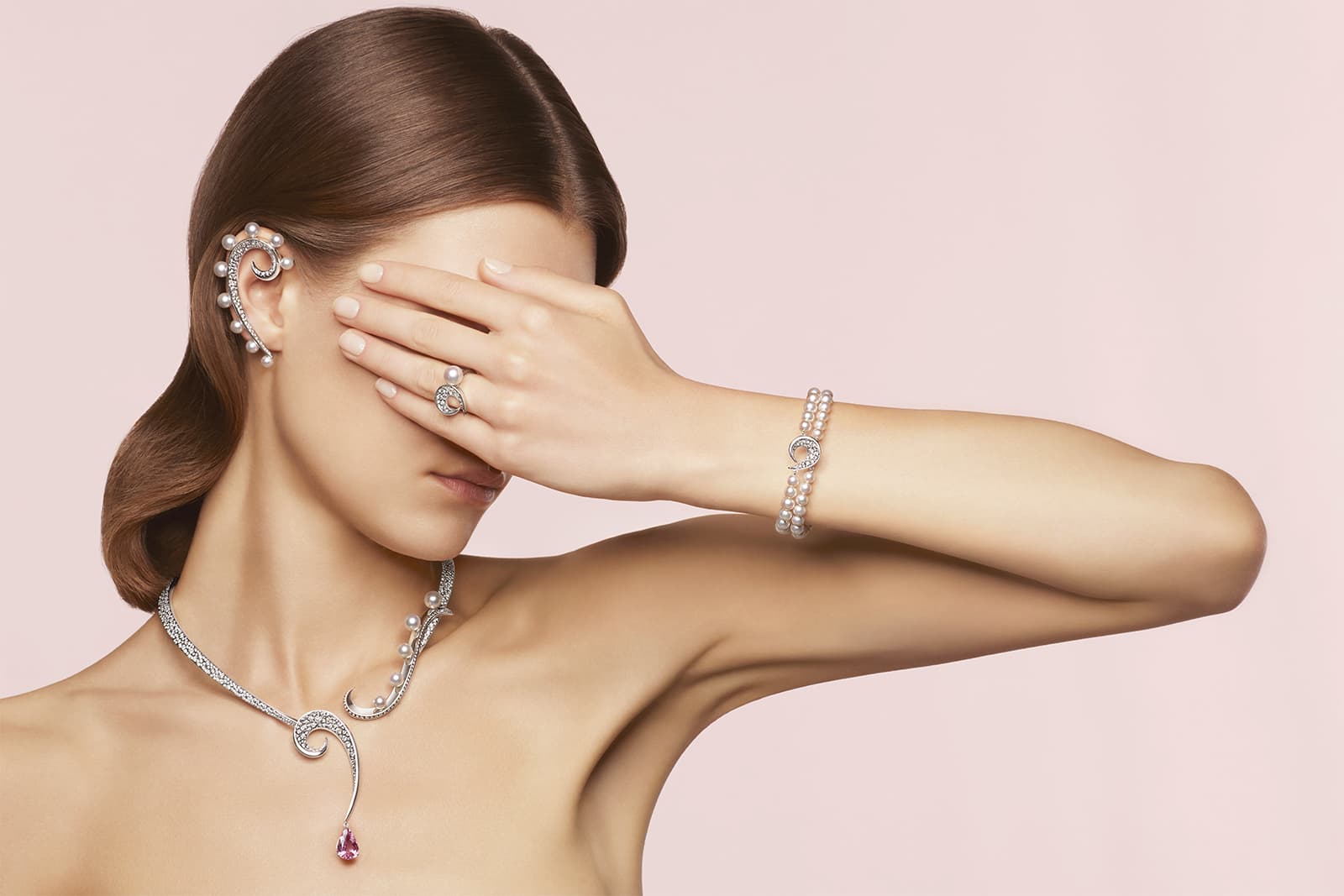 Finally, take a look at the Linkage earrings, which have become a metaphor for the connection between the sea and TASAKI. Their design is inspired by the shape of the baskets in which the oysters are carefully packed and grown at the TASAKI farm. One pair symbolises an empty shell, made exclusively therefore of gold and diamonds, and the second one is filled, hence the inclusion of a pearl.
All that remains is to hope that human creativity and Mother Nature's limitless possibilities will always be combined as harmoniously as in TASAKI's new Living Nature collection.