When a diamond is of a certain calibre, tradition dictates that it is given a name. When property mogul Joseph Lau bought a 12.03 carat blue diamond for $48.4 million in 2015, it became the Blue Moon of Josephine, named after his seven-year-old daughter for whom he bought the stone. A 1,109-carat rough diamond unearthed in Botswana that same year was named Lesedi La Rona, meaning 'our light' in the local Tswana language.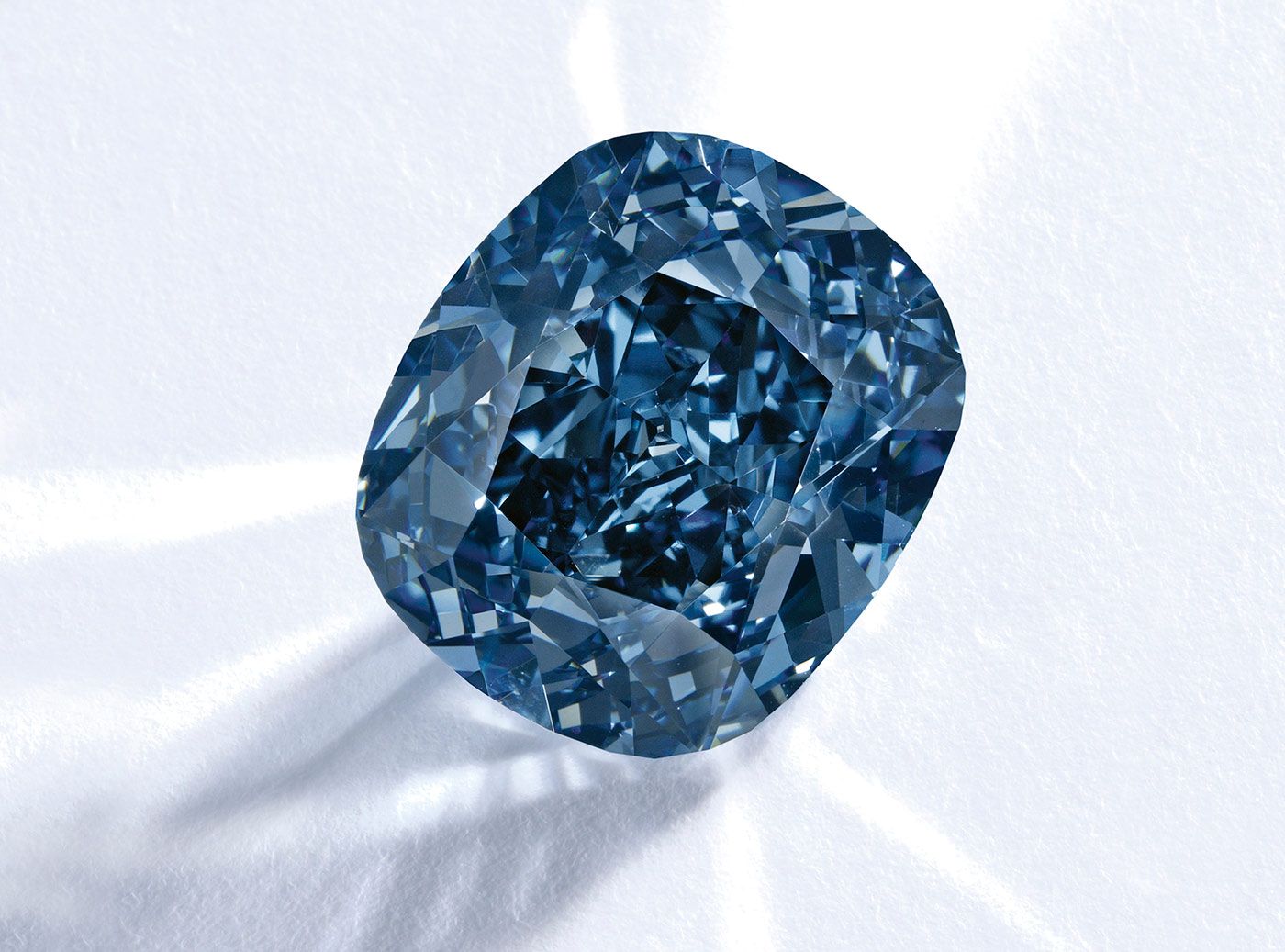 In the same auction, another impressive rock found a new home: a 205.07ct fancy intense yellow cushion-cut diamond named The Red Cross Diamond. The diamond was first sold in 1918 for £10,000 to London jeweller S.J. Phillips, then again in 1973 for CHF1.8 million to a private owner. This time, the diamond sold for CHF14.1 million, a world auction record for a fancy intense yellow diamond. "The market for diamonds is particularly vibrant," concedes Rahul Kadakia, Christie's international head of jewellery.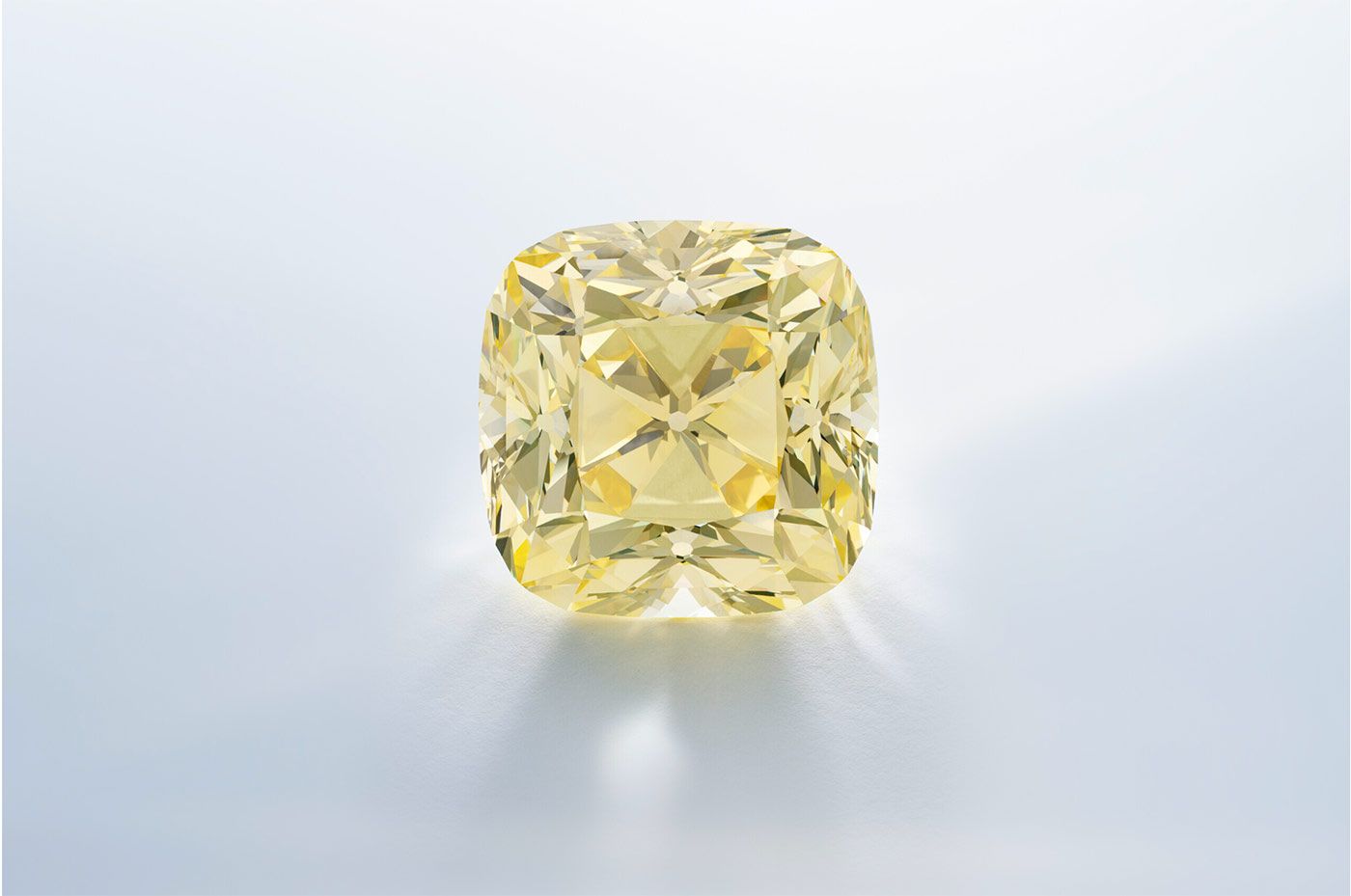 One thing that always seems to be deliciously incendiary in the saleroom, other than a strong provenance with celebrity sparkle, is anything that will set a record at auction – and both the Red Cross Diamond and The Rock did so. As well as now holding the title of the largest-ever white diamond to sell at auction, The Rock is also the largest-ever pear-shaped diamond to be graded by the GIA, the world's leading gemmological laboratory.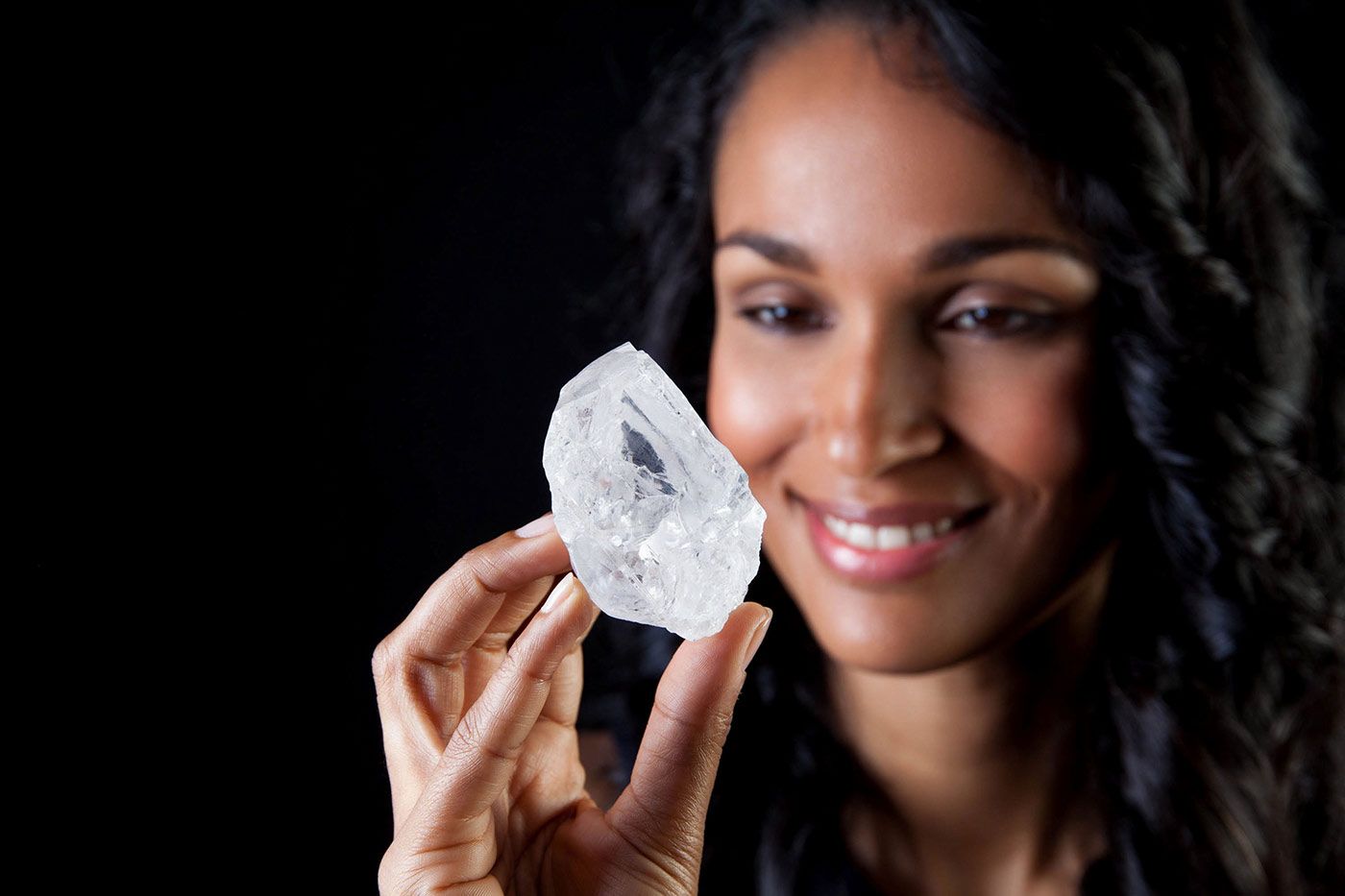 Many of the world's largest diamonds have passed through the hands of GIA gemmologists, including the Lesedi la Rona. It also inspected the 45.52ct blue Hope Diamond that now resides in New York's National Museum of Natural History after being donated by legendary diamantaire Harry Winston in 1958.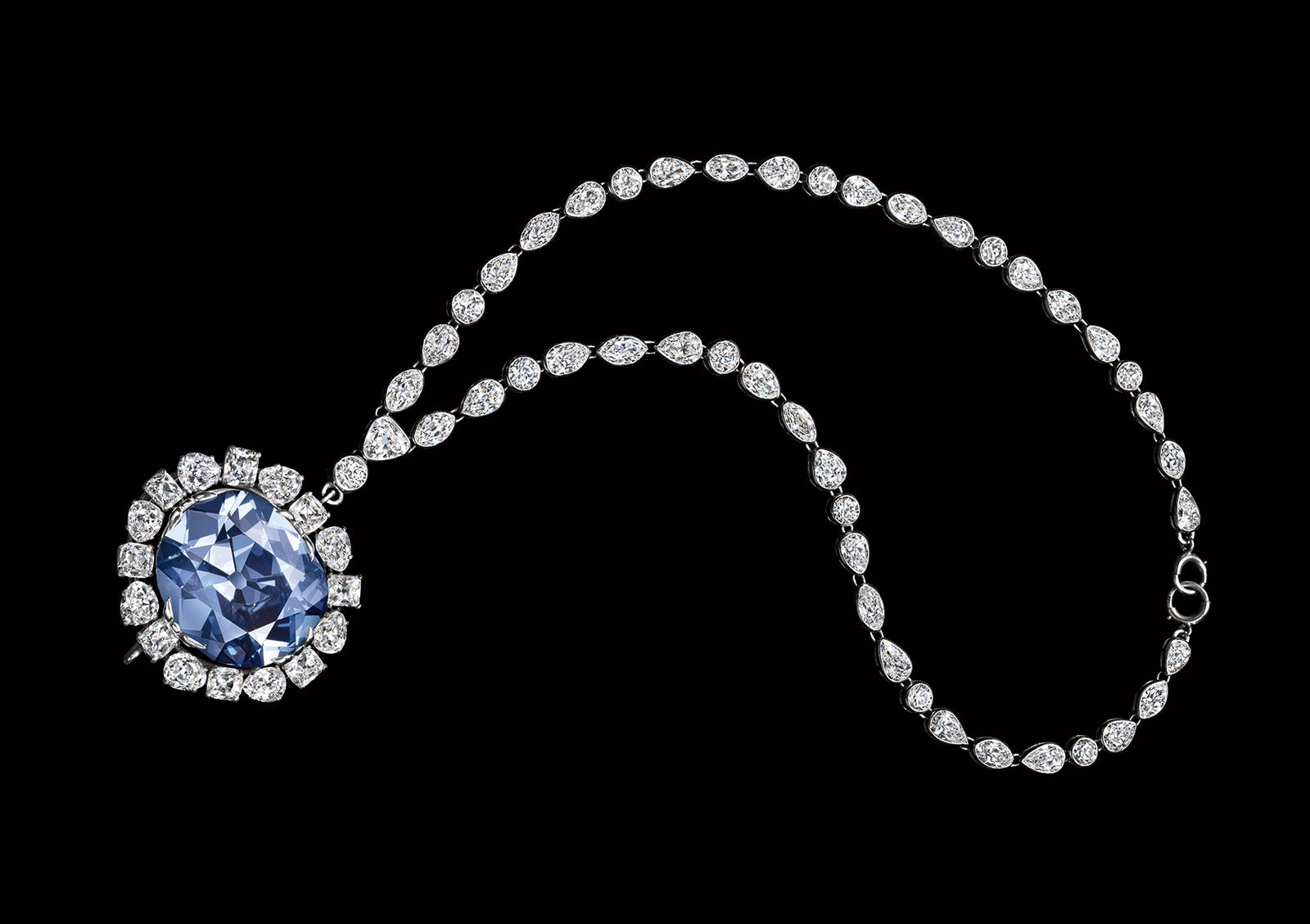 Before making a gift of the stone to the museum, Winston had toured the Hope Diamond, which was first unearthed at the Kollur mine in India in the 17th century, in his Court of Jewels exhibition that travelled across the United States. The gem has a fascinating history, with some believing – thanks in part to the evocative storytelling of former owner Louis Cartier – that it is cursed, allegedly due to being stolen from the forehead of a statue of the Hindu goddess Sita.
Long before Winston bought the Hope Diamond from the estate of socialite Evalyn Walsh McLean in 1947, fellow New York jeweller Charles Lewis Tiffany also used a large diamond to diamond to draw in crowds. In 1877, a 287.42ct rough yellow diamond was found at the Kimberly mine in South Africa and Tiffany snapped it up for $18,000. What emerged during the cutting process was a 125.54ct cushion-cut yellow diamond that would be named The Tiffany Diamond. Rather than sell the gem, Tiffany & Co has displayed its publicly at its New York store for more than 145 years. It has also lent it out to just four women: Beyoncé, Lady Gaga, Audrey Hepburn and socialite Mary Whitehouse.
Tiffany & Co has since invested in a new large diamond, an 80ct D flawless oval-shaped white diamond that was set in a necklace as part of its 2021 Blue Book collection. It is rumoured to be worth between $20 million and $30 million, which could put it on par with the estimated value of the Tiffany Diamond and sale price of The Rock.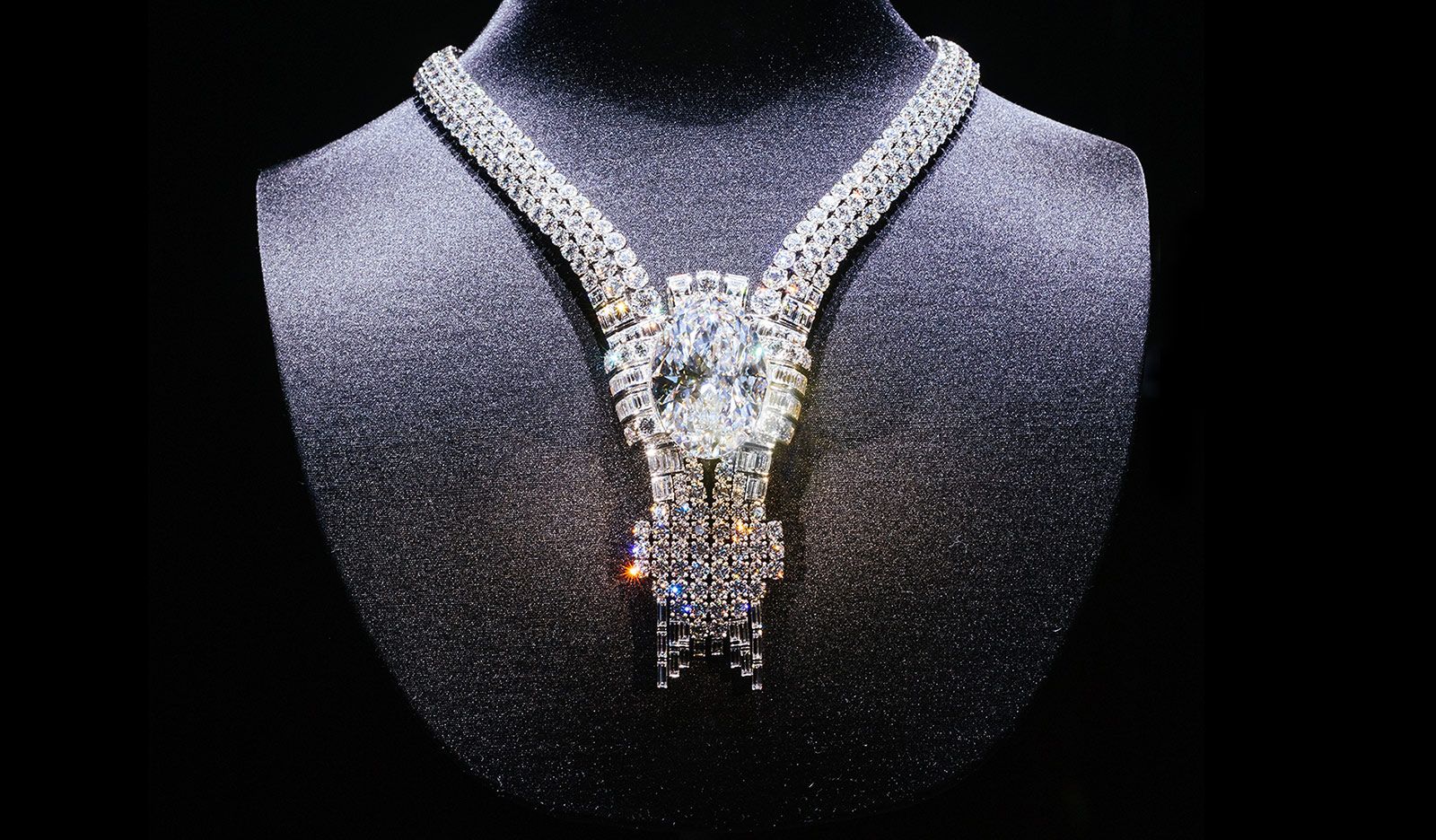 Dior, whose high jewellery is shaped by the effervescent creativity of Victoire de Castellane, has also invested in a major diamond recently. To celebrate the reopening of its Paris flagship store after two years of renovations, the fashion house secured a 150ct rough yellow diamond. Discovered in the same mine as the Tiffany Diamond, this stone has been cut to 88.88cts – the lucky number of the house – and named Le Montaigne in honour of the boutique's address. Its value is said to be as high as $50 million, and the jewel has been set as the centrepiece of an elaborate floral ring created by de Castellane. Graff also marked a store opening with a large diamond when it unveiled its Infinity Tiara at the ribbon cutting of its Tokyo flagship last year. The central heart-shaped diamond in the tiara is believed to be the biggest heart shape in existence at 157cts.
This influx of extraordinary diamonds in the high jewellery world does seem to shore up Kadakia's assessment that demand for extra-large diamonds such as The Rock is strong. And just last month, Sotheby's hit a new benchmark for diamond auctions when it sold the 15.1 step-cut fancy vivid blue De Beers Blue diamond for $57.5 million at its salesroom in Hong Kong. This represents one of the highest prices ever paid for a diamond of any colour on the open market. The final hammer price, which emerged after eight minutes of furious bidding, puts the gem on a par with The Oppenheimer Blue, a 14.62ct blue diamond that sold in 2016 for nearly the exact same price. "The De Beers Blue captivated me from the moment I laid eyes on it," says Patti Wong, chair of Sotheby's Asia. "With its powerful vivid colour, and breathtakingly beautiful cut, it is truly a once-in-a-generation stone."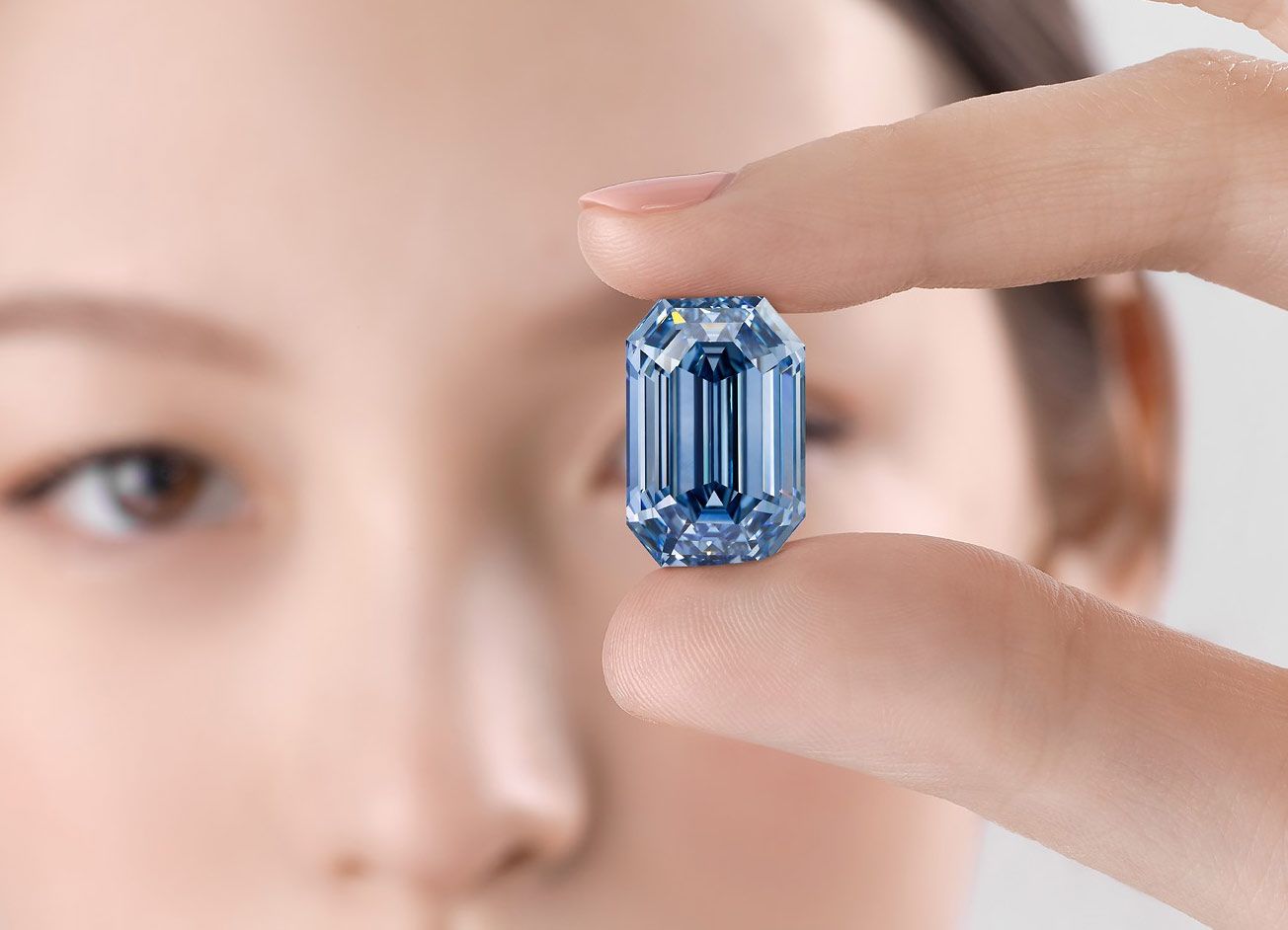 The stone was discovered last year at the Cullinan Mine in South Africa, which has a reputation for producing some of the largest gem-quality diamonds in history. The biggest was the 3,106.75ct Cullinan Diamond unearthed in 1905 and split into smaller diamonds, the largest of which are set into the British Crown Jewels.
The De Beers Blue's sale price makes it the third most expensive diamond ever to sell at auction, being pipped only by The Oppenheimer and The Pink Star, a 59.6ct pink diamond that sold at Sotheby's in 2017. To join these gems in the top 10 most expensive diamonds ever sold at auction, The Rock would have to sell for a minimum of $23.8 million – the price paid for The Perfect Pink Diamond, a 14.23ct stone sold at Christie's in 2010.

Should The Rock's new owner be struggling for ideas, they might cast their minds back to one more enormous diamond from the history books: the Taylor-Burton Diamond. When actress Elizabeth Taylor received this 69.42-carat pear-shaped diamond as a gift from her husband Richard Burton in 1969, she had Cartier set it into a ring. However, she conceded that "even for me it was too big" as a ring. Instead, she had the jeweller reset it into a necklace that she wore on many occasions, proving that for jewellery lovers, no stone can ever be too large to wear if one truly has the will to do so.