The brilliant, bright and sensual Elizabeth knew how to win men's hearts and, as a consequence, was often accused of promiscuity, to which she invariably answered: "I have only ever slept with men I have married. How many other women can boast the same?" These men were ready to lay the whole world at her feet. She did not require marital harmony, but Elizabeth was all for being gifted jewellery. On discovering this weakness, her husbands would lavish her with expensive gifts in an attempt to express the full depth of their feelings. Let's admire this depth then... in carats!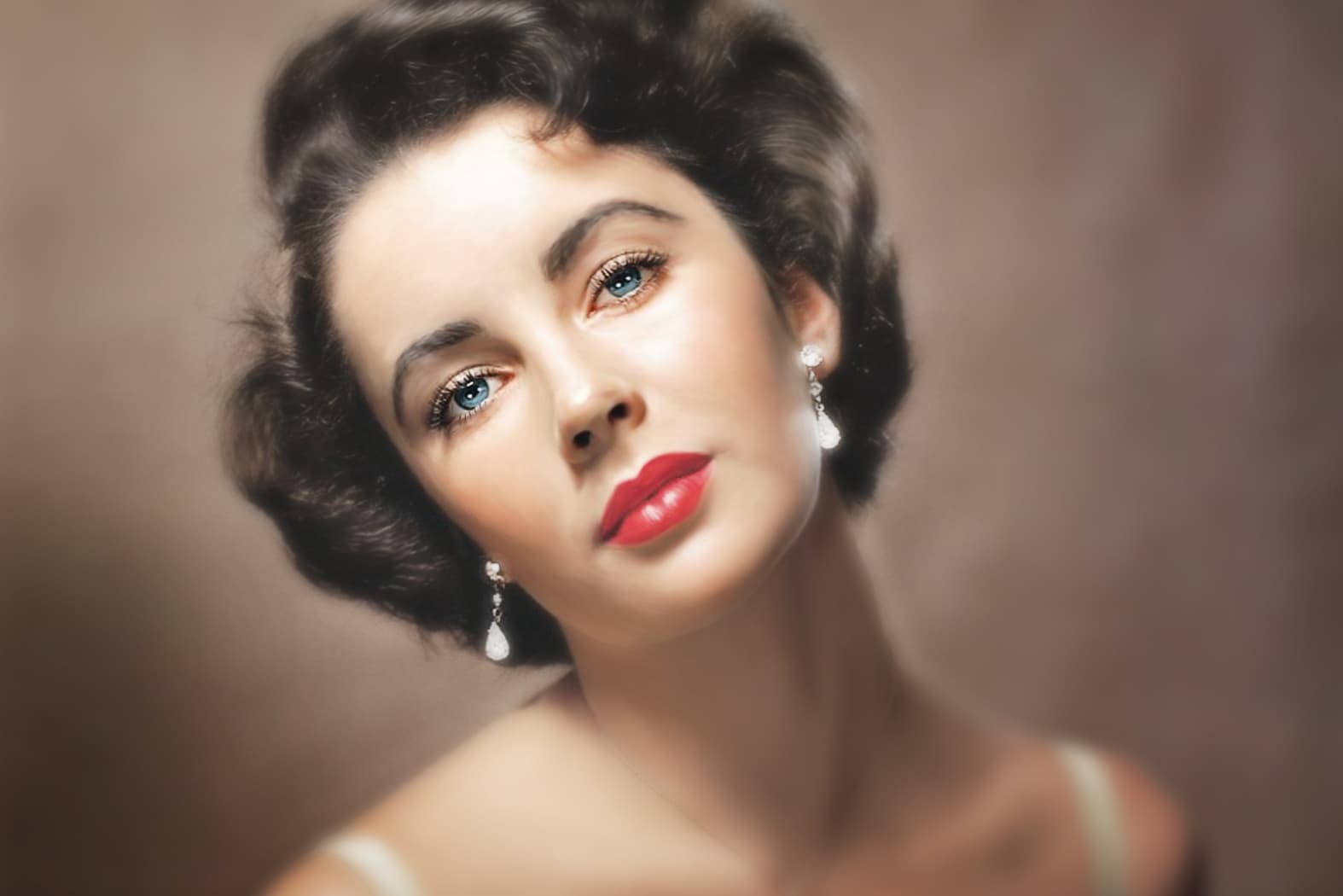 Conrad "Nikki" Hilton // 1950-1952
Elizabeth's first official marriage took place in 1950 when she married the heir to the Hilton hotel empire. The movie studio Metro-Goldwyn-Mayer organised a grand wedding for the 18-year-old actress, inviting 700 guests plus extensive media coverage. Her management's wedding presents included a satin bridal gown designed by Helen Rose, who also designed Grace Kelly's wedding dress. Elizabeth described the groom's gifts as follows: "First, there were some diamond and pearl earrings, which I was given for Christmas. These were followed by records, cashmere sweaters, a set of golf clubs, a trip to Lake Arrowhead, and finally a 5-carat diamond engagement ring, after which he gave me a platinum wedding band studded with diamonds worth $10,000." This large-scale celebration did not guarantee a happy life together, however: after separating in 1951, Elizabeth's divorce was finalised on 1 February 1952 when she received a sizeable block of shares in the Hilton Corporation. The couple's separation was incited by her spouse's abusive behaviour and numerous addictions...
Michael Wilding // 1952-1957
…as well as Elizabeth's affair with the English actor Michael Wilding. He was a true gentleman, 20 years her senior and already with 2 children, but Elizabeth chose him out of a desire for "calm, reliability and friendship." As an engagement ring, Michael gave her a sapphire ring studded with diamonds, although Elizabeth herself had to pop the question, asking: "Darling, will you marry me?" The marriage ceremony, held on 21 February 1952 at Caxton Hall in London - yes, just 20 days after the previous divorce was finalised, was very modest. History is silent as to what Michael gave her because everything, including Elizabeth herself, was completely overshadowed by the fact that she took him not only from his wife, but also from his mistress - Marlene Dietrich, no less! After having two children together, with Elizabeth's star rising and Michael's fading into retirement, the couple's relationship ended in divorce in 1957.
Mike Todd // 1957-1958
The extravagant and foolhardy film producer Mike Todd met his match in Elizabeth, and she in him; they were, as they say, made for each other. He spent $92,000 on a 29-carat emerald-cut diamond engagement ring that looked more like a block of ice. But the luxurious gifts did not end there: rumour has it that he presented Elizabeth with a gift every Saturday to mark the day they met. Although Mrs Taylor was not a royal personage, she was not in the least bit shy of going out wearing an ornate piece of jewellery, including a tiara that Mike gave her. Their glorious wedding took place in Mexico on 2 February 1957, but just 1 year later, in March 1958, Elizabeth became a widow: Mike tragically died in an airplane crash when their daughter Lisa was only seven months old.
Eddie Fisher // 1959-1964
On 12 May 1959, Elizabeth Taylor, who by that time had already converted to Judaism, married Eddie Fisher, a musician and close friend of Mike Todd. "It was a typical Jewish ceremony. And, as always, Taylor was late for her wedding," wrote Fisher in his autobiography about their wedding in a Las Vegas synagogue. Since Elizabeth was still wearing the ring given to her by Mike Todd, his wedding gift to her was a 40-carat bracelet set with 50 diamonds. Two Bvlgari brooches that he gave her are also widely celebrated: one includes a "bouquet" of three flowers made of yellow and brown diamonds, the other, diamonds and emeralds. It is said that during their divorce he asked for the latter to be returned to him, to which the star replied that she could live without her ex-husband, but not without a piece of jewellery. She eventually bought it from him.
Richard Burton // 1964-1974 and 1975-1976
The high-profile affair, which began on the set of the big budget movie Cleopatra, was widely covered by the media. Both actors divorced their respective spouses during production and after the film's première they got married for the first time. Ultimately, they were joined in matrimony twice, but Burton never presented his bride with an engagement ring: the first proposal was accompanied by an emerald Bvlgari brooch that was pinned to the wedding dress. Nevertheless, Burton was not stingy and loved to shower his wife with generous gifts: he would gift her with jewellery simply to celebrate a walk together. Once, at an auction in New York, he bought her a 33.19 carat Krupp diamond for $300,000, a gemstone that became something of a calling card for the actress and her relationship with Burton. After her death, the stone was renamed the "Elizabeth Taylor Diamond" and sold at auction in 2012 for $8.8 million. Among Burton's gifts are some truly legendary pieces: the Taylor-Burton diamonds weighing 69.42 carats, the heart-shaped Taj Mahal diamond dating back to 1627-1628, a Cartier La Peregrina necklace with an outstanding pearl, and The Grand Duchess Vladimir Suite parure with 150 carats of emeralds.
John Warner // 1977-1982
The wedding of Senator John Warner and Elizabeth Taylor was a small reception that took place on his farm, surrounded by his closest friends. He gave the actress an engagement ring decorated with rubies, emeralds and diamonds. All their efforts were focused not on jewellery but on building Warner's political career. When he was elected Senator for Virginia, he buried himself in his work while Taylor resorted to alcohol and drugs. This state of affairs led them to divorce.
Larry Fortensky // 1991-1996
Larry Fortensky and Elizabeth met at the Betty Ford Center - the rehab facility where the actress was receiving treatment for her addictions - in 1988. Construction worker Larry could only afford a very humble diamond ring to give to Elizabeth, as opposed to a multi-carat engagement ring. The leading "jewels" of the celebration were thus the owner of the estate where the celebration took place, Michael Jackson, and a $2 million Valentino bridal gown. Although Elizabeth Taylor divorced once again and for the final time at the age of 64, she remained on friendly terms with Larry until her final days.
As you can see, Elizabeth Taylor's husbands played a significant role in creating her jewellery collection, but it would be unfair to say that the actress did not accept jewellery with the same pleasure, from both fans and friends alike. Elizabeth was also able to buy all the jewellery she liked herself and regularly took the opportunity to indulge… but that's a completely different story.