"Ceci n'est pas une pipe". These are the famous words of René Magritte, which appear in his work, The Treachery of Images, painted in 1929. The Belgian surrealist painter made a point about the connection between objects, words and images. For some reason, this was one of the first things that came to my mind when viewing the Boucheron More is More High Jewellery collection, which also seeks to subvert the traditional notion of what something is and isn't. In this case, Artistic Director Claire Choisne asks us to leave our perceptions of High Jewellery at the door and step into a bubble-gum world of absolute and unadulterated joy.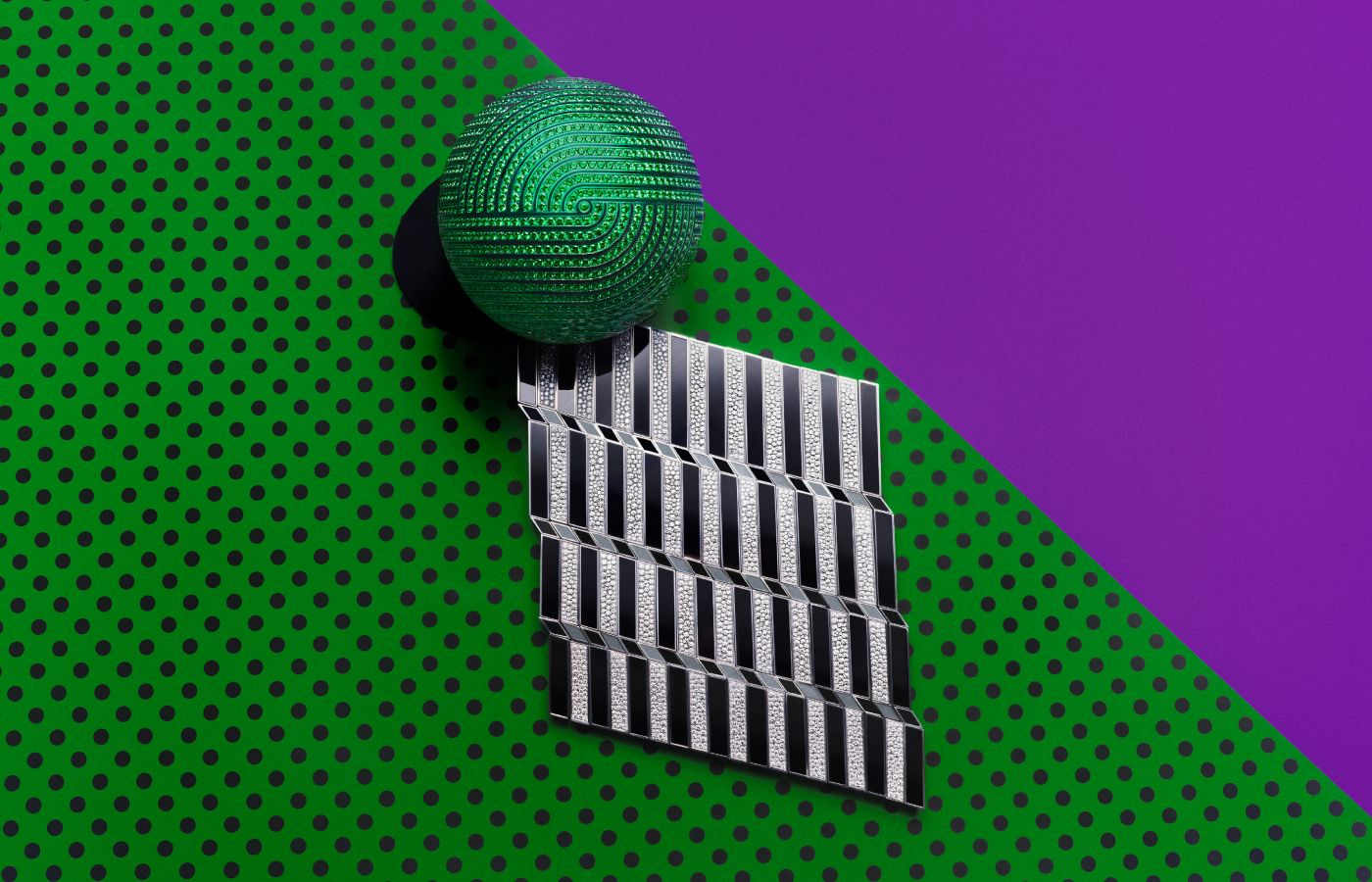 The More is More collection flourished during the Covid-19 lockdowns in 2020. At its heart is optimism, happiness and the search for something fun, light and without restriction. The resulting creations are extravagant, voluminous, totally unexpected and bursting with a youthful personality that is highly likely to scandalise the older doyens of High Jewellery design. This isn't a sensible collection… but therein lies its magic.
"By pushing the boundaries of High Jewellery, with the greatest respect to its values, and by questioning the meaning of precious, these creations take us far away. Where innocence welcomes beauty without any constraints, where enchantment dwells, where sophistication looks easy and the world exhilarating," Boucheron.
Whether intentional or not, this season's collection has a definite 'child of the 1990s' vibe, including scrunchies and iron-on patches (read more here) that were a fixture of the era. But these have all been elevated with coloured gemstones and diamonds in a fresh and rebellious way. It's also important to note the overall size of pieces in the collection: necklaces dominate the entire chest, bracelets are worn stacked up the forearm for maximum impact, and a remarkable clothing jewel is the answer to any woman who wishes their favourite dress had pockets (more on that later!). Prepare to have your world rocked with the collection's highlights…
Tie The Knot
The first chapter of the Boucheron More is More story is a brooch, but not as we know it. It takes the form of a 29cm-long hair bow that's two-dimensional but made to appear entirely three-dimensional (a form of optical trickery that appears across the collection). Its cartoonish finish is achieved through stripes of magnesium, treated using a technique called cataphoresis, and colourless diamonds juxtaposed against the faux interior of the bow crafted from red bio acetate – a wood paste and cotton fibre material more commonly used by eyeglass manufacturers. The benefit of this is its lightness, meaning that despite its size, this piece only weighs 94 grams. Various technical challenges abounded when making Tie The Knot, notably the inability to resolder a claw-setting should a mistake happen during diamond placement. One mistake could have meant disaster! Fortunately, all 200 parts of this fantastical creation were brought together with precision, and we are left with a showstopper.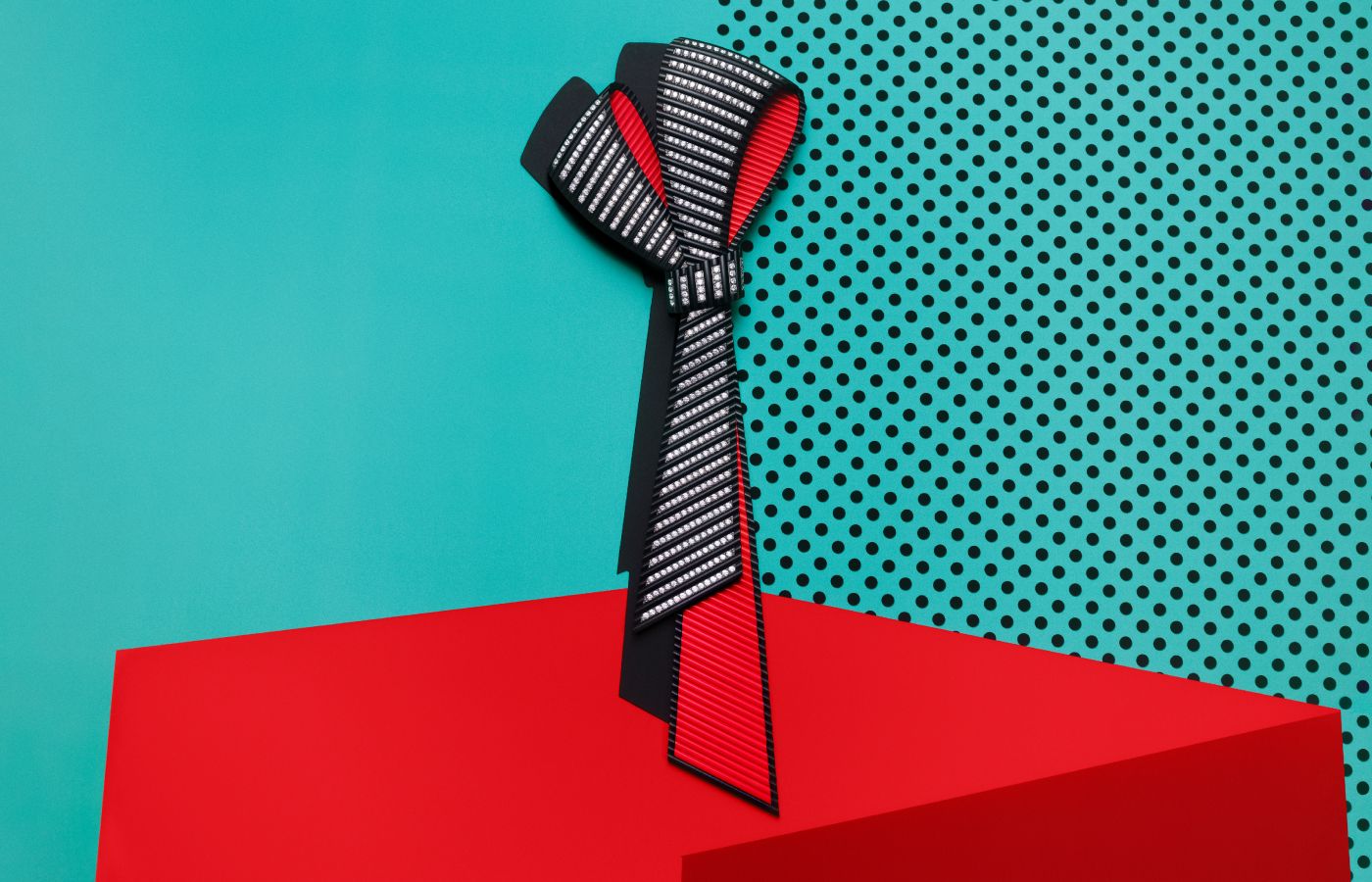 This Is Not A Ring & This Is Not A Scrunchie
"Pop and geometric pieces that would have escaped from a 70s art gallery". This is how Boucheron describes its More is More rings and bejewelled hair band that burst with pavé spheres and cubes, set with diamonds, tsavorites, sapphires, mother of pearl and rock crystal. Each surrealist piece pushes colour and contrast to the extreme by using bright resin hues to line rings with monochrome stripes or finish pieces with red and turquoise surfaces. Don't be fooled, though, because the This Is Not A… series is underpinned by exceptional craftsmanship and a mastery of multiple materials, including precious gemstones, diamonds, gold, titanium, resin and event Murano glass. My favourite creation wows with a carved rock crystal sphere lined with yellow diamonds and filled with yellow sapphires, paired with a black titanium and diamond cube in geometric harmony. I have no shame in admitting that I am not 100% sure how the former was achieved, but sometimes a little mystery is all the more alluring!
In The Pocket & An Apple A Day
Now here is where things get truly avant-garde. In The Pocket is described as a 'clothing jewel' – a sort of detachable hand warmer with the suppleness of cloth – set with onyx and diamonds and decorated with lacquer in titanium and white gold. It forms what Boucheron describes as a "neo-parure" with An Apple A Day – a bulbous green tsavorite sphere decorated with lacquer and set in anodised titanium and white gold. The brand explains: "Who said that a parure should be composed of a necklace, earrings, and a bracelet? In the Pocket makes light of conventions. It creates an attitude and a succession of emotions, drawn from the discovery of the richness of its pieces – enhanced by the preciousness of their nonconformism." In short, Boucheron is no longer willing to play by the rules.
For the Maison's atelier, this flexible and vast pocket must have seemed like an unachievable task. Its craftspeople began with 3D printed titanium elements, mounted onto stretch fabric and combined with magnets connecting the jewel to the wearer's dress or coat. And, not to be outdone, those working on the An Apple A Day sphere ensured it could be worn as both a bracelet and two rings once deconstructed, making it a four-in-one creation.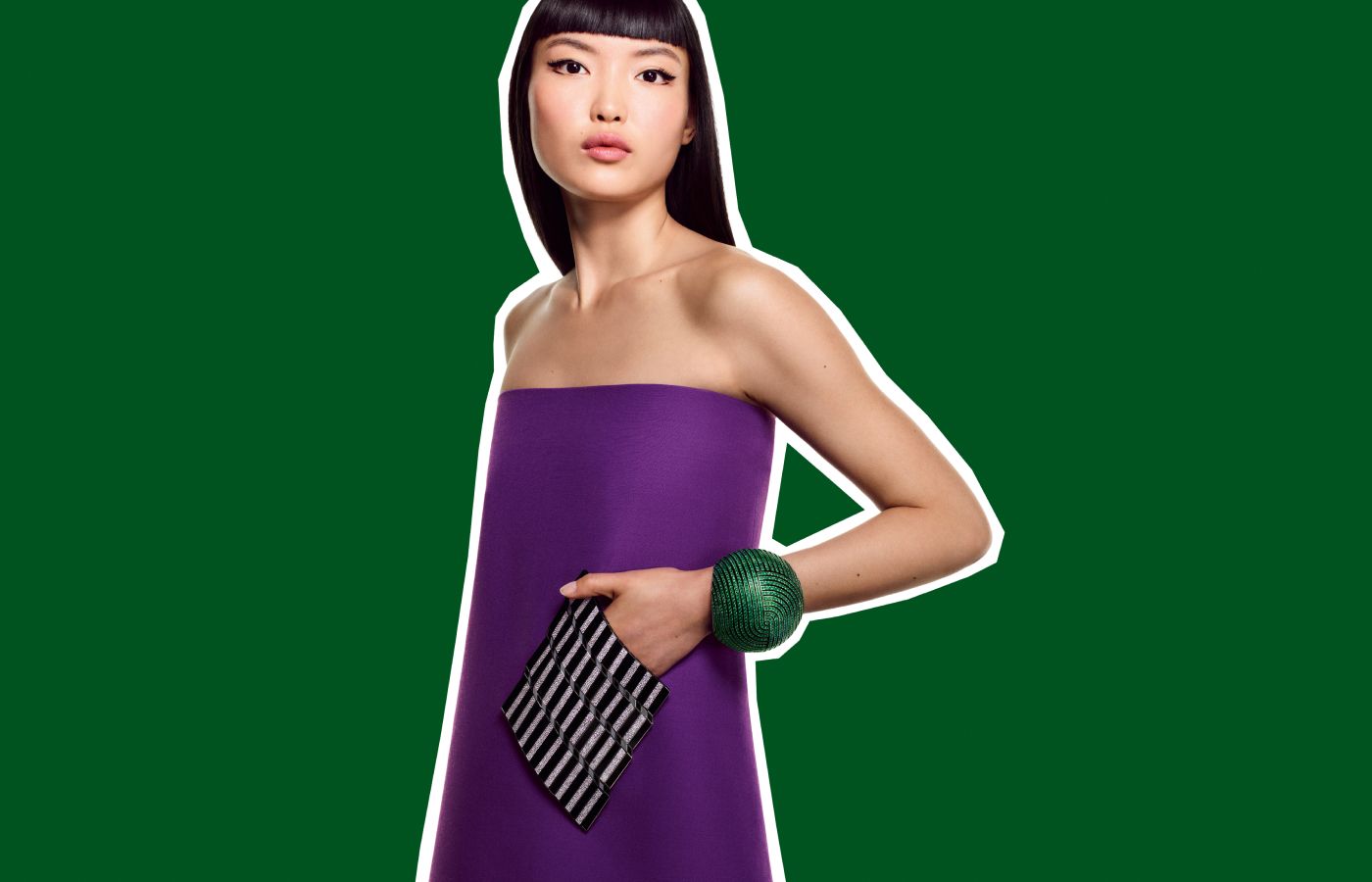 Pull Me & Hit The Road Jack
Inspired by streetwear, the Pull Me hoodie strings are hanging pendulums of citrines, onyx, cacholongs, white opal and diamonds, accented with lacquer in white gold, yellow gold, aluminium and titanium. In one iteration, they are suspended from 40cm precious 'strings' that pin like a brooch to the base of a hood. In others, they can be worn as stud or long earrings to suit each individual's boldness. Boucheron describes the piece as "redefined masculinity" and perhaps imagines the creation as a shared jewel between a young couple, both vying for attention.
Both Pull Me, and the Hit The Road Jack brooches reference the now iconic 'Jack' clasp motif that is a Boucheron signature. The latter feature diamonds and coloured resin in white gold and magnesium; we expect to see them on the tuxedo lapels of Hollywood stars in the future.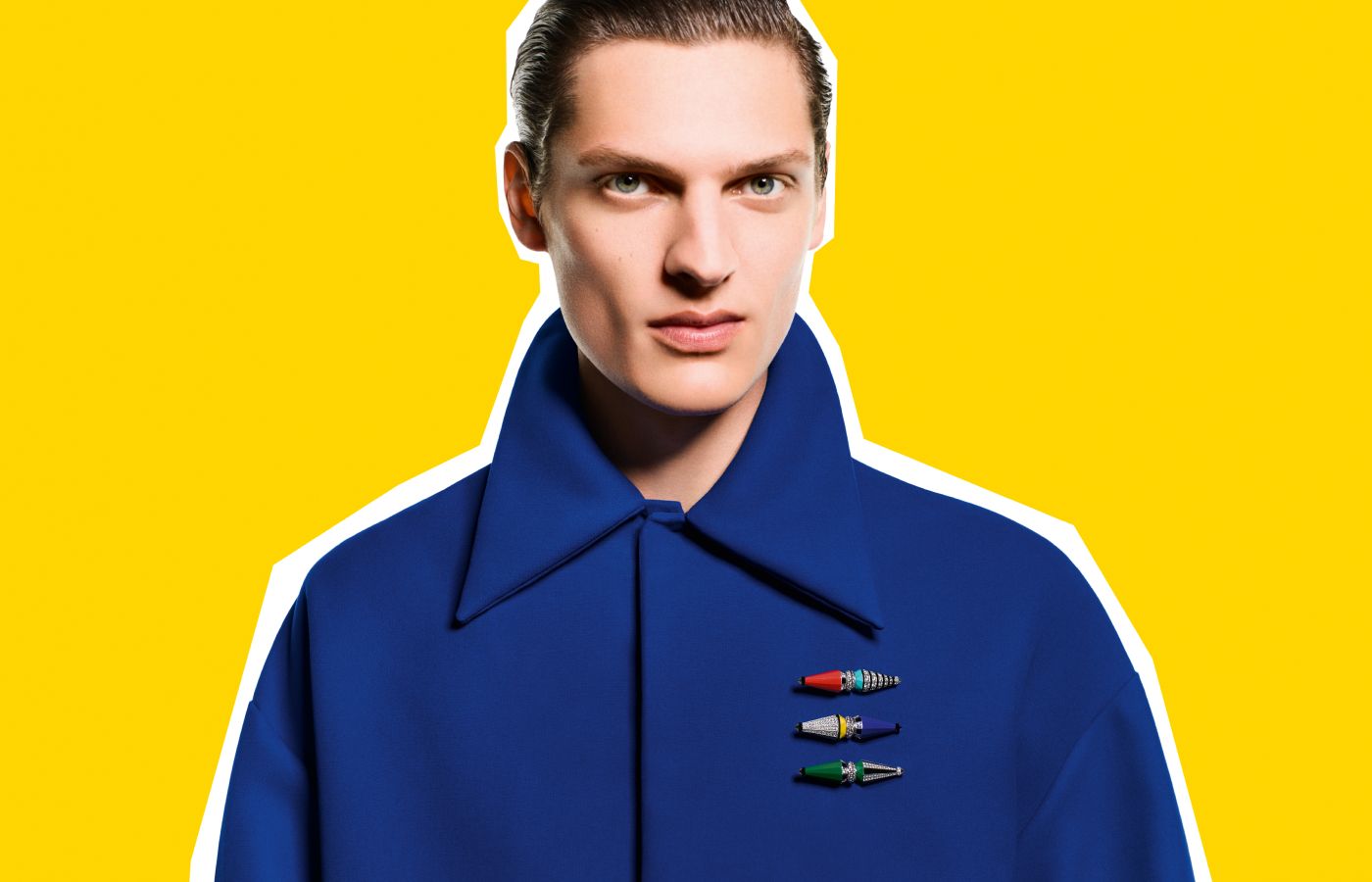 Just An Illusion
Moving on to necklaces, we are once again spoiled for choice with More is More. Just An Illusion taps back into optical illusions with a two-dimensional flat chain that looks like a Roy Lichtenstein painting brought to life. The first thing that hits you is the sheer size and the comic book effect, using shades of orange and blue, black and white stripes, diamonds, spessartite Mandarin garnets, and rock crystal set in titanium and white gold. Another interesting material is HyCeram - a hybrid ceramic/polymer compound that forms the blue, white and black colours seen in the Just An Illusion necklace. These hybrid colours are applied with a laser seamlessly side-by-side to ensure they appear like one solid, uninterrupted surface.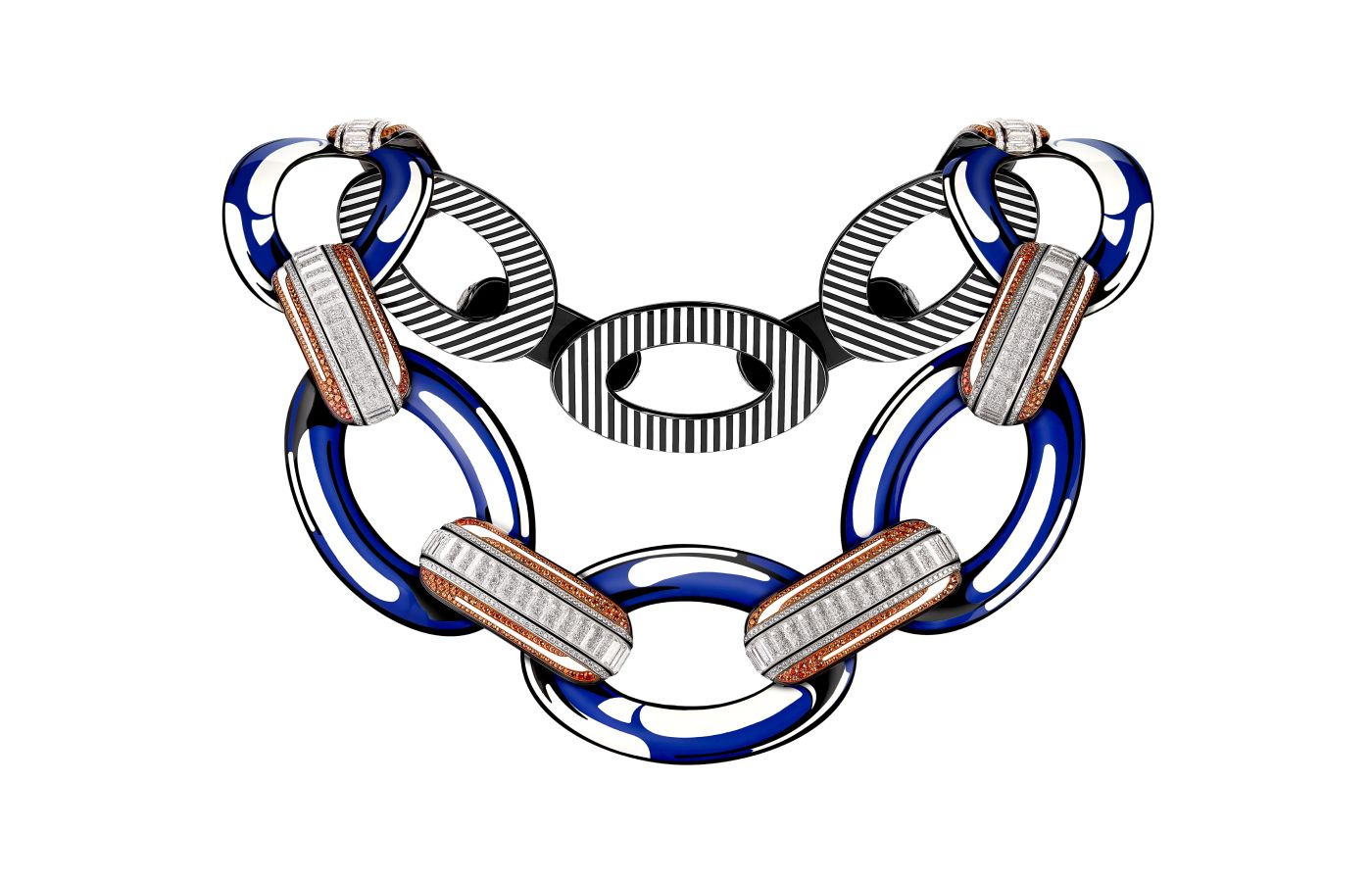 Pearl Soap Bubble
If I was forced to pick a favourite from the More is More collection, this is it. The Pearl Soap Bubble necklace is crafted from extra flat discs of mother of pearl (5.5cm in diameter), topped with slightly convex sapphire glass, and separated by elongated diamond-set rondels. The effect is akin to a traditional pearl necklace lifted from the pages of a comic book. A matching Pearl Soap Bubble is equally impressive with a sliver of nacre encased in sapphire glass, standing tall above the finger and held in place by a halo of diamonds atop a two-finger framework. Boucheron explains that it is "sweeping aside all we thought we knew about pearls" by reinterpreting an archival design uniquely and innovatively. Both pieces are crafted in aluminium and white gold for lightness, which is a defining feature of More is More creations.
Once In A Blue Moon
One of the most recognisable shapes in the Boucheron archives is the question mark necklace, which appears again in its 2023 High Jewellery extravaganza. Again, the Once In A Blue Moon necklace sits flush with the chest, allowing the design to create the illusion of three dimensions. Unlike others in the offering, it is set with a significant solitaire, specifically a 5.28-carat cushion-cut tanzanite at the centre of a bloom, decorated with diamonds and blue, black and white lacquer in white gold. The accompanying Parfum ring – an ode to the "dialogue between fragrance and High Jewellery" – is set with a 33.15-carat tanzanite cabochon, plus rock crystal and diamonds in white gold. Note the flat version of a traditional sugarloaf cabochon here, which follows the theme of the entire More is More offering.
Solve Me
Did you play with a Rubik's Cube as a child? Boucheron hopes you will draw the parallels between this 1980s mega-toy and its Solve Me necklace, combining playfulness, aesthetics and geometry in one oversized design. Each shimmery cube is unique in its combination of colours and materials, which include diamonds, grey spinels, pink sapphires, and mother of pearl in aluminium and white gold. Despite how solid it may appear, this piece is actually quite supple and proved to be a "wonderful challenge both technically and artistically" for the Boucheron atelier.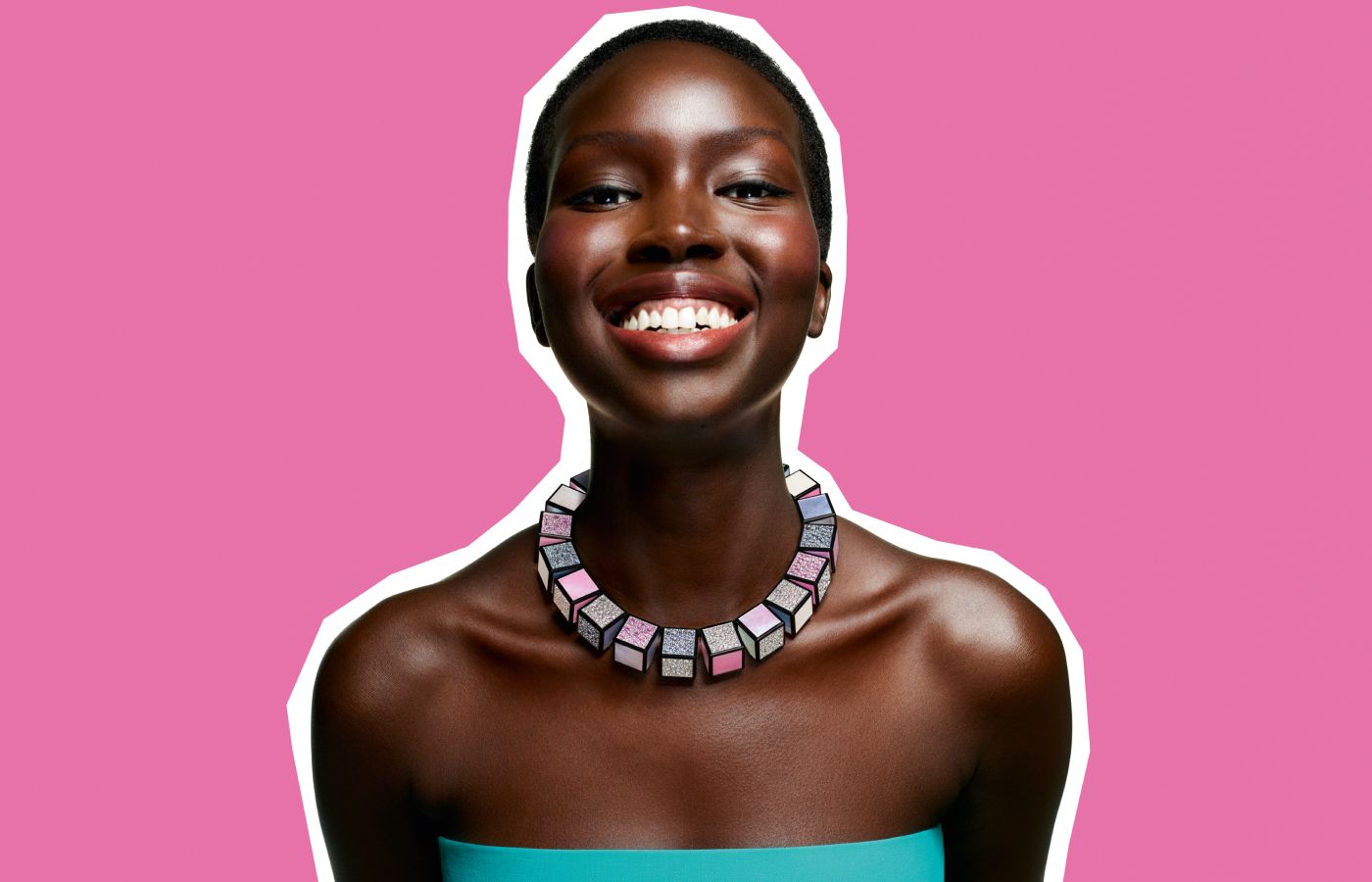 I Got Your Back & Puissance Quatre
Just when you think you've got a lay of the land with More is More, Claire Choisne introduces something unexpected, like the I Got Your Back scrunchie. Think of it as a hair cylinder that encases a long sleek ponytail in bright red and turquoise lacquer, diamonds, white gold, bio acetate and magnesium. As the brand explains: "This aerial hair jewel makes its owner forget their status while still offering the lavishness of its materials to the eye of observers." The Puissance Quatre cuffs are more familiar but no less vibrant. Each XXL cuff is paved with diamonds and decorated with coloured resin and black and white lacquer in aluminium to create a stacked effect. By swapping more traditional materials like gold for aluminium, Boucheron has created a design that's eight times lighter. However, this also makes its craftsmen nervous… one wrong move when setting one of the 134 diamonds on the second row would result in having to start again from scratch. To alleviate some of the stress, Boucheron created three of each piece, just in case.
If High Jewellery is all about 'serious' creations, then Boucheron is redefining what it means to engage with luxury jewellery. It is speaking to a new generation of jewellery lovers who've grown up far removed from the banquets and black-tie affairs of old… they're young, fresh, exciting and want expressive jewels. And before you go, make sure to read our second article about More is More, dedicated to its Do Not Iron brooches – another hit from the house!