Her Late Majesty Queen Elizabeth II was known for having a sartorial signature: block colours. She typically wore head-to-toe brights, including some notable lime green, orange, yellow and teal ensembles. Aside from looking regal, it also ensured Her Late Majesty stood out from the crowd and could be easily spotted among a crowd of well-wishers. This approach to fashion has influenced the thinking behind the new Boucheron Histoire de Style Like a Queen collection, which pays homage to a special piece in Her Late Majesty's private collection: a Boucheron aquamarine and diamond double clip brooch (1937) gifted to Elizabeth II on her eighteenth birthday in 1944.
In 2020, before Her Majesty's passing, Claire Choisne, the Creative Director of Boucheron, decided to reinterpret this unique Art Deco piece through eighteen contemporary new designs. She says: "Three years ago when I started looking for inspirations for this collection in the Boucheron archives, I couldn't get my mind off that Art Deco double clip brooch. The severity and geometry of the Art Deco design, tempered by the softness and light blue hue of the aquamarines, always fascinated me. I was touched by the sentimental value of this double clip, which Queen Elizabeth II wore at pivotal moments in her reign."
The results of her detailed study of this archival design are presented in Like a Queen, which stays true to the silhouette of the original double clip but adds refreshing mono-tonal colour, rock crystal, and leather ribbons. The model images are telling; quintessentially 'Old English' bucket hats, polo necks and woollen fabrics that might be found in an alternative, almost futuristic Windsor Castle!
"Being able to wear a piece in a number of ways, as well as the use of colour, were central to our work on this collection so that both men and women may wear these pieces. We wanted these eighteen variations to reflect the ease with which the original was worn since the two clips may be attached in various ways, on their own or together. We also wanted this collection to convey the elegance distinctive of this Art Deco piece," Claire Choisne, Creative Director, Boucheron.
If you have perused recent Histoire de Style collections, like New Maharajahs and Art Deco, you won't be surprised to learn these pieces are versatile and crafted in the spirit of multi-wear. Pieces can be worn as brooches, pendants, hair ornaments and transformable earrings, among other ways. They're also unisex and are photographed on both male and female models as sparkling bowties and lapel decorations. Claire Choisne adds: "On certain jewellery sets, we broke down the original geometry of the design. On others, we took the opposite approach: we compacted the Art Deco design. And elsewhere, we brought in another dimension by playing on the colours of the gemstones."
It's true to say that colour reigns supreme here. There's something joyful about how such saturated hues are used so monochromatically… can you imagine the challenge for Boucheron's gemstone specialists to find such a palette of perfectly matching stones! Let's take a closer look at this new High Jewellery collection, which tells a fantastical story from a single source of inspiration.
Like a Queen – Hypnotic Blue
What better place to start than with a six-carat Ceylon sapphire, set within a double arc of round and baguette-cut diamonds that engulf the finger? This ring joins a cuff bracelet with cabochon and baguette-cut aquamarines and diamonds. This piece stays true to the 1937 double clip brooch, but the addition of navy-blue lacquer on white gold gives it a modern twist.
Like a Queen – Green Garden
Gorgeous Zambian emeralds are the star of the show in this set. First, there's a platinum ring paved with emeralds and diamonds, enhanced with a fine line of green lacquer, and finished with a 6.25-carat cushion-cut emerald. Look a bit closer, and you'll notice that this solitaire can be separated from its ring 'jacket' and worn alone, thus continuing the multi-wear spirit. To complement this ring is a pair of earrings with detachable pear-cut emeralds of 4.04 and 3.99 carats. The remaining diamond and emerald clips can be worn alone or attached along the cartilage of the ear for a different look entirely.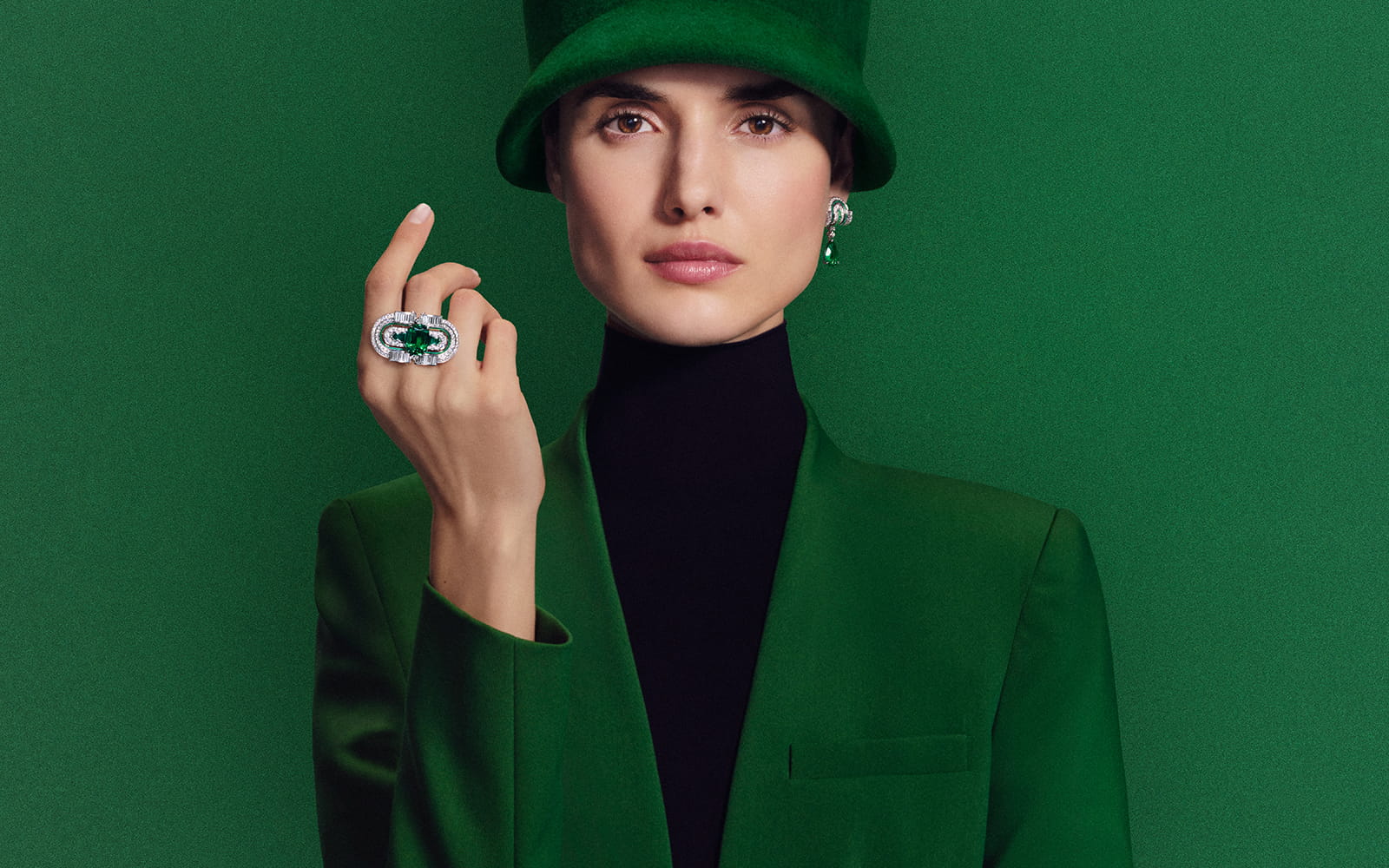 Like a Queen – Rolling Red
Here we begin to see the silhouette of the double clip brooch being broken down and reconstructed in new ways. There's a necklace, a pair of earrings and a ring with 34 Mozambique rubies in a deep maroon-red hue. The brooch is elongated as if the original double clip is melting and morphing into something more flamboyant. The necklace boasts a central ornament that can be detached and worn as a brooch, leaving a fully diamond-set choker behind. Its links are structured and articulated "like a snakeskin moulting," according to the brand. For fans of numbers, there are 17 oval-shaped rubies in the necklace for a total weight of 18.82 carats, the brooch portion has 17 rubies totalling 18.82 carats, and the earrings have 16 rubies of 17.35 carats, all in white gold.
Like a Queen – Mega Pink
Who doesn't love juicy tourmalines? The Mega Pink set contains two brooches – true to the original double clip in aesthetic – but modernised with bright pink tourmaline cabochons and baguettes, lacquer and channel-set diamonds. Imagine these worn as a pair on the lapels of a black tuxedo jacket… we hope to see something similar at this year's Met Gala or Oscars ceremony.
Like a Queen – Lemon Slice and Color Block
For the woman (or man) who wants their pick of rainbow colours, Boucheron has added two facets to the Historie de Style Like a Queen collection that are too tempting to miss. Lemon Slice is a compact, colourless diamond version of Her Late Majesty's double clip that can be worn as a barrette, brooch or on a series of leather ribbons as a choker or bracelet. The statement colour is bright lemon yellow, followed by black, red, green and, of course, Boucheron blue.
Next, there's Color Block – a trio of lemon yellow, fuchsia pink and turquoise blue sapphire and diamond-studded pieces of ear jewellery that pay tribute to Queen Elizabeth II's block colour wardrobe. These are scaled-down Art Deco treats that can be worn at any point on the ear, either alone or together to pack a punch.
Like a Queen – Moon White and Frosty White
Perhaps all this colour must be tempered with something more subtle and nuanced. Well, Claire Choisne has already thought of that! The Moon White and Frosty White sets play on a more subdued palette of colourless diamonds, mother of pearl, rock crystal and pearls in white gold. Starting with Moon White, this is a transformable set with a three-strand Akoya pearl necklace with a detachable hair ornament and/or pair of brooches, a pair of multi-wear earrings (with a removable Akoya pearl drop), and a pair of index-finger rings with mother of pearl.
Frosty White introduces a second solitaire-meets-ring-jacket concept to the collection, this time with a 3.08-carat emerald-cut stone from Botswana and an exterior in diamonds, rock crystal and white gold. The earrings, too, are long, shoulder-skimming and light-reflecting, and can be worn without their diamond and rock crystal tassels. The piece de resistance here is the Frosty White necklace, which can be worn in six different ways. More than a thousand diamonds adorn two Art Deco-inspired clips, four sweeping rows of colourless stones and a further three lines of gems that curl around the back of the neck. Each aspect can be detached and worn differently, such as brooches, hair ornaments, or a cape clasp.
Boucheron has created such high standards for itself when it comes to High Jewellery. The Histoire de Style Like a Queen offering meets this level of expectation perfectly and offers a refreshing take on an Art Deco icon and a piece owned by one of the most famous women in history. The fact that these interpretations are adorned with Mozambique rubies, Zambian emeralds, Ceylon sapphires, and pink tourmalines is the cherry on the very regal cake.