Art Deco has been around for about 100 years. No other style in history has left such an indelible mark, nor has one had such a profound impact on society, touching every art form: jewellery, fashion, interior design, architecture, fine art and technology.
In the tradition of recent years, Claire Choisne, Creative Director of Boucheron, freely chose a theme for the July high jewellery collection, while the January collection was devoted to a fresh reading of sketches from the maison's archives, paying tribute to Frédéric Boucheron himself. This year, Claire studied numerous archival Art Deco sketches, extracting from them the spirit, approach, and radical simplicity of the time.
In the 1920s, a Parisian woman asserted her femininity with masculine tailoring, plunging necklines, high-waisted trousers, long necklaces and short hair. It was a time of extravagance and a declaration of the duality of sex. A time when style was decisive. For the women and, not to be excluded, men of today, Claire Choisne offers clean lines in her collection, the contrast of black and white enhanced by the bright colours of precious stones, symbolising the values of the "Roaring 20s".
"A History of Style, Art Déco is more than a collection of high jewellery for women and men, it is a declaration of freedom and style," says Claire Choisne, explaining the meaning behind the collection's jewels.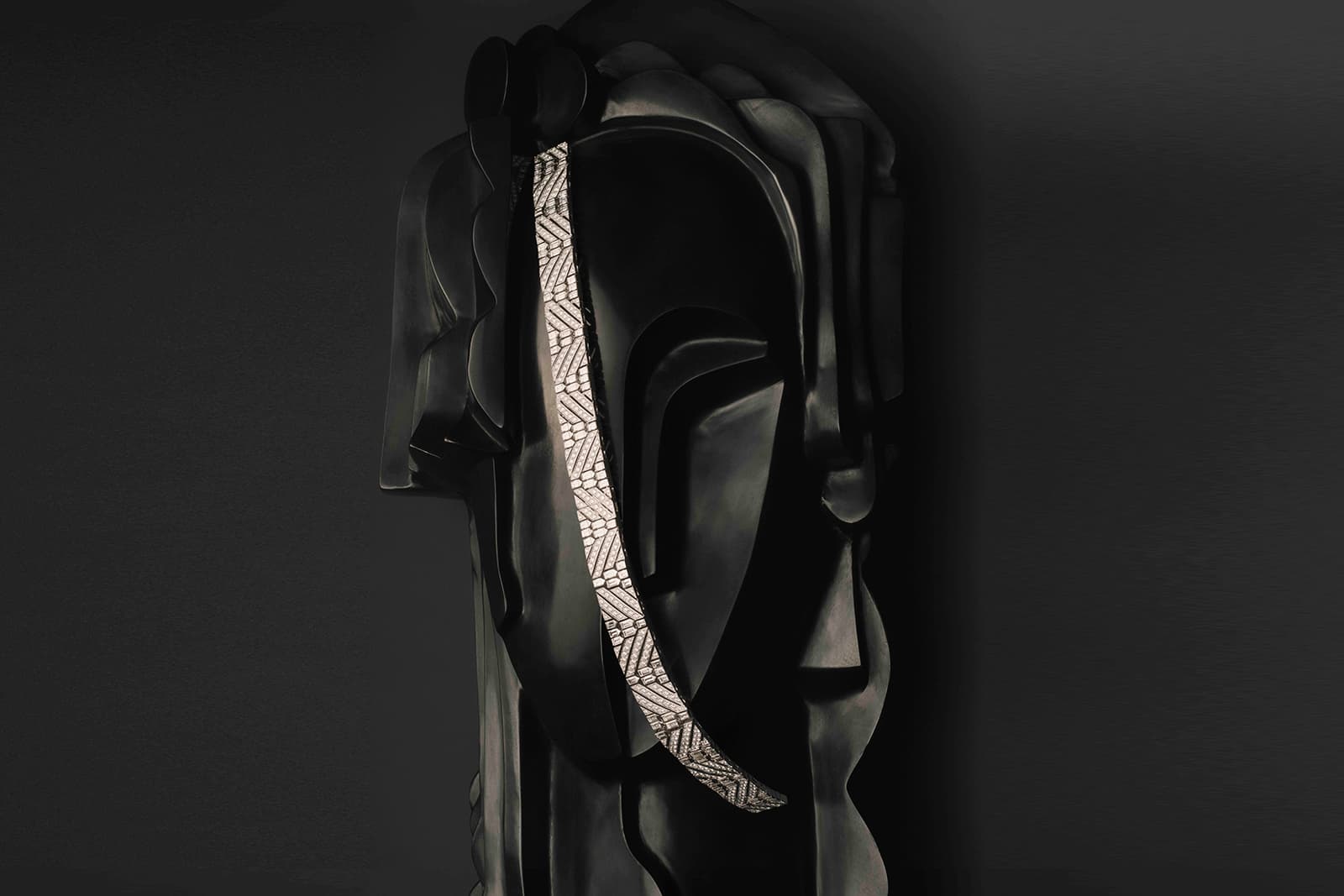 To avoid a literal repetition of the past, Claire references the maison's signature motifs while advancing her own vision for a modern retelling of Art Deco. For example, her favourite type of jewellery, one that echoes the spirit of the entire collection, is transformable and can be worn in a variety of different ways. In the 1920s and 1930s, headbands were especially popular, something Claire could not ignore, so she developed the Ruban Diamants choker with a geometric diamond pattern that can be worn as either a bandeau or a belt.
Bow ties were very much in vogue 100 years ago. This is reflected in the Noeud Diamants brooch made of colourless diamonds and black lacquer, which can also be worn as a pin for a men's suit or as a hair clip. The ring from the set can also be transformed from a cocktail ring with a bow into a more modest solitaire with a 1.5-carat diamond in the centre.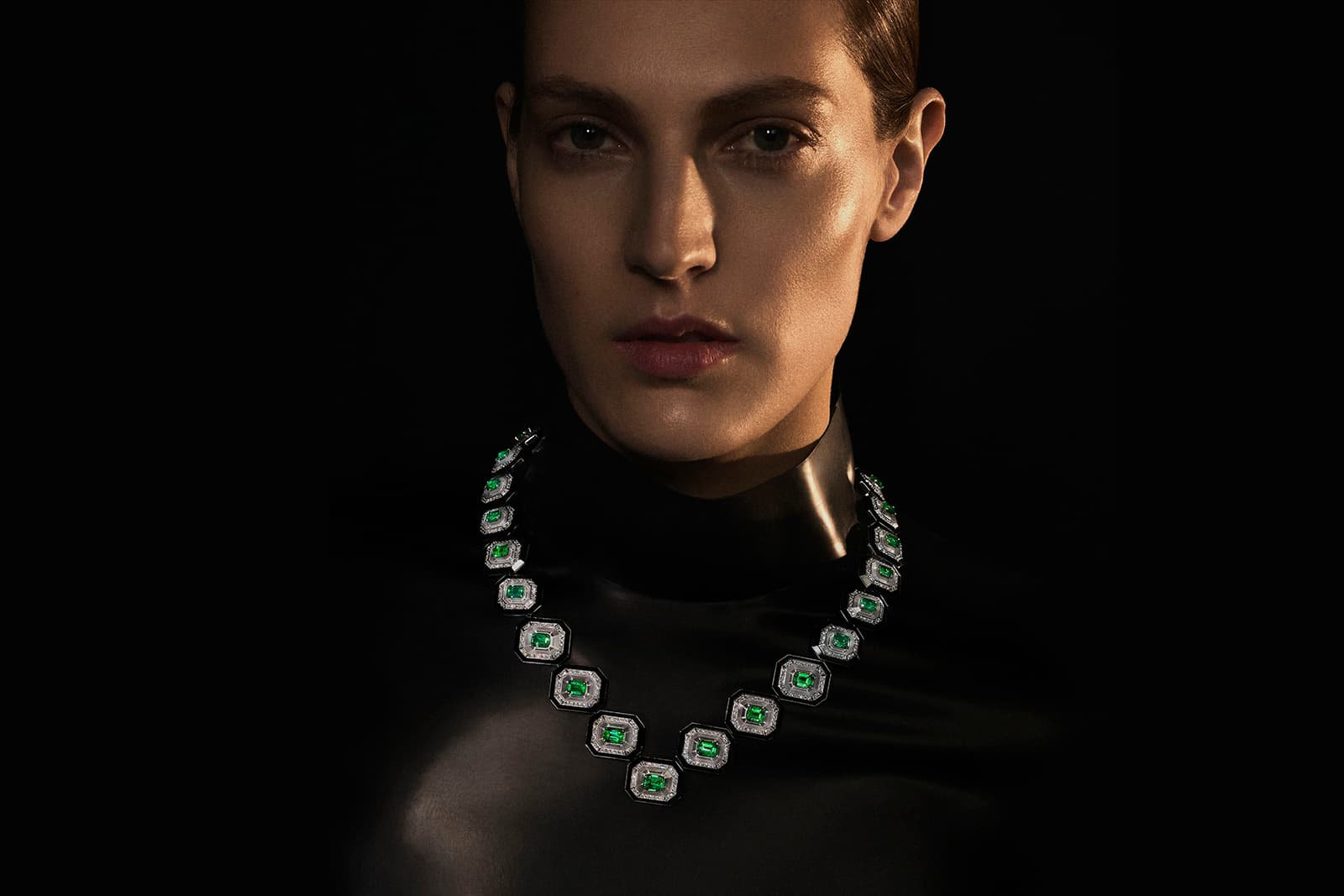 Rock crystal, Claire's favourite material, was first used by Frédéric Boucheron in high jewellery to lend a lightness to larger pieces. Choisne used it to create the striking Chevalière Émeraude signet ring with a 4.43 carat Colombian emerald, which, incidentally, looks equally impressive on either a woman's hand or a man's little finger. This vibrant green gem, surrounded by baguette-cut diamonds and outlined with a thin line of black lacquer, is buried in an octagonal rock crystal that mimics the shape and paving stones of Place Vendôme. The highlight is the sprinkling of diamonds on the shank, which sparkles under the crystal and makes the design even more effective.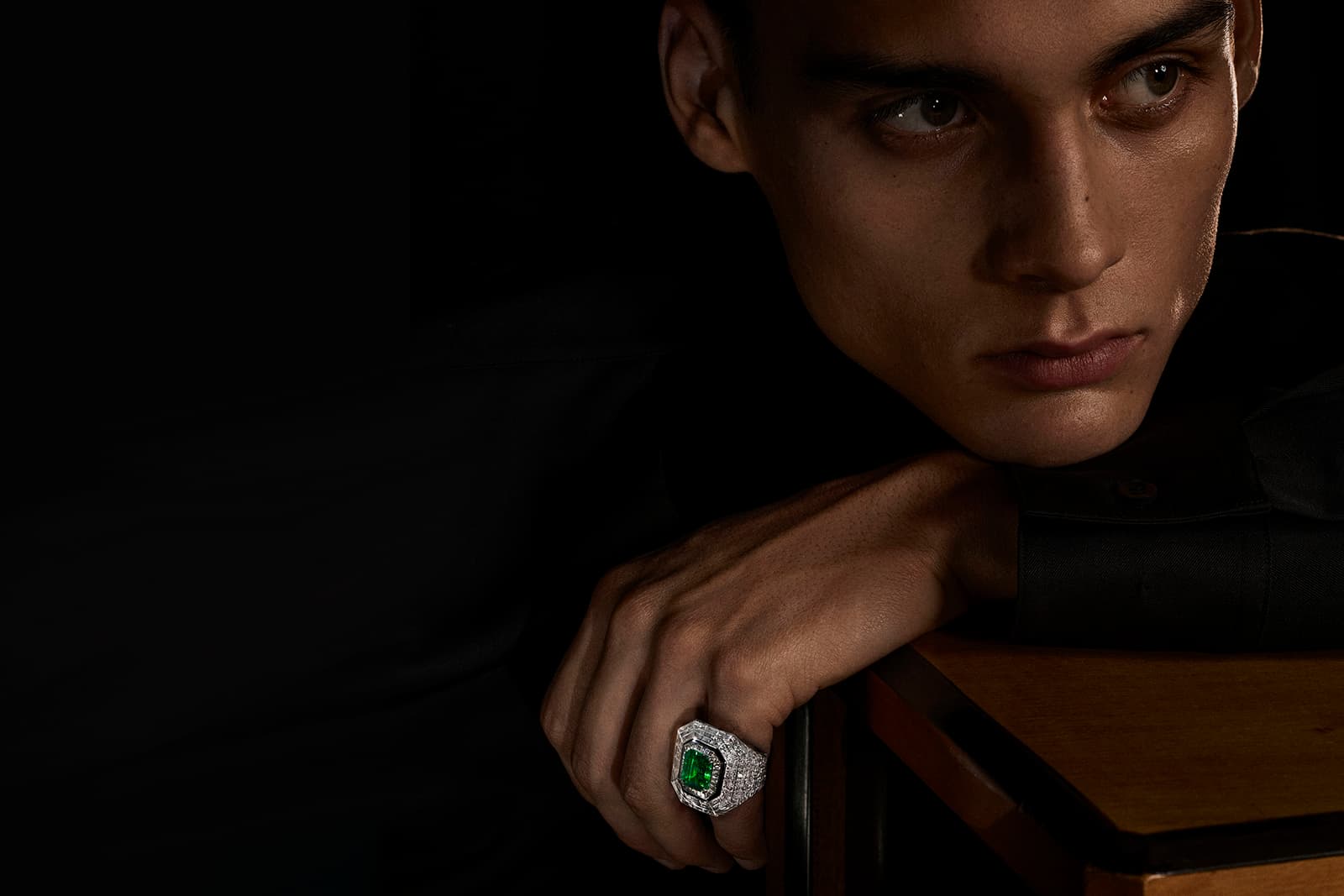 If the solution to making these designs genderless was to keep them small and refined, how can voluminous and bold jewellery be handled? What about a necklace, for example? Claire recalls that a century ago it was natural for men to wear large jewellery as a demonstration of strength and power. A prime example and source of inspiration is the famous emerald and diamond necklace, created by Boucheron jewellers for Maharaja Patiala in 1928. Claire reworked this design to produce the modern Plastron Émeraudes necklace, set with 220 emerald beads, weighing a total of 1,071.97 carats. It can be transformed into a bracelet and choker and worn with earrings and a ring that have a complementary design.
The Chevron Émeraude necklace continues the diamond and emerald theme. It is so flexible that it follows every curve of the body, descending to an emerald drop weighing 61.35 carats. The necklace is reminiscent of the chevron geometry that was so favoured by Boucheron in the 1920s. Claire says that this long necklace can also be worn as a belt or bracelet.
As you can see, the A History of Style, Art Déco collection embodies something more than just the style and luxury of high jewellery. Claire has created symbols of freedom and celebration that are precious both literally and figuratively. Her work will allow future owners of the pieces not to be limited to a particular style, but to express themselves through transformable jewellery and the various ways they can be worn.