Rock crystals are semi-precious stones that are part of the quartz family. They immediately remind you of blocks of ice. You sometimes find pure rock crystal but it often contains decorative inclusions that are like a delicate haze of needles or minute crystals. They're usually used when rock crystal is cut as a part of the design.
Quartz is naturally found in abundance and it's not just colourless forms that are found. There's also yellow, violet, pink, brown and green quartz. Every type has its own name: citrine, amethyst, pink and smokey quartz. Rock crystal is not considered an expensive gemstone. It is often used in silver jewellery pieces and much more rarely met in high jewellery art (if it is it's only used to complement the main parts of the composition). That's why I was so (pleasantly) surprised when I saw rock crystal as a part of many high jewellery pieces displayed at The Biennale des Antiquaires!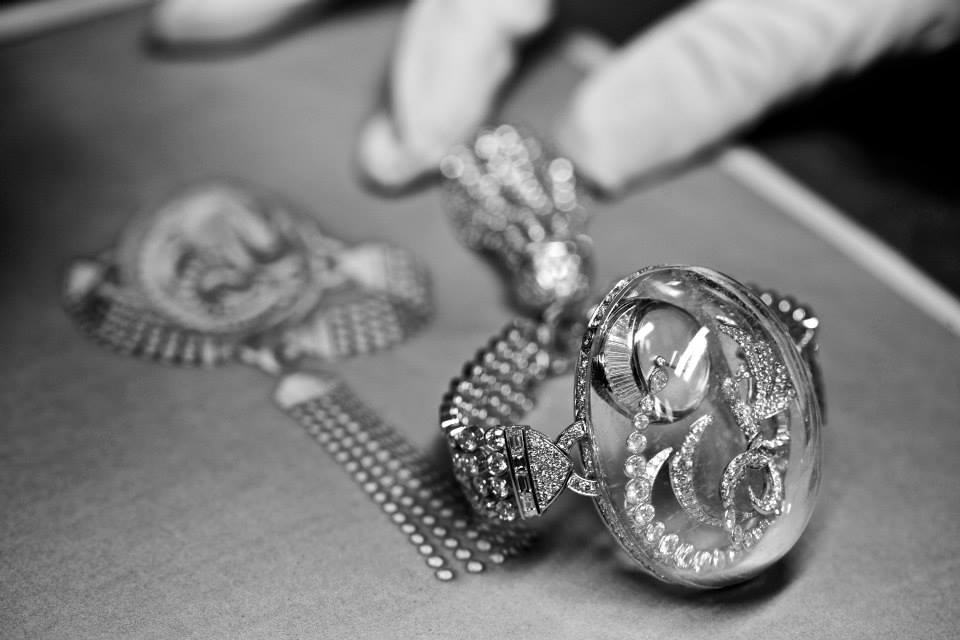 Boucheron succeeded in unmasking the potential of transparent quartz better than any other jewellery maison. Its designers have used the stone in a variety of stylistic ways. For instance, the quartz discs on the extravagant Rives du Japan Riochet necklace from the Voyage des Temps collection were smoothly polished; the Pinceau de Chine Calligraphique necklace includes large teardrop beads of rock crystal that are matte and partially encrusted with diamonds; the Trésor de Perse ring was cut from a single crystal and includes a 16 carat sapphire cabochon at its heart; and, the Cristal de Lune watch has a decorative bird-shaped diamond positioned under a transparent quartz dome.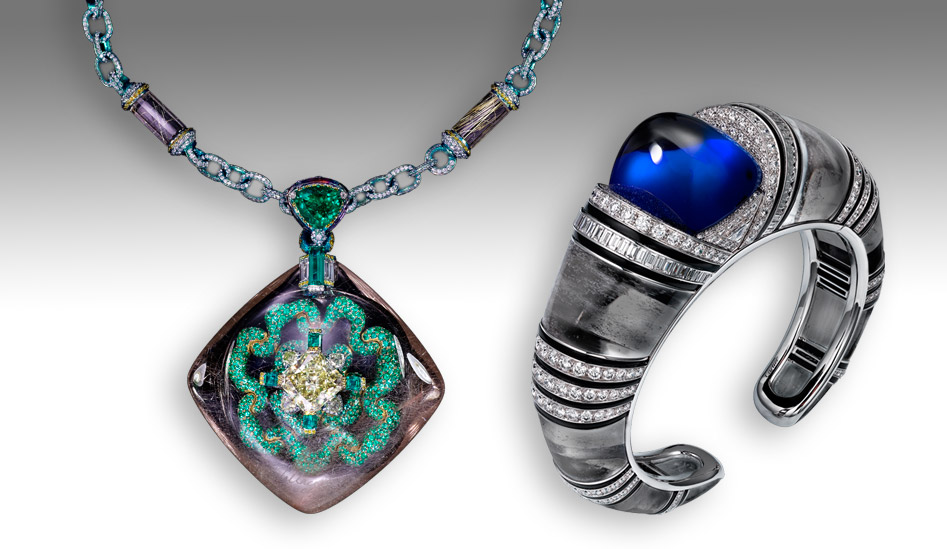 Quartz is seventh on the Mohs scale of mineral hardness. That means it's tough enough to maintain its shape when it is cut but it's also soft enough to be cut into a beautiful shape. Chanel used this characteristic of rock crystal to its advantage when it created the Vendôme San Marco ring with a Burmese ruby for its Café Society collection.
Chunks of rock crystal that are naturally massive are often found making it a regular large fixture on jewellery pieces. Transparent quartz has been used as a significant design element on a Cartier bracelet with 72.52 carat tanzanite. A carved rock crystal shell on a Wallace Chan necklace was used to accommodate emerald encrusted elements inside its pendant which I previously wrote about.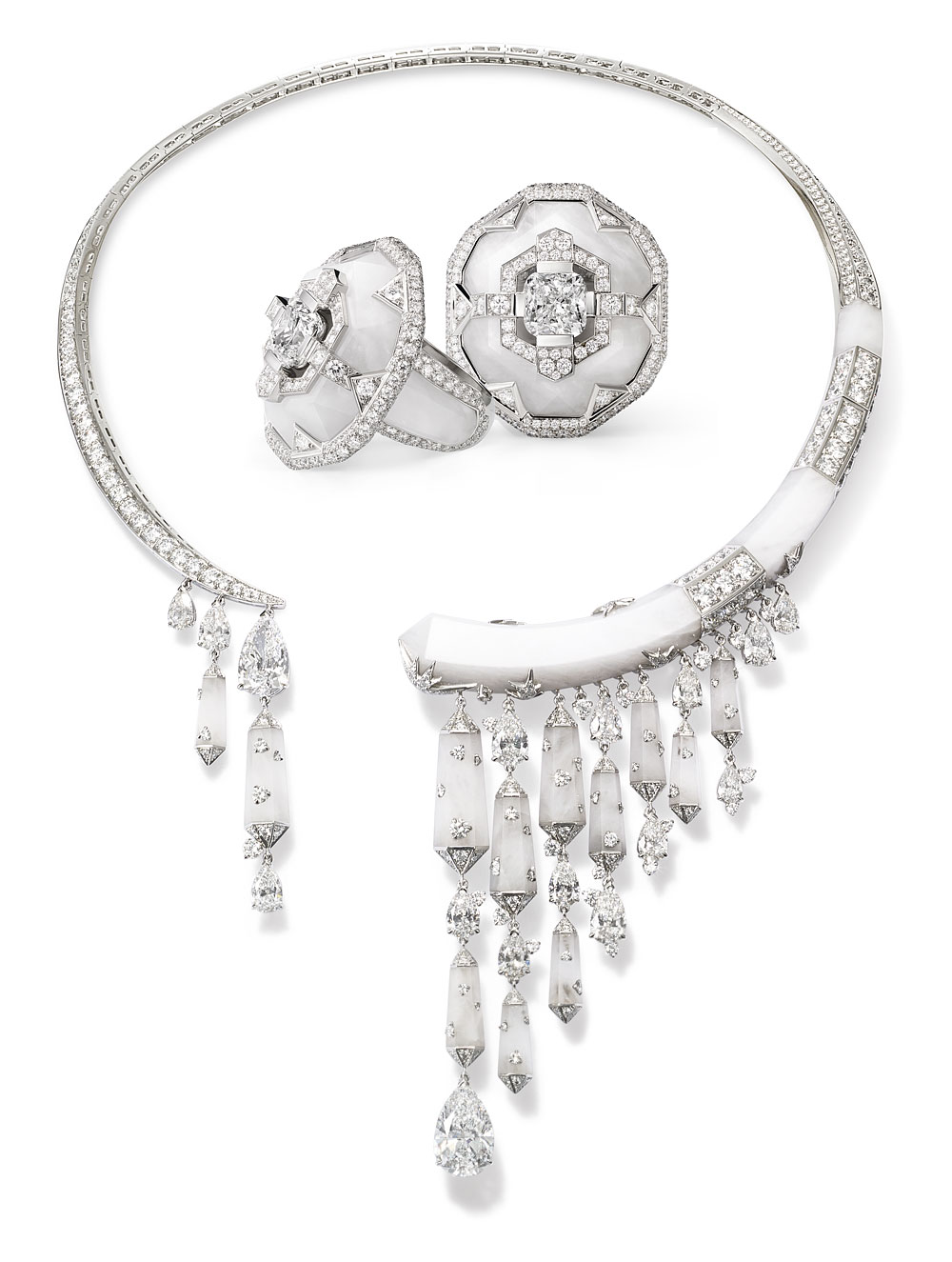 The famous French designer Lоrenz Bäumer didn't display his pieces at the biennale. Nevertheless, his latest creations include two rings made with rock crystal: one has a 7.54 carat dark blue sapphire placed on a "crater" of rock crystal, the other – Illusion – has diamonds and sapphires positioned under a transparent stone as if they were treasure hidden at the bottom of a well.
Since we are on the subject of water and its many forms, Claire Dévé-Rakoff also included matte rock crystal in some of her pieces for Chaumet's Lumières d'Eau. The crystal is teeming with inclusions so it's far from transparent but in contrast with the glittering diamonds it looks really quite effective. It seems jewellers and designers have started to re-evaluate the natural beauty of semi-precious stones. Quartz is not the only mineral that is "subject to precious stones" and used in high jewellery art.