Jewellers who want to stand out constantly find new methods of injecting colour in their pieces. Designers from across the globe use different metals, a myriad of gems, enamel, ceramic, rhodium plating and a host of other materials to bring their vivid jewellery visions to life.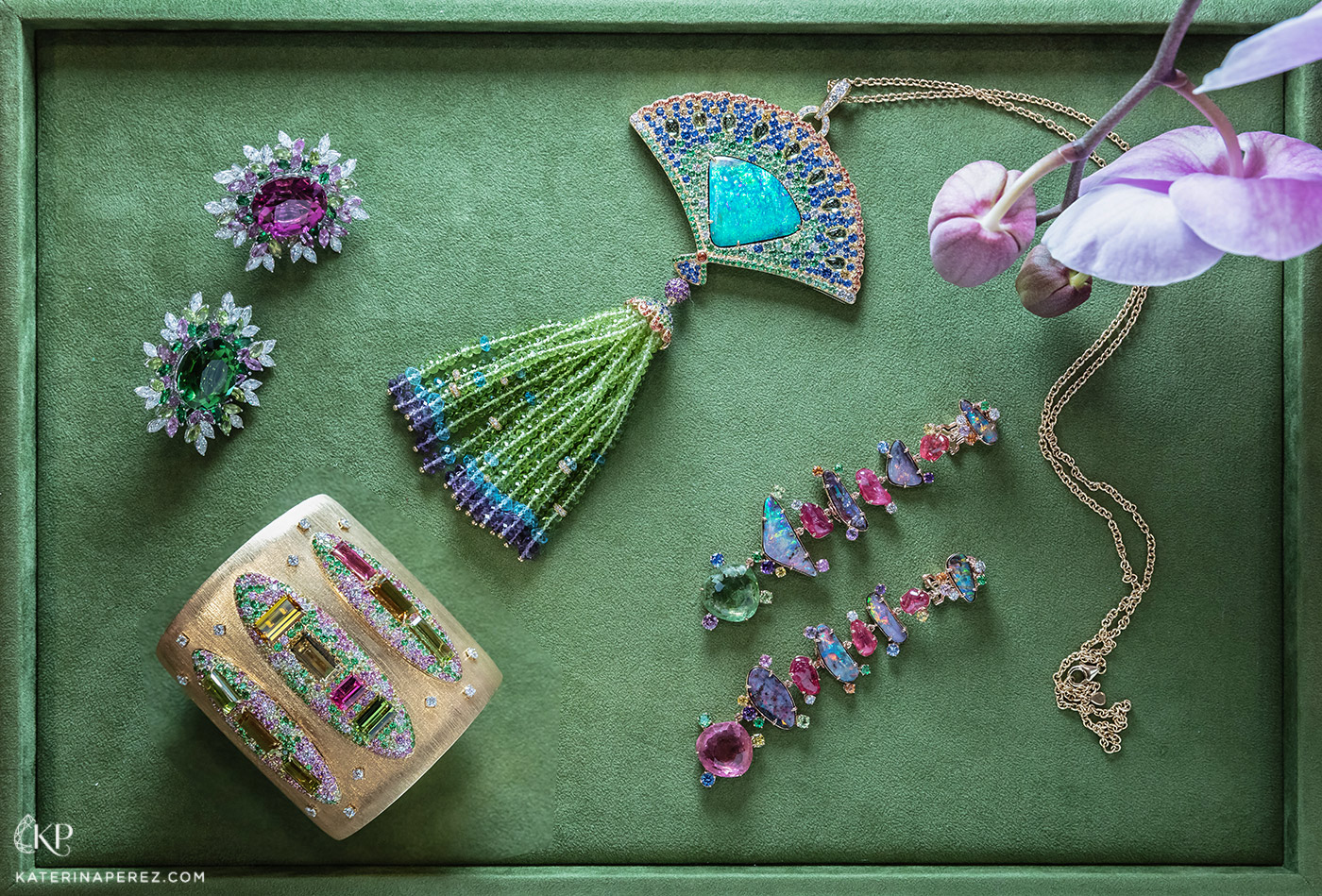 One overt way which jewellers use colour is to adorn their creations with a combination of bright of gemstones, as seen in Margot McKinney and Nicholas Varney's work. Often selecting exceptional gems to be the key feature of a cocktail ring, drop earrings or a necklace, these designers then generously surround these with further coloured stones, creating true statement jewellery.
However, the fine jewellery industry has not only embraced a symphony of more obscure gems in a spectrum of colours, but also a variety of innovative metals that help designers in their quest of creating dramatically colourful jewellery. The most high-tech of them is titanium which has come to the fore in recent years. Designers and brands learn how to manipulate this incredibly strong and unmalleable material to the level that allows to create true masterpieces. Both the rich tones and the high shine effect of titanium are desirable, because they can help to cultivate an ethereal and hyper modern feel.
Wallace Chan uses titanium in most of his designs, and is an enormous proponent of this metal - as is the Indian designer Neha Dani, whose feminine yet abstract pieces are offset by this unconventional choice. Whereas Chan often utilises titanium to create a contrast, Neha subtly enhances the look of her jewellery with tones of titanium that complement her gemstones. A matte effect can also be achieved with titanium, and while Suzanne Syz's pop art palette often takes advantage of the broad spectrum of titanium hues, Italian brand Vhernier tends to opt for organic tones to marry with their ergonomic designs.
Jewellers like Hemmerle or Emmanuel Tarpin opt for matte metals such as aluminium, with designs benefitting from its tactile and sumptuous texture as well as the gentle tones which it can exhibit. The enthralling nature of these pieces partly lies in the dichotomy with metals like rhodium; aluminium's soft lustre is a luminous canvas for the brilliant sparkle of gemstones and diamonds.
Rhodium plating is another high jewellery method used to colour precious metals: a good example of this can be found in the 'Scarlet Empress' collection launched in 2016 by the French designer Lydia Courteille. The rings, earrings, necklace and tiara were coloured in red using rubellite tourmalines and red rhodium over gold. This year, Lydia presents pieces coloured in bright blue rhodium within the 'Marie Antoinette Dark Side' collection.
In this article, I've explored only a selection of jewellery techniques that designers use to incorporate colour in their fine jewellery creations. There are still more to be examined in the upcoming part two...