The love for precious jewellery under the Mughals is accounted by Sir Thomas Roe in his memoirs. He describes the jewels worn by the emperor Jahangir while on one of his campaigns: "On his head he wore a rich turban with a plume of heron tops not many, but long, on the side hung a ruby unset, as big as a walnut, on the other side a super-sized diamond and in the middle a gigantic emerald. His sash was wreathed out with a strand of a great pearls, rubies and drilled diamonds. His hands bare, but almost on every finger a ring".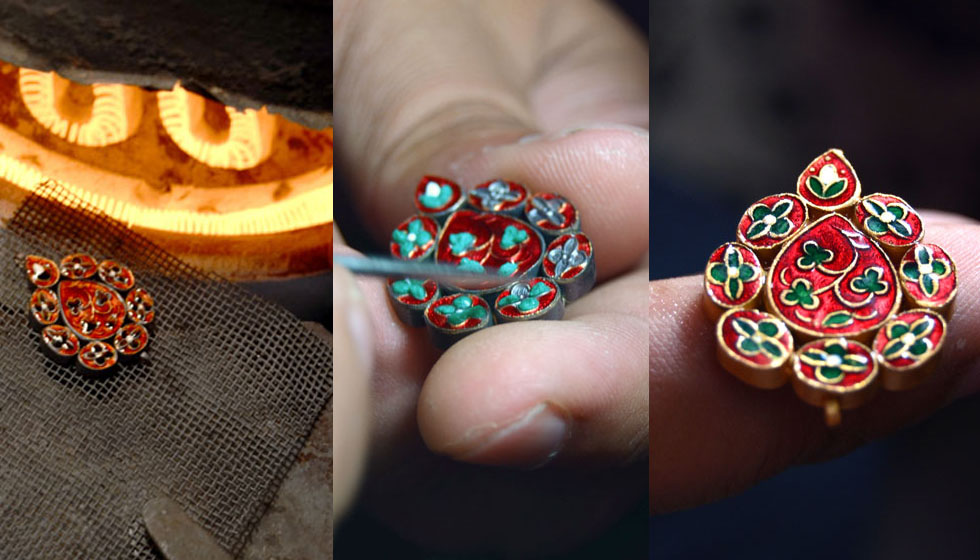 So what ignited this never-ending love for precious jewels? It all began in Bikaner, in the state of Rajasthan. The Mughal royalty often formed alliances with the Rajput rulers and married Rajput princesses. As a result, the Mughal jewellery was further influenced by the Rajputs and thus evolved a new synthesis of Rajput quaint craftsmanship and Mughal delicate artistry. The Rajput women wore as many as 12 pieces of adornment, starting from the bola (hair pins) to anklets. Nose rings, armlets, turban plume, ear flower, waist belts were other important jewels. Entrenched deeply in dated craftsmanship and styles, Mughal jewellery was characterised by enamelling, gemstone encrustation and use of important precious stones that were often carved with royal insignia. All of the techniques demanded laser-focused precision paired with boldness in execution.
Mughal-esque jewellery usually involved a dazzling range of techniques and terms, which are carried through to the present day. Here are some precious translation of the prime ones: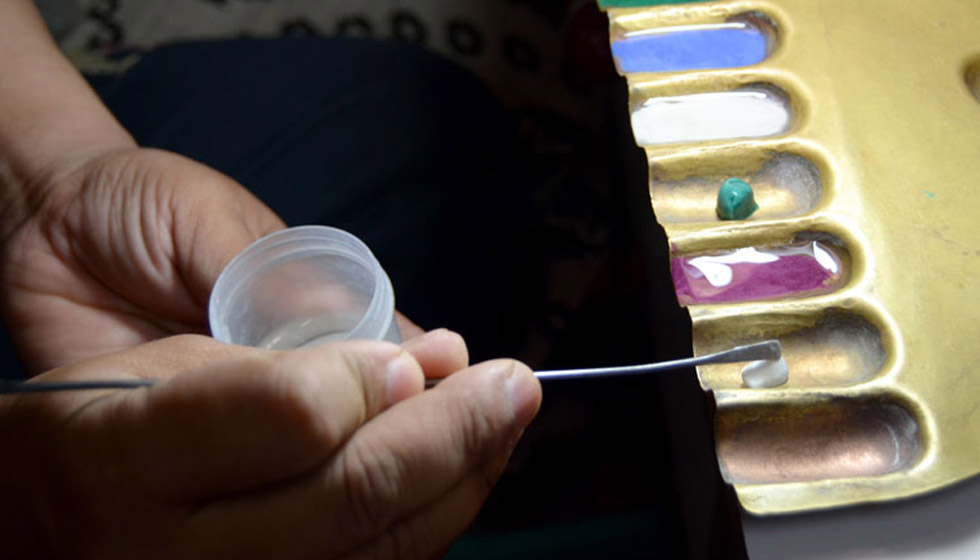 Jadau jewellery, also known as engraved or imprinted jewellery involves precious and semi -precious stones and beads being embedded in gold. First gold is slightly melted and when it becomes pliable, the stones are set on it with great care. After that, it is allowed to cool down in order for the gems to get fixed on it without any adhesive or carvings. Uncut diamonds called polki or vilandi are used as the central stone in these pieces. They generally have a flat, table-cut facet and are often found with a foil base that is applied to enhance the appearance by creating a polished metal surface.
Another major component is Meenakari or 'champleve' enamel. It is a superior form of artwork which involves producing stunning patterns by using enamel on the surface of metal. Special colours are mixed and applied with various tools in the engraved pattern. In order to set the colours, the piece is heated/fired. The process is repeated as many times as the number of colours used. This technique could be traced back during the Sultanate period when glazed tile decoration was heavily in vogue. Artisans and craftsmen who were a part of the inner coterie of the royal household, so much so that they travelled along with the emperor to several countries to allow them to capture the essence of the flora and fauna.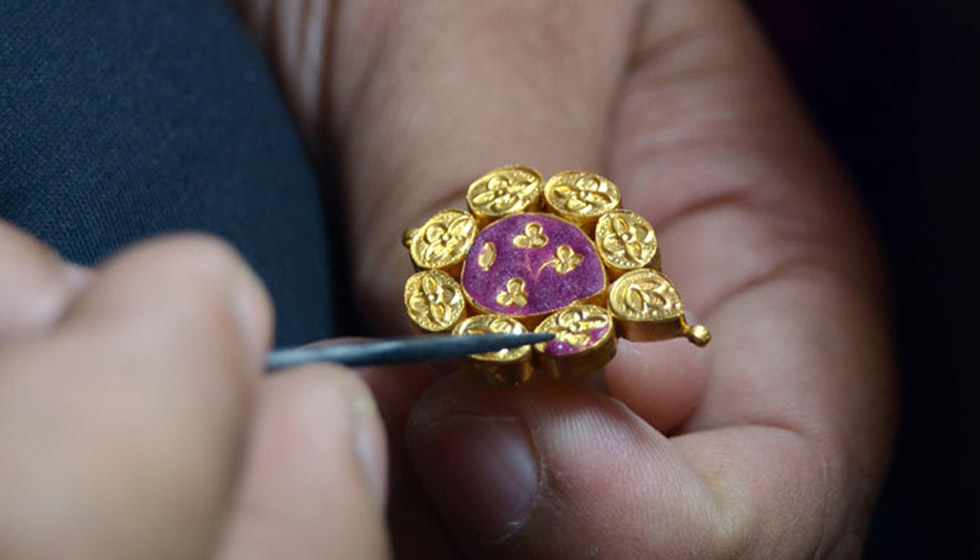 Kundan is another ancient technique where the setting of stones is done at room temperature. Gold is heated several times and beaten until it evolves into a thin foil, called kundan. This foil is then heated, delicately melted and hammered around the stone to create a pure gold setting. The stones though are very often of white sapphire or glass, not diamonds.
Another key feature of Moghul jewellery was the art of engraving which was applied to gemstones like emeralds, jade and deep red spinels. Although the inscriptions on these gems usually commemorated royal ownership, sometimes they were done for devotional characters. Unfortunately, old gems were often re-carved and the inscriptions did not survive until present days. However, this art has been making a major comeback by many Indian brands in various adaptations off late.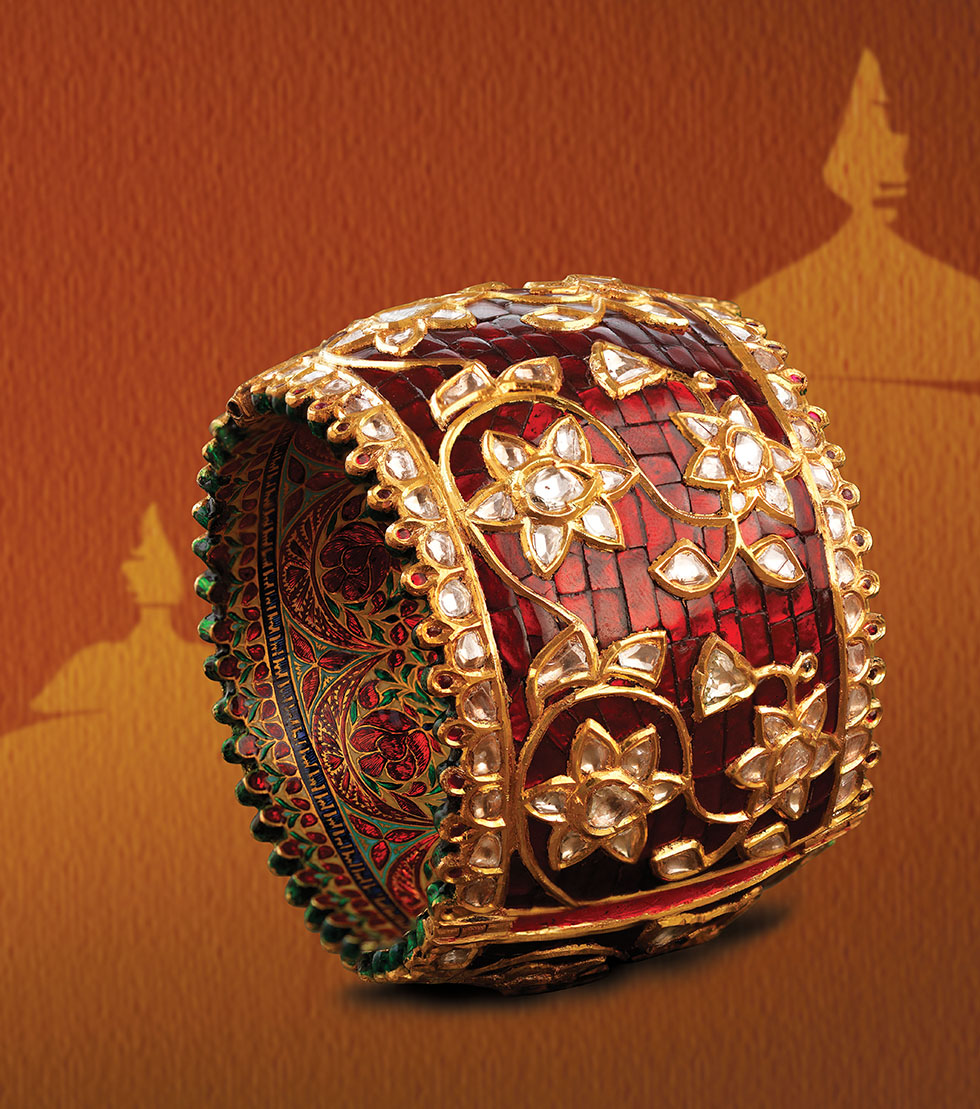 Text by: Ridhii Asrani